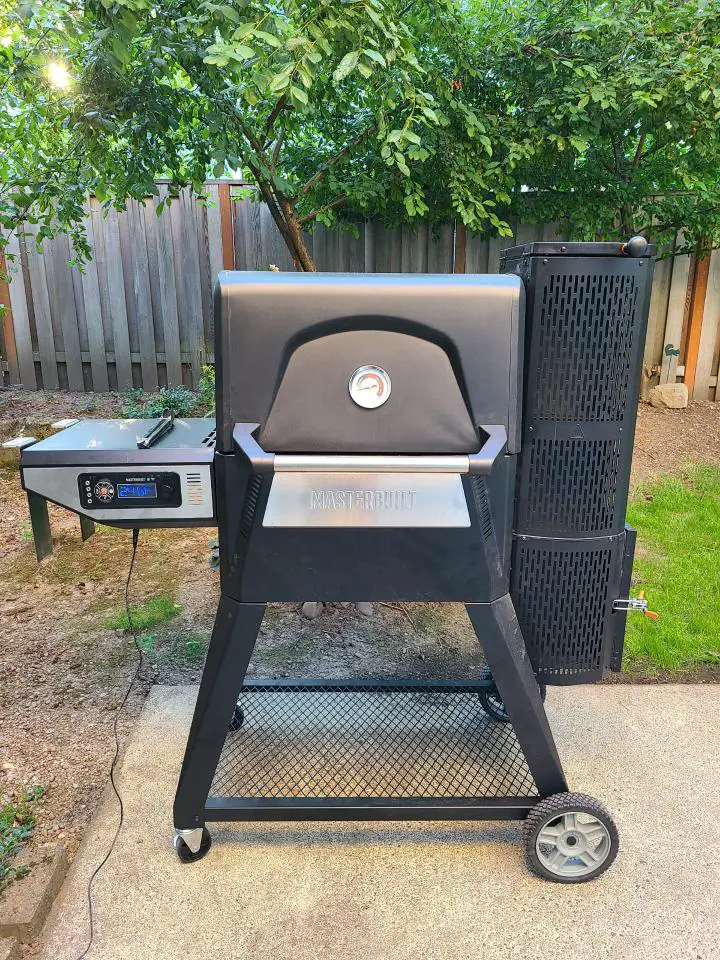 Are you looking to purchase your first grill? For beginners, the process may seem confusing. After all, there are dozens of options available on the market. And you can choose your charcoal grill based on its size, design, and price range.
One option is the Masterbuilt Gravity Series 560 Digital Charcoal Grill and Smoker. This reliable, mid-range grill/smoker, comes highly recommended. And as a novice, you'll find it easy to use and get high-level results.
But, you don't need to take our word for it. Before you begin shopping, make a list of all your needs. Then match your grill/smoker options to those needs. There is no need to purchase a more complex model if a lesser option serves your needs.
Note: most links in this article are Amazon.com Affiliate links, see Affiliate Disclosure, thank you.
Pros
The design is simple and easy to use
Allows beginners to cook at a high level
Excellent value for money
Grill/smoker heats up quickly, so you save time
You can adjust the settings with your WIFI and control panel
Cons
Manually charcoal lighting
You will need to purchase charcoal every cook
There are heat loses while cooking because of the thin body
Initial assembly takes time if done alone
See customer reviews on Amazon.com
What are the important aspects of the Masterbuilt Gravity Series 560 Digital Charcoal Grill and Smoker?
As a customer looking for a grill/smoker, there are certain things you must keep in mind. These are the requirements your grill/smoker must meet. If you research before you buy, you will know what you need. Also, you will sound more informed, and sellers will take you seriously.
On the other hand, if you appear ignorant people will try to take advantage of you. They might bump up the price. Or try to defraud you. With the right tools, you can avoid this. Here is everything you need to know.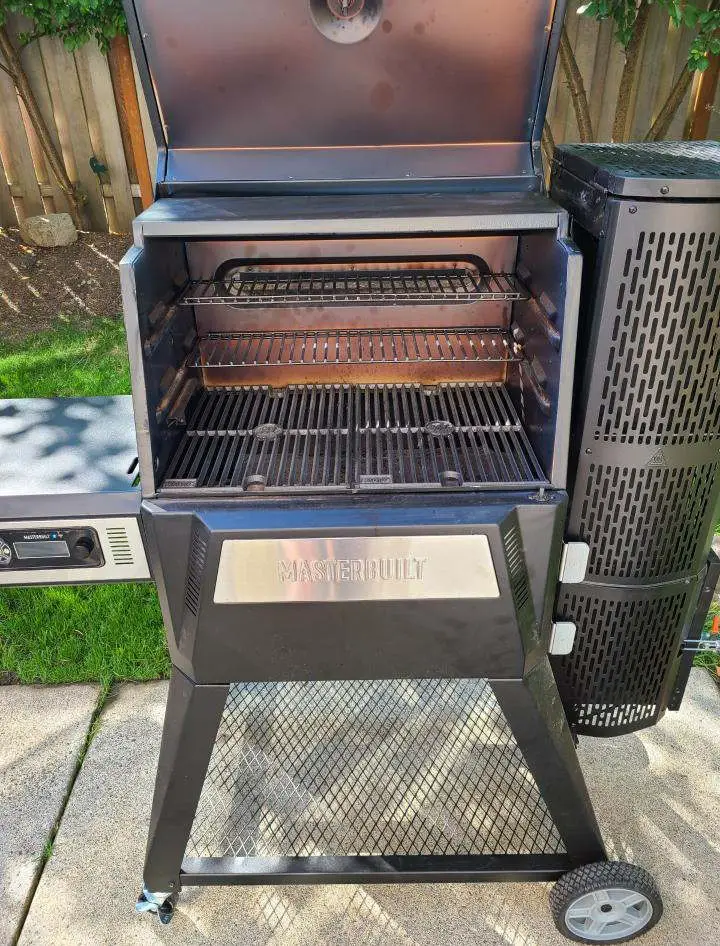 1. Type
There are multiple types of grill/smokers on the market. So, you have electric, gas, and charcoal grills. The Masterbuilt 560 is a charcoal model that runs on electricity. This means you need to fill it up with charcoal and plug it into an electrical source. 
Barbecuers prefer charcoal grill/smokers. Usually, they are cheaper than other grill types. But that is not the only reason. With charcoal, the meat gets a charred, smokey flavor and aroma. You cannot replicate the taste with other grills.
Electric and gas smokers grill and smoke almost automatically, by just adding woodchips. So, you don't have to maintain the fire. Charcoal grills require a more hands-on approach. But, the Masterbuilt Gravity Series 560 takes care of this problem for you.
The digitally controlled fan manages the temperature for you. There is also a built-in meat probe thermometer. So, you can get that perfect smokey taste. And you don't have to tend to it all day. Convenient, isn't it? The best of both worlds.
As mentioned earlier, you need to provide power for the digital controls and fan to run. You can add a battery or plug the included power adaptor into a wall outlet, or in my case, an extension cord to my patio.
2. Portability
This grill weighs around 147 pounds. So, it isn't light-weight by any means. But, the body is of a soft, light-weight material. So, you could even lift it onto a step if you have the upper body strength for it. The wheels make it easy to move around and set up. As an additional bonus, you can lock the wheels for stability.
Take care while handling the grill. The body might heat up when it is in use. Touching the wrong part could burn your hand. And ruin any future grilling pleasure. 
You'll also want to make sure you have enough space to fit it. This model measures at around 24.65 by 54.13 by 51.97 inches. You can keep it on your lawn or garden. The charcoal gives off a lot of smoke when in use. So make sure not to put it near a window.
3. Food Capacity
Masterbuilt's 560 series is so named because of its total of 560 square inches of cooking surface. The primary cooking surface is a 22 x 15 inch smoke and sear cast-iron grate that is reversible. Moreover, it contains two porcelain-coated smoking racks, totaling 22 x 10.5 inches. When added up, these give the user a total of 560 square inches of grilling space. 
And while this gives you some idea of its capacity, it is not the complete picture. To truly gauge this grill's ability, combine the total area to the cooking speed. The Masterbuilt 560 heats up from 200F to 700F in under five minutes. With other grills, this jump would take a minimum of 20 minutes. Not only does it come up to temperature fast, but it also maintains it very well.
Take all these factors into account when making your decision. With this grill, you can easily grill for a small to medium group of friends and family.
4. Fuel Capacity
GravityFed hopper can hold up to 10 pounds of charcoal or 16 pounds of briquettes. So, you can use it for around 12 to 15 hours consistently without any trouble. To get the 15 hours out of a full hopper, you need to be using lump charcoal and run at the lowest temperature.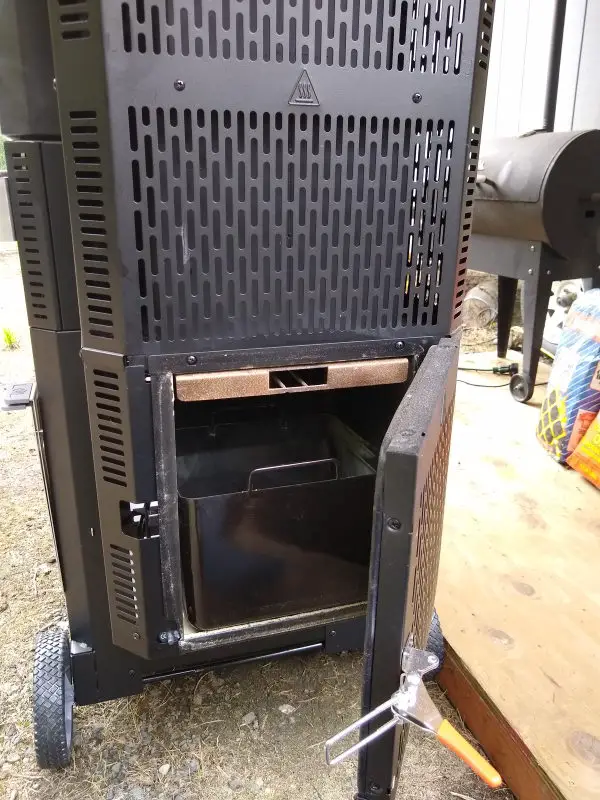 It is more realistic that you can use a good quality briquette on a high heat and cook for about 5 hours. Likely, you will never use your smoker at high temperatures for more than 10 minutes.
Check out the price on Amazon.com
5. Insulation
Insulation is a frequent customer complaint when it comes to the Masterbuilt 560. The body of the grill is thin sheet metal and gives off a lot of heat while cooking. Additionally, the charcoal grate is pretty broad. Some customers also said the grill/smoker gives off excessive smoke.
One reason for this is the lack of auger like in a pellet grill. So, you have a charcoal tower. And as the bottom coals burn, more bits of coal fall. The built-in fan keeps the charcoal burning and pushes the resulting heat into the smoker. The entire process wastes heat. One user claimed they got around ten hours of grilling time using a full tower of charcoal.
Put all these together and get the only flaw this grill has. The Masterbuilt 560 goes through a lot of charcoal, but for most customers, this isn't a pressing issue. The medium-cost, expert temperature controls, and high-quality results more than make up for it.
6. Accessories
There is not a wide range of accessories for the Masterbuilt Gravity Series at this time, so we will use this section to talk about parts. The best part about Masterbuilt is that they're good at replacing parts.
Sometimes when you order a grill or smoker, you'll receive damaged parts. And while this is a common problem with shipping, the company willingly replaces any damaged goods. All you need to do is contact their helpline.
So, let's talk about the different parts of the Masterbuilt 560. The digital control panel shows you the temperature and cooking time. You can control this by synching the grill with your phone. 
The app for this grill does not receive the best reviews. And if your phone is having trouble syncing, call the helpline. The app may not be at fault. Check to see if your grill has a broken part that needs replacing.
The digital fan is responsible for circulating the hot air. You use it to adjust the temperature of the grill. Moreover, there is a built-in temperature gauge and meat probe thermometer, which helps you cook the meat to perfection.
Other accessories include cast-iron grates and two porcelain-coated smoking racks. You can set the grease tray to collect the juices from the meat. Doing so will make cleaning your grill easier.
All of these parts can wear out, and it is good to know that you can get a replacement part.
7. Warranty
The Masterbuilt Gravity Series 560 Digital Charcoal Grill and Smoker comes with a one year warranty. The grill and appliances last a long time. Once you have everything set up, it won't need a lot of upkeep and maintenance. 
The biggest threat of damage is when the grill is first delivered. Accessories may break during shipping. The body of the grill/smoker can have dents. At this time you can use the warranty to replace damaged parts easily.
If you want to take advantage of your warranty and replace a part, you first need to register your product. To do this, visit the Masterbuilt registration page. You can also register through the mail.
Click here to read our Masterbuilt Smoker Reviews?
Other highlights of the Masterbuilt Gravity Series 560 Digital Charcoal Grill and Smoker
Can you use the slides to manage your grill airflow?
No, you should not attempt to do that. In fact, using the slides while barbecuing will damage both the slides and the grill. You should remove the slides entirely and place them aside before you turn on the grill.
What to do if your grill is creating a lot of smoke?
When you start burning your charcoal, your grill will create a lot of smoke. At this point, your smoker is still heating up. Once it reaches the point where it is ready for you to put meat on, the smoke will ease up. It also becomes thinner.
Can you leave the lid of the hopper open?
No, you cannot. Leaving the hopper lid open is a fire hazard. For safety, there is a shutoff switch located on the top corner of the hopper.
Can you grill using wood chunks?
When you are using a charcoal grill, you can use wood chunks to control the smoke. You either want on-demand smoke or controlled smoke. For the first category, you should add a handful of wood chunks to the charcoal bin.
For the second, use around four pounds of charcoal and one wooden chunk. Then, repeat the pattern. 
Another way we like to incorporate wood is by mixing it in a 5-gallon bucket. The same ratio of wood chunks cut slightly larger than two charcoal briquettes will add a great smoky flavor to your cook.
What happens when you leave the lid of the grill open?
Leaving the lid open will affect the temperature, and your meat might remain uncooked. When the internal temperature is below 500F, and you leave the top open, you risk damaging the fan. The grill will try to maintain the heat despite the opened lid. It will run the fan continually, burning through the coal.
However, when the temperature is above 500F, leaving the lid open is dangerous to you. The expulsion of hot air can burn you or start a fire. As a safety measure, the grill will automatically lower the temperature to 500F. It will stay here till you again close the lid.
How to turn your grill off after barbecuing?
Close all of the lids
Then, press the power button and hold.
There are two slides
Put the smaller slide in the lower slot
And the larger slide in the upper slot
Doing so moves the slides which dampen the fire
Sometimes the slides will not lock in place
You will have to remove the slide and reinsert it into the sleeve  
Incorrect slide placement damages the grill
Wait till the grill cools down after shutting it off
Then store in a covered dry place
What does it mean when the connection icon is blinking?
You already know that the Masterbuilt 560 allows remote access. So you can use it through the app on your phone. But, this doesn't work when the grill lid is left open.
The grill shifts to a "monitor only" mode, and that is when the connection icon starts blinking. To fix this, simply close the lid and press the connect button.
What to do if your grill is using too much charcoal?
There is a trick to using charcoal grills that reduces fuel costs. When you put large pieces of charcoal in the hopper, it leaves empty spaces in between. Since all charcoal is not of the same quality, the specifics vary per company.
This includes things like density and source material. So larger lumps with bigger gaps have less pound value. Whereas, the same quantity of medium lump charcoal will have a higher pound value.
See customer reviews on Amazon.com
What other things should you know about the Masterbuilt Gravity Series 560 Digital Charcoal Grill and Smoker
How to set up your grill?
This video by Masterbuilt clearly explains how you can set up your grill.
Tools required: 
1. Adjustable wrench 
2. 19mm socket wrench 
3. Double-sided tape
4. Phillips head screwdriver 
Things to keep in mind
Before beginning, take out the bottom tray and all parts from inside of the grill 
Make sure to keep the hopper lid closed and latched until step 21
Treat the pieces carefully. Bending too much could damage the parts.
Place the grill onto packaging styrofoam to avoid scratches or damage. Use generous double-sided tape to keep the hopper in place.
While you can set up your grill alone it is easier if you get someone to help you.
Install the screws partially. Do not tighten them as this can damage your grill. 
When attaching the wheels make sure they can still spin. Tightening the screws will fix the wheels in place and you'll find it hard to move your grill.
How to preseason your grill?
You must always preseason your grill before you begin using it. Doing so helps rid the surface of chemicals and oil. The process of preseasoning is pretty straightforward.
Step 1
Add charcoal to the hopper till it is halfway full.
Step 2
Turn on the grill and heat it to 250F. Keep it at that temperature for around an hour.
Step 3
Then, raise the heat until it reaches 400F. Now leave it at this temperature for a further 30 minutes.
Step 4
Turn the grill off using the detailed instructions provided earlier. Make sure you follow the steps correctly and insert both slides into the correct slots.
Step 5
Wait until the grill cools down to room temperature. Do not preemptively start the next step because you can burn your hands.
Step 6
Take a napkin or a soft cloth. Dab it lightly in cooking oil. Then run it over the entire grill, including the sear grates, smoking racks, charcoal grate, and the inside of the griller.
Step 7
Repeat the last three steps this time using a temperature no higher than 350F.
Step 8
Repeat this process every few months to keep your grill in pristine condition and prevent rusting.
Verdict:
The Masterbuilt Gravity Series 560 Digital Charcoal Grill & Smoker is one of the best charcoal grills and smokers out there. Other charcoal grills don't offer the same functionality and results, so when we consider the price tag, the Masterbuilt Gravity Series 560 Digital Charcoal Grill & Smoker tops the chart. 
Check out the price on Amazon.com
 For some great beef rubs to use on your new grill/smoker check out our article Ten top dry rubs for smoking beef!