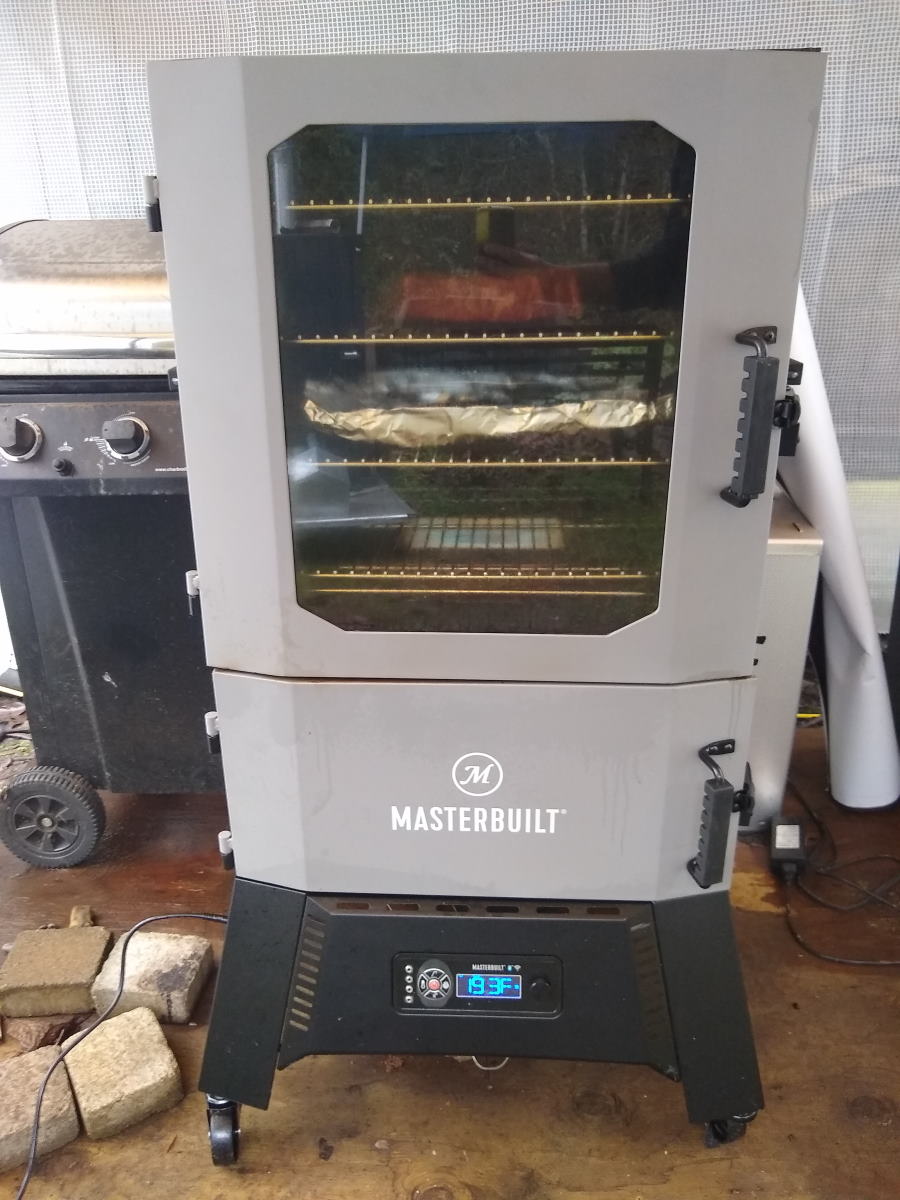 In the world of smokers, Masterbuilt is a name everyone knows, but honestly, they have not been a charcoal smoker company until now. Masterbuilt has recently released its latest entry into the charcoal smoker market, including luxuries like digital Wi-Fi Bluetooth controls.
So, let's take a little trip so we can walk you through all the features of Masterbuilt's largest capacity digital charcoal smoker. 
Note: most links in this article are Amazon.com Affiliate links, see Affiliate Disclosure, thank you.
Click here to see the Masterbuilt MB20060321 40-inch Digital Charcoal Smoker on Amazon.com
PROS:
Large cooking capacity
Digital controls with Wi-Fi
Glassdoor
Charcoal fired flavor
Budget-friendly for this capacity
CONS:
Thermal runaway – temperature goes over setting
Lack of insulation
Minor assembly quality issues
What are the important aspects of the Masterbuilt MB20060321 40-inch Digital Charcoal Smoker
Type: The Masterbuilt 40-inch Digital Smoker Uses charcoal as fuel and wood chunks for extra flavor. This smoker's layout is a standard vertical cabinet with two doors, one for food and one for fuel. The second door for fuel in a smoker is always a nice feature as you can tend your fire without losing much heat or smoke in the main cabinet.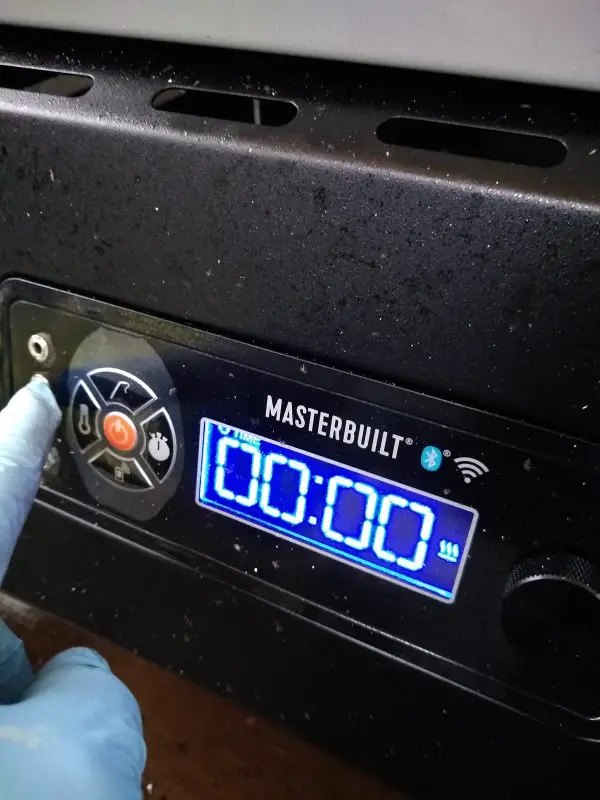 Digital controls are a huge plus that you can run on the panel or from your Wi-Fi or Bluetooth connection on your preferred device. The digital controller runs a multispeed fan that will increase to stock the fire to achieve higher temperatures.
Portability: The total dry weight (empty) is 111 pounds makes it a bit heavier than one person can lift easily with help. However, the smoker comes with four medium-duty casters that can be locked in place when needed. These casters make it easy to move the sizeable vertical smoker in and out of storage for use.
The thought of using this smoker as a mobile cooker is not the first thing that comes to mind with the overall size and the need for a small amount of electricity. If you were to do so with a small inverter, the digital controller would make it easy to use, but keep in mind cooling time after use.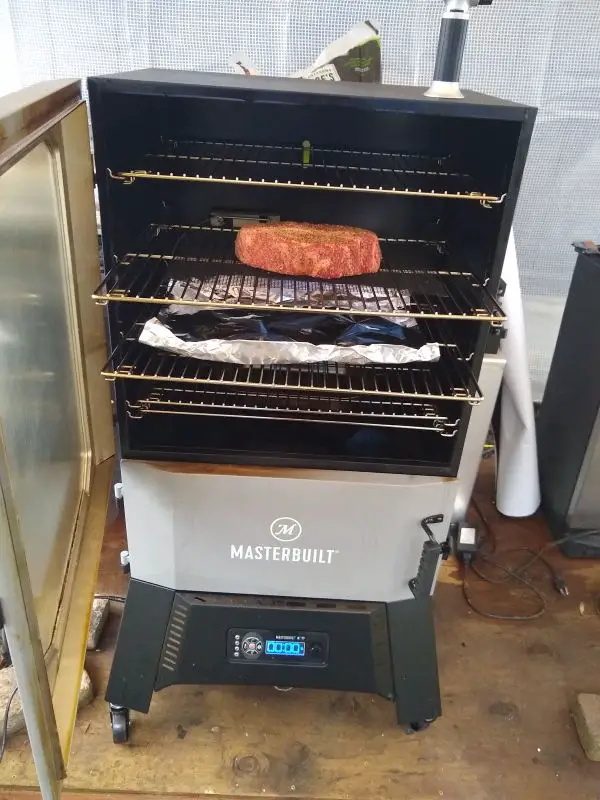 Capacity: The Masterbuilt MB20060321 includes four adjustable racks for a total cooking area of 1320 sq inches. With the large capacity of this smoker, you could cook eight medium-size briskets. Keep in mind if you have tall foods, like a whole turkey, you will need to remove racks. If you wanted to purchase additional racks and rack holders, you could double your capacity for foods like jerky or small smoked fish such as smelt.
Fuel: As we said earlier in the article, this Masterbuilt smoker runs on charcoal. The charcoal is loaded into a basket that sits in the charcoal tray. After the charcoal is lit, you only need to slide the charcoal tray into the smoker's bottom door and let it run.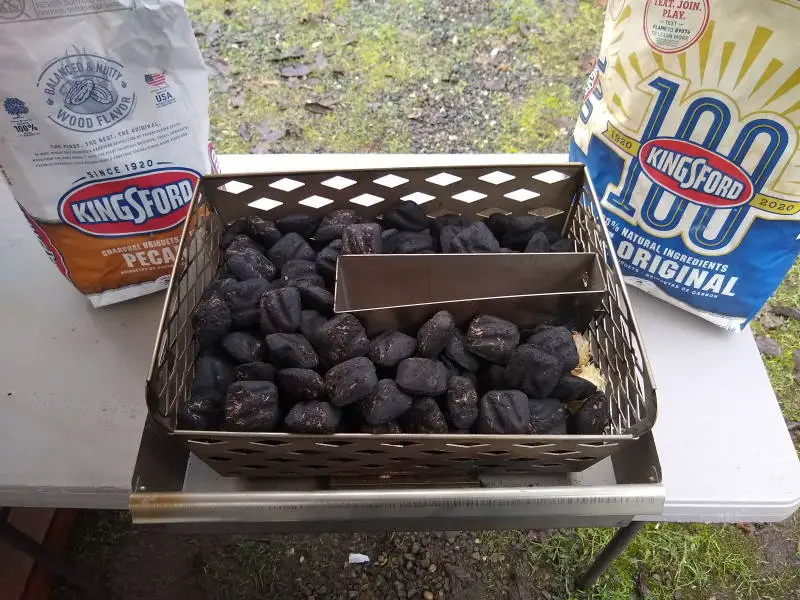 The charcoal tray's total capacity is 16 pounds of briquettes or 12 pounds of lump charcoal if you don't use the divider. You can fill the front half of the tray for shorter cook times but always put in more than you think you need. Don't forget that you can add wood chips in the center divider or a few chunks with the charcoal for extra smoke flavor.
We use Kingsford wood chip charcoal briquettes because you can get wood flavor without the extra step of adding wood chunks. These briquettes burn faster than solid briquettes or lump charcoal, so you should plan accordingly.  
Insulation: There is no insulation to speak of in this smoker, but it might not need any. Masterbuilt smokers are produced in different grade levels, which include the thickness of your metal. The MB20060321 is in the medium range for metal gauge and overall construction.
Charcoal smokers tend to have a lot of heat output, so it is more important to concern yourself with temperature consistency than insulation. Another point is a vertical cabinet with insulation can work well as a cold smoker because you can light a pellet smoke tube and not build up heat.
Accessories: unfortunately, the only accessory included with this smoker is a probe thermometer, but we can recommend a shortlist of must-have items starting with a heavy-duty oven mitt or a welding glove to handle the charcoal tray.
If you need to reload the charcoal, you will have to pull it out almost halfway to fill the front half. Something to light your smoker with is a must; we recommend a Brulee torch, but a stick lighter will also work fine. Grill mats are the best tool for a smoker or low-temperature grill, and they make for easy clean-up and handling of food from prep to finish.
Finally, any smoker with good airflow will benefit from a pellet tube or our favorite The Amazin Pellet Tray, for that extra smoke flavor. Pellet tubes or trays burn pellets to add extra smoke flavor to your food or use your smoker as a cold smoker.
Check out this video for great information on smoker and grill accessories
Warranty: The warranty is part-dependent, so each class of parts has a different warranty. The primary warranty on charcoal smokers is 90 days, but parts like thermometers, gaskets, and workmanship have a 1-year warranty. Other parts might be warranted longer from how we read the warranty page, so we have included a link below.
Click here for the Masterbuilt Warranty Page
Click here to see Masterbuilt MB20060321 40-inch Digital Charcoal Smoker on Amazon.com
Other highlights of the Masterbuilt MB20060321 40-inch Digital Charcoal Smoker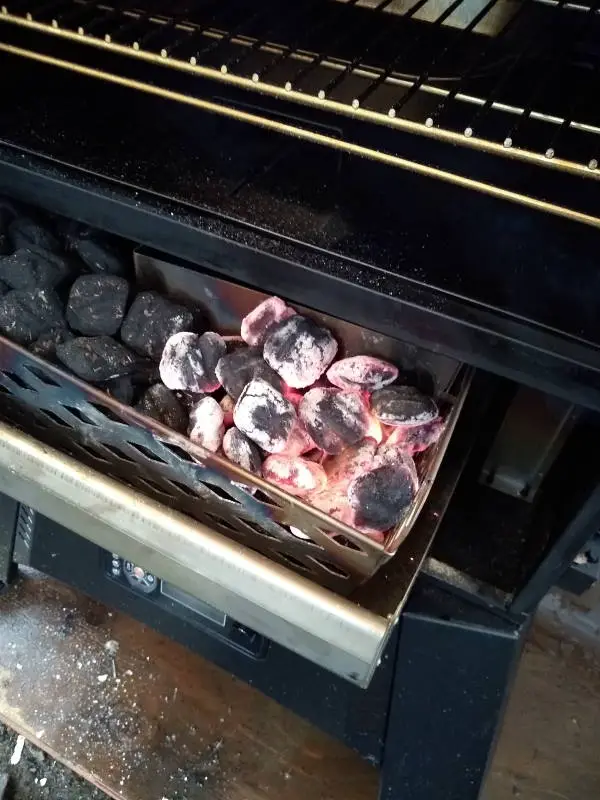 We mentioned the charcoal tray earlier in the article, and this is a unique concept that we have only seen in custom or home modified smokers. The basic idea is a large heavy-duty metal box that holds a fire basket so the charcoal can get good airflow. Because this metal box can be removed from the smoker, it allows for easy loading and easy clean-up.
A glass window can be a great asset as long as you keep it clean. Like an oven, being able to look at your food without opening the door is a huge plus because you don't need to let out the heat or smoke.
But the smoke creates a problem over time as it sticks to the clear surface, blocking your clear view. We recommend that you spray your window with vegetable spray and wipe it off while still warm to keep it as clean as possible.
Compared to other vertical smokers, the Masterbuilt 40-inch Digital Charcoal Smoker is one of its class's sturdiest constructions. With a smoker of this size, you need good construction to keep it from warping and flexing during use. Most mass-produced smokers in this price range are not built this solid.
The heat-resistant handles on the Masterbuilt MB20060321 seem to be constructed of a poly-like material molded over a metal frame or bar. Handles can be found in the usual locations, one on each door and one on each side to help move the smoker while still warm.
Digital controls with Wi-Fi/Bluetooth are modern touches that everyone includes on their high-end smokers. You can load an app on your phone then connect it to monitor or run your smoker.
All of the advanced control features must be set through the app, but we tend to skip these and prefer to set the smoker manually. As a note, all the new series Masterbuilt Charcoal Smokers use the same digital controller, so support and replacements should not be an issue in the foreseeable future.
Needed supplies include charcoal, fire starters, and foil drip trays. We are using Kingsford wood chip charcoal because we like the added flavor without adding wood chunks, but you need to add extra charcoal of this type because it burns faster.
Click here to read our Charcoal Review
Regular tumbleweed fire starters work well in this machine; however, any fire starter should work fine. Foil drip trays make it so easy to clean up by simply tossing the dirty tray in the garbage. Don't worry if you don't have these because you can make trays from a large sheet of heavy-duty foil.
Click here to see Masterbuilt MB20060321 40-inch Digital Charcoal Smoker on Amazon.com
What other things should you know about the Masterbuilt MB20060321 40-inch Digital Charcoal Smoker
Assembling this smoker is very simple, but because of the weight, you might want a friend. The directions have clear step-by-step images that are easy to follow. Like most smokers, you start by assembling the bottom, then stand your smoker up and assemble the handles, internals, and add the doors.
The one issue we had was the wiring plugs are not marked. The fan wire plugs into the wire that is in the dual wire heat shield. If the smoker doesn't work the first time, switch the two matching plugs, and it should solve your problem. The whole setup process took about 55 minutes.
Getting your smoker ready to use is another vital issue that you will need to plan. After you load the charcoal in the charcoal tray, you will light the two fire starters and wait three minutes. Then you turn on the smoker, and the fan will blow, bringing it up to cooking temperature.
The Masterbuilt 40-inch smoker should get to 225 degrees in about 20 minutes. In our experience, we would add at least five minutes to the total start time because the recommended three minutes lighting time is not sufficient; you need almost ten minutes for the charcoal to light before turning on the digital controls.
Also, we had repeated issues with thermal runaway in the first two hours. After the charcoal was burning evenly, the digital controller managed the temperature well. To solve this problem, we set the smoker 50 degrees lower to start. After the first full hour of cook time, we raised the temperature. You can not lower the temperature during a cook.
Because this smoker is very new, there are minimal user reviews, and as usual, most people only comment when they have something negative to say. We did have a minor issue with a bar in our charcoal tray that was an easy repair with a few rivets, or a few sheet metal screws would have worked.
The comments that I read covered damaged hinges, scratches, and spots that looked like they were repainted. We didn't have those issues with the unit we purchased from Amazon, and most of those issues could have been shipping problems.
Frequently Asked Questions
How does a digital charcoal smoker work?
When it comes to digital charcoal smokers, they are a fairly new concept, and the Masterbuilt 40-inch Digital Charcoal Smoker is actually the first one created. As it is a new concept, it is understandable that many people have questions surrounding how it works.
While it may seem complicated, it is actually very easy to use. In fact, it is far easier in comparison to a traditional smoker because it does the majority of the work for you. 
To use the digital charcoal smoker, you will need to set it up by adding the charcoal and beginning the fire. You then set the specific heat you want the smoker to reach using the digital thermostat. This is very easy to do, and all of the buttons are set out clearly. 
Once the temperature is set, the smoker will then work in a similar way to a traditional smoker. However, there are some subtle differences. The fan and the thermostat help to control the temperature of the smoker and release the air to the fire as and when it is needed.
The digital charcoal smoker is slightly different from its counterparts because it reaches higher temperatures fairly quickly, and the charcoal is not placed at the bottom of the smoker. Instead, it is placed on the end of the smoker in a hopper.
Is analog or digital smoker better?
The answer to whether or not an analog or digital smoker is better is entirely down to personal preference. Given that digital smokers are very new, this does have the potential to put some people off, this is because they are not used to using it.

However, the digital smoker does do a lot of hard work for the user. As a result, it is more user-friendly for someone that has no experience with using a smoker. It makes the process simpler, and it does give you more control over the smoker on the whole. 
However, if you are used to using an analog smoker, then you may prefer to stick with what you know. It does take more skill to use an analog smoker, however, because it is up to the user to maintain the temperature, and change it when needed. With a digital smoker, all you need to do is adjust the thermostat.
On the whole, digital smokers do seem to be the way forward, and they are useful options to consider. They are more expensive to purchase in comparison to a digital smoker though, which does put some people off. In addition to this, a digital smoker does work slightly differently.
The Verdict
The Masterbuilt MB20060321 40-inch Digital Charcoal Smoker is a good smoker for the average experience level chef. Being able to fill the smoker with charcoal, light it, and set it makes for a convenient and hassle-free cook.
Because the Masterbuilt smoker is fueled with charcoal, you will get that excellent charcoal flavor without tending a fire for eight hours or more. The capacity of the Masterbuilt smoker is another plus that is hard to overlook.
If you are into small modifications, this smoker will allow you to cut a hole or two and still work as planned. Our biggest complaint with this smoker is thermal runaway; this is when your temperature goes above your setting.
Finally, if you are a beginner, skip this model and go with a Masterbuilt electric smoker or, better yet, the Masterbuilt Gravity Series 560 grill/smoker; both are beginner-friendly and have their plusses.  
Click here to see Masterbuilt MB20060321 40-inch Digital Charcoal Smoker on Amazon.com
You can find our review of our top rate item the Masterbuilt Gravity Series 560 grill/smoker with this link or the Masterbuilt electric smoker with this link.