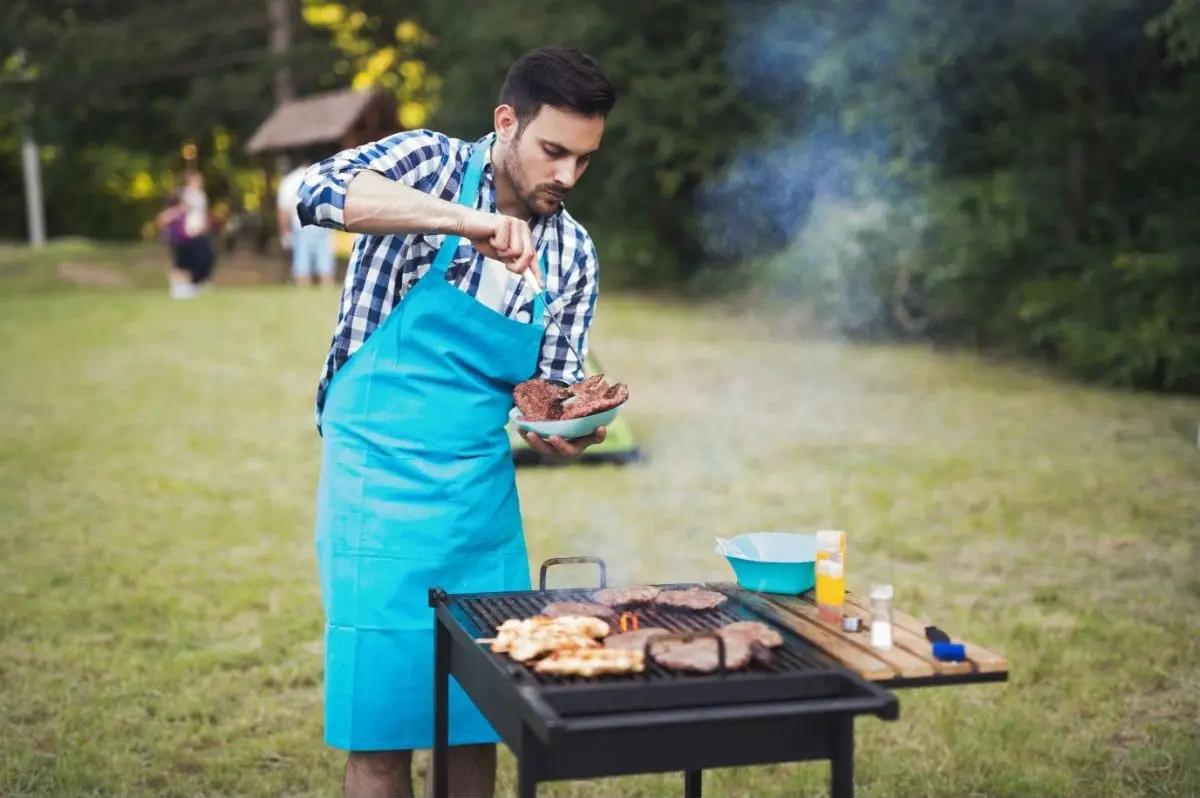 While buying the right smoking matters, getting the best accessories for your smoker is also essential. People are so hung up on the smoker that they pay little attention to essential grilling accessories.
Essential smoking and grilling accessories can significantly increase the functionality and sense of utility associated with using your new smoker.
More than just simply a matter of convenience, accessories are imperative for you to cook the perfect BBQ meal for your backyard party.
Here are the best smoker accessories that you should consider.
Note: most links in this article are Amazon.com Affiliate links, see Affiliate Disclosure, thank you.
1) Wireless Meat Thermometer
If you had to buy just one grilling accessory, then the wireless meat thermometer would be it. This device is paramount if a perfectly done BBQ is what you desire. It takes the guesswork out of grilling and gives you the level of certainty that will imbue you with confidence and peace of mind.
Some people make the mistake of thinking that the meat thermometer is just good to have. But that is not true. Even the best BBQ pros and competition champs rely on meat thermometers to cook the perfect BBQ. So you are not being picky when purchasing a reliable meat thermometer.
And don't think that you can rely on the built-in thermometer that smoker models include. These thermometers are often very inaccurate and barely worth it. Due to the stifling competition in the smoker niche, manufacturers try to lure grilling enthusiasts with an attractive extra feature like the meat thermometer. However, they resort to the cheapest variety to cut costs. And you get what you pay for, so make it a point to invest in a high-quality wireless meat thermometer.
The dual probe thermometer is the best type of device for measuring heat levels. It enables you to monitor the temperature in your smoker as well as your food's internal temperature. For best results, you must follow both temperatures.
The wireless feature is not just a high-tech gimmick. It empowers you to measure temperatures without having to lift the lid. Prying open the lid now and then means that heat is escaping continuously, due to which the cooking process can be disrupted. This might negatively impact the quality of your BBQ meal. You can avoid the hassle and disruption with a wireless device.
Thermoworks Smoke is one of the best wireless meat thermometers that money can buy.
See customer reviews on Amazon.com
---
2) Heat Resistant BBQ Gloves
You can end up cooking trouble if you are not careful enough with your smoker. While giving your BBQ a nice sear may be a good thing, giving one to your hand is hardly pleasant.
It is inevitable that ardent grilling aficionados may become distracted and end up burning themselves in their enthusiasm. Hence, heat-resistant BBQ gloves are a key safety apparatus to save yourself from burns.
Heat-resistant gloves have excellent insulating properties. You may be able to avoid burns even if your hand comes in contact with the grilling grates, provided you have the gloves on. You can thus work on your smoker grill without apprehension.
There are oven mitts that are good for temperatures in excess of a scorching hot 900 degrees.
The Grill Heat Aid Extreme Heat Resistant Gloves has many things going for it. Your hands will be safe even for blistering hot heat levels above 900 degrees. These gloves are made from premium quality materials that last. For good grip, the glove palms have silicone strips.
So get some heat-resistant gloves if you don't want to feel the heat. 
See customer reviews on Amazon.com
---
3) Grill Brush
If you have forked out a pretty penny for a high-end grill, you should be willing to invest just a little extra for a grill brush that fits your high-performance equipment.
Some people have trouble spending even $10 bucks for a good grill brush. You will certainly not want to be one of these.
Make it a point to carefully clean your smoker with the grill brush if you want to keep it in good shape for years to come.
Turn up the heat after the cooking session is over and let things heat up for 10 minutes. Bring out your wire brush and scrape out the mess left on your smoker.
Before using the grill again, clean it up with water so that no wire is left behind.
The Kona Bristle Free Barbecue Brush is a  fine choice. The brush has a long handle so that you can steer clear of hot surfaces while cleaning. The 6-inch cleaning head allows you to wind up the cleanup operation in good time.
See customer reviews on Amazon.com
---
4) BBQ Tongs
Grilling grates can become extremely hot, which is why you would want to remain at a comfortable distance from them while handling the food. BBQ tongs can help you do that.
GRILLHOGS 16 inch Barbecue Grill Tongs are an excellent option that will work nicely for most BBQ chefs.
The extra 16-inch length of the tongs can keep your hands at a safe distance from searing hot surfaces. The oak handle remains cool at all times.
See customer reviews on Amazon.com
---
5) Basting Brush
You will need to baste the meat with marinade for extra flavor and moist tenderness. Thus, every grill chef should have a basting brush for quick and easy application.
The brush that you already have in your kitchen will not work for your smoking hot grill. High temperatures will result in heat damage. Hence, you need a specialized basting brush that is resilient to heat.
Whether it is butter, marinade, sauces, glaze, or any other liquid, you can apply them all with ease using a basting brush. The long handle will keep your hands safe from hot surfaces, and the mop itself has strong heat resistance.
See customer reviews on Amazon.com
---
6) Butcher Block
To carve out meat slices of the right dimension, you should have a butcher block at your disposal.
The humble cutting board in your kitchen cannot accommodate the cumbersome beef brisket. The butcher block has enough real estate for accommodating the largest cuts of meat.
The butcher block is also safe for knives and will keep them sharp.
The SoulFino Bamboo Butcher Block is a good option. With a surface area spanning 13 by 17 inches, there is enough space for beef briskets and other massive hunks of meat.
The thoughtfully designed board has grooves running along the border to hold any liquid that flows away from the meat. This feature can keep your kitchen clean and save you the hassle of cleaning up.
The board is pretreated, which means that you can get going right off the bat.
See customer reviews on Amazon.com
---
7) Extra Sharp Boning Knife
The chances are that you will be reaching out for the boning knife most often out of all your BBQ knives. The boning knife has the ideal curvature for carving meat according to the desired shape.
The Dexter Russel Boning knife is a high-end cutting implement for processing all sorts of cuts. Thus you can tidy up ribs or cut off the fat cap from the brisket with near-effortless ease thanks to the curving super sharp blade of the knife.
The good news is that this knife is quite economical for its stellar quality. Not only that, the edge is tenacious and can remain sharp for longer.
See customer reviews on Amazon.com
---
8) Rib Racks
If you don't want to rack up trouble while doing ribs, then you will want to use rib racks for the job.
You don't have to buy an extra-large cavernous smoker for housing all rib pieces concurrently. Boost your smoker real estate for cheap with some inexpensive rib racks.
Rib racks do the trick by holding up the rib pieces in an upright position. In this position, you can cram more rib pieces into your smoker.
The Sorbus Non-Stick Rib Rack will prove up to the task. These racks are constructed out of steel and coated with porcelain.
See customer reviews on Amazon.com
---
9) Oil Sprayer
The Misto Brushed Aluminum Oil Sprayer allows you to spray oil and seasonings with ease on your BBQ. You can keep your hands free of oil with this useful tool.
See customer reviews on Amazon.com
---
10) Grill Pan
The Nordic Ware Natural Aluminum Commercial Baker Half Sheet will prove to be very convenient. You can cook all food at the same time, including vegetables, while keeping different items separate.
See customer reviews on Amazon.com
---
11) Smoker Fork
A long-handled fork like the New Star Wood Handle BBQ Barbecue Fork is just what you need to effortlessly handle meat without fumbling. The walnut handle will remain cool and snugly fit into your palm for good handling.
See customer reviews on Amazon.com
---
Grill Accessories to Avoid
There is not much to say here except that you should avoid low-quality products. Grilling and smoking accessories all have a purpose which is why you want to buy the very best.
So if you choose the top-rated accessories mentioned above, you will not have to worry about products you will regret buying.
You should get your hands on the best accessories for your smoker to relish a great BBQ experience.
Check out our How to use a Masterbuilt Electric Smoker: A Beginners Guide