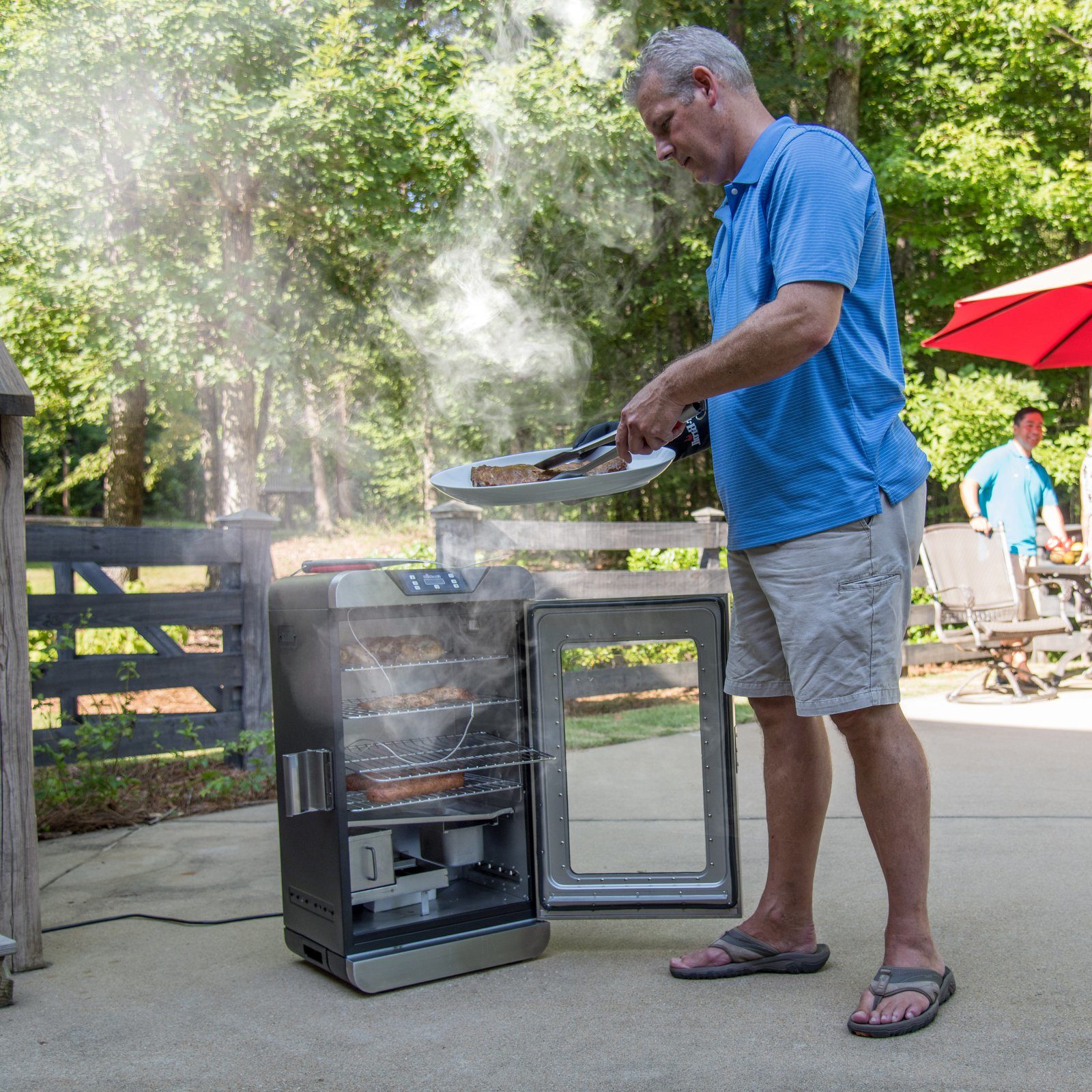 Electric smoker grills are nice to have because it gives more function. Having a grill or a smoker on its own is already awesome. But you get two of these? It's perfect. However, you won't really need both of them at the same time and in some instances, you'll probably just use one of them, which asks the question: Do you really need to get an electric smoker grill?
The answer depends on your needs and preferences. Do you want (not necessarily need) to own both? Do you always hold backyard barbecue parties with a lot of guests? Do you have the budget to spare? If your answer is yes to one or more questions then why not? After all, owning both is pretty cool.
Before you get all excited and go to the first appliance store you know to get your first or replacement electric smoker grill, it's worth noting to get in-depth with a buying guide about electric smoker grills. You want to be able to purchase the right one on the first go, as these don't come cheap.
What to look for in an Electronic Smoker Grill?
Price: You can get an electric smoker grill for as cheap as a hundred dollars or as expensive as a few thousand bucks. Bear in mind that it doesn't mean that you got your appliance at an affordable price it's not good enough. Or that if you got the most expensive product there is, it's the best one. Prices and needs vary; one can find his perfect smoker grill for a little over than $100, while one may get satisfied and happy for a smoker grill that's over $1000.
It all boils down to your preferences, and of course, your budget. The function is always the same; the differences are in the composition of materials used, the brand name, and other additions or perks such as a side burner. An example for a multi-functional smoker grill that's still within the "acceptable" budget range is the:
Smoke Hollow Gas/Charcoal Smoker Grill
If you have the money to spare but can't decide to save or splurge, barbecue fanatics who have tried it all give this advice: Get a smoker grill that's over $400; you will get the ability to smoke lots of food at once and have the best equipment to do it with.
Temperature Control: This is one of the main factors that should make you decide whether to get a smoker grill or not. One of the best aspects of owning an electric smoker is it does the job perfectly on its own and wouldn't need you lurking close to it all the time. To be able to do this, the smoker grill should have temperature that you can set for a specific amount of time.
Delivering the meal on time is as important as making sure that it's not overcooked or undercooked so get a smoker grill that makes it easy to control temperature. Electric smokers would simply allow you to put the food in, set the temperature and time, and leave it to cook. After which is a waiting game that you can spend with your guests, family, or friends.
Capacity: Decide for the capacity of your smoker grill. Go for a big one if you consider yourself as a backyard party fanatic who almost always holds big BBQ cookout fests in your home and invite over a dozen guests at a time. You'd want something that is big enough to cook a lot of meat at once as it makes serving hungry people fast. You may consider getting the:
On the other hand, if you aim to serve only a few people including your family and some neighbors who can't help but come over after smelling the whiff of grilled meat, consider getting a small to medium sized electric smoker grill. It will save you up electricity in the long run and it saves some parts of the unused electric smoker grill from rusting.
Accessories: You can purchase some "add-ons" for your electric smoker grill. A thermometer should be considered especially if you're using a barrel smoker grill with a separate firebox hanging at the side such as the:
Laguna Grills Big Horse Smoker Grill
To make sure that the heat is sufficient when you cook. Thermometers aren't expensive and can be bought in major appliance stores.
If your electric smoker grill is stored outdoors, you should also purchase a quality cover to protect it against the changing weathers. Covers range in shapes, sizes, thickness, and material. They can be bought in hardware stores and are fairly cheap. To aid you in your search, try the Classic Accessories Veranda Barbecue Grill Cover:
Conclusion
An electric smoker grill is a nice addition to your backyard or outdoor kitchen especially if you love just spending time with your family there for impromptu barbecue cookouts, or inviting friends over for a weekend of barbecue parties. A smoker grill has a lot of positive feedback because it doubles the capacity of the food you can cook.
For instance, you can smoke salmon while grilling burgers on the side. It gives your guests more variety and more dishes to sample, which will make your backyard party the talk of the town.
Of course, there are still a few cons with using an electric smoker grill such as the cost of the electricity bill if you tend to use your grill a lot. Cooking using electric grills also eliminate the chance of having an additional smokey flavor in your meat. If these concern you, you can opt to choose a more fuel-efficient smoker grill, which is either gas or charcoal.
However, many owners still stick to electric smoker grills because it's very easy to use, safe, and fast. You don't have to install it to gas lines, refuel propane tanks, or even tend to the messy charcoal.