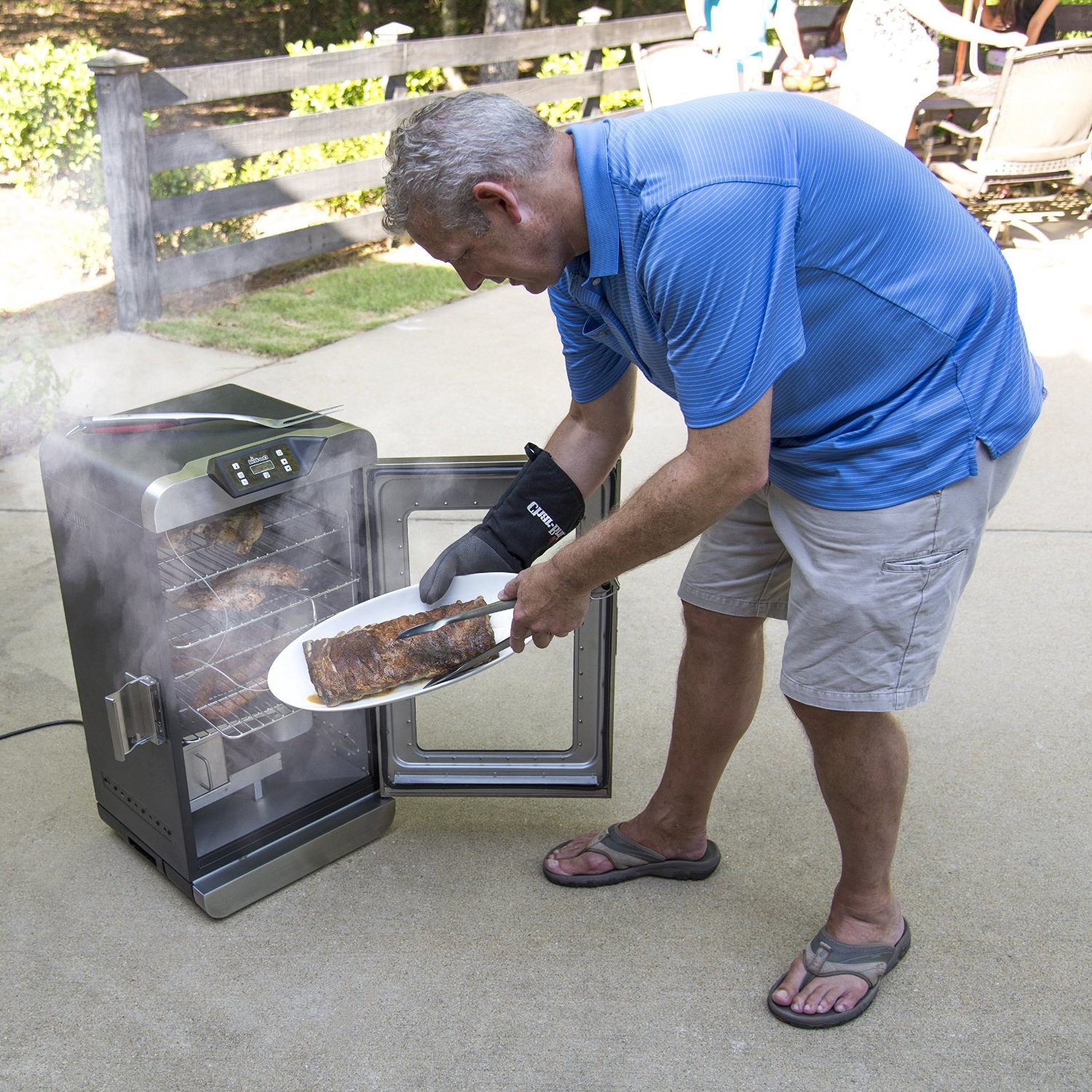 Having a smoker in your home can help you whip up a variety of grilled goodies that you can serve to your family and guests. You'll look like a pro when they taste the charred meaty goodness, even without suffering hours of being in front of the smoke, thanks to the help of an electric smoker.
If you're a newbie who looks for his first electric smoker, or a seasoned backyard barbecue junkie who is looking to replace his smoker, you might want to consider reading through this article to find out what to look for in an electric smoker. You may think that a good grill may do the thing, but smoker can do wonders to your ribs, salmon, beef, turkey, etc.
Electric smoker does a better job at grilling as it minimizes errors in cooking. When compared to grills, this is more efficient to use as it produces a no-fuss experience, resulting to meat charred to perfection. If you're convinced, read through the article to find the electric smoker that suits your needs and preferences.
What to look for in an electric smoker?
Price – Smokers can be really expensive; if you want to get a good appliance that sits on top of every prospective buyer's dream list, you have to shed typically more than $500 or $1000. Of course, it seems not practical to go way over the thousand mark even if you have the cash to spare as it can be spent on other stuff, like buying an endless supply of meat for your smoker.
As what practical people say, what's the use of having an expensive smoker, if you don't have money left to buy anything to grill on it? But if you have a little extra, and you're feeling generous to the company making these expensive smokers, why not splurge? You're sure that you're getting what you pay for, anyway.
Char-Broil 19202101 Deluxe Black Digital Electric Smoker, 725 Square Inch

May be considered as a great investment considering its quality and built. It may rather be on the expensive side, but its deemed worth saving up for.
For those who don't feel going over the one thousand mark, there are still a number of smokers to choose from. Don't worry, it's not like you won't be able to snag a good one. And for those who are really on a tight budget but would still like to experience the goodness of meat cooked in a smoker, fret not, as there are a lot of quality smokers that go below $500 such as the:
Masterbuilt Electric Smoker
Size – The capacity of the smoker has always been in the list of "the important things to consider when buying an appliance" because it determines the capacity of meat you can cook. This is especially the case if you're getting a grill for the purpose of having guests over to enjoy a nice home-grilled meal with you, apart from the fact that you're saving up a lot instead of having someone to cater food or to dine out.
Smokers also add a nice touch to a home party. So if this has been what's on your mind, consider getting a smoker big enough to accommodate cooking food enough for your family and guests. Also think about how often you're going to use it for; if you do have a lot of guests but only party once in a while, it may not be worth getting a big smoker that you would rarely use.
To give you an idea of a smoker's capacity, the smallest one is considered good for medium to large families (around 15 people) and a few guests while a large smoker can cater to a whole day of barbecuing for a bunch of hungry guests.
If you're aiming for smoking for your family and a number of guests as often as every weekend, consider a small to medium sized smoker that is built for frequent use. There are smokers that come in several tiers to accommodate more grilling such as the:
Smokin-It Model #3 Electric Smoker
If you're smoker to a group of around 30 to 50, get a big smoker, unless it's a one time party then consider having other options in the menu aside from smoked goodies so you can just use whatever size of smoker you have, this is so you won't buy a big one that will just rust in your backyard.
Thermostat Control – Almost all electric smokers have thermostat control. This is important so you can choose the heat setting and the time for it to grill. Afterwards, you can just leave it behind and spend some precious time mingling with your guests. Get something with the likes of the:
Smoke Hollow 26142E 26-Inch Electric Smoker with Adjustable Temperature Control

The thermostat gauge on this grill is removable and has low, medium, and high settings for smoking just about anything.
You may not have this if you choose to buy charcoal or wooden smokers because you'll have to constantly check if the fire's going and if the heat is enough. However, to make it easier, there are third-party thermostat add-ons that you can fixate in your grill. Just think, isn't it more fun to be at the party talking with friends over good food than getting stuck at the grill?
Conclusion
If you aren't sure of what to get having considered all the factors above, you may opt to read more about your grill of choice by looking over electric smoker reviews that will help you greatly, especially with determining specifications. Electric smokers come in a variety of looks, sizes, and brands so it's generally up to you and your budget which one best suits your needs. Just remember, you don't need to get the biggest size or the most expensive brand there is. Smaller and mid-priced ones can do the job and produce meats cooked to perfection. As a consumer, you need to be careful and wary about what you'll purchase to get the best deal for your bucks.