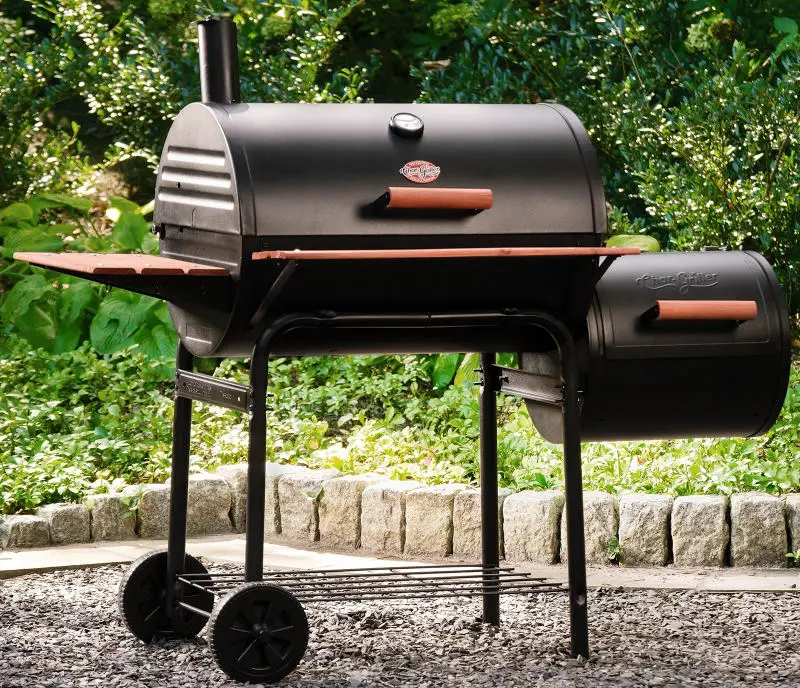 Do you love a great charcoal-grilled steak but wish you could smoke the occasional rack of ribs? This is a dilemma that most people with a smoker run into. What is a person to do, buy a smoker and a grill?
Well, the Char-Griller Smokin Pro might be a great option for you. It looks like a traditional offset smoker, but the main chamber has an adjustable charcoal burning tray. Additionally, there is a traditional firebox on the side of the main chamber for smoking or use as a small grill.
Note: most links in this article are Amazon.com Affiliate links, see Affiliate Disclosure, thank you.
Click here to see Char-Griller Smokin Pro on Amazon.com.
PROS: Let's start with the reason we would buy this unit, you can grill a steak, burger, or anything you would like on the large non-stick cast iron grill grates. An adjustable charcoal rack inside the main chamber makes it easy to control your fire for the perfect sear.
The barrel is industry-standard heavy gauge steel but the bottom is double plated to stand the test of time. The side-mounted firebox has a door with a damper for easy airflow adjustments.
When it is time to load the firebox for smoking the charcoal drawer slides out, this feature makes it easy to remove ashes and add charcoal or wood to continue smoking without opening either chamber's top door. Finally, the wood shelves on the left and front are a great place to rest tools or sauces.
CONS: We have two main issues with this unit, first painted steel is always a problem. When you are using the firebox to start your charcoal or wood, the high temperature can bubble your paint. We always recommend pre-lighting your fuel in a separate grill.
Second, the unit leaks smoke in a lot of places. Our top recommended modification for any budget-friendly smoker is seal tape for the lid and high-temperature silicone for all those joints.
Another issue is when you do grill in the main chamber, you will not get direct heat on the whole grill because the charcoal tray is smaller than the grill surface.
If you need support after your purchase on how to use your new smoker, including technic, recipes, or cleaning, this website has a full library of articles to help you out. Start by checking out our article How to Use Offset Smokers to Have Great BBQ. – Thank you for your support. –
What are the important aspects of the Char-Griller E1224 Smokin Pro
Type: The Char-Griller E1224 Smokin Pro looks and works like a traditional offset smoker that burns charcoal, wood, or we recommend a combination of both. With a traditional smoker, you will get great flavors but the trade-off will be extra work to maintain your fire.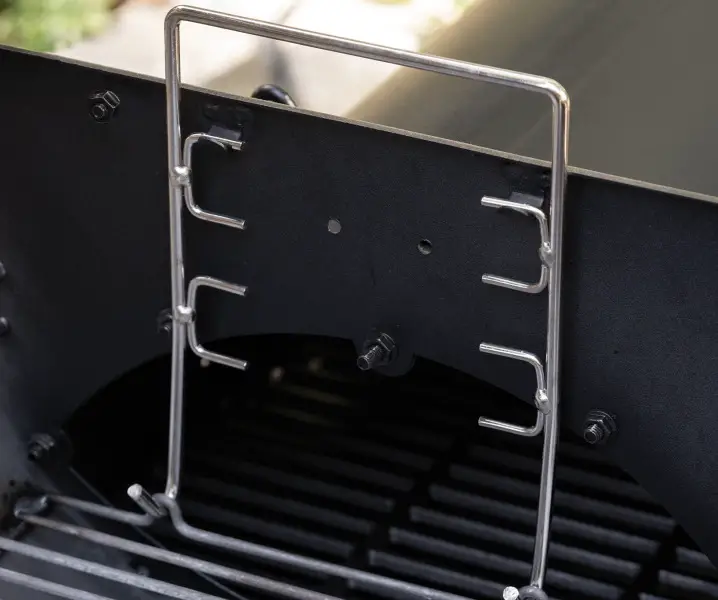 The coolest part of the Char-Griller E1224 Smokin Pro is the adjustable charcoal rack. You can build a fire with traditional charcoal briquettes, or any fuel you choose and grill away. Adjusting the charcoal rack can be done before you start, or if you have hot gloves, you can move the rack while you are cooking.
Clean up with a solid fuel smoker can always be a bit of a mess. You should always wipe down your grill grates after you have cleaned them with canola oil to help prevent rust.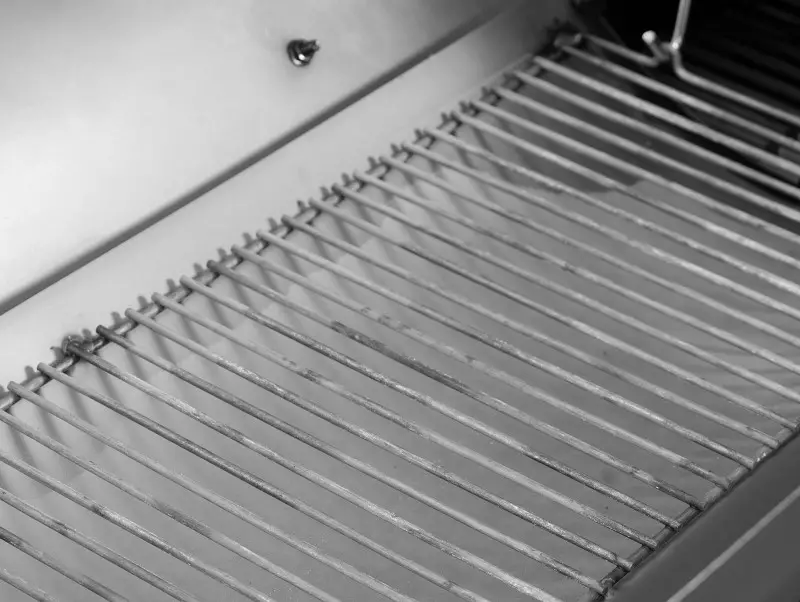 Portability: The Char-Griller E1224 Smokin Pro is rather average in weight coming in at 113 pounds before any modifications. Two wheels are attached to the left legs of the Char-Griller, making it easy to move with the handle on the firebox. The handle is metal and gets hot during use.
Because of the Char-Griller's overall weight and large size, it will take two people to move if the ground is not smooth and level. Remember not to attempt to move a smoker or grill while in use or if it is still hot because of the risk of injury.
Capacity: The total cooking area of the Char-Griller is 830 square inches, which includes the side firebox of 250 square inches. When you are grilling in the main chamber, your surface area is 580 square inches; however, you will not get direct heat around the edges. If you are smoking in the main chamber, most of the 580-inch surface will be useable.
The cast iron grill grates are very strong and can be loaded up with a large amount of meat; you can plan on smoking up to two whole turkeys.
Click here for our article 11 Tips for Smoking a Turkey
Insulation: The Char-Griller E1224 Smokin Pro is constructed out of heavy-gauge steel with a powder-coat finish. This is industry standard material that you will find common with most production grills and smokers, but don't let that detour you because it still performs well.
Once the Char-Griller comes to temperature, it radiates heat well and maintains the temperature well if you maintain the fire consistently.
Accessories: The Char-Griller E1224 Smokin Pro doesn't come with any accessories to speak of, but the front and side shelves are nice bonuses that some would consider accessories. The main chamber lid includes a built-in thermometer which can give you an idea of the temperature in the upper center of the main chamber.
Under the main chamber attached to the four legs is a medium-duty shelf on which you can place pans or a few pieces of wood for temporary storage.
AmazonBasics Grilling Tool Set would make a nice addition to this grill/smoker Click here to check it out.
Warranty: One-year warranty for material or craftsmanship defects is an industry-standard that most manufacturers follow. There are a few companies that have a two-year warranty and a few with a ninety-day warranty, but those are rare.
Seasoning: Don't forget to season your smoker. We recommend seasoning your smoker twice. After you have assembled your smoker, give it a light cleaning, burn a fire above 275 degrees for two hours, and allow it to cool. Then season your smoker a second time with a low-temperature fire of around 200 degrees with heavy smoke for up to four hours. This seasoning process will start you on the path to great flavors but for more information, check out our article How to Season Char-Griller E1224 Smokin' Pro.
Other highlights of the Char-Griller E1224 Smokin Pro
There are special features of the Char-Griller grill and smoke, and one is the ability to mount a rotisserie. You can purchase a kit that will bolt on the Char-Griller and then attach your rotisserie. Another option available for purchase is a warming rack kit so you can move your food out of the fire while finishing everything up.
Also, I don't want to forget to mention that if you want a few burgers or steaks, it is easy to grill in the firebox with the included food grates, and it works very well. The same firebox is also sold as a portable grill.
What other things should you know about the Char-Griller E1224 Smokin Pro
Assembly is fairly easy and requires few tools. One person can do the job but we recommend two people because of the size of the Char-Griller.
You should allow 2 hours to assemble the grill/smoker completely. Adding some lock washers to the assembly and some high-temperature RTV silicone would be a good idea,
Most customer comments were positive and gave this unit high praise as a smoker. As a grill, people said it left a little to be desired. One recurring comment focused on the lack of a grease collection system.
Most grills or traditional barbeques have a hole in the bottom with some sort of grease pan, and many smokers like the Masterbuilt electric smoker have a drip tray and a grease cup. On the most recent unit we purchased, there appeared to be two holes at the bottom of the smoker body for grease to drain, but there was still no included grease cup. This problem is easily fixed by placing a coffee can under the hole.
Bubbling paint is a common problem on fireboxes and this smoker has the same issue. Once the paint bubbles, it will rust if you don't fix it right away. Finally, many people commented about smoke leaking, which is why we strongly recommend the high-temperature RTV silicone that you can buy on Amazon.com.
Click here for our top Smoker Modifications in the second half of our article How Does a Smoker Work
The Verdict
If you are an occasional charcoal griller but love your smoked food, we like this grill/smoker combo. It is nice to be able to have one unit to do it all that also fits into our budget-friendly category. Bear in mind, it is a better smoker than a grill, and grilling food is harder on equipment than smoking food.
Count on making modifications for best smoker performance like adding heat baffles, thermometers, and Silicone. Also, consider purchasing a charcoal burning basket and a fast-lighting charcoal chimney when you make your smoker purchase.
If you make a few modifications to your Char-Griller, you will have a great entry-level smoker that is capable of smoking anything to perfection.