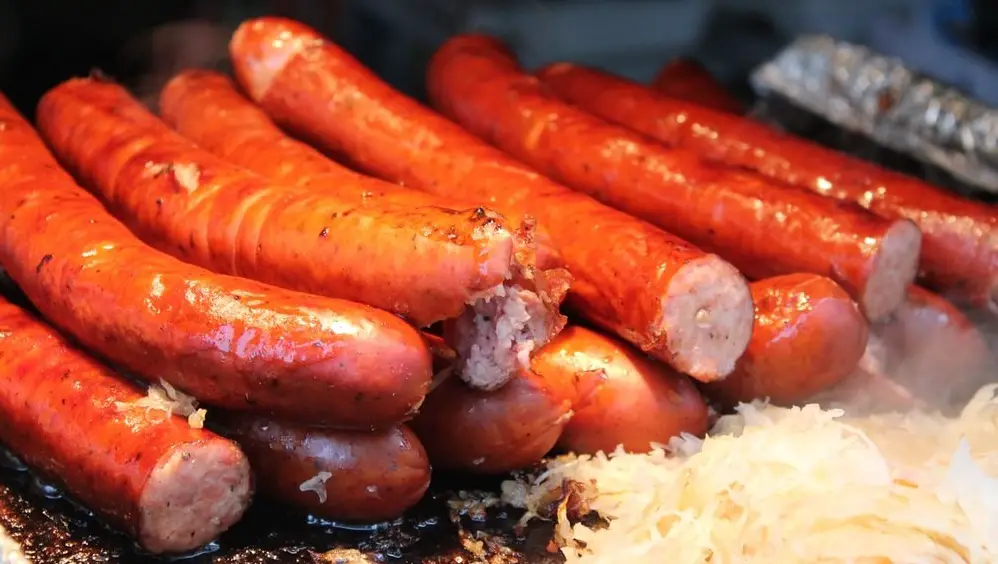 Delicious sausages (or bratwurst) are a great food option for dinner with friends and family. They are easy to prepare, and everyone likes them and enjoys their flavor. Grilling sausages is a good alternative but smoked bratwurst is a stellar choice!
In this guide, you will learn how long to smoke brats and the best way to prepare these tasty sausages. After reading this article, you'll understand why there's no better way to eat sausage other than smoked.
What are Brats?
Brat is a slang term for bratwurst, which is a traditional german type sausage made of pork and veal. Typical seasonings for brats include ginger, nutmeg, coriander, and caraway, although we have seen some include fennel. In the United States, brats are a common staple in the state of Wisconsin and many small german communities.
Why Smoke Brats?
Sausages are a food that is commonly made from pork but sometimes you can also find them mixed with beef. Many people put bratwurst on the grill but preparing them smoked gives them an unmatched flavor.
Preparing sausages over low heat in a smoker allows you to keep the moisture in without burning them as you might when using a hot grill. Smoking brats adds a woody flavor to the sausage and slow cooking them on indirect heat helps retain the shape of the smoked sausage. When sausages are cooked at very high temperatures on the grill, they risk losing their original shape, and sometimes the sausage casing can burst, releasing all the delicious juices.
What is the Ideal Temperature for Smoking Brats?
It is recommended to smoke sausages at 225˚F for excellent results. If you want to smoke them a little faster, you can increase the temperature to 250˚F, however, smoking them at the recommended temperature of 225˚F is the best option to ensure better flavor and juiciness.
How Long to Smoke Brats?
Brats need approximately two hours to smoke at 225˚F to fully cook and still be juicy on the inside. Several factors determine the right cooking time, like the size of the sausage and the ingredients they're made with. Most sausages, however, are finished smoking in about two hours.
What Type of Sausage to Smoke?
You can find a wide variety of sausages in supermarkets and at your local butcher. The bad news is that sometimes you don't know what you're getting, especially when it comes to sausage. Make sure that the brats you buy for smoking are of premium quality.
If you can't find a good quality sausage at your local butcher shop, you can opt to buy a product online. Reading product details and customer reviews will help you make an informed decision.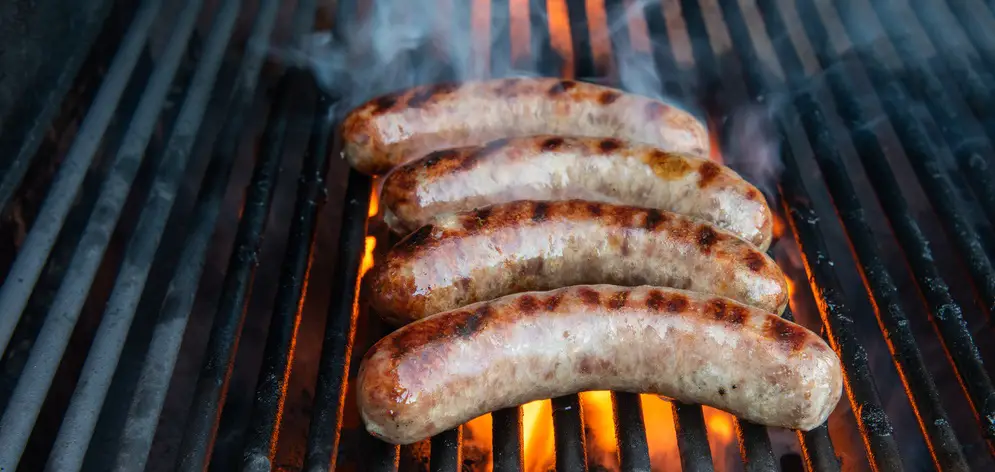 What Type of Wood to Use for Smoking Brats?
One of the things to consider when smoking sausages is your choice of wood chips. The choice of wood you use will depend on the type of sausage you're cooking, but applewood is a very popular choice. Rest assured that it will give a mild flavor that will not overpower the taste of the meat. This type of wood will give it a sweet touch that complements the sausage perfectly.
Oak is another commonly used wood for smoking meat. It gives a nutty flavor that although it does not change the flavor of the sausages much, is a good option for those who are not very familiar with smoking sausages or any other type of meat. It is normally used for smoking lamb, veal, brisket, and of course, brats.
On the other hand, maple wood is ideal for those who wish to add a milder, sweeter flavor to their sausages. It gives a subtle aroma that complements other flavors emitted by the same wood.
If you are looking for a stronger flavor, mesquite wood is the most suitable option. Due to its strong flavor, it is recommended to use it in small quantities.
What Type of Grill to Use for Smoking Brats?
If you want to impress your guests, we recommend using a pellet grill because it is much easier to prepare the sausages compared to a gas or charcoal grill. Besides the fact that the flavors obtained are much smokier, the juiciness of the sausage is better preserved.
When you cook your brats on a gas or charcoal grill it is not possible to appreciate the specific and authentic flavor. A wood-fired grill, on the other hand, guarantees a woody and smoky flavor that takes your sausages to the next level. If you opt to cook your bratwurst on the fire directly you will ruin the experience of savoring smoked bratwurst.
No method can come close to the results that smoking brats on a wood-fired grill give. The Traeger brand is a very good choice if you plan to purchase a pellet smoker for your family gatherings and meals.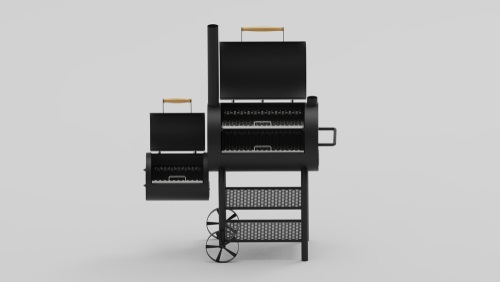 How to Smoke Brats?
Now that you know the best options for smoking your sausages, it's time to review the best way to smoke them.
Here are some articles on How to Smoke your Brats.
Step 1. Depending on the grill or smoker you have, use the manufacturer's recommended settings. Preheat your smoker to 275˚F and add the wood of your choice.
Step 2. Lightly brush the sausages with olive oil and place them on the smoker grate. Let the brats smoke at the temperature recommended above until they have a crispy, bronzed appearance. Check their doneness with the help of a meat thermometer until they reach an internal temperature of 160˚.
Step 3. For hot dogs, be sure to toast the buns perfectly. A well-toasted bun adds a crispy texture with a soft interior that will surprise your guests.
Step 4. Serve the hot dog or cooked bratwurst sausage on the plate where you will offer them to your guests. Add toppings of your choice like mustard, BBQ sauce, sliced onion, or bacon to enhance the flavor.
Enjoy!
When the sausages are perfectly smoked, it's time for you to enjoy your meal and the company of your loved ones. If you follow our tips, we assure you that not only will you enjoy some delicious smoked bratwurst, but your guests will be so impressed that they won't want to attend another barbecue unless you're the host.