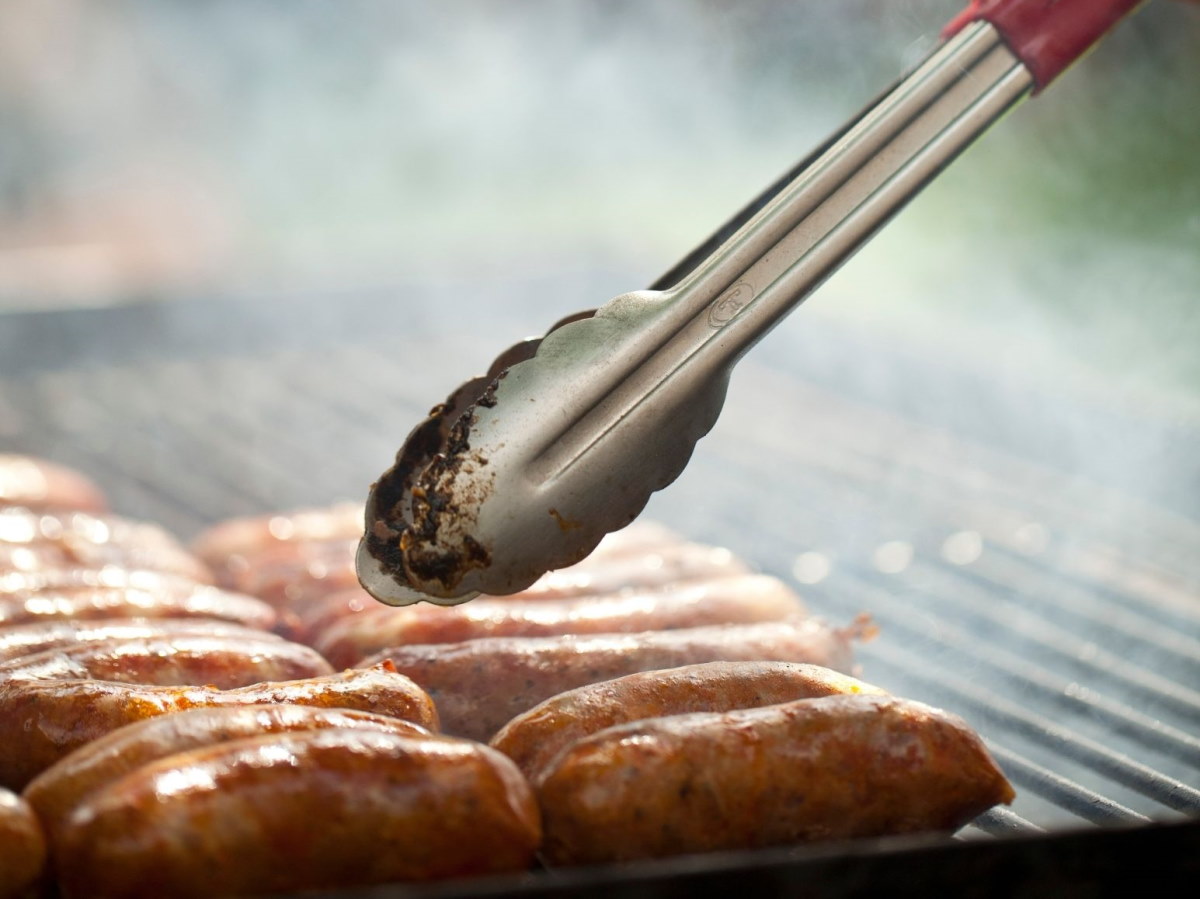 When it comes to smoking sausages, it may be the easiest meat to smoke out there. That is if you are smoking store-bought sausages. If you are making sausages from scratch at home, it will take a lot more time but will be worth it in the long run.
Knowing how to smoke sausage on a pellet grill will also help elevate your homemade sausage's flavors. But the process from start to finish will take some time, effort, and cost much more than buying them already made at the store.
This article will teach you everything you need to know about making and how to smoke sausage on a pellet grill the correct way.
Note: most links in this article are Amazon.com Affiliate links, see Affiliate Disclosure, thank you.
Getting Started
To make your sausages and smoke them at home, you will need the proper equipment. Most people will grind their meat to create the perfect blend. But that doesn't mean you have to as well. You can always buy the meat pre-ground and make it that way.
But in the end, it will be miles better if you grind the meat and make the mixture yourself. You will also need the correct tools to smoke the sausages, and depending on how you smoke them, you will need other additions to your smoker.
Before you start the process of making your sausages and smoking them, make sure you have everything you need. You don't want to start the process and end up needing something in the middle.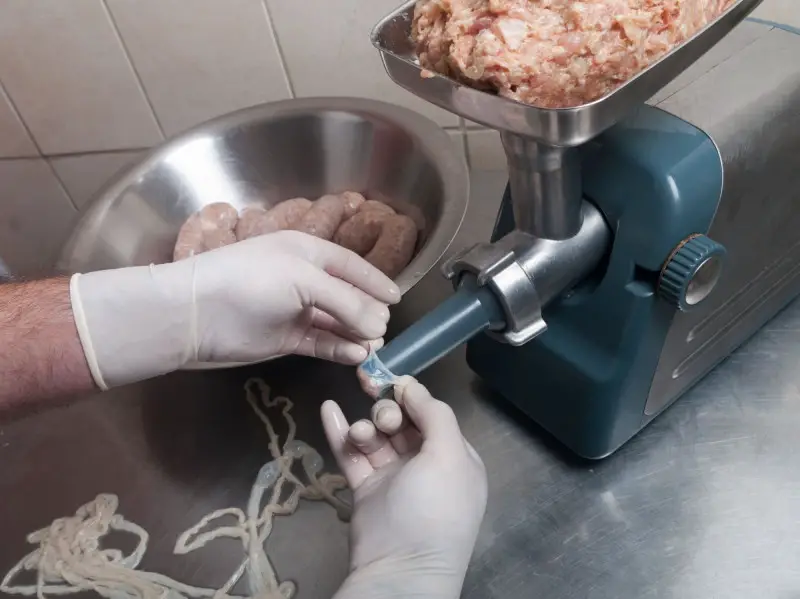 Equipment needed
Meat grinder
Meat stomper
Cutting board
Sausage stuffer (attachment for meat grinder or stand mixer)
Sausage tubes
Hog casings (pig intestine)
Bowl
Sheet pan
Long tongs
Sanitizer bucket
Sausage rack for hanging
Thermometer
Basic Pork Sausage recipe
4 pounds pork shoulder
2 tbsp. Garlic powder
1 tbsp. Onion powder
1 tbsp. Kosher salt
1 tbsp. Black pepper
1 tbsp. Fennel seeds
1 tsp. Ground mustard
½ tsp. Cayenne pepper
½ tsp. Ground cumin
1 tsp. Tabasco
1 tbsp. Worcestershire sauce
1 tsp. Quick tender curing salt
¼ cup sherry wine
¾ cup ice cold water
Making the Sausages
When making the sausages, choosing the right meat can be crucial. You have to get the ratio of meat to fat just right; otherwise, the sausage will come out bad. If it has too much meat and not enough fat, the sausages will be tough and hard to cook thoroughly.
If you use too much fat, the sausages will be grainy and have an off-putting taste. The best rule of thumb is to use about 80% meat to 20% fat. Follow this rule closely for the best results, even if it means you need to add fat.
But if you are using a fattier cut like pork shoulder, you should be just fine using that cut of meat without other fats. To make this easier on you, we will be using pork shoulder only without introducing any other meat cuts.
The first thing you need to do is grind the meat. Start by cutting the pork shoulder into 1-2-inch cubes or chunks of meat using your chef knife and cutting board. Once you have the meat cut up, you will need to freeze it for a bit. If the meat is partially frozen, it will easily pass through the meat grinder and won't get caught.
If you don't do this, the meat grinder tends to get clogged up, and sometimes the ground meat will come out like a paste instead of ground. You don't want this to happen. Place the chunks of meat on a sheet tray and place them in the freezer for about 45 minutes or until they are about halfway frozen.
Set up the meat grinder and begin to pass the meat through the grinder using the meat stomper. Once the meat is all ground up, you can add your seasonings and fluids. Mix everything well, making sure everything gets incorporated.
Next, attach the sausage stuffer to the meat grinder and slide the hog casings onto the sausage tubes. Begin to feed the sausage mixture through the grinder into the casings. Twist them off, separating them one at a time to about 6-8 inches in length. Do this until you run out of the mixture.
Place the sausages back on the sheet tray and allow them to rest in the fridge for a couple of hours.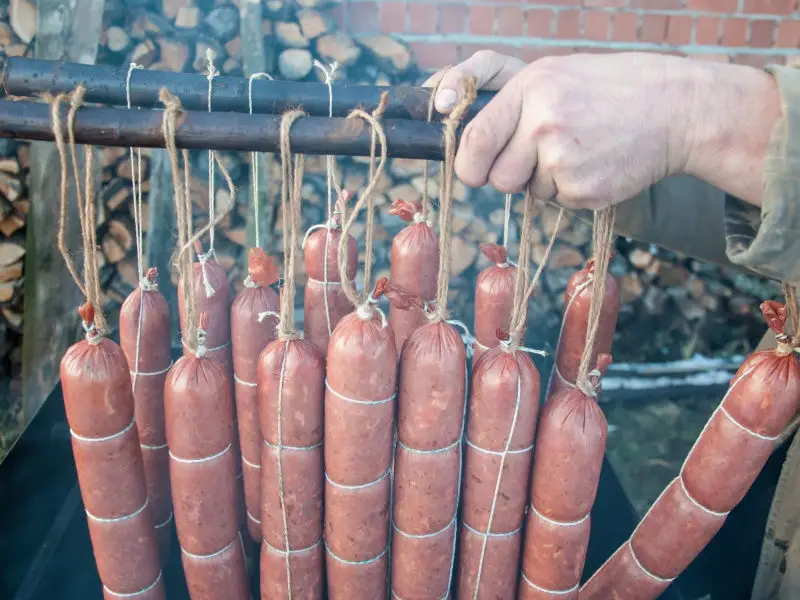 Smoking the Sausages
Before starting the smoker, make sure to get wood (pellets) that you are ok with using. You can use just about any wood when smoking sausages, but some of the more common wood types will do the trick. Hickory, maple, or mesquite all work very well when smoking sausage.
Click to read our article All About Wood Pellets.
If you plan to use fruitwood pellets like apple, cherry, or peach, you may want to mix it with another stringer wood. Fruitwood pellets are relatively subtle and are used as more of an accent or flavoring to the already used wood.
Fill the pellet smoker up with pellets and preheat it to 225 degrees. If you made sausages that are connected where you twisted them, you can either lay them on the grill or hang them on the smoker rack. It will be better to hang them in the long run to gain all the smoky flavor possible. If they are individuals, that is fine. Just lay the sausages on the grill to smoke them.
Click here to read our article What Is the Best Pellet Smoker.
Once the smoker is ready to go, close up all the vents and smoke the sausages for about an hour. After that time, check them with a thermometer. The sausages' internal temperature needs to be at least 165 degrees to avoid any foodborne illnesses and for the sausages to be thoroughly cooked through.
Once they have reached the acquired temperature, remove them from the smoker and allow them to rest on a sheet tray for at least 30 minutes before slicing them or serving them. They need to rest to retain all their liquids and stop the cooking process.
Once they have rested, you can serve them up. You can also store them in a tightly sealed Ziplock bag for up to 2 weeks in the fridge as well.
Check out the reviews of this Amazing Pellet Smoker on Amazon.com
Conclusion
No matter what type of sausages you decide to smoke, whether they are premade, or you make them on your own, the smoking process will be quick and easy. But if you make them on your own, we promise you will never purchase store-bought sausages.
Knowing how to smoke sausage on a pellet grill will for sure come in handy in the future for any backyard barbeque or family get-togethers you plan to have. Everyone will be ranting and raving about your smoked sausages for years to come!
FAQ
How do you smoke store-bought sausages?
The process is generally the same. Keep the temperature around 200 degrees, and when the sausages' internal temperature has reached 165 degrees, they will be done.
Can you smoke already smoked sausages you buy in the store?
Yes. You will just be adding more smoke flavor while heating them up. They are already cooked, so it is just about heating them up to eat.
Can you smoke frozen sausage?
Yes. But they will not be the same as if you completely thaw them first because the smoke will not penetrate them fully. It is best always to use fresh sausage when smoking them. Also, make sure to check the internal temperature for 165 degrees.
Can you smoke bratwurst?
Yes, you can. Grilled or bratwurst boiled in beer are always good but smoking them is better. When you smoke brats low and slow, they will retain most of their moisture and not dry out.