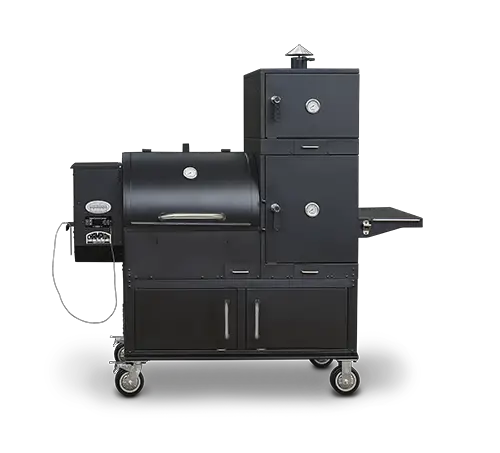 Do you like to smoke enough food for that huge block party? Are you the host of all hosts? Or do you like to have that one piece of equipment that can do it all? Well. This behemoth of a smoker might be the one for you.
The Louisiana Grills Champion pellet grill is the biggest produced grill/smoker we have ever reviewed. When you get a unit this large it is common to have a custom build. You can skip that step with this versatile grill/smoker.
Note: most links in this article are Amazon.com Affiliate links, see Affiliate Disclosure, thank you.
Pros:
Heavy-duty construction makes this a grill that will last for many years to come.
The ability to sear meats is one of the standouts for this grill/smoker.
Massive capacity
Each compartment has a thermometer.
Included heat baffles and dampers allow for individual compartment temperature control.
Cons:
The weight of this unit (over 400lbs.) makes it difficult to move even with the heavy-duty casters.
No hopper door to remove pellets for wood flavor changes.
The learning curve can be difficult for beginners, and we recommend mastering one compartment at a time.
Some customers have complained about ignitor failure, but the company has sent out replacements upon request.
Click Here to see this item on Amazon.com
What the important aspects of the Louisiana Grills Champion grill/smoker
The LG Champion grill/smoker is a large unit with a lot of features. We will start out by listing the numerous features and sort them out as we go through the article.
Features:
3432 sq. inches of cooking area
48000 BTU output
27-pound pellet hopper
Heavy-duty 14-gauge steel construction
Digital controls
Temperature probe
Direct flame option, for searing meats
3 cooking compartments
3 thermometers
3 grease trays
Heat baffles
Airflow fan
2 sliding dampers
Smokestack damper
Water tray
Side table w/bottle opener
Storage cabinet
Locking wheels
Type:
The basic construction style of the LG Champion is a direct vent pellet grill and smoker. Direct vent smokers have a firebox on one side of the unit and a smokestack, or vent, on the other.
The smoke or heat will flow through the unit from the firebox to the smokestack. A series of dampers and baffles along the way of this flow can control smoke and temperature.
The first stage of control in the LG Champion is the digital control panel located on the firebox. You can set the pellet burner to run between 180 to 600 degrees. When the unit is up to temperature, and you get the smoke output you desire then you can adjust the dampers to control each cooking compartment.
The firebox/pellet burner is attached to the side of the grill chamber, where things can get hot in a good way. Most grill/smokers don't perform well with steaks and other char-grilled items, but not the LG Champion. You can set this grill to flame broil your steaks and get a nice char on the outside after smoking.
Attached to the opposite side of the LG Champion is what can best be described as a two-door vertical cabinet smoker. The manufacturer refers to the bottom compartment as the smokebox and the top compartment as the warming oven. Both the smokebox and warming oven are indirect heat and are only used for smoking.
Capacity:
This smoker is massive, with 3432 sq. inches of cooking area, you could easily cook for a family reunion, block party, or cater an event.  Each compartment contains several adjustable or removable shelves, which makes cooking different size items very easy.
One thing to keep in mind is that each compartment has a unique performance, so you cannot get the same cook in all 3432 sq. inches. In most cases, you will be able to cook two ways at once in this unit, hot smoke on the grill side and medium temperature smoke on the cabinet side.
Smoking ribs or dark meat chicken might be the best way to use most of the cooking area because these are two very flexible types of meat. As you smoke your meats you can rotate the locations to get an even finish.
Insulation:
Looking through the unit, there is not any insulation, but this is not an issue. The LG Champion is constructed of heavy-duty 14-gauge steel, which will hold temperature very well.
The key to using a unit that is not insulated is to preheat it slightly above your cooking temperature before you load it. About fifteen minutes after you load your grill/smoker, reduce your temperature to your desired cooking temperature for the best results.
Portability:
When you have a smoker custom-built, it is almost always constructed on a small trailer frame. A smoker of this size is huge and heavy so moving it is not an option. We recommend that you assemble it in the location you wish to use it because you might have to disassemble it to move it.
If you place your smoker on a concrete slab patio, four people should be able to roll it around on the heavy-duty casters. This unit would make a great centerpiece for an outdoor kitchen constructed on that patio for everyone to enjoy.
The base of the unit is a great storage cabinet. While not tall the cabinet is wide enough to store sheet pans, foil, meat wrap, and a bag of pellets. The addition of a small side table makes a great place to keep rubs spices or a bottle of bbq sauce. Also, a single electric or propane burner will fit on the side table with room to spare.
---
Pioneer Smoke Houses Top Recommended Product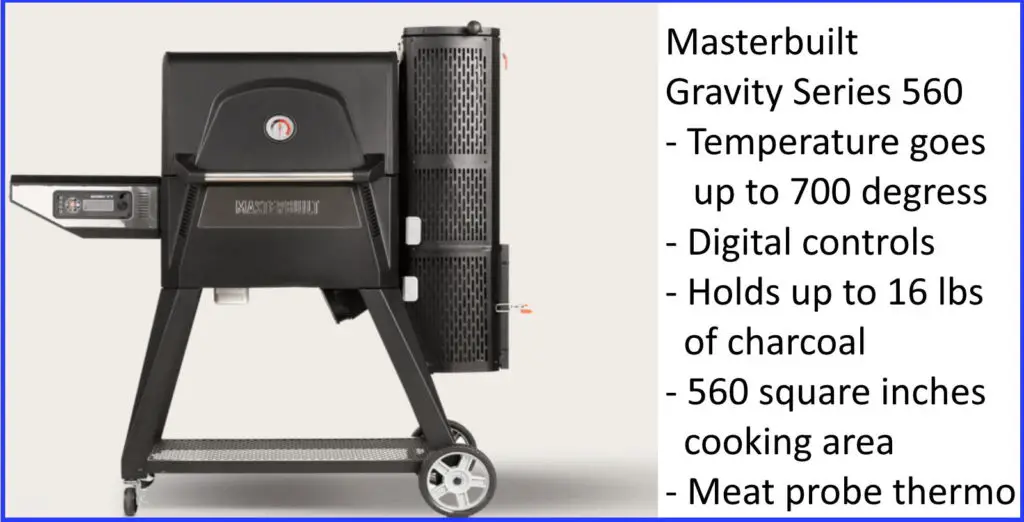 Click here to see the Masterbuilt 560 on Amazon.com
---
What else should you know about the Louisiana Grills Champion grill/smoker
Some users have commented that smoke comes out around the doors. This can be a problem with most sheet metal smokers, no matter how good the construction is. The best solution is to buy a roll of smoker gasket, 1/8" thickness is the best place to start.
A large grill like this will generate a large amount of grease. You need to remove this grease after every use to reduce the chance of grease fires. Additionally, you should run your grill at a high temperate after you empty the grease trays to burn off residual grease and moisture.
Pellet grills, in general, do not like to get wet, and this one is no exception. If your pellets get wet or humid in any way it can cause problems, first, moist pellets are difficult for your auger to feed and can jam up your grill. Second, your pellets are likely not to burn at all if they are wet. You should keep this grill covered with a patio cover and a grill cover when not in use.
Hacks:
Cold smoke is a real issue with many smokers, but the addition of a smoke generator can solve that. We are currently recommending the Smokehouse products smoke generator. With the supplied template, you can drill holes and attach the smoke generator to the back of the cabinet.
A less complicated solution is an Amazin' smoke tray. You can fill the tray with pellets and place it on the bottom rack after you have it smoking. Remember that the Amazin' smoke tray needs oxygen to continue burning, so place it close to the damper and open the damper completely for best results.
If you want to take the LG Champion to the next level, remove the pellet firebox and add a wood/charcoal firebox. Most of the replacement boxes will screw on in place of the pellet firebox and have you burning wood before you know it. While this hack is going to give you the authentic smoker experience it is a lot more work than using pellets.
LOUISIANA GRILLS Promo video
Click Here to see this item on Amazon.com
Verdict:
The Louisiana Grills Champion is a massive pellet grill/smoker that I would recommend to any serious cook. The fact that this unit has three cooking compartments means that it can do just about anything. I would caution the beginner that this grill/smoker might be too much to start.
If you are looking for a beginner-friendly smoker click here to check out our review of the Masterbuild Electric Smoker.