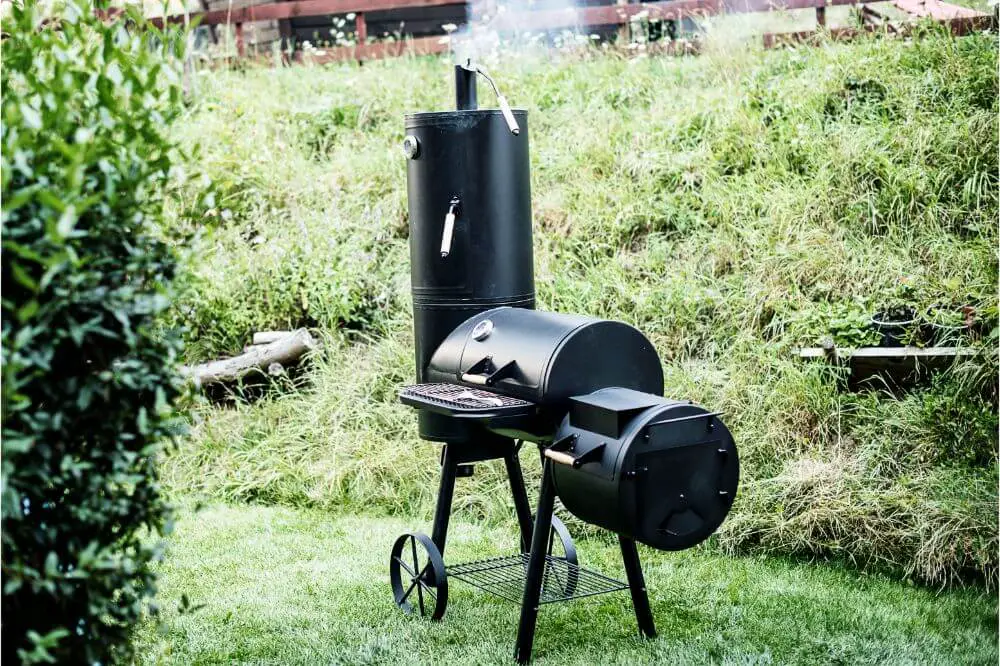 Wood pellets are one of several types of fuel modern smokers can use. Some smokers use solid wood, while others use propane or electricity. Some models can use more than one type of fuel. With a pellet smoker, you can control and adjust the temperature as you would on an electric model. Also, you can get any depth and variety of flavors that you desire. Read on for in-depth reviews of five of the best pellet smokers out there.
Note: most links in this article are Amazon.com Affiliate links, see Affiliate Disclosure, thank you.
Comparison Chart
Traeger Grills TFS60LZC Select Elite Pellet Grill and Smoker, 589 Sq. In. Cooking Capacity, Bronze
Camp Chef SmokePro DLX Pellet Grill – Bronze
Z GRILLS ZPG-7002ENC 2019 New Model Wood Pellet Grill & Smoker
Davy Crockett Pellet Grill Tailgating Package Includes Cover-Collapsible Rack-BBQ Lights
Camp Chef SmokePro LUX Pellet Grill
Best Pellet Smoker Reviews
Traeger Grills TFS60LZC Select Elite Pellet Grill and Smoker
This grill is sizable but compact, and it has an elegant design. It has an efficient wood pellet feeder, as well as a ventilated cupboard underneath, which is something most smokers lack. The internal layout is well suited for smoking due to its efficient use of airflow. Also, cleanup is not too tricky after the device has cooled.
This smoker is an intermediate-level model, made for people who enjoy the taste of smoked food but are not hardcore enthusiasts. It is moderately priced, and it's built to last.
Advantages 
Pouring in the wood pellets might be a little tricky, but otherwise, the smoker is very easy to clean and maintain. If you put it together correctly, then the smoker will likely last you over ten years. Its slow-burn approach makes it suitable for cooking white meats, fish, dressed vegetables, and even pizzas. The automated pellet feeder is sturdy and doesn't jam easily.
Disadvantages
The grill does not get hot enough to sear and grill. Getting it over 300 degrees Fahrenheit might be a bit challenging. The assembly process is somewhat tricky and will likely take you more than an hour. Finally, this Traeger grill is on the heavier side.
Camp Chef SmokePro DLX Pellet Grill
The Camp Chef SmokePro DLX is a small device that highlights efficiency and automation. It is the sort of smoker that casual outdoor eaters will enjoy. It is easy to light with electronic auto ignition and use with its advanced digital temperature chip, and it looks pretty too.
The Camp Chef SmokePro DLX is a mid-priced device that makes excellent use of internal space and offers a consistent cooking experience. If you want less fuss and less mess, then this could be the smoker for you. It will last for many years if you treat it with care and respect.

Advantages
As a veteran smoker enthusiast, you will appreciate the clever use of space inside the smoker. From the outside, it looks like a regular-sized smoker, but the internal capacity is brilliant. You can fit at least 42 chicken thighs on the primary grill, and still have room to spare on the upper shelf for seven quarter pounder burgers. The lid sits high, which means you can roast chickens and even a small turkey.
Disadvantages
Despite there being an ash collection cup, the ash accumulates in the tray, which is both inconvenient and makes cleanup a little trickier. You'll want to clean it thoroughly after each use. Also, despite its considerable weight, the Camp Chef SmokePro could be a bit sturdier.
Z GRILLS ZPG-7002ENC 2019
The manufacturer claims that you can cook food in eight different ways with this smoker, which is not untrue, but it does require a lot of care if you want it to maintain its efficiency and versatility. It is unfair to say that this smoker is flimsy, but it is certainly not strong enough for you to kick around the yard.
The 2019 updates ensure that the cooking process is more even, and provide a more consistent cooking experience. This smoker comes with a three-year warranty, which is a good deal, especially in this price range.
Advantage
The manufacturer's claim that the ZPG-7002ENC reaches 450 degrees Fahrenheit is an understatement. You can crank it up to above 500 degrees if you desire. That means you can roast, bake, braise, smoke, and even sear your food.
The internal capacity is well organized, but it seems a little small compared to similar models, so you will have to "Tetris" your food a little bit. Nevertheless, even when the cooking compartment is full, all food will cook in a very even and consistent manner. Expert tip: You should put the larger items near the bottom as a rule.
Disadvantage
This smoker is a fine cooking device, and even though it is not cheaply built, it is not hard-wearing or durable. It is not the sort of smoker you can merrily abuse.
The manufacturer's claim that it can cook food in eight different ways is true, but without proper maintenance, the smoker falls victim to things like inconsistent heat levels, heat distribution, pellet feeding, and airflow.
Green Mountain Grills Davy Crockett
Popular with tailgaters, this economy class smoker is an excellent example of where quality and price take a fair compromise. It is among the cheapest and most economical options out there, and despite its low cost, it has far more going for it many models in the same price bracket.
If you treat it with care, it can last for years. The design is not too sleek, but it is strong enough to remain reliable. It is also far lighter than many of its direct competitors. The Davy Crockett is not just a first-timers newbie smoker but a smoker that's able to cook high-quality foods in a reasonably efficient manner.
Advantages
The price is super low for what is a very serviceable smoker. Cook on a grill without using trays, and an attentive cook can create delicious and high-quality meals. The internal capacity is nothing to write home about, but it is not bad either, considering the money you pay.
The Green Mountain grill is compact, and the temperature controls are pretty ok, as well, even though they can be a little inconsistent in places. Its relative size and internal capacity also mean the smoker is very cheap to run. A 40-pound bag of pellets will cook a lot of food, and it is interesting to point out that this smoker requires as much as 2/3 less fuel than larger and more expensive smokers.
Disadvantages 
The most frustrating thing about this smoker is that it is teetering on the edge of being fantastic value for money. The price is impressive, but the build quality is barely above average. That means you have to be gentle with this smoker, and you have to maintain it very carefully.
Pay attention and cook attentively, and it will smoke your food to a delicious conclusion. However, if you do not manage the cooking process carefully, the smoker might develop random hot spots that will burn some items while leaving others uncooked.
Camp Chef SmokePro LUX Pellet Grill
The Camp Chef SmokePro offers fantastic value for money and is easily among the best pellet smokers on the market today. It is expertly designed, and it has digital controls and plenty of internal space. It also looks great.
Cleanup and maintenance are simple enough, and the device doesn't demand too much care to keep it in working condition. If properly cared for, this smoker should last you more than ten years.
Advantages
This smoker generates consistent high and low temperatures that make it easy to get that perfect taste and aroma time after time. The internal compartment is not very high, but it goes pretty far back, which means you can fit bigger items into the smoker with ease.
For example, you can place four large sets of ribs on the smoker and still have room for chicken drumsticks. The build quality is far higher than the price tag would lead you to believe, making this smoker a steal.
Disadvantages
After assembly, be careful when moving this smoker, especially if it has wood pellets inside. The legs with adjustable wheels are not the sturdiest around, and moving the smoker when the pellet bucket is full might be a bit problematic.
For the price, this is one of the best smokers you can buy, but the assembly process might be a bit complicated for first-time buyers. If you're a newbie, read the instructions carefully or ask a more experienced smoker owner to lend you a hand.
Buyers Guide
If you are looking for honest reviews, then look for negative reviews, too. Negative reviews, at least the honest and authentic ones, can give you a much better insight into a particular smoker. When sifting through the "cons" sections on the review pages, you should look for general, systemic problems. Disregard the complaints that look like they stem from poor use or abuse of the smoker.
For example, you should look for wood pellet feeders that jam, legs that fall off, hot-spots inside smokers, poor ventilation, and so forth. These are typically the first things that people complain about online when they are genuine buyers leaving negative reviews. Here are a few other things you should consider when trying to decide what is the best pellet smoker for you.
Price
Higher prices sometimes mean higher quality smokers, but many times a higher price tag only brings higher capacity. If you are regularly hosting outdoor events, then a larger smoker is for you. But, if it's just you and your partner, then a smaller and cheaper smoker might be a better option.
You should be careful with discounts that seem unreasonably big. For example, some websites will sell smokers with discounts of over 70%. Naturally, they will seem too good to be true, and the fact is that they are. Search the web for the same smoker, and you will find it elsewhere at comparable prices to the discounted device.
In most cases, if you pay less, then you get a smaller device, and sometimes you get a lower build quality. In all fairness, you don't need a tank if you don't plan on taking your smoker into the wild.
Let's take any compact and moderately-priced smoker as an example. Such a smoker might have sharp corners, thin metal, and basic design. However, if treated with care, even an affordable smoker will prove very serviceable and will last years before breaking down on you.
Deciding Factors
How large does your smoker need to be? What type of cooking do you intend to do? How much are you willing to spend? How many features do you require?
These are the sorts of questions you need to ask yourself before making the final decision. Secondary concerns include durability, ease of maintenance, and ease of cleaning. Do not assume that just because a smoker has an ash cup that it's easy to clean. Also, you shouldn't assume that just because a smoker is expensive that it will last longer.
Temperature
Just because an Amazon description says that a smoker will reach a specific temperature doesn't mean that it will. Check online reviews to see how a smoker performs in reality. Some will over-perform, and many will under-perform.
It is vital to find the smoker that can reach the proper temperature for the types of food you wish to cook and how you wish to cook them. For example, some smokers get hot enough to allow you to sear things, and some do not.
FINAL VERDICT
The best pellet smoker is the one that offers the best value for money in return for all the features and functions you desire. If you are looking for a low-cost device, then opt for smaller smokers with decent build quality.
Some smokers will let you cook in a variety of ways, and some are built just for smoking and baking. Before you invest a lot of money into a new smoker, take a look online to see what other people think and say, and try to find people who have tried out the smoker you desire.
Narrow your list down to two or three smokers and then play them off against each other. Use a little negative bias and look for reasons why you "shouldn't" buy a specific smoker. Finally, do not fall for the websites that claim your smoker is on a massive discount because it is a standard marketing trick.