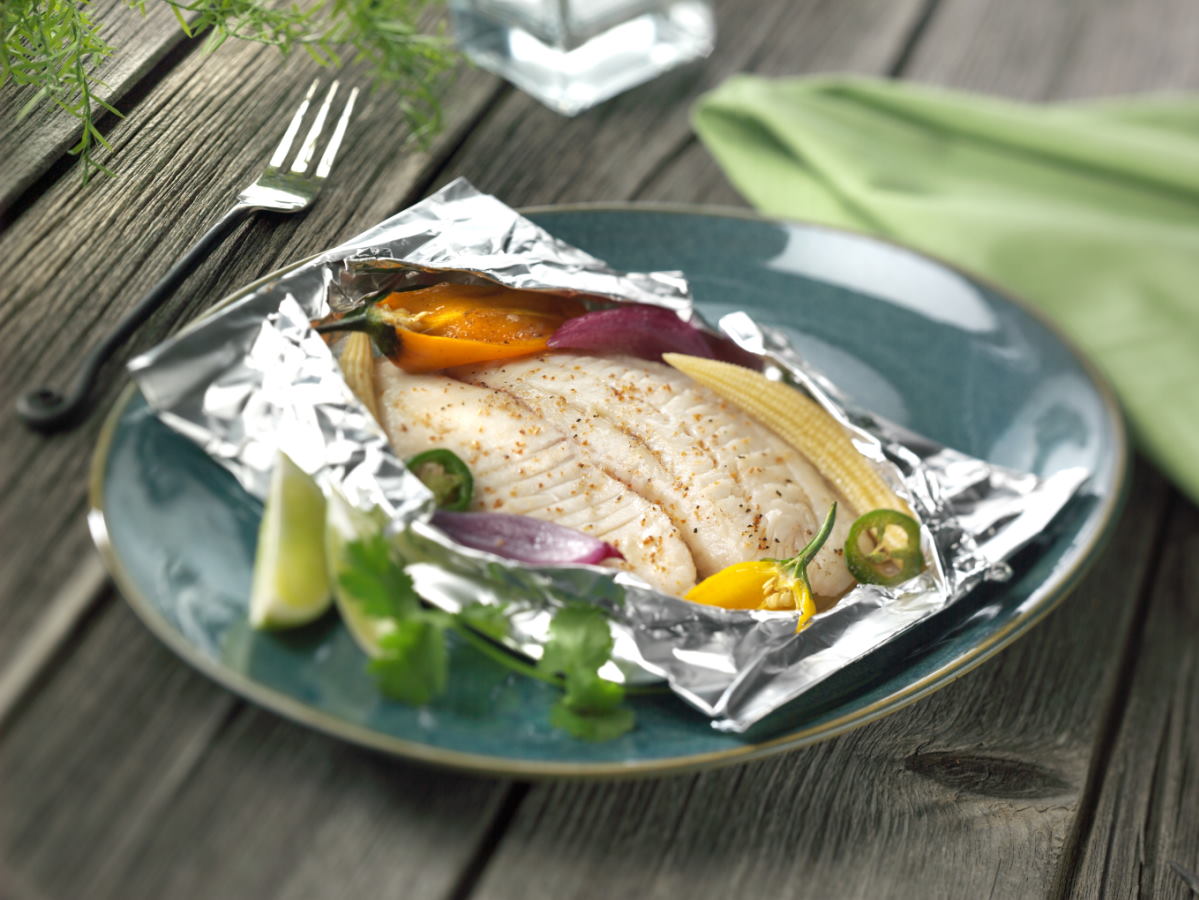 Tilapia is one of the most commonly eaten types of fish in the united states because of its versatility and low cost. Smoking tilapia is very easy to do and is just one of the many ways to prepare tilapia.
It does not take much time to cook tilapia, making smoking a primary cooking method and one of the most preferred among home cooks and chefs alike. Tilapia is also very low in fat, high in protein, and mild in flavor, which goes well with an assortment of different spices and flavors that can accompany the fish.
Keep reading to find out how to properly smoke tilapia and learn a few tips and tricks in your new cooking ventures.
Note: most links in this article are Amazon.com Affiliate links, see Affiliate Disclosure, thank you.
How to Smoke Whole Tilapia
The best temperature to smoke whole tilapia is about 200 degrees, for a total time of 2 hours. You should adjust your cooking time up or down depending on the size of the fish. Remember that recipes may vary, but smoking the fish slowly and at a low temperature will yield the best results.
Smoking whole tilapia is the best way to smoke the fish. Tilapia is a very light and flaky fish, so it falls apart very easily when cooked, which is why the whole tilapia will work best when smoking. If you can find the whole tilapia, you shouldn't hesitate to purchase it if you plan to smoke the fish.
You will also want to try and remove the bones from the fish before smoking it. For a whole tilapia, you can run your knife from the stomach cavity along one side of the backbone without cutting the skin. Once you have completed this cut, lay your fish flat and remove as many bones as possible in the same way you would on a fillet.
Placing tilapia in a brine or marinade for a few hours before smoking the fish will add flavor and moisture to the fish. When brining or marinating your fish, always clean and cut your fish before soaking it.
Finally, when using a brine with tilapia error on the side of light salt and shorter times, this will prevent your fish from being overly salty.
How to Smoke Tilapia Fillets
For smoking tilapia fillets, start by setting your smoker at 180 degrees. Place your fillet skin side down on an oiled piece of heavy-duty foil. Smoke your tilapia for 90 minutes, or until the internal temperature reaches 145 degrees. Then rest your finished fillets for 5 minutes before serving.
 Tilapia fillets can be purchased at most grocery stores at the fish counter or the frozen fish section. If you buy frozen tilapia, thaw your fillets on a sheet pan in your refrigerator overnight. When using store-bought tilapia fillets, most bones will be removed for you,  making them easy to prepare.
Marinating or sprinkling with a dry rub is our preferred way to add flavor to tilapia fillets. We try to avoid brining tilapia fillets for regular smoking because the salt can pull the moister out of your fish.
Preheating your smoker, pan, and foil can help with cooking time and smoky flavor. So set your smoker to your cooking temperature of 180 degrees, which also is the smoke setting of a Traeger pellet grill. When you put your tilapia in your smoker, it will start cooking immediately, so set a timer for 90 minutes.
The most important thing to keep in mind is don't overcook your fillets, so using a probe thermometer is highly recommended.
How to Smoke Tilapia Without Falling Apart
Smoking tilapia can be very tricky because of the fish's light and flaky texture once it cooks. Tilapia tends to stick to the grates and fall apart grates as it cooks. If you are grilling the tilapia fillet, you will want to use aluminum foil with a light spray of vegetable oil to help you grill the fish to completion.
Take a large piece of heavy-duty foil and fold it in half, then spray with oil. Lay the oiled foil over the grill grates and allow it to heat up. Place the fish skin-side down on the foil while smoking to prevent the fish from breaking up and falling through the grill grates as well.
You can wrap the tilapia in aluminum foil with spices and liquids, then put it in the smoker or on the grill. Creating a packet enclosed with the fish inside will help keep the fish moist and keep it intact while it cooks. The downside is that the fish will not pick up as many smoky flavors.
Once it has finished cooking, chances are it will fall apart, so make sure to keep it in the foil the entire time., and use the foil to transfer to your plate.
How to Smoke Tilapia on a Pellet Grill
When smoking tilapia on a pellet grill, you will want to follow the same set of rules you would follow if you were cooking on any other type of smoker or grill. If the tilapia is in the whole form, you can place it directly in the pellet grill and smoke as usual. But if you are using filets, you will want to put the fish on aluminum foil before smoking it, or grill mats can be a good option. These methods will keep the fish intact while it cooks on the pellet grill.
Most pellet grills have good airflow, so you should use a thermometer and keep a close eye on the temperature. Remember to load enough pellets in your hopper, so your grill doesn't stop before your fish is finished cooking.
Finally, always set your pellet grill on high for 15 minutes when you are done cooking fish to burn off any fish odors.
What Type of Wood Should I use to Smoke Tilapia?
When smoking tilapia, you will want to use a wood that is mild in flavor, like alder wood. Other woods like fruit woods, cherry, or apple, will work well. Don't use heavy, bold-flavored woods like hickory or mesquite because it will overpower the tilapia's natural flavors and could turn out bitter.
Read our article How to Match Your Smoking Wood to Your Meat?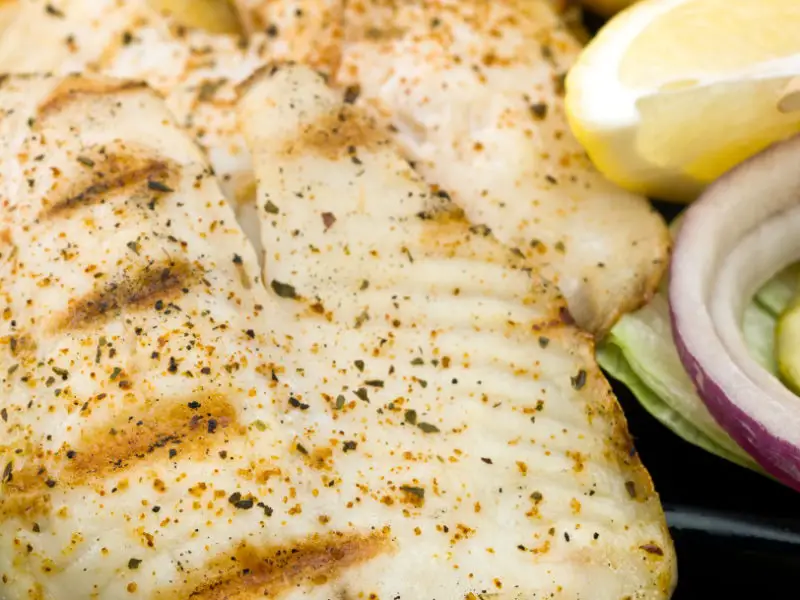 Cajun Smoked Tilapia Fillets
Ingredients
2 pounds tilapia fillets
1 tbsp. Kosher salt
½ tbsp. Black pepper
½ tbsp. Oregano
½ tbsp. Smoked paprika
½ tbsp. Garlic powder
1 tsp. Onion powder
½ tsp. Cayenne pepper
Directions
Start the pellet smoker and fill the hopper with wood pellets, preferably alder wood or some light fruit wood like cherry. Set the temperature to 180 degrees.
In a small bowl, mix all the seasonings well. Coat the tilapia fillets with the seasoning mixture well until fully covered.
Place a small section of aluminum foil on the pellet smoker's grill grates and spray with pan coating to prevent sticking. Lay the seasoned tilapia fillets on the aluminum foil and close the lid.
Smoke the tilapia fillets for two hours or less, depending on the size of the fillets. The fish should be fully cooked and begin to flake off and fall apart. Remove from the pellet smoker and allow to cool for 5 minutes before serving. Serve and enjoy!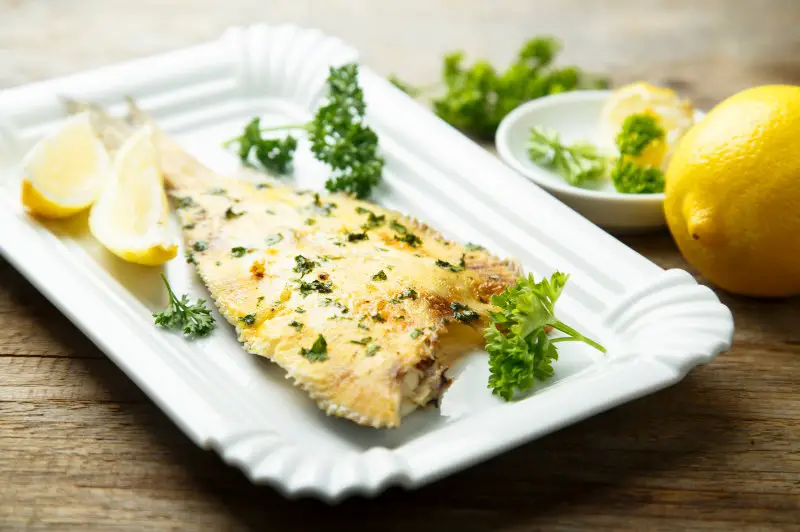 Citrus Grilled Tilapia Fillets
Ingredients
2 tilapia fillets
1 tsp. Kosher salt
1 tsp. black pepper
1 lemon, zested, and cut in wedges
Zest of 1 lime
½ tsp. Garlic powder
½ tsp. ground cumin
Directions
Turn the pellet grill on and heat to high heat or 400 degrees.
Place the tilapia fillets in separate pieces of aluminum foil that is big enough to wrap the tilapia fillet fully. Spray the foil with cooking spray. Place the tilapia fillet on each piece of foil.
Season the filets with the seasonings, lemon, and lime zest. Place the lemon slices or wedges on top of the tilapia fillets and fold or wrap the foil around the fish to cover it entirely and lock in any moisture.
Place the foil packets on the pellet grill and begin to cook over high heat. They should only take about 7 minutes, depending on the size of the filet. Do not flip the foil packets, but you can turn them or move them around on the grill periodically.
Remove from the grill, do not open the packets, and rest for 5 minutes before serving. Remove the tilapia from the foil, serve and enjoy!
Read our article What Is the Best Pellet Smoker
Conclusion
Smoking tilapia can be a great way to cook your fish and bring the flavor to a whole other level. It is one of the easiest fish to cook, and it cooks very fast, unlike different types of fish.
Just keep a watchful eye when smoking tilapia, as you can overcook it and dry it out. But other than that, you should be just fine.
FAQ
Can you make Fish Tacos with Smoked Tilapia?
Smoked tilapia is excellent in a taco. When you season your tilapia, try some Mexican seasoning in a shaker or a pouch of spice mix for chicken. Smoke your tilapia as instructed in sections 2 and 3 of this article.
Can you Bake Tilapia?
Tilapia is excellent baked. We recommend that you use the foil pouch method for moist fish when baking in your oven.  You will also get great results by following any of the recipes above, minus the great smoky flavor.
Is tilapia fish good for health?
When it comes to eating tilapia, a lot of people are put off because it is a fish that has gained some negative press. However, all of what is stated is not actually true, and tilapia is good for your health. 
While tilapia does not contain as many nutrients when compared to some other types of fish, this does not mean that it is bad for you. In fact, it is still rich in goodness, and a great option to consider, especially when compared to other meat sources.
Tilapia is great for health because it contains a lot of omega-3 fatty acids. These are important for the body and its overall health and development. As a result, you should not be discouraged from eating this fantastic fish. 
When you compare the amount of omega-3 fatty acids that are featured in tilapia, it is lower than other types of fish, such as salmon, the same can be said about its omega-6 content. However, both are still present, and the fish does have good nutritional value.
Pork, beef, chicken, and turkey all contain a lower amount of omega-3 fats, which emphasizes what a great and healthy choice tilapia fish is.
We would recommend including this fish as part of a healthy and balanced diet if it is a type of protein that you enjoy. 
Is it safe to eat tilapia?
Yes, it is safe to eat tilapia. Tilapia often receives a bad rep for being an unsafe fish to eat. However, you cannot believe everything you read. While tilapia may be lacking slightly in the omega-3 and omega-6 respect, it is still packed full of goodness and is safe to eat. 
To emphasize how safe tilapia is, the FDA, which is the U.S. Food and Drug Administration has included it on the list of safe foods for pregnant women to eat.
If there were any concerns or issues surrounding this fish, it would not be included in this list. It is also safe for children under the age of two to consume. 
As with all fish, you want to ensure that it is being reared and bred in the correct conditions and environments. This is to ensure that the fish is healthy, and does not contain a high amount of mercury. It also helps to ensure that it is not contaminated.
In addition to this, it will need to be cooked thoroughly. However, it is absolutely safe to consume if it is a fish that you enjoy. While it is lower in some nutrients and health benefits, it is still better to consume than other proteins.