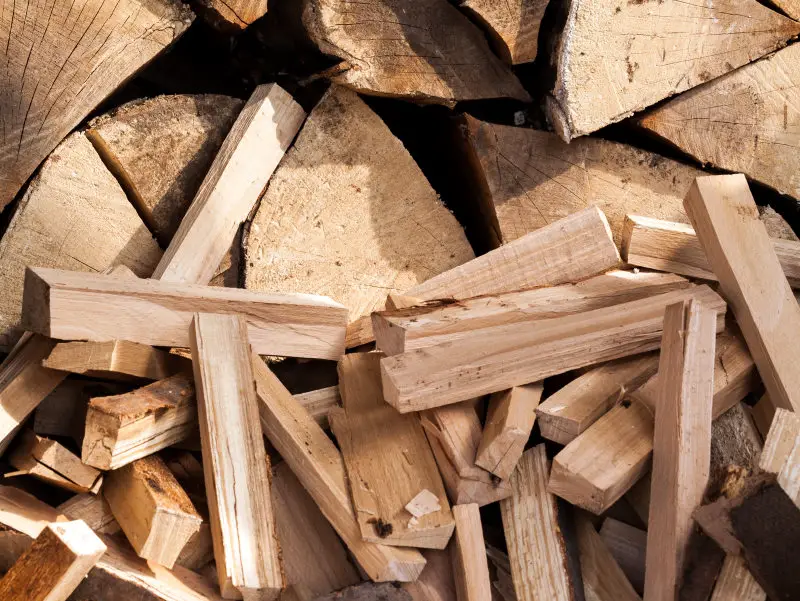 Picking the right smoking wood to compliment your meat can be a challenge. If you pick the wrong wood, your meat could taste like it was baked in the oven. On the other side of the coin, if your wood is too strong for your meat, it could taste like a forest fire.
In this article, we are going to go through our guidelines of how we pair woods. Additionally, we will cover some tips on how to use different cuts, or configurations, of wood for a different type of uses. So, let us get to it and help you get the best flavor for your smoker foods.
Note: most links in this article are Amazon.com Affiliate links, see Affiliate Disclosure, thank you.
Matching Your Wood to Your Meat
There are some basic guidelines we are going to layout for you on pairing your up your wood and meats.
First is the strength of taste – If your meat has a strong taste like beef steak, beef roast, or brisket, then pair your meat with a stronger wood. If you have mild meat like rainbow trout you want to match is with a mild wood.
Second is density – Some meats are very dense like sirloin pork roast. The density can affect your wood choice in two main ways. You might want a stronger wood to impart more smoked flavor. Conversely, you might want a medium to mild wood because of longer cook times for dense cuts of meat.
Sometimes your wood choice might be a mixture of different woods. By mixing a strong wood with a mild wood, you can get the best of each flavor profile. Additionally, you can start with strong wood and then switch to a mild wood to complete your cook.
List of Top Wood Choices
Below is our list of top wood choices and basics on what meats to pair with these woods. The list is in order from the strongest woods to mild woods.
Mesquite – A strong wood like mesquite needs to be used with caution. For best results pair mesquite with strong cuts of meat like brisket. Our favorite use for mesquite is in a grill or large open pit. Beef burgers are also great to pair with mesquite when grilling.
You should consider grilling burgers at a higher temperature for shorter amounts of time. Additionally, mesquite is good to use as chips added in small amounts to your electric smoker or mixed with a fruitwood chip for a nice balance.
Open-air grilling poultry of any type works well or small amounts added to an offset smoker with charcoal as your main source of heat. Don't forget that mesquite goes great with turkey quarters because dark meat will balance the flavor.
Hickory – When I think of a classic smoke flavor hickory is the first wood that comes to mind. Hickory is a top choice for bacon and works well with other fatty pork cuts. This wood can also be added to other fuels to put that first punch of smoky flavor or be added in with charcoal in large chunk form to add a smoky flavor to your offset smoker.
While pork is our first choice for hickory, don't be scared to use is with other meats like dark meat poultry and fatty cuts of beef, including ribs.
Oak – The top pick for beef steaks, roasts, and ribs is milder than our first two selections while still have a strong classic smoked flavor. With oak, skip the charcoal and burn this hardwood as your sole fuel source. Because it is very dense(hard), it will burn a little slower than mesquite and hickory while still providing all the smoky flavor you desire.
One tip with oak is to pre-light it in a small grill or charcoal chimney so you keep a consistent burn.
Pecan – Pitmasters all over the country pack pecan for their cook-offs as their all-around favorite wood. Pecan can impart a slightly nutty flavor into your meat and still have the classic smoky flavor.
Also, this wood is a great main fuel source for smokers and open grills. Our favorite meat for pecan is whole chicken or a whole turkey. Keep in mind to cut your wood in large kindling pieces and maintain a small, consistent burning fire.
Click here to see pecan smoking wood on Amazon.com
Maple – Another great wood that is very versatile is maple. Using this wood can bring an almost sweet smoke to your meats. Sweet smoke is great to pair with any cut of pork, beef ribs, or poultry. Maple is good burning wood, so it is a great fuel source and works well when added to charcoal fires.
Additionally, our favorite pick for turkey is sugar-maple.
Apple – As we come to the mild woods, it is time to start talking about vegetables. Blasphemy you say! But really smoked corn on the cob, yummy. Fruit woods are mild and more commonly used in propane(gas) and electric smokers. While an apple wood is a great pairing for pork, it is also a great choice for any fish, like trout or salmon.
We recommend filleting your fish and loading one heaping pan of apple chips. Your results will be great with just the right amount of smoky flavor. Then you can choose to continue cooking your fish without smoke for your desired doneness.
Cherry – While cherry is also a great pairing for fish, we prefer to add it to other wood like mesquite. Mixing woods can make a strong wood have a complex flavor and more suitable for thinner cuts of meat like baby back ribs.
Also, in an electric or propane smoker, cherry makes a great base fuel in your chip tray, then you can add three or four chunks of hickory or mesquite on top for that traditional smoke flavor and longer burn time.
Cedar – Our wild card is cedar. While we don't recommend using cedar as a primary smoking fuel is does have some great applications. Salmon and cedar are best friends. Placing your salmon fillet in a cedar plank in your smoke or grill imparts the perfect balance of taste.
Adding cedar chips to your tray of applewood chips will impart that cedar flavor to your salmon. Be careful with cedar, as using it as a primary wood source can taint your meat, so avoid burning more than a quarter cup per cook.
Other woods – Of course, there are other wood species that we didn't cover in this article, like walnut or pear. As a rule of thumb, any hardwood or fruit wood can be used to safely smoke your food. Always skip woods like pine and fir as their smoke can be toxic.
* – I wanted to address veggies again. All the mild wood works well to cook vegetables, but we recommend less is more. Just by baking your vegetables in a well-seasoned smoker, you will get the addition of smoked flavors.
So, feel free to add some smoke but go light to start and you will still be happy with your veggies. Then, next cook, you can add more smoke to match your taste.
Recap wood selection for meat
Mesquite – Beef or grilling poultry
Hickory – Bacon or fatty pork
Oak – Beef steaks, roasts, and ribs
Pecan – whole chicken
Maple – Pork, beef ribs, or poultry
Sugar-Maple – Turkey
Apple – Trout or any fish
Cherry – Fish or mixed woods for baby back ribs
Smoker Wood Cuts
Your fuel can come in many different cuts or as some people refer to as configurations. Each cut has a different performance and use. Picking the right wood cut will make a massive difference in how your smoker performs.
Large pieces of wood are good for large smokers when you desire long burn times, but you need to make sure they get lit well and fast to prevent off-tasting smoke. Small pieces of wood or chips can burn too fast, yielding great smoke for a few minutes and then burning out quickly resulting in a drop in temperature.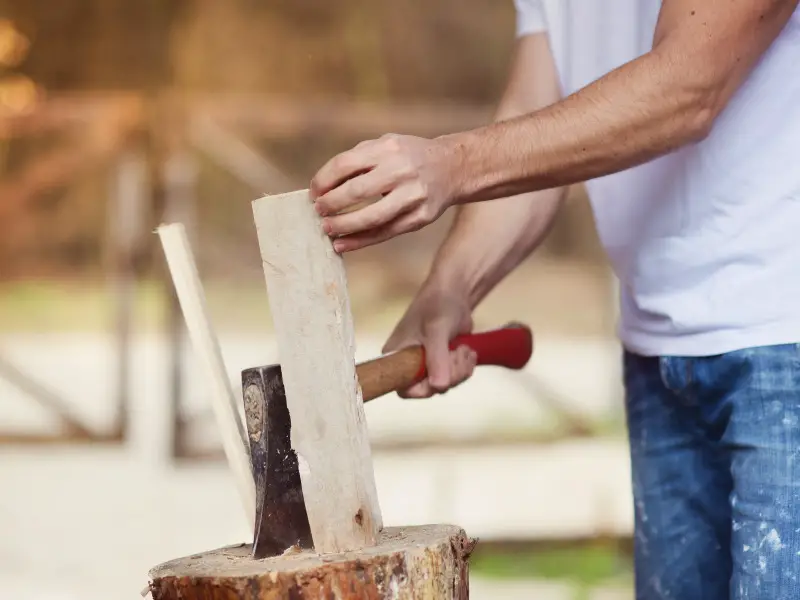 Wood Splits
Large pieces of wood are split into four or more pieces that might be great for a campfire. Pieces of wood this large will need to be split into small pieces for a smoker. What most people would consider as kindling is the perfect size for an offset charcoal smoker.
We recommend pieces of wood be cut slightly larger than one inch wide, one inch thick, and six inches long, this is referred to as small splits. Pieces of wood this size will light fast and be easy to work with when you need to arrange your coals.
Click here to see pecan smoking wood on Amazon.com
Wood Chunks
Most wood chunks are purchased in bags ready to use but sometimes you can buy scraps from local furniture makers. When you buy a bag, it has miscellaneous sizes but the average is one-inch squares.
We recommend adding these chunks to other fuels. An example of this is using lump charcoal in your smoker, adding chunks of wood to your charcoal fire consistently can generate great smoke. When you add wood to charcoal, we always recommend a small amount of strong wood like mesquite.
Click here to see Smokehouse Products Assorted Flavor Chunks, 4-Pack on Amazon.com.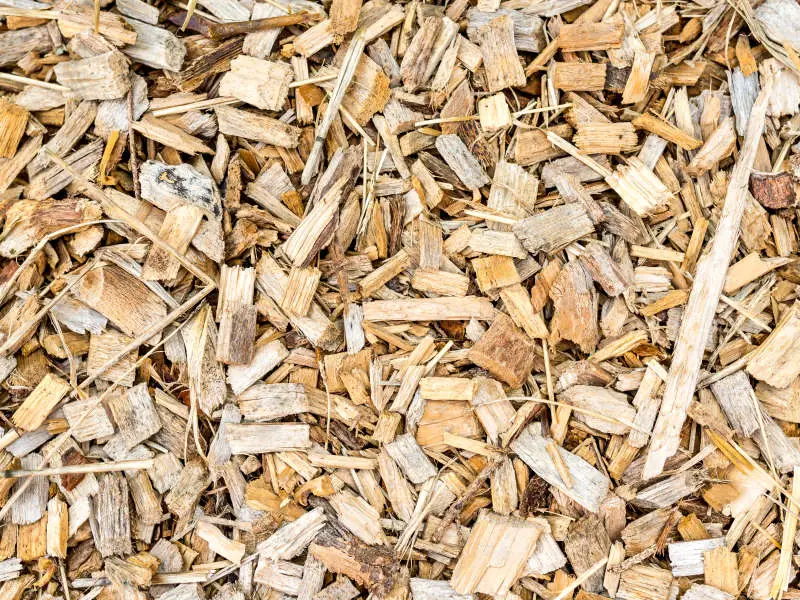 Wood Chips
Wood chips are small little pieces of wood that are roughly the size of a nickel. Most electric smokers run on wood chips, pellets, or Bisquettes. The small chips of wood are the fastest burning fuel type which makes them easy for an electric smoker to maintain.
If you put wood chips in a traditional fuel smoker, they will burn up quickly and you will have no smoke or fire. We recommend that you only use wood chips in an electric smoker designed to use them. But if you need instant smoke, a hand full of chips on the side of your fire can yield instant smoke.
Click here to see Smokehouse Products Assorted Flavor Chips, 12-Pack on Amazon.com.
Wood Pellets
One of my favorite things is pellets because I love using them in a cold smoke device to add to the heat from electric smokers. Pellets are formed by pressing sawdust into one-inch pieces that are roughly the size of a drinking straw. The burn rate on a pellet can be very slow and generate large amounts of smoke per volume.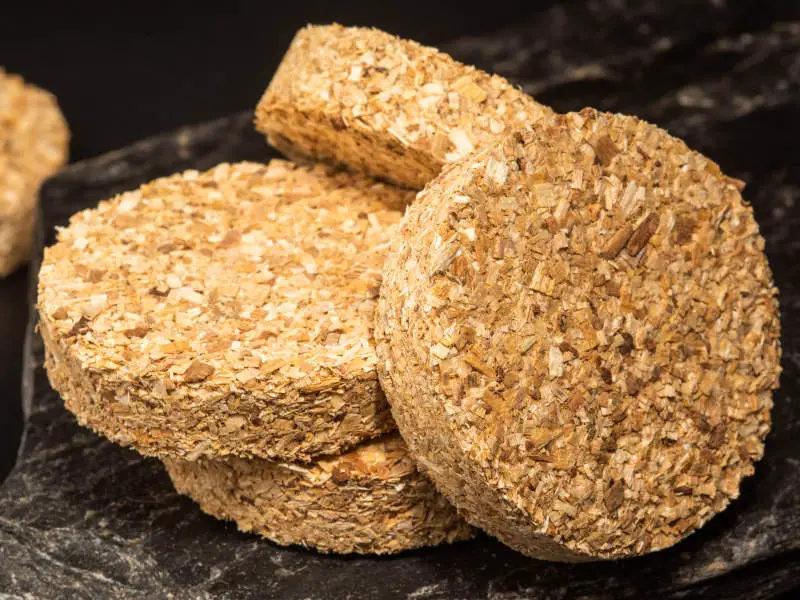 Bisquettes (Bradley smoker)
Bradley brand smokers use special fuel. Hardwood is pressed into the shape of a hockey puck called a bisquette. Like chips or chunks, they are available in many types.
Click here to read our Review of the Bradley 4 Rack Electric Smoker
Conclusion
Start by matching your meat's density and flavor to the strength of your wood then let trial and error help you learn what your perfect wood is. Final note, less smoke is always good, but too much smoke is bad.
Enjoy!
FAQ
Where Does Smoking Wood Come From?
It seems like an odd question with a simple answer, trees. The truth is most wood is sourced through clearing for development or forest thinning.
Another source of fruitwood is low-producing orchards. For example, when an apple orchard drops too low in production to be profitable, it is cleared. Tree removal can be done by a contractor that harvests the wood.
There are tree farms that produce trees for different commercial uses, like furniture. After the milling process, all of the scrap wood is put to good use. Some of this wood becomes products like fiberboards, similar to plywood.
A large number of wood scraps become fuel of some sort. Sawdust from softwood trees is commonly turned into pellets for home heating pellet stoves. Hardwood scraps can be processed into anything from pellets, chips, chunks  
Should You Soak Your Wood?
We don't recommend soaking wood chips because it reduces smoke, but even here, it is a regular argument in the breakroom. Our detailed feeling is that the wood chips need to light to smoke and soaking prevents them from lighting.
Second, before the chips start to smoke, they release the water as steam, and that carries impurities throughout your smoker. The goal is good clean smoke at the perfect temperature, and water adds one more variable to compensate for.