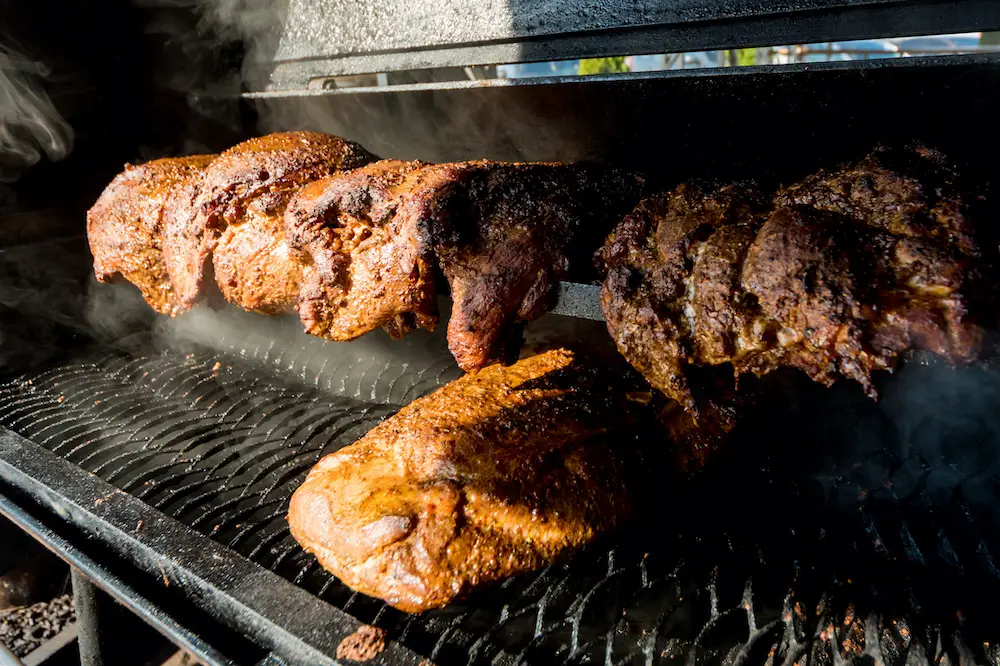 Imagine hosting a BBQ party on a warm summer day.
Just the thought of the smell and flavor of the smoked meat can make your stomach grumble and your mouth water.
Now, to achieve this, you need to have the right equipment and all the necessary accessories. For that, we've got your back.
Today, we have decided to share with you our own experience as well as what several Oklahoma Joe's Longhorn Combo Grill and Smoker reviews say about this smoker.
Note: most links in this article are Amazon.com Affiliate links, see Affiliate Disclosure, thank you.
Quick Overview
Oklahoma Joe's Longhorn Combo Grill and Smoker Reviews
Eating grilled food feels like being in heaven, don't you agree?
The Oklahoma Joe Longhorn Combo Grill and Smoker makes the best-tasting meat by either smoking, gas grilling, or charcoal grilling.
This makes it perfect for both family dinners or weekend backyard parties with close friends.
It is a multi-function grill that offers you a combination of gas grilling, charcoal grilling, and smoking in one single piece of equipment.
As such, it allows you to cook using different types of fuels, too.
Among the remarkable things about this grill are its smoking chamber, gas grilling chamber, gas side-burner, and the offset firebox.
An electric ignition system is also added to fire up the grill quickly, and the offset firebox is there to utilize for your smoker.
With this machine to help you, you won't find any problems making the perfect barbecue just the way you like it.
Who Is It For?
Why buy three different grills when one machine can do the job?
There are numerous other grills available on the market, but this grill gives you three cooking options in one model.
It includes a smoker that uses wood and gives your meat a smoky, rich flavor and a propane gas grill that helps to cook food faster.
Lastly, the charcoal grill lets you cook meat slowly on low heat and gives your food a unique taste.
If you are a meat lover who enjoys adding a variety of flavors to their meats, this model is ideal for you.
While this grill may be slightly pricey, you are paying for its trio combo and trouble-free construction.
If you think that this is something that you are not willing to invest in, then you're probably better off looking for budget-friendly options.
What's Included?
When you unbox, you get all the grill and smoker parts that you need to assemble.
You get several accessories and tools, as well as a hardware pack and assembly manual in two languages: Spanish and English.
The only thing that does not come with this product is the hooks or studs.
Hence, it becomes quite difficult to hang your grilling utensils.
For a more thorough look at what's included in the package, you can check the unboxing video here.
Overview of the Features
The features that make this product outstanding are as follows:
Cooking Chambers and Modifiable Dampers
This three-in-one grill has segregated cooking chambers that allow charcoal grilling and gas grilling.
It releases a high amount of smoke, and it contains vertical pipes with multiple modifiable dampers that help to regulate smoke and heat.
There are 12,000 BTUs in each of the three burners of this gas grill chamber.
The side burner with 12,000 BTUs is ideal for frying or for keeping a pot.
This machine boasts a primary cooking area of about 750 square inches and a secondary cooking area of about 310 square inches.
Six cast-iron cooking grates that are porcelain covered makes this product rust-resistant and easy to clean.
When it comes to using it, though, you must remember to re-season the grill regularly to prolong its lifespan.
Wagon-style, large wheels provide easy mobility of the grill.
However, the unit weighs over 200 pounds, and sometimes moving it from one place to another can be a challenging task.
This machine has handles that remain cool to protect palms and fingers from the intense heat when cooking.
It is 50.6 inches high, 31.5 inches deep, and 74 inches wide.
The presence of two thermometers in both chambers helps to track your cooking progress, and the knobs help you to control gas.
This grill has a firebox door with an air damper to make cleaning easier for you.
In addition, you will also find a metal shelf at the bottom for you to keep your utensils and extra wood or charcoal.
Robust steel lids can withstand high temperatures, but some buyers complain that the doors of the grill may not fit tightly. Due to this, smoke can get out.
How to Build and Use This Combo Smoker/Grill
This smoker comes with a lot of parts to assemble that may not be that easy to set up on your own.
If you're not sure how to join all these parts, you can go through this video.
Then again, the assembly is not the only thing that you have to learn about; you also need to know how to use this machine properly.
To understand how to get the most out of this three-in-one smoker, you can check the video here.
Alternative
If you are worried about the amount of heat that is lost when cooking with Oklahoma Joe's Longhorn, check out Oklahoma Joe's Bandera Offset Smoker.
This is a versatile grill that features a vertical cooking chamber.
Despite being extremely heavy at about 200 pounds, it comes with sturdy wheels that provide ease in mobility.
This relatively inexpensive smoker and griller is famous for its price, durability, design, and construction.
It offers additional accessories, such as spatulas, covers, mittens, and other tools.
Moreover, this machine is straightforward to use, making it an excellent choice for those new to grilling and smoking.
You will also be glad to know that it possesses many exceptional features, so you can really get the most value out of your money.
It is designed to have convenient side-access, rust-resistant firebox, and a smoker set consists of meat hooks and rib racks.
Also, it has handles that remain cool, a charcoal pan, removable ashtray, modifiable cooking grates, advanced damper system, and enormous shelves.
This vertical grill has 1,000 square inches of cooking space.
It comes with four cooking grates that allow you to smoke or grill a variety of food.
Wrapping Up
As per many Oklahoma Joe's Longhorn Combo Grill and Smoker reviews, it cannot be denied that this is an excellent grill for people who like to have options.
It has a heavy-duty construction, and its assembly is straightforward and easy.
To put it in simple words, the Oklahoma Joe Grill is very convenient and user-friendly.
It is a top-of-the-line model that is designed to make grilling and smoking easy so that even beginners can make and enjoy great food.