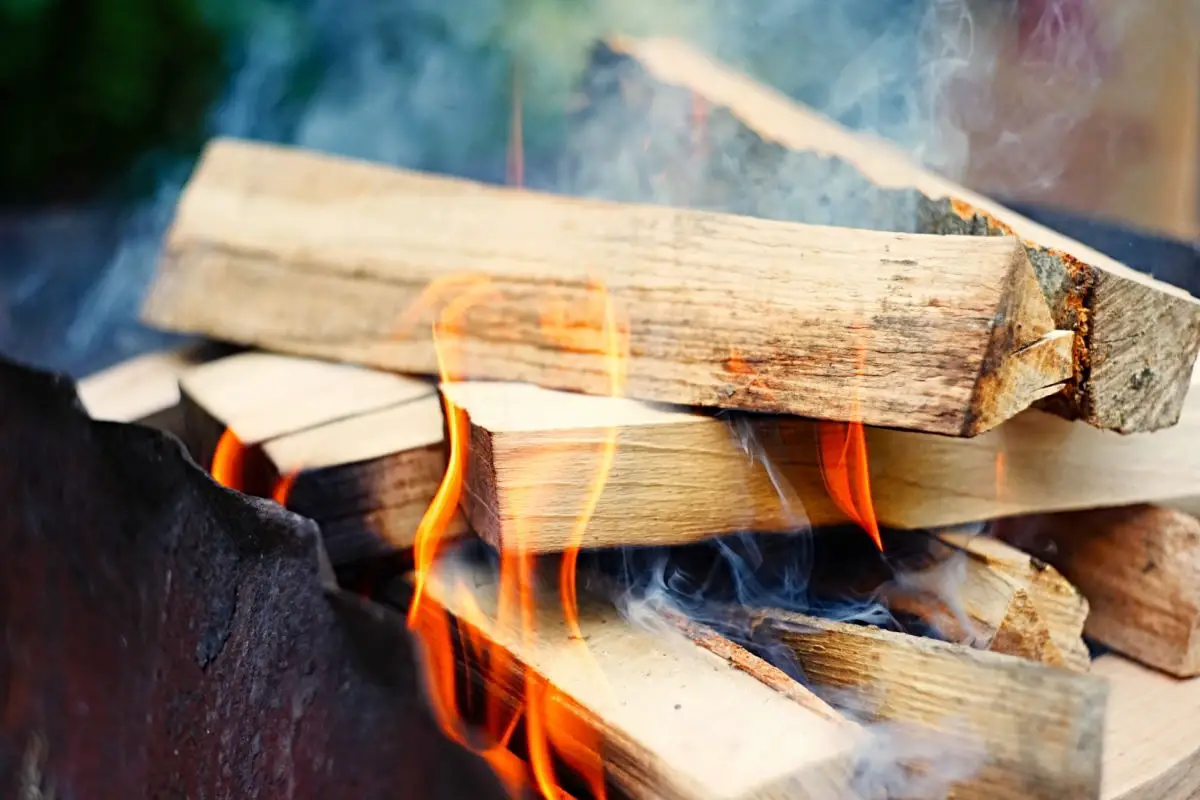 Whether you smoke once a month, once a week, or every day you will need wood for your smoker. There are many ways to acquire your smoker wood.
How often you use your smoker might make a difference in how you source your wood. Other factors could be your location and the type of wood you prefer to use.
Our favorite way to get wood for our smokers is to work with a local arborist (tree company) specializing in trimming or removing fruit trees. Often, they are trying to dispose of large quantities of wood or even wood chips.
In this article, we will detail our favorite ways to get wood for your smoke and cover some things to consider when dealing with wood.
Note: most links in this article are Amazon.com Affiliate links, see Affiliate Disclosure, thank you.
Wood type
Everyone has their favorite wood type, but sometimes you are limited to what is available in your area. For large quantities of wood tree species in your area can be the largest factor.
Wood like mesquite is only grown in the southern US. Maple is another regional wood that is only available in the northern US, specifically in Northeast US and part of Canada.
Fruit trees can be found in many areas of the US. While cherry trees are located in many regions across the US, it is hard to find a place without a variety of apple trees. Both apple and cherry wood are very popular for smoking pork and other foods that benefit from a sweet smoke flavor.
Oak is a common hardwood that can be found in many areas, and it also lends itself to smoking just about any food because it is very medium in taste. If you add a large amount of oak to your smoker, you can get a strong smoke flavor, or you can go mostly charcoal and add a bit of wood to get a light smoke flavor.
A favorite in the barbeque world is pecan, which is a subspecies of hickory. This type of wood is dense in the southern-central US. The mildly sweet flavor produced when this wood is burnt is why it is a top pick. Many competition pitmasters rely on pecan and will bring their own supply for the competition. Some people will burn pecan shells but tread lightly because they can get bitter.
There are so many wood choices that will work in your smoker. Narrow your wood down to a few types that are available in your area and stick with them. With practice over time, you will learn to adjust the amount of smoke in your food to get the perfect flavor.
Check out our article How to Match Your Smoking Wood to Your Meat?
Wood Quantity
The amount of wood you need can affect how you get your wood. We tend to mostly use briquet and lump charcoal then add wood chunks to our fire. For us, small quantities of wood chunks can easily be ordered online from places like Amazon.com.
If you are smoking once a month, you might not need much wood. You might buy a bundle of your preferred wood type, like pecan, and a bundle of a base flavor, like oak. Small quantities of wood, like two bundles, can be purchased at hardware or grocery stores.
When you step it up to smoking weekly, you will need to have a larger wood supply for price and convenience. Going to the grocery store every week and buying bundles of wood will add up fast. If you plan a more significant purchase, you will get a better price, and it will be less work to make it one project to handle your wood.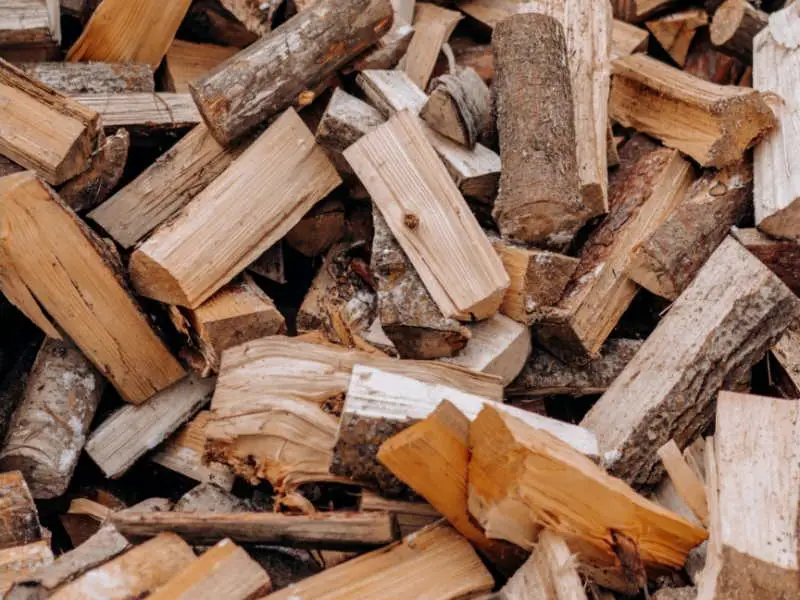 Wood storage
Most people will have all of their smoker equipment in an outside area. Dry wood storage can be crucial to clean smoke resulting in tasty food.
It is very common for people to create a woodpile in an out-of-the-way spot. Covering this pile with a heavy-duty tarp can keep your wood dry and ready to burn. This can also be an excellent way to season wood, but you want to avoid ground contact.
Another place that is frequently utilized is next to your house or garage under an overhang. If you use this location, you will want to space the wood away from the house and will still need to cover it during the winter or wet seasons.
A wood rack is an excellent accessory to have next to your smoker. If your smoker is in a covered area, it will be even better because you will have some protection from the weather and a convenient location. A downside is that most wood racks are on the small side, so you need additional wood storage.
Our favorite wood storage solution is a small shed with or without a door. If you don't have a door, you will want to cover your wood with a tarp. Also, good airflow and rotation are essential to prevent wood rot, and you don't want to leave old wood stuck in the corner.
Check out a shed on Amazon.com
Type of Smoker
Not every type of smoker uses the same kind of wood. In this article, we have been talking about wood for offset smokers and grills that burn sticks.
Electric smokers traditionally use wood chips. Most wood chips can be purchased in bags online or in local stores. However, tree trimmers are a great place to source large quantities of wood chips but be careful to get non-mixed chips. You want only chips from fruit trees or hardwood.
Pellet grills are specialized smoker/grills that only run with processed wood pellets. Most pellets are purchased in bags online or in local stores. Some grill manufacturers require that you use their pellets for their warranty, but we take issue with that. Pellets must be stored very well to prevent moisture, or they will not burn correctly.
Ways to Get Wood for a Smoker
1. Our favorite way to get wood for our smokers is to work with a local arborist (tree company) specializing in trimming or removing fruit trees. Often, they are trying to dispose of large quantities of wood or even wood chips. Additionally, they are often quite reasonably priced to cut and stack your wood.
2. Going directly to an orchard is a great option. Many orchards will trim their trees at the beginning of the season. Throughout the year, orchards remove trees that don't produce well or have started to decay. These "bad" trees can be an issue for other trees in the orchard, but they will burn great in your smoker after you cut and season them.
3. Furniture-grade hardwood is excellent to burn in your smoker. You can often find custom furniture and cabinet shops that will sell you dry scrap wood very cheap. The great thing about furniture-grade wood is that it has no stain or sealers on it; they apply that after it is fully assembled. Many times, shops will keep scrap wood in a fifty-gallon barrel, so you can purchase one and swap it out with theirs.
4. Sawmills are a great place to source scrap wood. When a mill cuts logs into sellable pieces of wood, they have many odd pieces and end cuts left over. Typically, it is not cost-effective for mills to sort these scraps out. The one downside is that most mills do different types of wood, so you will need to sort out the hardwood from the softwood or find a mill that only does hardwood. Additionally, this wood can be in large pieces and will need to be seasoned before burning.
5. Sevre weather damage can provide all the wood you might need. If you live in an area prone to wind storms, tornadoes, or even hurricanes, you can canvas the area to find down trees after a storm. Many homeowners will gladly allow you to cut and remove trees for their yards to help with storm clean-up. You will need to know how to use a chain saw, identify wood types, and have a strong back, but usually, this wood is free.
There are a few other things you can do to find wood like:
Ask neighbors
Drive around and look for apple trees
Watch online marketplaces
Look for upcoming construction sites
Purchase from hardware stores when in a pinch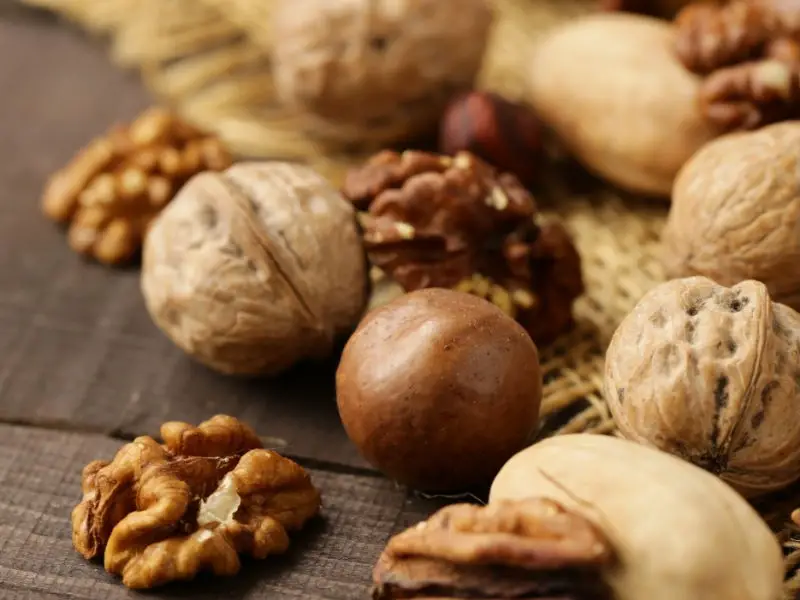 We have a bonus tip: Don't forget about nutshells. Many nutshells will work great and provide a unique taste when added to charcoal or oak. Make sure to test a small sample in your smoker on a cheap steak. We like almond, hazelnut, and pecan shells, but the shells must be dry. You can talk to your local orchard to find out how their nuts are processed and ask the processor.
Conclusion
Of course, you can always buy wood outright, but you can usually get a good deal if you want to do a bit of work. Talking to different people in the wood industry might net you a great price and a consistent supply. Start your search with a local