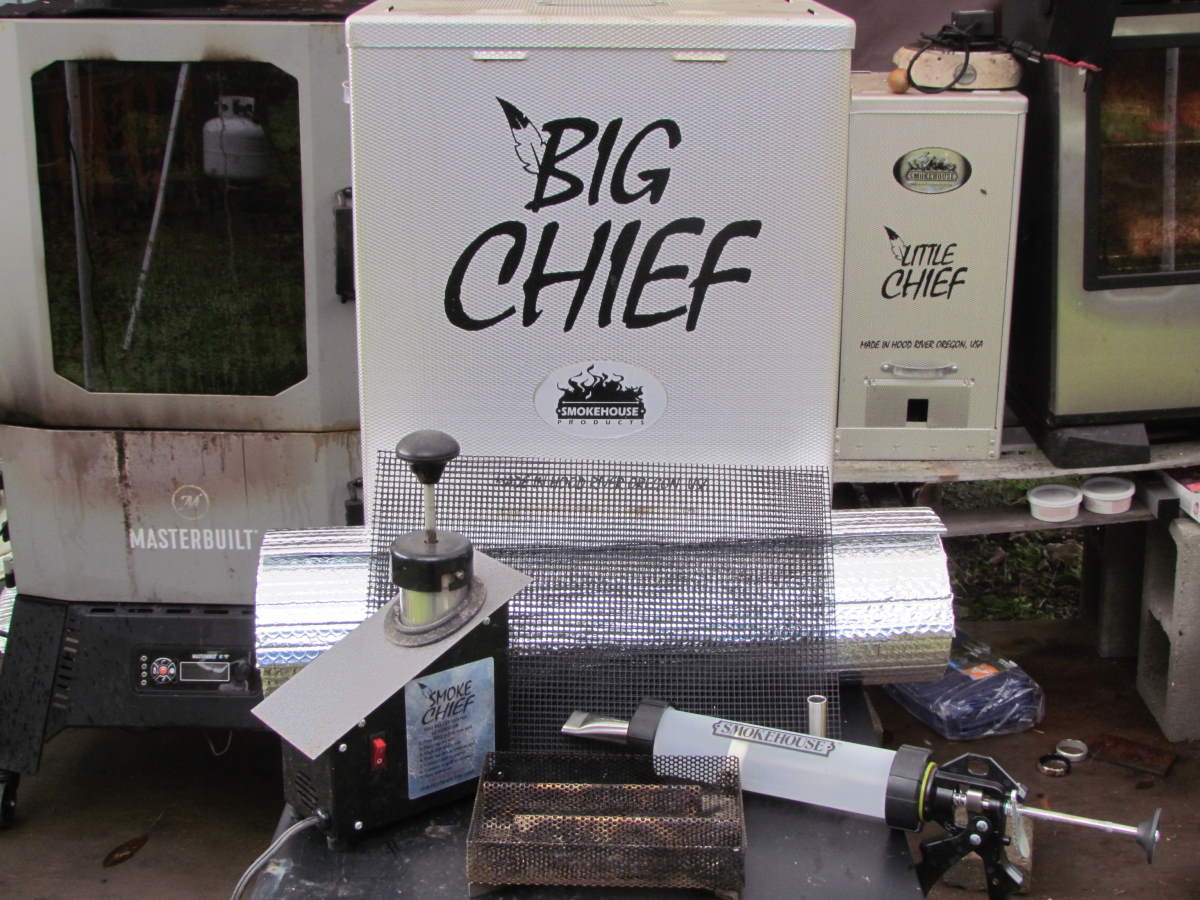 Using the Big Chief Smoker by itself consistently delivers perfectly cooked, mouth-watering meats and fish. Chief Smokers, in general, are known for their high-quality design and longevity.
Another popular feature of the Big Chief Smoker line is the ease of use. Did you know that Smoke House Products offers a complete line of accessories to accompany their famous smoker line?
Note: most links in this article are Amazon.com Affiliate links, see Affiliate Disclosure, thank you.
The brand is known for three wildly popular products:
Although the Big Chief (front load version) is probably the most sought-after and raved-about option, the Little Chief is also popular due to its convenient size and functionality.
That said, if you want to discover the equipment's full potential, you will need to get your hands on the right accessories and add-ons.
Whether simply making jerky or smoking a flavorful, 5-star restaurant-worthy fish, here's what you'll need to take your cooking to a whole other level:
Smokehouse Products Big Chief Drying Screens
Smokehouse Products Electric Smoker Insulation Blanket
Smokehouse Products Capacity Jerky Gun
Smoke Chief Cold Smoke Generator
A-MAZE-N Pellet Smoker Tray, for Hot or Cold Smoking 
We own every product on this list so that you can count on our first-hand experience. Check out our YouTube channel to see these products in action.
In this article, I will take you through each of these accessories and how to use them to get the best tasting dishes using your smoker.
Drying screens are a must when it comes to maintaining your smoker. They prevent the food from falling and sticking onto the equipment. This not only makes the cleaning process a breeze, but it also keeps the smoker in good condition and noticeably increases its lifespan. They are not a purchase but an investment that will save you more than you'd think in the long run.
They are safe to use for all meats, fish, and cheeses, which means you can do all your smoking in one place. The food will slide right off since the screen is made of high-quality, non-stick material. You can also choose this accessory to dehydrate any food of your liking. Afterward, you can put the screens in your dishwasher, and just like that, they'll be ready to be used again.
The drying screens will fit perfectly with your smoker, as they're custom sized for each product. So you won't have to worry about sizing or logistics when getting your hands on this necessary accessory.
Suppose you don't mind doing a little work; you can buy generic grill mats and cut them to size. We like to purchase extra-large grill mats and cut them to size with kitchen shears. You can see a set of grill mats that we tested and still use in our YouTube videos on Amazon.com.
Getting an insulation blanket is crucial during cold seasons to ensure that your electric smoker runs efficiently and uses the least energy (it can decrease your smoker's power needs up to 30%). When it comes to cooking, the regular usage of this add-on will help the equipment maintain level temperatures, even when they go up to their extremes.
As every smoker expert will tell you, maintaining even temperatures is the number one secret in delivering the best-cooked meats you'll ever eat. Not to mention, they will allow you to cook in any temperature and weather condition, as they can trap heat and provide the insulation needed to cook your food at its absolute perfect temperature, regardless of what's happening on the outside.
Insulation blankets are also can provide safety to people hovering around the smoker. It serves as a buffer between the smoker and the outside world, offsetting the chance of burns and injuries.
The linked product fits all types of Chief Smokers, making it a perfect option even for those who often change their equipment. Be careful, though, not to use it in temperatures above 50°F (10°C), as it can damage the outer material.
For best performance, try to avoid covering the smoke vents. Doing so will prevent the factory-perfect smoke flow of the Big Chief smoker.
Remember when I mentioned making jerky on the Big Chief Smoker? Well, to make real jerky from scratch, you will need to use a Jerky Gun, along with your smoker. This tool is as fun as it is necessary if you're craving a salty, spicy protein to go with your smoked cheese.
The tube of this mechanism is one of the biggest you'll find, being able to handle up to 1 lb (450 g) of ground meat at a time. This quantity makes it ideal for big family gatherings where you're smoking for a crowd.
The mechanism itself is pretty intuitive and doesn't require any overly-involved processes. You simply need to fill up the jerky gun and push the desired length directly onto the Big Chief Smoker drying screen. Before you know it, you will have perfectly cooked, made-from-scratch jerky ready to enjoy.
You can also make great pepperoni with the jerky gun, sausage casings, and a package of spice mix.
If you want to get the very best out of all your Chief Smokers and cold smoke high-quality cuts of meats, savory cheeses, and vibrant fruits and veggies, you need to invest in this Cold Smoke generator.
The enhanced smokey flavor and aroma will compliment almost any food you choose, but it works exceptionally well with higher-end ingredients. So if you're looking to set yourself apart when cooking for a special occasion, getting this add-on would be a necessity.
Users can also connect this smoke generator to any brand of smoker or grill, and it is guaranteed to deliver restaurant-quality dishes in the comfort of your own home.
Here are a few tips to get the most from your smoke generator.
Never overfill your smoke generator; it includes a cup, but avoid using more than half.
Create some space from the smoker; using a small pipe to funnel smoke into your smoker will keep the smoke as cool as possible.
If you want to elevate your smoking abilities, getting a Pellet Smoker Tray would be the way to go. It is a perfect accessory for those delicious, slowly-cooked meats that make it worth the wait. This smoker tray can produce up to 11 hours of high-quality smoke, so it is a perfect choice even for the longest and tedious to cook dishes.
Also compatible with all Chief Smoker products, this add-on will help you cook even the most complex-tasting dishes with ease and confidence.
For best results, switch your drip pan out with a smoker grate and set the lit pellet smoke tray on that grate. Then insert the drip pan on the next shelf above the pellet tray without letting the two touch.
Wood Products
Of course, wood is not an accessory, but when talking about Smoke House Products, you can't skip their large selection of wood that will work great in any smoker.
Every product manufacture makes their product a little different, but Smoke House has optimized their products to work perfectly in their equipment. That being said, I use their products in many other smokers brands and am always pleased with the performance.
Chips – If you want a consistent smoke, these chips are perfect for your Big Chief Smoker. The chips can be purchased in multiple varieties, including Apple, Alder, Cherry, Hickory, and Mesquite. For the best value, we recommend purchasing an assorted case. Another benefit of the assorted pack is you will be able to try them all.
Chunks – If you are looking for a slower burn with the same great flavors upsizing your fuel to chunks is the way to go. A great variety of chunks can be purchased, like Apple, Cherry, Hickory, and Mesquite. Variety cases can also be purchased, saving a few dollars. I love to use the Mesquite chunks in charcoal smokers to add just a touch of that great smoke flavor.
Pellets – The same great smoke flavors are available in pellets from Smoke House Products. If you plan on using the cold smoke generator, you will need a quality pellet to get clean smoke. You can purchase any of their great flavors in a 5-pound bag, or if you have a pellet smoker, purchase a 20-pound bag.
Conclusion
These five add-ons are a must-have when it comes to getting the most out of your Big Chief Smoker. The drying screens will keep your equipment in brand new condition while making the cleaning up process a breeze.
The insulation blanket is a multi-purpose accessory that provides even temperatures, insulation, and safety. To make the perfect beef jerky, you will need to get your hands on a high-capacity jerky gun.
Lastly, a cold smoke generator and the pellet smoker tray are an absolute must if you want to enhance your flavors and your smoking abilities using high-end ingredients.
Check out our article Smokehouse Products Big Chief Top Load Smoker Review