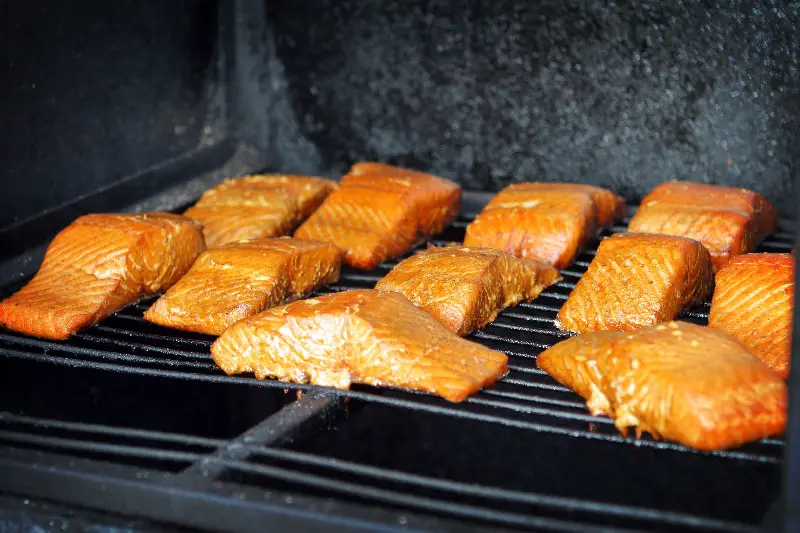 For smoking salmon, it is hard to beat an electric smoker. You will be amazed at how easy it is, even for beginners, with a little information and a few simple tips.
Note: most links in this article are Amazon.com Affiliate links, see Affiliate Disclosure, thank you.
How are we smoking our salmon?
There are a few basic classifications for smoking salmon. These classifications are based on temperature.
Cold smoking is a way of smoking pre-cured food at a temperature under 80 degrees. Smoking foods in this way is not exactly cooking. You are only adding flavor.
 It is very important to completely cure your food with salt, prior to smoking it. Cold smoking is expert level cooking because of the bacterial danger. For that reason, we will not be doing cold smoke at this time.
Hot smoking salmon is how people cook their salmon for dinner on a hot smoke, like a Traeger pellet smoker. When you're hot smoking salmon, you are cooking it in a temperature range of 200 to 225 degrees for about one hour. I love eating salmon for dinner that has been hot smoked.
Slow smoking is what we are going to focus on today. We will be cooking in the temperature range of 160 to 170 degrees.
Click here to read our roundup of Masterbuilt smokers
Smoked salmon brine
I always use wet brine. A wet brine is a saltwater mixture that draws liquids out of meats and then replaces those liquids with the saltwater mixture through osmosis.
Whatever flavor you put in your brine will be drawn into your food. A wet brine can be a way of curing your food, but more importantly, it allows you to add flavor to your food.
It takes time for this process to happen. You can help this process along by cutting your food into small pieces. The smaller the pieces, the faster they will be done. Also, I only use wet brine for fish and poultry, because red meats will get tough like leather.
Wet brine (Easter ham smoked salmon brine)
48 oz can pineapple juice
1 lb. dark brown sugar
8 oz clover honey
heat 2/3 can of pineapple juice in a large pan
Stir in one item at a time starting with salt, then sugar, then honey until dissolved.
Cool completely, then add the remaining pineapple juice and 2 cups of ice before attempting to use the brine.
Teriyaki wet brine
If you would like a Teriyaki flavor cut the wet bine recipe in half and add one cup of regular soy sauce after heating. Adding soy sauce to the brine will mix well with the pineapple juice for the classic Teriyaki flavor. Make sure you cut back the Salt because soy sauce is high in sodium. Also, this brine is great for beef jerky.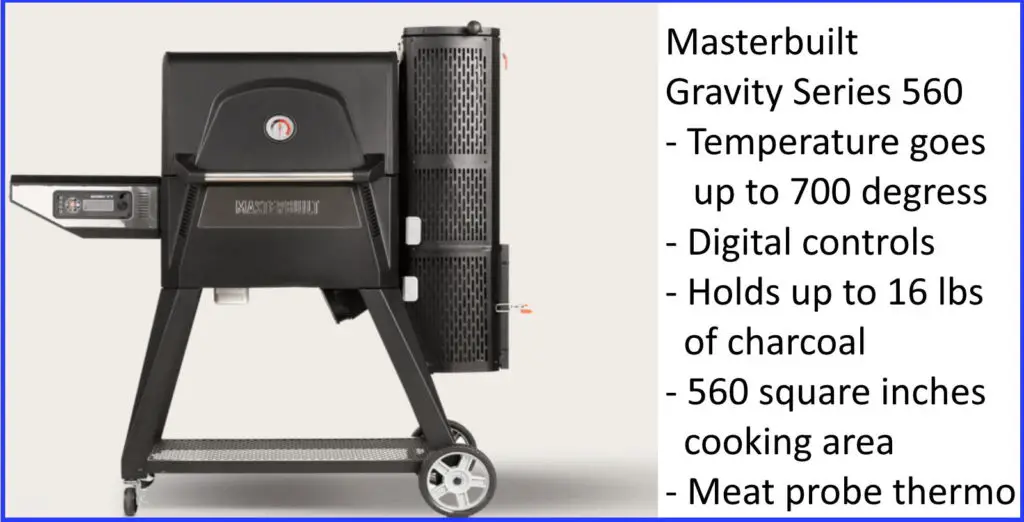 Click here to see the current price on Amazon.com
Dry salmon brine
Dry brine is another great way to add flavor to food before you smoke it. A dry brine is salt-based, and then you add your choice of sugar and/ or spices. A spice rub is very similar to dry brine, but brine normally has more salt and needs time to work.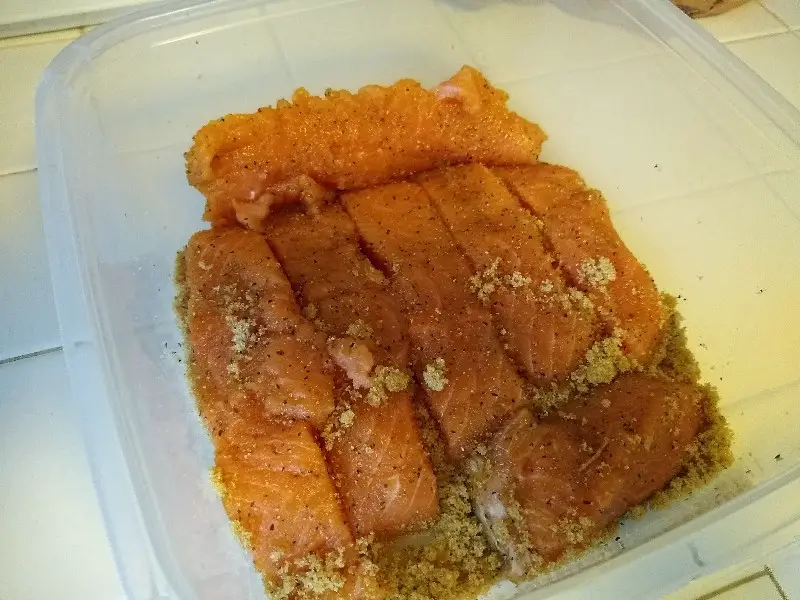 Dry brine mixture
1 lb. dark brown sugar
½ cup pickling salt (or non-iodized plain salt)
2 tbs black pepper
Preparing our salmon
Start with a clean, dry fillet of salmon. Cut across your fillet in two-inch strips. As you cut pieces from the front of the fillet to the tail, the meat will become thinner, so increase the width of the strips. Your goal is to make each strip similar in weight.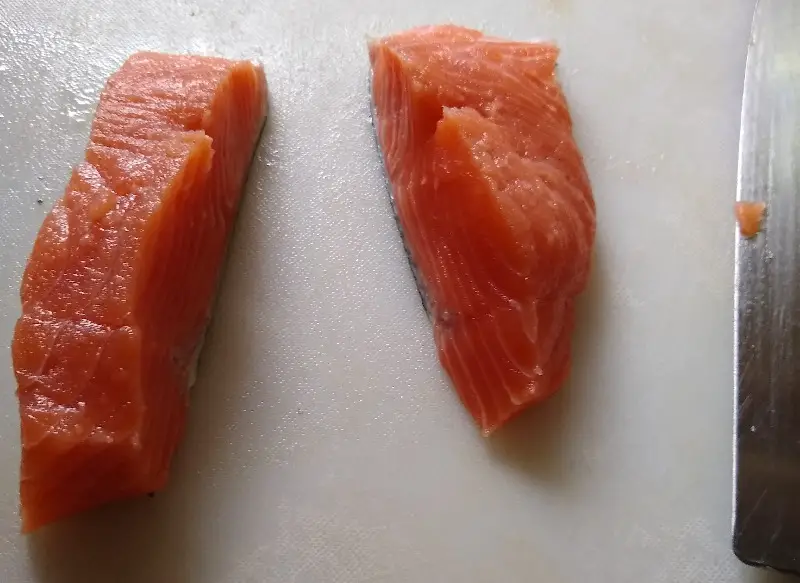 Some people like to steak cut their salmon into one-inch-thick steaks, starting from the gills and working toward the tail. This is great for brining and smoking as well, but the downside is lots of bones.
Add your salmon to your wet brine, then place it in the refrigerator for at least eight hours. If you are dry brining your salmon, coat it evenly and place it in the refrigerator for at least eight hours as well. You need to rotate your salmon at least twice for even coverage.
Lightly rinse your salmon, and dry completely. Place your salmon on smoking racks or grill mats. Arrange the thickest pieces on one tray and thinner/ smaller pieces on a separate tray.
Sprinkle brown sugar on top, then drizzle with honey before loading into your smoker.
Load your salmon into your smoker with the thicker pieces on the top shelf to ensure even cooking.
What is a pellicle layer?
Many people like to air dry their salmon for two hours before smoking. Air drying your salmon will form the "pellicle layer". The pellicle layer is a coating of proteins that form on the surface of meats.
The necessity of this process is heavily debated in smoker forums. In my experience, the pellicle layer makes it harder for the smoke to penetrate the salmon, but easier for smoke to stick to the surface of your meat.
The advantage of the two-hour drying process is reduced smoking time. I find this a trade-off between two hours in the smoker or two hours in the refrigerator with little to no benefit.
You must refrigerate your fish during this drying time, or bacteria will start to grow.
What temperature do you smoke salmon?
I like to smoke my salmon low and slow. On my digital Masterbuilt electric smoker, I set the temperature to 170 degrees.
Some smokers like the Little Chief electric smoker are not adjustable and run continuously. The manufacturer says that their smokers run at 165 degrees.
I have found that temperature can be greatly affected by the environment. There are easy hacks that can give you more temperature control.
Little chief electric smokers are more consistent at generating smoke than any other electric smokers that I have used.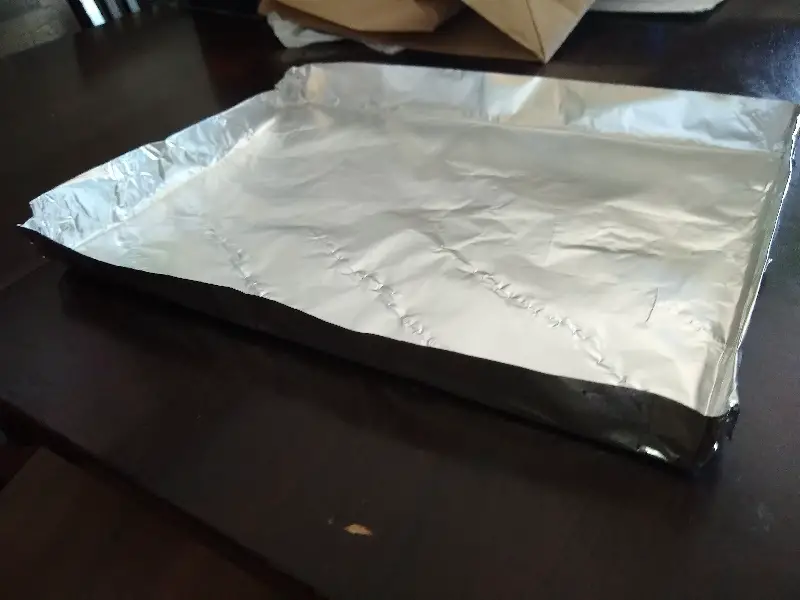 Pro tip:
before smoking anything in your smoker make a foil tray to catch drippings and place it on the bottom shelf for easy cleanup. Make sure to leave large gaps around all sides for good smoke flow.
How long does it take to smoke salmon in an electric smoker?
The normal smoke time for a cut salmon is eight hours at 180 to 190 degrees. However, smoke time can vary depending on the thickness of your fish, and the actual temperature inside your smoker.
Some people like their fish on the dry side, so you might need to add more time to get the texture you desire. I prefer my fish a bit on the firm and dry side, without being hard like a jerky. I add one hour to the cooking time for a normal size salmon of sixteen pounds.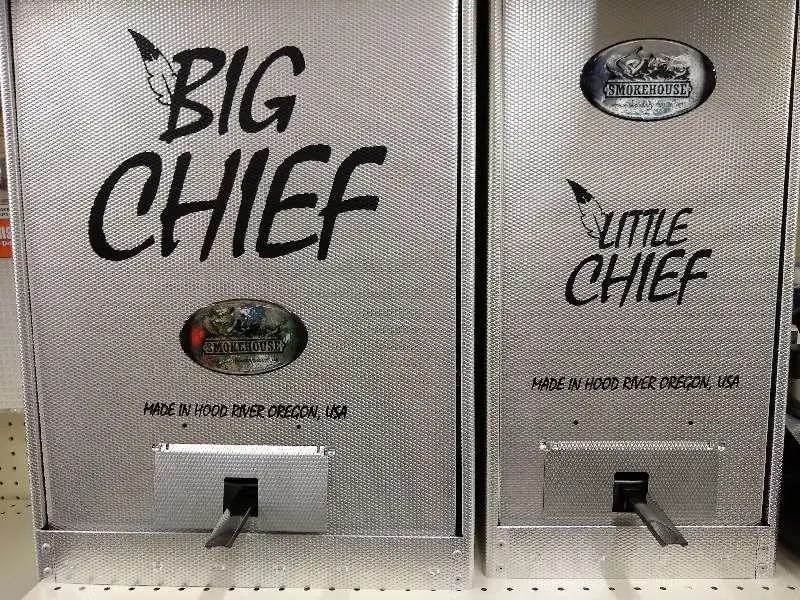 Additionally, I add two hours to my cook time if I am using a Big Chief or Little Chief smoker. The temperature runs a little lower than what I would normally set my smoker at, around 165 degrees, so my total estimated cooking time is ten hours.
What wood is best for smoking salmon?
It is widely thought that fish should be smoked with mild wood like cherry or apple, but I disagree. I use stronger woods like hickory or mesquite.
When you use strong wood, you can infuse the smoked flavor into your fish faster with less wood. Another advantage of strong wood is less maintaining of your smoker. After three pans or loads of wood chips, you can let your smoker go for hours.
Click here to checkout smokehouse products assorted wood chips four-pack at Amazon.com
How do you know when fish is finished smoking?
Your salmon is finished cooking when it reaches an internal temperature of 140 degrees. Preference on the consistency of salmon can vary, but this is the minimum. Feel free to cook it longer for the texture you desire.
My Masterbuilt smoker has a wired thermometer probe built-in, but there are many wireless probes on the market. ThermPro makes some great thermometers that I have used. The ThermoPro TP-17 wired dual probe is my current thermometer, and for an instant-read thermometer, I have been using the ThermoPro TP03 for years. Both links will take you to Amazon.com.
Click here to see the current price of the ThermoPro TP03 on Amazon.com
Storing your smoked salmon
If you make a large batch of smoked salmon, it will be necessary to store it. The best way to store smoked salmon is by vacuum sealing and freezing the packages.
I divide my smoked salmon into single meal-size portions, and vacuum seals them. With a sharpie, I write all the important information on the package like the date, flavor, and final grade.   
Refrigerate your vacuum-sealed smoked salmon before freezing. The faster your salmon freezes the fewer ice crystals that form. This results in a better-tasting product after you thaw out your salmon.
 Frozen smoked salmon can last for years, as long as there is no air in the package. The less air in the package, the less likely your salmon is to freezer burn.
Conclusion:
If you are looking for a great smoked salmon recipe you need not look any further. Your salmon will be sweet, smokie, and contain all the wonderful flavors in the Easter ham salmon brine.
Enjoy!
FAQ – smoking salmon
Will smoked fish ruin my smoker?
No. If you follow some simple steps, smoking fish will not ruin your smoker. Fish contain a lot of oils that will release when heated.
Buy or make disposable foil trays to put on the bottom shelf of your smoker. After smoking your fish, discard the dirty tray, then run two pans of wood chips in your smoker at high temperatures.
When your smoker has burnt through both pans of chips, all the fish oils should also be burnt out. Your smoker will then be seasoned and ready for its next use.
Can I quick smoke salmon?
Yes. As long as you follow basic food safety minimums, you can adjust preparation and cooking temperatures to smoke salmon however you'd like. I suggest you use a dry rub with your salmon, using your favorite spices.
Put your salmon in your smoker at 240 degrees for one hour, with the maximum amount of smoke you can produce. Finally, transfer your salmon to a 350 degree preheated oven for 20 minutes (preferably my oven, haha).  
Can I smoke a salmon without a smoker?
Yes. There are two methods I recommend. Using your grill, or using a cardboard box.
Your grill can make a great mini smoker if it has a top rack, and you have a way to generate smoke. Place your prepared salmon on the top rack. I recommend an Amazin smoke tray for generating smoke.
Fill the smoke tray with wood pellets, and light it as instructed. Put the tray on the lower rack of your grill and let it smoke for 30 minutes.
Light your grill burner on the opposite side of the smoke tray, and set it to low. You should be able to get a great piece of smoked fish as long as you watch the temperature.
A cardboard box can make a great smoker, as long as you can get to the temperature. When using the cardboard box hack, set up your smoker in a safe spot away from your house in case of fire. The driveway may be a good option.
You will need a solid box that you can put long skewers or something similar in, to create a supportive rack for your fish. Then you will need to generate smoke with either an Amazin smoke tray or a plug-in single burner and a small pan.
Lay your box sideways and insert skewers through the box to make a shelf near the top. Put your fish on the rack near the top of your box, and your smoke generator on the bottom. Seal your box and let it smoke.
If you cut a small door, you can add more wood chips without opening the whole box.