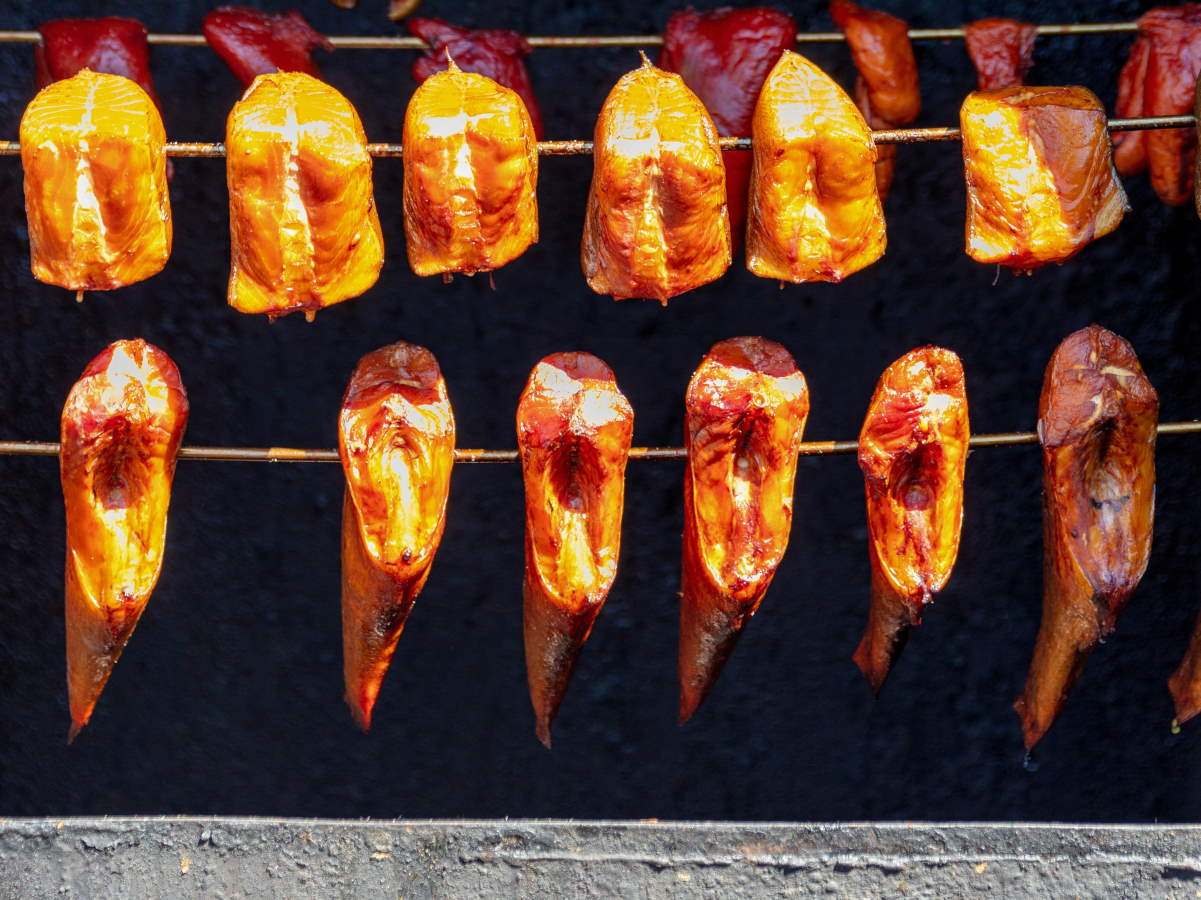 Smoking fish can usually be the same across the board for most types, but how to smoke white fish has its unique challenges. You can even do them all the same way and have an ok end product every time.
But if you pay attention to particular aspects of the fish when smoking them, you will have an even better final product. Some of these factors to consider are fat and oil content, texture, skin or no skin, and delicateness.
These are just a few but really will change the outcome of any great smoked white fish recipe. Most white fish will be much different from the darker flesh tone fish like salmon or tuna and need to be treated, prepared, and cooked very differently to allow the meat's true glory to shine through.
Here are some recipes to help you learn how to smoke white fish and start this journey.
Getting Started
No matter what type of smoker you decide to use or fish you choose to smoke, two things will always stay the same—the kind of smoker which needs to be an indirect heat type smoker. And the temperature of 200 degrees needs to be maintained throughout the entire process.
You may go a little higher but never lower than 200 and never higher than 225 Degrees. Too much heat will dry the fish out, and too low of a temperature will cause bacteria to form and create foodborne illnesses.
You will want to use a light and subtle wood to smoke white fish unless you want to overpower the natural flavors of the fish. Whitefish, in particular, tend to be very light in flavor and delicate. This usually means they will take on flavors from the smoked whitefish recipes, marinades, or cooking process.
Make sure always to have a bucket of water and a spray bottle around to control any flare-ups or unnecessary fires. This is all for safety measures but still might come in handy in other situations.
Alaskan Halibut
Halibut is a wonderful fish and usually is a little pricier than most whitefish because of its seasonality. It is a thick and meaty fish that usually cooks quickly and easily. The skin needs to be removed, and the final product can be very flaky and moist at the same time if cooked properly.
Marinated Smoked Halibut Filet
Ingredients
4 pounds of Halibut filets
½ cup White wine
1 Lemon juice and zest
4 Garlic cloves, minced
1 small Onion, minced
1 tsp. Soy sauce
1 tbsp. Chopped fresh dill
¼ cup Water
4 tbsp. Butter
½ tbsp. Kosher salt
2 tsp. Black pepper
Directions
In a small bowl or Ziplock bag, mix all the ingredients for the fish and allow them to marinate for 2 hours or overnight. Turn on the smoker and preheat it to 200 degrees. Place the fish in a roasting pan with a little bit of marinade liquid in the pan.
Place the pan in the smoker and allow the fish to smoke for at least 1 hour or until the internal temperature has reached 140 degrees. The fish should be flaky when it is done.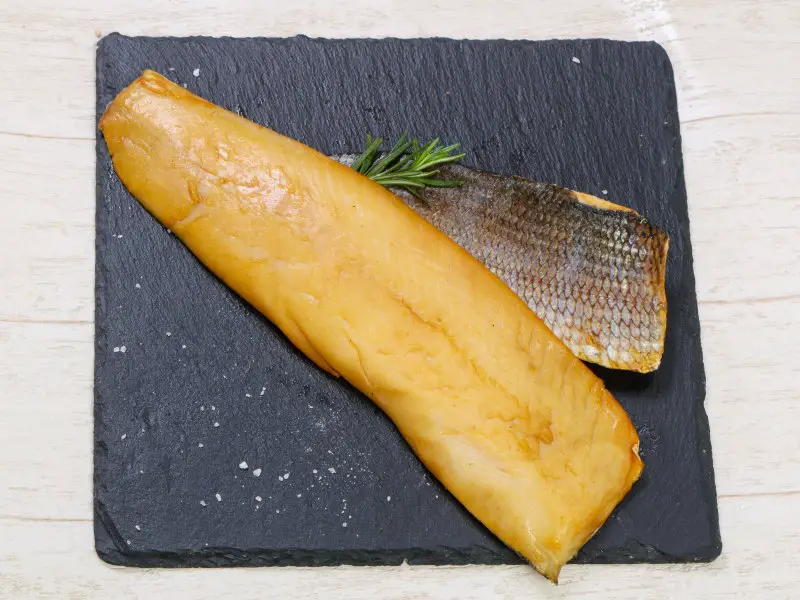 North Atlantic Cod
Cod is one of the most common whitefish varieties out there. You probably have had cod at one time or another in many different types of dishes. They are commonly used in fish tacos and fish and chips recipes almost exclusively.
But they will do well in a smoker as long as there is some liquid present to keep them moist while cooking. They may otherwise dry out during the cooking process.
Lemon Thyme Smoked Cod
Ingredients
3 pounds of Atlantic cod
Zest and juice of 2 lemons
2 tbsp. Chopped fresh thyme
½ tbsp. Kosher salt
2 tsp. Course ground black pepper
1 tsp. Ground smoked paprika
1 tsp. Worcestershire sauce
1 tsp. Tabasco hot sauce
Directions
In a small bowl mix, all of the ingredients together except for the fish. Coat the fish completely with the marinade. Using a sheet pan lined with aluminum foil, place the fish fillets on the tray.
You will need to smoke them on this because cod will lose a lot of moisture and become very delicate. It could easily break on the grill grates and be lost. Not to mention making a mess in the smoker.
Preheat the smoker to 200 degrees and allow the fish to smoke for 1 hour. The fish should cook fairly quickly and should look like it is starting to break apart and become flaky once it is done. Try not to overcook the cod as it will dry out.
Sturgeon
Smoked sturgeon is a fish that you do hear mentioned a lot. Although they are white fish, they tend to be much different than the others. Sturgeon usually eats like a steak or pork chop in texture, so it would be safe to say they are close to swordfish or tuna steak when fully cooked.
Just be sure not to overcook sturgeon as it will get very tough. A strong marinade will benefit the sturgeon in the long run when smoking them. In this case, we used a butter compote instead.
Smoked Sturgeon Loin w/ lemon Caper Butter Compote
Ingredients
for the fish:
4 pounds Sturgeon loin
½ cup White wine
2 tbsp. Butter
1 tsp. Kosher salt
1 tsp. Sugar
2 tbsp. Water
for the butter compote:
1 pound of Butter, softened
¼ cup White wine
1 Lemon, zest, and juice
1 tsp. Kosher salt
1 tsp. Black pepper
1 tbsp. Fresh chopped parsley
2 tbsp. Capers
6 Garlic cloves minced
Directions
Place all the ingredients in a Ziplock bag with the fish and allow them to marinate overnight. Turn the smoker on to 225 degrees and preheat. Place the sturgeon loin directly onto the racks or grates and allow to smoke for 1 hour and 15 minutes.
The internal temperature should be at least 135 degrees when done. Allow the sturgeon to rest for 10 minutes before cutting up and serving.
In a separate bowl, mix all the compote ingredients well and then place them in the fridge to help the butter set. Once the fish has cooked, place a spoonful of the butter compote on top of the fish when serving.
Check out our article Smoking Tilapia: A Guide to Everything You Need to Know
Conclusion
Well, there you have it three great how to smoke white fish recipes. Just remember that whitefish are delicate and will take on other flavors very easily. Treat this type of fish with care, and everything will turn out great.
Do you like trout or salmon? We have two articles for you How to Smoke Trout in a Big Chief Smoker and Smoking salmon in an electric smoker.