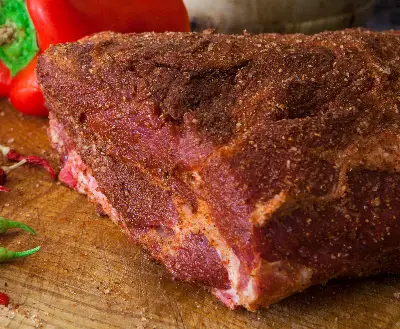 Everyone loves a great juicy piece of meat fresh off the smoker, but how about spicing it up a bit? Dry rub is the perfect way to add the spice you crave, without a long marinating process.
Note: most links in this article are Amazon.com Affiliate links, see Affiliate Disclosure, thank you.
What is dry rub?
Dry rub is a dry seasoning mix of ground spices applied to your meat before cooking. When you coat the outside of the meat before cooking, it results in the bark or the outer layer of seasoned meat.
If you rest your meat in the refrigerator, some people refer to this as a dry marinade. You can wet marinade meat with the addition of a dry rub to add even more flavor.
What are the basic rules for dry rub?
Purists' will tell you that you should always start by balancing salt with sugar. An example of this would be one cup of sugar to one cup of salt.
I mix my dry rubs one-part salt with two-parts sugar. Don't get me wrong. Salt is important for flavor, but too much salt will overpower your flavor, and that's something you want to avoid.
As for adding spices, I say go with what you like as long as you don't go over the amount of salt in the dry mix. Also, you can add your dry rub to hot water and dissolve it to make a brine. Always cool your brine before adding your meat to soak. You'll want to allow it to soak for four or more hours, depending on the thickness of your meat.
Keep in mind this is food. As long as you follow basic food safety, I say break all the rules.
What spices should I use for beef?
Spices can vary widely based on personal taste. "Barbeque God" (lol) Aaron Franklin says salt and pepper are all you need. He is more of a purist than I am. I like to have a little more fun with my flavors.
My basic spices are smoked salt, smoked paprika, and coarse ground pepper, with the addition of dark brown sugar for that sweet balance. Here is a list of spices that I would consider using on my beef rub mixture:
Basil
Bay leaf
Cayenne pepper
Chili powder
Cumin
Dill
Garlic
Marjoram
Mint
Mustard powder
Oregano
Paprika
Parsley
Pepper
Rosemary
Sage
Salt
Thyme
When I can, I always use smoked spices that I buy or make in my smoker. Coarse products like coarse sea salt or Kosher salt work better than finely ground options, when smoking at home. The increased surface area takes on the smoky flavor better.
Sugar should almost be a category of its own, but I still group it with spices in a dry rub. My favorite sugars to use are dark brown sugar and turbinado sugar (raw cane sugar).
Dark brown sugar has a strong molasses flavor because most producers have 6% molasses in the finished product. A taste of caramel is almost always present when you use dark brown sugar, and that is what makes it my first choice. Consider air-drying your brown sugar on a cookie sheet before you add it to your rub mixture.
Turbinado sugar has been processed less than granulated white sugar and has a high moisture content. That moisture gives the sugar a sweeter and more natural taste. Because turbinado sugar has a large surface area, it works great for cold smoking before use.
MSG (monosodium glutamate) is something I wanted to address. Normally, MSG is used to enhance flavors and intensify spices, or as I say, "make them pop.".
The unique properties of MSG are found in other ingredients, such as parmesan cheese and mushrooms, that we would not use in a dry rub. MSG has been the subject of many studies and has been deemed to be safe by the FDA.   
This list of spices is just a guide, not a strict list of "do's and don'ts.".  Have fun, and experiment with whatever flavors you like. Don't forget spice mixes from other countries like curry powder.
All-Purpose Dry Rub (AKA 3211)
Now that you know some of the basic seasonings for dry rubs it helps to start with a base mix. When you have a base or all-purpose rub mix premade you can add a few spices to your mix and be cooking in minutes.
3211 rub
Mix all the ingredients in an oversize container of shaker. Before each use shake well, because the heavier ingredients sink to the bottom.
When adding other spices to your base mix you can mix a small amount in a dish. However, I prefer to sprinkle a small amount of the spice to be added directly on the food then cover it with the 3211 mix.
What is the best brisket dry rub?
Brisket is arguably the king of smoked meat. What cut of meat can be almost completely useless prepared in another way, but when smoked becomes a juicy, and outright tasty piece of meat?
Basic brisket rub
There are lots of different spice rubs for every taste, but I have to start by saying if any cut were a salt and pepper only piece of meat, this would be the one.
1 cup smoked kosher salt
1 cup smoked peppercorns
Crush the ingredients in your spice grinder (or magic bullet like I do). Cover all sides of your brisket with the ground mixture, then press the mix firmly into the meat. Cook, and enjoy! (click this link to see our article on cooking a brisket)
Classic barbecue rub
This classic barbecue rub will add great flavor to your meat. My favorite cuts of beef to use this rub with are brisket, chuck roast, or flank steak.
1 cup granulated sugar
1 cup salt
2 tbsp garlic powder
2 tbsp onion powder
1 tbsp smoked paprika
2 tbsp chili powder
2 tbsp pepper
1 tbsp lemon pepper
1 tsp sage
1 tsp mustard powder
1 tsp cayenne pepper
½ tsp thyme
Mix all the ingredients, then let them rest for an hour before use, to really marry all those amazing flavors. Feel free to substitute any of these items for the smoked version, for deeper smoke flavors.
Spicy roast rub
I love a spicy rub, and adding a Cajun or Creole flavor to it is my favorite direction to go.
½ cup salt
¼ cup granulated sugar
2 tbsp smoked paprika
1 tbsp black pepper
1 tbsp white pepper
½ tbsp cayenne pepper (add ½ if you like it hot)
1 tsp garlic powder
1 tsp onion powder
1 tsp cumin
1 tsp oregano
1 tsp basil (avoid sweet varieties)
1 tsp thyme
½ tsp MSG
Mix all ingredients and let them rest for an hour before use.
These three rub mixes are great on any cut of beef. Also, consider putting these spice rubs in a shaker for everyday use while cooking on your stovetop.
Chuck roast and flank steak will perform well with the same seasoning as a brisket. The main difference in all three cuts is cook time, and how you cut across the meat fibers when serving.
If you would like to read our post on how to smoke a brisket click here
What is the best steak dry rub?
When I think steak, boneless ribeye tops my list. There are many other great cuts though. Mainly it comes down to personal preference. Chuck-eye, porterhouse, NY strip, and sirloin are just a few great steaks that I would put on the smoker any day.
Steak needs less seasoning than a big thick roast. I suggest that you sprinkle your spices lightly instead of rubbing in your spice mixture. After you have spread your mixture on the steaks evenly, you can press it in gently.
Classic steak rub
Sometimes the basics are all you need.
½ cup garlic (granulated is best)
½ cup pepper
¼ cup salt
Optional 2 tbsp onion powder
I always keep some of this basic mix ready to use in my spice cabinet. I also use this mix when I sous vide my steak, and I add a tablespoon of Worcestershire sauce.
Southwest chili rub
I love large chunks of steak in my chili, but sometimes the beans get in the way. I say skip the bowl of chili and just put the spices directly on your steak! Here's how:
3 tbsp smoked salt
1 tbsp dark brown sugar
2 tbsp chili powder
2 tbsp cumin
3 tbsp smoked paprika
1 tbsp oregano
2 tbsp pepper
2 tbsp onion powder
2 tbsp garlic powder
Optional for heat 1 tbsp cayenne pepper
If you want to take chuck steak to the next level, cut it into one-inch strips. Place the strips and chili rub in a large zip lock bag and shake them up. Let rest thirty minutes before putting it on a hot smoker, and you'll be rewarded with amazing flavor! This rub will take your chuck steak up to the next level, for sure.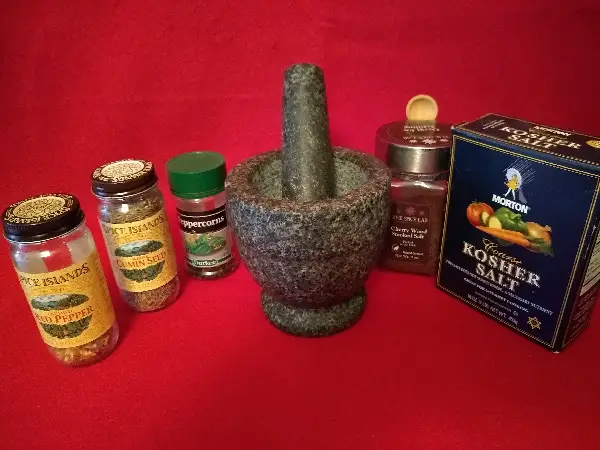 Montreal style Steak season rub
My take on this classic is incredibly straightforward. Buy a bottle and shake it on. Haha, ok, no, it's not quite that simple. It's still quick and easy, though.
I make my own seasoning mix and have been refilling the bottle I bought at the store for about ten years. Yes, I am too cheap to buy an empty bottle, but on the plus side it has a label, lol, and it's really easy to make on your own.
3 tbsp kosher salt
1 tbsp peppercorns
1 tsp coriander seeds
1 tsp red pepper flakes (add more for heat if you'd like)
Grind coarsely or crush with a mortar and pestle, then add:
2 tbsp paprika
1 tbsp garlic powder
1 tbsp onion powder
1 tsp mustard powder
1 tsp dill
1 tsp rosemary
The end goal is to have a coarser mix than most dry rubs; almost chunky. Also, avoid smoked items in this mixture, or after smoking, you will lose the Montreal seasoning profile.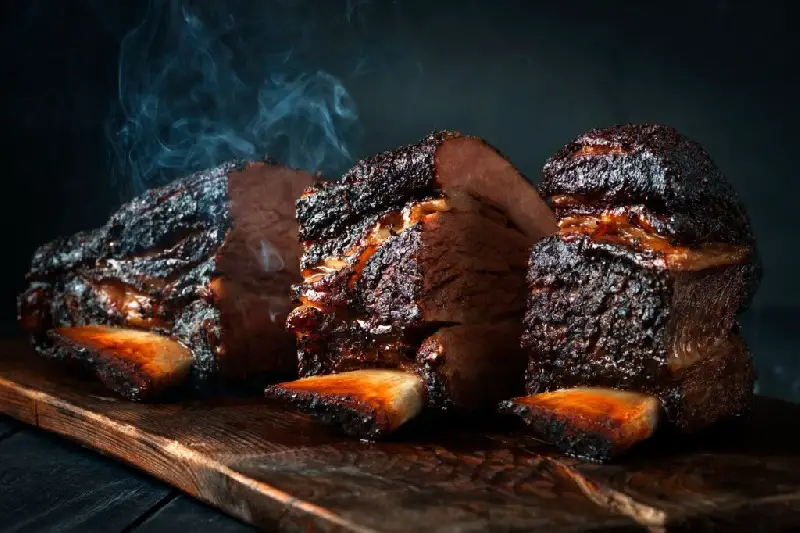 What is the best beef rib dry rub?
We have gotten to the most debated food Item in the world, beef ribs. I can find one hundred recipes for beef rib rub in just a few seconds of browsing the internet.
Personally, I like to keep it simple and toss some stuff in a bowl, mix it up and rub it on the ribs. Here are my favorite "go-to" recipes:
Basic rib rub
1 cup dark brown sugar
½ cup pepper
¼ cup smoked salt
2 tbsp garlic powder
Ribs are the one meat I always finish on the grill or under the broiler. After the ribs have smoked, I will sauce them up with a barbecue sauce, and caramelize them on both sides before serving.
Sweet rib rub
If you like a sweet rib, this rub is going to take you over the top. I have made this twice on its own to great reviews, but I prefer to mix this 50/50 with the spicy rib rub.
1 cup turbinado sugar
1 cup dark brown sugar
2 tbsp kosher salt
1 tbsp pepper
2 tbsp garlic
1 tsp cumin powder
1 tsp allspice
1 tsp sweet basil
¼ tsp clove powder
Make a mop sauce with one cube of melted butter and ½ cup of honey. Make sure when using this mop sauce that you caramelize it. If you don't, it will be way too sweet.
Spicy rib rub
I love spicy hot stuff, and this spice rub has the perfect amount of heat for me. I have used this on ribs, steak, and chicken wings.
½ cup dark brown sugar
½ cup smoked kosher salt
½ cup black pepper
1 tsp cayenne pepper
1 tsp crushed red pepper flakes
1 tbsp chili powder
1 tsp mustard powder
2 tbsp garlic powder
2 tbsp onion powder
½ tsp ginger
½ tsp MSG
1 tsp horseradish powder *
*Cheap wasabi powder is typically just colored horseradish powder, so feel free to substitute it.
Try to spread this rub as evenly as possible. Also, try not to go too heavy on this spice rub, unless you like it really hot. Make a mop sauce of Frank's Red Hot and butter. That will turn this rib rub up to extra hot.
Classic barbecue rub
The classic barbecue rub in the brisket section is also a great option for ribs, so don't overlook that as an easy option.
Bonus Section
Sugar-free rub
It is hard for me to have any rub without brown sugar, but if you must, this is the way I would go.
¼ cup salt
¼ cup smoked paprika
2 tbsp pepper
2 tbsp chili powder
1 tbsp cumin powder
1 tbsp garlic powder
1 tsp cayenne pepper
2 packages Splenda
Two packages of Splenda will give it just a little sweetness, to balance out the salt and make it all work. If you want, you can skip the Splenda; it will still be great.
This rub will work for any cut of beef, but I prefer to use a sugar-free barbecue sauce to finish ribs in particular.
Sugar-free barbecue sauce
Put all these ingredients in a saucepan. Stir constantly on medium-high heat, until the sauce starts to boil. When it begins to boil, put it on the lowest heat until ready to use, or store for later once it's cooled.
1 can diet Dr. Pepper
1 tbsp cornstarch
1 tsp chili powder
1 tsp fine black pepper
½ tsp garlic powder
½ tsp onion powder
When I am trying to cut back on my sugar intake, I make a bottle of this and put it in the refrigerator.
Conclusion:
Food is fun, and spices are a matter of personal choice. Change it up to suit your taste and take notes so you can repeat your favorites.
Enjoy!