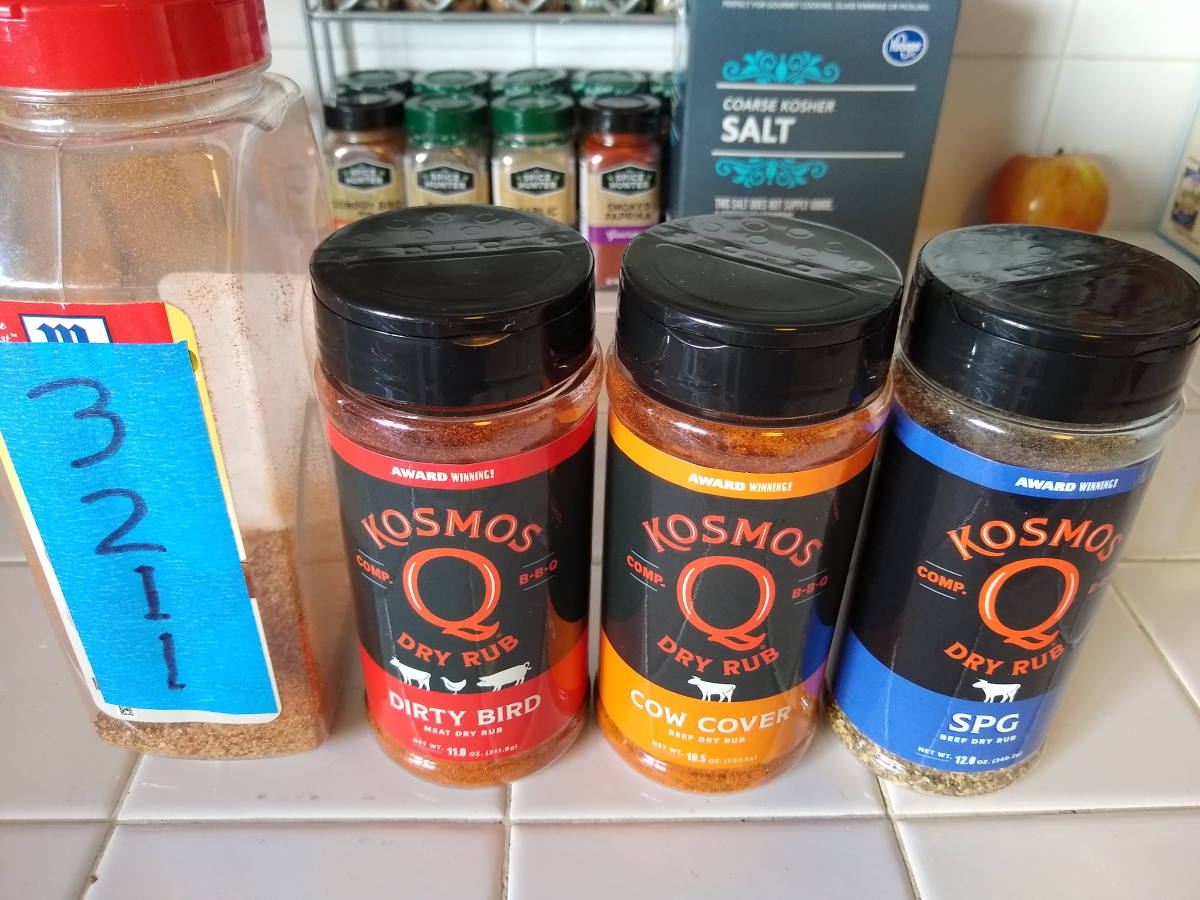 Everybody is looking for that special thing to put their smoked or grilled meats over the top. A yummy dry rub could be just the thing to add that special touch. In today's article, we will be talking about a dry rub that might become your new favorite.
Additionally, we will cover the subject of dry rubs a little so that way you can get a good idea of what a dry rub is all about.
Note: most links in this article are Amazon.com Affiliate links, see Affiliate Disclosure, thank you.
What is a Dry Rub?
A dry rub is a mixture of spices and seasonings that will add flavor and bring out the best of your meat. Most dry rubs are heavier on different spice combinations like pepper, garlic, paprika and lighter on items like salt.
Usually, a dry rub is applied minutes before cooking but sometimes can be used to season the meat the night before so the flavor can absorb into the fibers. This is not recommended for dry rubs with a significant salt content as it will suck out a lot of the moisture.
What Should I Put Dry Rub On?
You can put a dry rub on any food; however, we feel that it's best suited for things like beef and pork products. Other items might benefit more from brining and adding a dry rub after completing the brining process, like chicken.
When we look at something like beef putting spices on in an aggressive manner can result in a flavorful outer crust, aka bark, similar to what you would get on a brisket. The same type of crust is not possible with an item like chicken or fish, so we tend to avoid overdoing rubs or heavy spices. By no means does that mean that you cannot use a little bit of dry rub as a spice like the Dirty Bird that works very well.
Let's Talk About Kosmos Q
The owner Darian, "Kosmo," formed Kosmos Q company in 2009 out of Tuttle, Oklahoma. Kosmo started his journey doing competitions in 2003 and using altered store-bought products until he came up with his perfect flavor profile. Currently, Kosmos Q attends over 30 competitions a year and has multiple awards for this effort. For more details about Darian and the Kosmos Q company, this link will take you to their about page.
The company has over 30 products currently available, including but not limited to rubs, injections, brines, and barbecue sauce.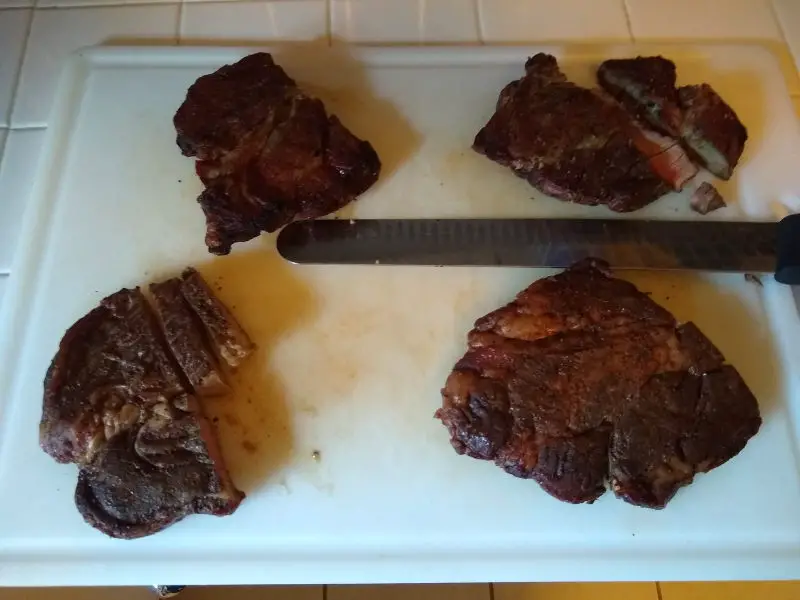 Kosmos Q's Dry Rubs
We wanted to compare Kosmos Q's top items, so we reached out to the company on their Facebook page to recommend what we should purchase. Note that I just said "we should purchase," which we did, and we're not given any free product, so this is an independent recommendation.
We would have a baseline for our comparison. We used our homemade all-purpose 3211 seasoning mix as a baseline and scored it a five for comparison.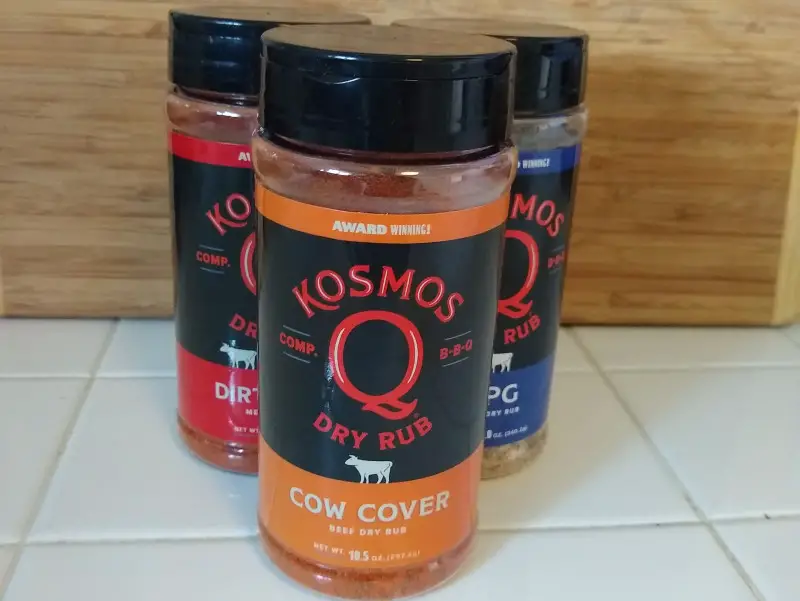 Cow Cover (9/10)
When we look for spice, we like to find something that we would use on just about any food, and Cow Cover could be that flavoring. The Cow Cover spice mix is a chili pepper base but has a complex variety of other spices.
While salt is a mainstay in this spice, it is not overpowering and works very well with all the other spices. While tasting the spice mix, it brought out the best flavors of the steak and did not overpower the meat.
We could see this dry rub going well on brisket and giving you the crust that you desire. If we were going to change anything about this seasoning, we would add more garlic and smoked paprika, LOL. Realistically, this spice could go right on any piece of beef or fatty pork and complete the cut of meat.
Click here to go to Amazon.com to read customer reviews and the label of Kosmos Q Cow Cover.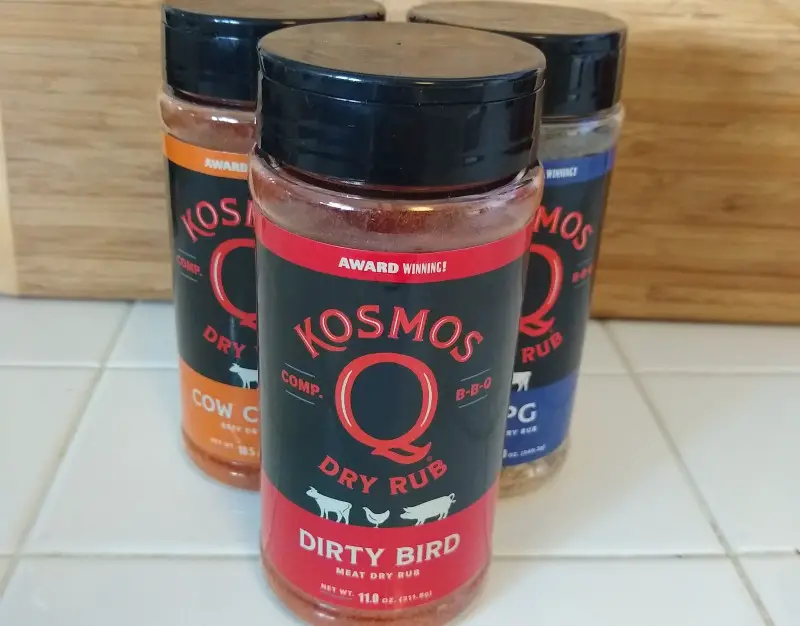 Dirty Bird (7/10)
While the Dirty Bird dry rub had some similarities to the Cow Cover, it was a far sweeter profile. We found that the dirty Bird did not match up with the chuck steak, which is why we gave it a lower rating.
But don't despair because the day before we tried it on a chicken breast and it was perfect. That points out that sometimes it takes a specific spice to go with a particular food choice.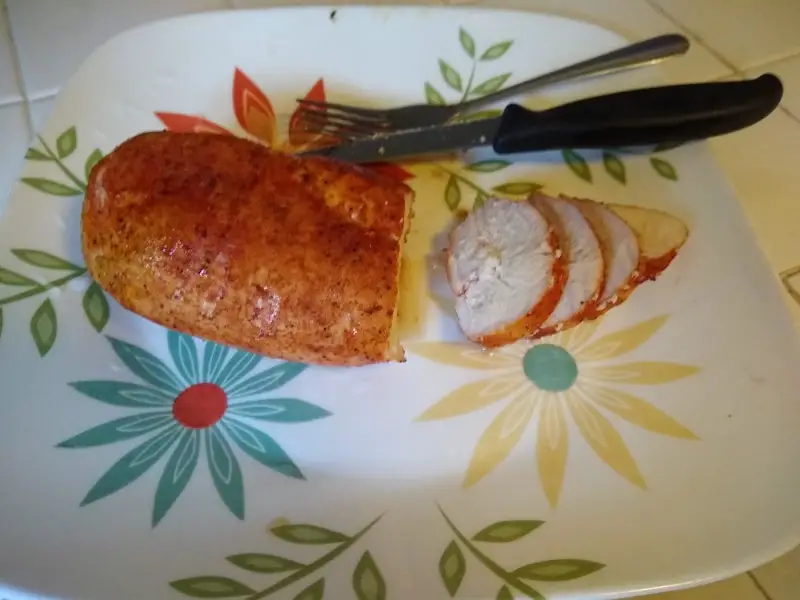 After revisiting the Dirty Bird spice, we felt that it would make an excellent addition to a dish like deviled eggs, especially if they were smoked. If we added anything to this spice, we would suggest a little pepper and smoked paprika, LOL.
Click here to go to Amazon.com to read customer reviews and the label of Kosmos Q Dirty Bird.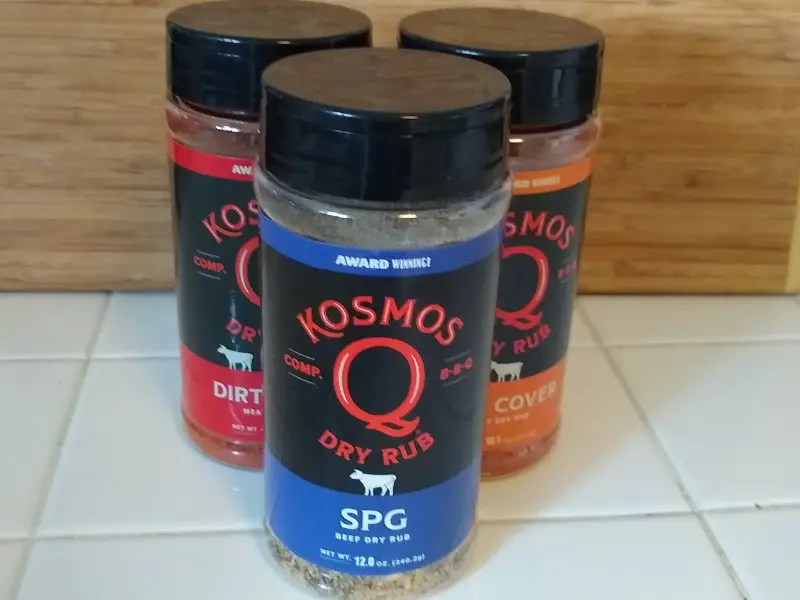 S P G (6/10)
As it may seem, this dry rub mix is more of a spice combination, including salt, pepper, garlic, and a few others. We put this on the stake, and it fared very well. We thought it was on the edge for high salt content, but most people would be pleased.
As a benchmark, I put it on my scrambled eggs the following morning for breakfast, and with the cheese that is already salty, you could tell where the salt level landed. However, I also used it that evening as a primary spice in homemade beef stew, and it was an excellent complement.
So, while we scored this spice a little low, that might be compared to the Cow Cover. The SPG is a great everyday spice combination that you could use in just about any dish. The flavors are very well balanced, so I really can't recommend adding anything to the spice, and let's say you're doing pork and want to add a little more garlic or smoked paprika, LOL. If you haven't figured it out yet, I like smoked paprika.
Click here to go to Amazon.com to read customer reviews and the label of Kosmos Q SPG.
Kosmos Q also has a variety pack if you want to set up your game and have a full selection. Click this link to go to Amazon.com and see the included flavors and prices.
Testing Notes
As for the testing, we used beef chuck steaks. We like the overall flavor of a chuck steak. While you have to be careful when cooking them, chuck steaks always taste great.
Our choice in cooking method was a pellet grill because of the convenience and ease of use. It is easy to get good results that are consistent on a pellet grill.
For Wood choice, we used applewood pellets because of their overall mild taste. We wanted to know that we smoked the steaks but did not overpower any of the seasonings. You could also use something like cherry or pecan, but as you start moving into the heavier woods, you will get more flavoring to obscure your taste test.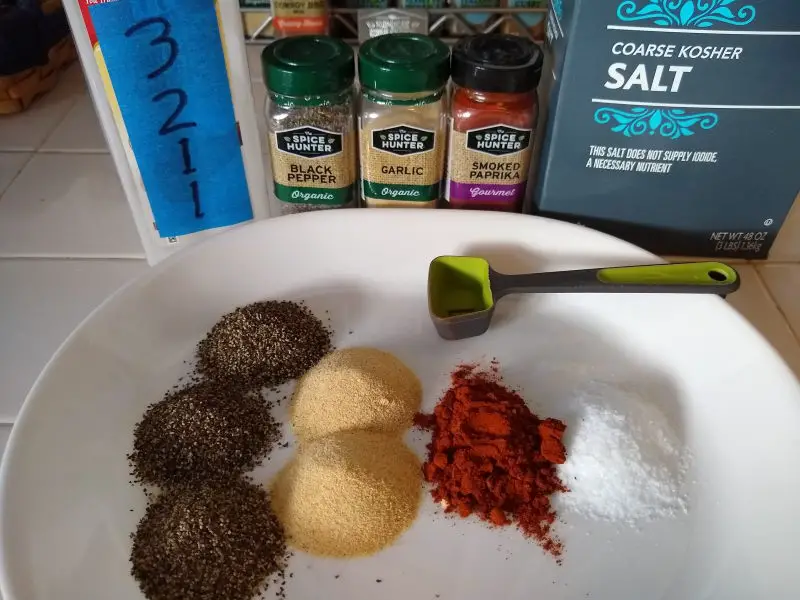 Finally, as mentioned, we used our homemade all-purpose spice mixture that we call 3211. We name our mix this because it contains 3 parts coarse black pepper, 2 parts garlic granules, 1 part kosher salt, and 1 part smoked paprika, of course.
This spice mix is a simple jump-off point that you can use to season anything or add a touch of your favorite spices to your taste or compliment a meat. A good example of additional spice is adding a light sprinkle of garlic to a pork roast before your 3211 coating.
Check out our article Ten top dry rubs for smoking beef.
Conclusion
Everybody wants the best product they can get when cooking at home, so hands down, the Kosmos Q dry rubs will help you get that result. And without hesitation, we can recommend you add Cow Cover to your assortment or all three spice rubs if you are starting your variety.
The cow cover is a definite must-have for your steaks, roasts, or brisket. So pick up a bottle, and don't be scared to throw a piece of meat on the grill or smoker today.
Enjoy!
Check out our How to use a Masterbuilt Electric Smoker: A Beginners Guide
FAQ
Can I put a dry rub on brined foods?
You certainly can put a dry rub on brined meats or food. We recommend adding the dry rub to your brine when mixing, then after rinsing the brine off your food, sprinkle a bit of the dry rub on to complete the flavoring before cooking.