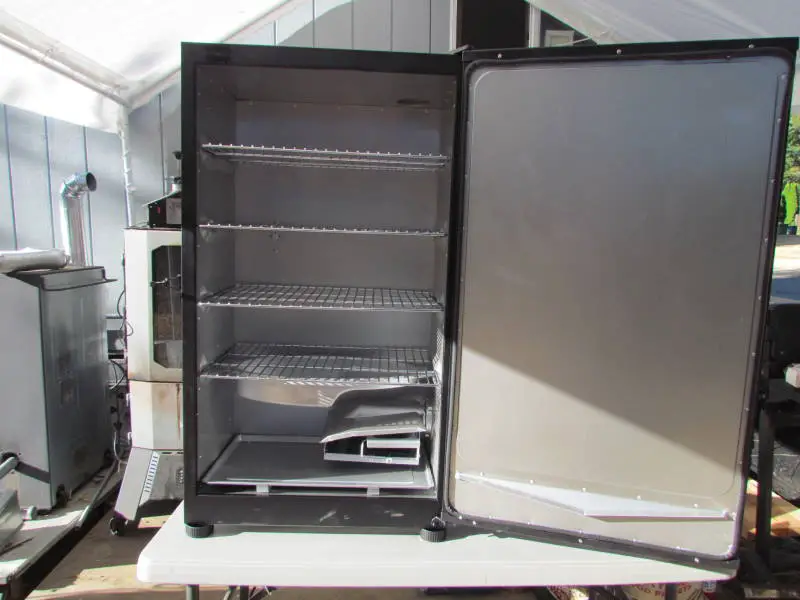 It's time to step up your game with the help of this Masterbuilt MES 140B Digital Electric Smoker review.
As one of the most user-friendly smokers you can get your hands on, the MES 140B will transform the way you prepare your favorite meats.
It boasts 971.66 square inches of cooking space, so you can prepare several dishes for yourself and the whole family.
Masterbuilt MES 140B Digital Electric Smoker Review
There's no doubt that the Masterbuilt MES 140B Digital Electric Smoker is a massive upgrade from a standard grill.
By reaping the benefits of more flavorful and juicy meats, you'll be able to appreciate cooking outside of the kitchen more.
Also, this model gives you restaurant-quality results that are sure to impress every guest.
One of the most considerable benefits of this smoker is that it's designed to smoke meats perfectly without charcoal or propane.
Instead, you'll rely on wood chips to give you the ideal amount of smoke to preserve the texture and moisture of your meat.
Not to mention, you can inject an assortment of flavors through your desired woodchip aromas to elevate meats to the next level.
The Masterbuilt MES 140B Digital Electric Smoker is for anyone interested in trying their hands at smoking meats and other items.
It has the perfect cooking area, offering up to 971.66 square inches of cooking space.
There are also four chrome-plated cooking racks, allowing you to master the art of preparing turkeys, racks of ribs, and chicken.
Who Is This Electric Smoker For?
In the past, there was a notion that smokers were only for experienced grill artists looking for an elevated experience.
However, the Masterbuilt MES 140B Digital Electric Smoker aims to challenge that belief.
It is an accessible, easy-to-use tool for anyone who loves barbecue, even a beginner.
Instead of relying on a generic grill, this smoker helps give you competition-ready meat with less effort than expected.
You can either pre-set the control box for desired results or take a more hands-on approach to smoking.
There are plenty of user-friendly controls for you to manage, including the cooking temperature, power, and time.
With these features, you can customize the quality of different cuts for the perfect meal every time.
Another huge advantage is that it's easy to move with the help of the built-in wheels and handle.
When you use your new smoker for the first time, you'll immediately fall in love with its impressive versatility.
The innovative thermostat allows you to set and forget the smoker, making it easy to use for slow-cooked brisket.
Also, you can manage the temperatures for quick smoking for last-minute events.
What's Included?
It's essential that when shopping for a smoker, you choose a model that comes with everything needed.
Otherwise, you'll find yourself shopping for extra parts and accessories, which takes away from your smoking time.
Fortunately, the Masterbuilt MES 140B Digital Electric Smoker has almost everything needed to start smoking.
When you open the package, you'll find the base unit as well as the removable chrome-plated cooking racks.
You'll also have an ashtray, drip tray, and water pan to catch consumed wood chips and fats and maintain adequate moisture when cooking.
Everything that makes this model one of the best smokers is built into the unit.
For example, you'll love that it has the built-in 1200W heating element, integrated temperature controls via the digital control panel, and more.
With all of the user-friendly features this smoker has, it's essentially ready to be used from the start.
However, we highly recommend investing in a cover.
If you intend to keep your smoker outdoors when not in use, a cover can help protect the unit from the elements.
Also, you're going to need to find the desired type and flavor of wood chips you want to use.
There is a multitude of selections, ranging from apple smoked to hickory.
Overview of Features
The Masterbuilt MES 140B Digital Electric Smoker is also a fabulous addition to any grill enthusiast's collection.
As mentioned, it has an exceptional cooking surface with removable racks to manage whole turkeys and chickens.
Here's a more in-depth look at its impressive set of features:
Chrome-Plated Smoking Racks
When you invest in a smoker, it's crucial to choose a model that comes with exceptional versatility.
Otherwise, you'll find that you can only cook specific cuts of meat to achieve the results you want.
The Masterbuilt MES 140B Digital Electric Smoker features four chrome-plated smoking racks.
When all of these racks are installed, you'll have approximately 978 square inches of smoking space to put to good use.
Alternatively, you can choose to remove the racks if you're working with a larger piece of meat.
There's no doubt that the cooking space in this unit is one of its most impressive features.
978 Square Inches of Cooking Space
The Masterbuilt electric smoker achieves this massive amount of space on 4 shelves measuring 19.69" x 12.2" each.
Let's take a look at the total amount of meat you can smoke at once to give you a better idea.
All in all, you should be able to manage eight racks of ribs, 16 chickens, four turkeys, or eight pork butts at a time.
With this exceptional amount of space, you'll have more than enough room to cook for yourself or an entire party.
This feature also makes it an excellent option for restaurants, especially with the unit's incredible build quality.
You can use multiple options for smoking your favorite cut of meat with this unit.
The digital control panel is easily accessible and features user-friendly buttons and functions.
All you have to do is input your desired settings and then let the smoker do the rest of the work for you.
However, if you prefer to take a more hands-on approach to cooking, the control panel can help.
You'll be able to customize the cooking temperature and cooking time for the perfect results.
Also, the digital panel allows you to keep an eye on the smoker's internal temperature for the most consistent outcomes.
Thermostat-Temperature Control
One of the most important features of a smoker is a thermostat, as this allows you to achieve your desired results faster.
Instead of continually opening the cooking chamber, letting the smoke and flavor out, you can manage the temperature from the outside.
This process helps ensure all of the fantastic aromas are kept inside, where they belong, until such time the meats are ready.
Smoking is a process that takes considerably longer than if you were to use a grill.
It's more time-consuming because it uses warmth to cook meat slowly from the inside out.
In comparison, a grill simply sears the exterior, cooking from the outside in.
With that said, you must find a smoker that will keep all of the precious heat inside the cooking chamber.
Without this, your meat could dry out or not cook thoroughly in your desired timeframe.
Fortunately, this device features a fully insulated body that helps retain heat, keeping your meat at the ideal temperature.
As a first-time user, you might be wondering how meat retains its moisture when smoking for hours on end.
At its core, smoking helps the meat keep as much of its juice as possible trapped in its meaty layers.
However, with the help of a water bowl, you can inject more moisture into the meat as it cooks.
The Masterbuilt MES 140B Digital Electric Smoker comes with a removable water tray/bowl to add moisture.
After all, we all know that the juicier the meat is, the more flavorful it will be.
This benefit helps you experience the authentic flavor and mouth-watering aroma of high-quality cooked meats.
Another remarkable feature added to this professional-quality smoker is its air damper.
This feature allows you to manage the amount of smoke inside the internal chamber.
With it, you can control the cooking speed and the smoke flavoring by opening and closing the damper.
When closed, more smoke is kept inside the unit and absorbed by the meat.
If you find that it comes out too smoky, you can open the damper to get a moderate range of flavors.
Patented Wood Chip Loading
After buying a new smoker, one of the first features to look for is the chip loading system.
This model comes with a patented solution, making it significantly simpler to load chips into the unit.
You won't even have to worry about opening the door to add more fuel for smoking.
This feature is remarkable for long smoking sessions, allowing you to retain more flavor while refilling the chips.
Also, it's essential for keeping the most heat within the insulated body.
Consistent Cooking Temperature
There's no doubt that the Masterbuilt MES 140B Digital Electric Smoker is a workhorse when it comes to dealing with meat.
The smoker is powered using a 1200W heating element, helping you achieve cooking temperatures between 100 and 275 degrees Fahrenheit.
With the help of the digital control panel, you can customize the level of cook for every cut you have.
Built-in Handle and Wheels
When you first bring the Masterbuilt MES 140B Digital Electric Smoker home, you'll need to find the perfect spot for it.
Maneuverability has never been easier than with the help of its built-in all-terrain wheels.
Also, the integrated handle makes the unit even simpler to navigate to your backyard or front yard as needed.
How To Get the Most Out of It
Getting the most out of the Masterbuilt MES 140B Digital Electric Smoker is easy.
After all, it's made both for beginners and seasoned pros.
That said, there are a few key things to consider to help you get the best results, even if it's your first time.
Let's go over some essential tips to help you reap the benefits of your new smoker.
1. Always Pre-Season
As with any smoker, you must take the time to pre-season the unit before its first use.
This process helps ensure any debris from manufacturing has been cleared away, like cleaning the interior.
When pre-seasoning, ensure the water bowl is inserted without any water.
You'll then want to set the temperature to its maximum (275 degrees) and allow the smoker to run for three hours.
During the last 45 minutes of pre-seasoning, add 1/2 cup of wood chips.
Then, after the cycle is complete, turn the unit off and allow it to cool down.
2. Do Not Cover the Racks
It can be tempting to cover the interior racks with aluminum foil to keep them clean, depending on what you're cooking.
However, one of the most critical components of smokers is that they need hot air to circulate.
By covering the racks with foil, you're preventing air movement, which can reduce the unit's effectiveness.
3. Make Door Adjustments
If it's your first time using a smoker, seeing the amount of smoke the unit produces can be overwhelming.
It's important to remember that the unit is specifically designed to create an exceptional amount of smoke.
You can easily adjust the door using the latch's hex nut to tighten or loosen it as needed to retain more smoke and heat.
Alternative
Although the Masterbuilt MES 140B Digital Electric Smoker is a powerful beast, it might be best to consider alternatives.
Like the Masterbuilt MES 140B, the Smoke Hollow 26142E Electric Smoker has plenty of powerful features to make a note of as well.
Let's take a look at some of the best things this smoker has to offer. You can also check out this video to see it in action.
One of the best features of the Smoke Hollow is that it allows you to reach higher temperatures while cooking.
The unit's temperature controls go as low as 175 degrees and up to 325 degrees.
Sure-Lock Latch Technology
If you're looking for a smoker that helps you retain the most smoke and heat, this unit is impressively designed.
It features Sure-Lock Latch Technology and draft controls, allowing you to adjust how much heat and smoke is retained.
Porcelain-coated Accessories
When it comes time to clean your smoker, it can be challenging, especially with low-quality accessories.
Fortunately, this model has a porcelain-coated chip and water tray for easy cleanup.
Are You Looking For Upgrades?
Masterbuilt also makes a model with all the bells and whistles. This model will cost you a bit more, but if you have decieded that this style of smoker is for you, you might want to invest a bit more to buy the top line smoker.
Some of these features are:
A large glass door window
Bluetooth connectivity
Temperature probe
Stainless steel finish
The Masterbuilt MB20074719 Bluetooth Digital Electric Smoker has all these upgrades for a slight increase in price. Check out the current price on Amazon.com, and then you can decide if it is worth the cost for the upgrade.
Is the Masterbuilt MES 140B Any Good?
In this Masterbuilt MES 140B Digital Electric Smoker review, we learned that this smoker is one of the best in the market today.
Not only does it come with user-friendly features for beginners, but it also has customizable controls for the seasoned pro.
Its functional and versatile design makes it easy to use for an assortment of your favorite meats, offering the juiciest and most flavorful results.
Masterbuilt MES 140B Digital Electric Smoker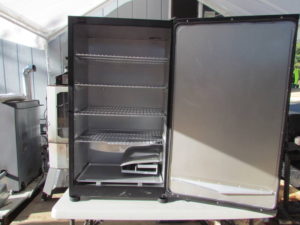 In this Masterbuilt MES 140B Digital Electric Smoker Review, we will be covering the features and performance of this smoker in detail.
Product Brand: Masterbuilt
Pros
Precise digital control panel
Has a powerful heating element
Includes a water pan, ashtray, and a drip tray
Incredibly easy to move
Plenty of cooking space
Cooking temperatures between 100 and 275 ºF
Cons
No integrated meat probe
Not Bluetooth-compatible
Requires the use of a timer