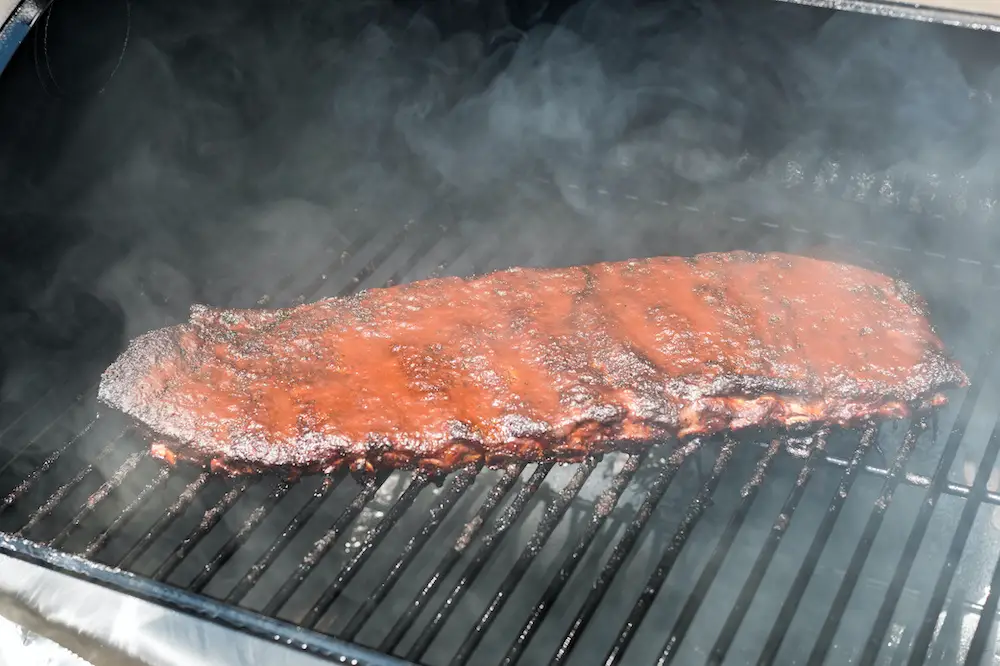 Smoking food is a handed-down tradition that has been shared throughout the United States for years.
We all know that nothing compares to the smell and taste of smoked food.
In fact, even professional cooks spend lots of time mastering the technique, hoping to learn the right amount of smoke and temperature setting for their barbecue.
To produce a juicy and tender smoked meat requires a lot of patience and care; you also need to invest in the best electric smokers.
This Smoke Hollow electric smoker review will show you how to smoke meat easier using this model and come up with excellent results.
You don't need to look further in the search for the best electric smoker that delivers at a reasonable price.
Note: most links in this article are Amazon.com Affiliate links, see Affiliate Disclosure, thank you.
Quick Overview
Smoke Hollow Electric Smoker
Smoke Hollow is where this amazing smoker came from.
The company, founded by Rick Davidson, a popular name in the barbecue community, initially introduced the product in the market in 2005.
The Smoke Hollow is part of the Outdoor Leisure brand, whose outdoor cooking products aim to provide a better and hassle-free experience to its customers.
Most food lovers and new homemakers buy an electric smoker because of the variety of cooking knowledge they learn from using these devices.
The best option for beginners is the analog electric smoker from Smoke Hollow because of its simplicity—not only in its design but, most of all, in its operation.
Who Is This Product For?
This smaller version of the analog electric smoker does not have a window for you to see how the smoking meat inside is progressing.
Though it is considered an entry-level smoker, it is best used by those who are experts when it comes to smoking meat.
That's because they will not need constant checking to ensure that the food is cooking as it should.
The size and simplicity of the smoker are also perfect for any home that loves to entertain friends and families during weekends over delicious barbecues.
This particular model is ideal for traditional cooks who do not care much about technology and would be happy to use a product that they are familiar with.
What's Included?
You will receive one 26-inch Smoke Hollow analog electric smoker and its instructional manual upon purchase.
Overview of the Features
Through this Smoke Hollow electric smoker review, we will show you how the design and features complement each other to provide excellent performance.
We will also show you how this Smoke Hollow smoker differs from other options, so you will not be intimidated and overwhelmed by various smokers.
This electric smoker has adjustable temperature control, which makes the process of smoking meat hassle-free and straightforward.
Its heating element is excellent at 1500 watts, which can make sufficient smoke that adds flavor to your meat.
It can also give you the option to choose your desired temperature setting anywhere between 175 and 325 degrees Fahrenheit.
The interiors of this smoker are made with quality heat-resistant materials, which prove its durability.
The black smoker cabinet is made from a steel material that is fully-welded with a spring wire handle that is cool to the touch.
You will also find a sure-lock latch technology and draft controls that you can easily adjust.
It has side handles for easy mobilization of the cooking appliance from one corner to another.
Additionally, you will also notice four angled steel legs that add support and stability to the smoker, especially when it's filled with food.
Both the chip tray and water pan are porcelain-coated, making it easy to clean and maintain.
The cooking chamber of this electric smoker is at 1.3 cubic feet with two adjustable chrome-plated smoking racks.
The racks are hung by adjustable supports that work similar to pegboard hooks. We recommend purchasing two additional supports from the manufacures website, so you can add an additional shelf.
These allow you to smoke a variety of food at the same time.
Through the use of a grid track system, you can easily adjust the temperature using the heat control indicator.
There's also a temperature gauge indicator at the front of the device to let you know how much heat is inside the smoker.
How to Get the Most out of It
Here is a short video clip of Smoke Hollow electric smoker modifications so that you can see it in action.
Alternatives
As we all know, it's not easy to find a smoker that offers everything that you need.
Hence, here are some alternatives you might to check out, as well:
Masterbuilt MB20070210 Analog Electric Smoker
This Masterbuilt analog electric smoker is almost identical to the Smoke Hollow electric smoker at first glance.
This cooking appliance is simplistic not only in looks but in operation, as well.
It does not have fancy or unique features, but you can be sure that it can do its job well, and that is to smoke food.
It has more than 500 square inches of smoking space fitted with three smoking racks that will be perfect for smoking meat for the whole family.
The smoker is designed with two wall insulation to make sure that the smoke and heat are securely trapped inside the cooking cabinet.
Its heating element is powerful at 1500 watts, making it possible to produce temperatures from 100 to 400 degrees Fahrenheit.
A wood chip tray and water pan are also part of the package to help you maintain a steady and stable temperature inside the cooker during the entire smoking process.
There's a built-in temperature gauge attached at the door of the smoker, so you have an idea of how hot it is inside the smoker.
However, there are instances where the temperature reading is not accurate; hence, it is best to use a probe thermometer.
Cleaning the smoker after every use is necessary to maintain its excellent performance.
It is recommended that you pull out all the detachable parts and clean it separately, allowing it to air dry thoroughly.
The only problem with this smoker is the single door.
It makes it hard to maintain the desired heat inside the smoker if you regularly open the door when replenishing water or wood chip.
Cuisinart COS-330 Electric Smoker
Another good alternative that we can find is the Cuisinart COS-330 Electric Smoker with its spacious smoking area.
The compact design of this smoker makes it a great space-saver, especially for those who do not have much space where they live.
There's a built-in thermometer that can easily monitor the temperature inside the smoker so that you can adjust the heat accordingly.
The two handles on each side of the smoker allow you to lift the device if you need to transfer it to another location.
The temperature ranges from 100 to 400 degrees Fahrenheit, allowing you to set and control the actual setting you need quickly.
Char-Broil Analog Electric Smoker
The Analog Electric Smoker from Char-Broil is ideal for people who are just learning the art of smoking meat, as well as those who are looking for a real smoker that delivers.
Introducing new flavors to the smoked meat is made easy by the insulated cooking chamber, the large aluminum woodchip box, and the temperature regulation.
The aluminum water pan helps in keeping the meat tender and juicy by creating a moist smoking environment inside the cooking chamber.
At the same time, all the drippings go straight into the grease tray.
There are three chrome-plated smoking racks inside the smoker, giving the versatility of cooking various kinds of food at different quantities.
The quality materials combined with the sturdy construction ensures that this smoker will last a long time.
The heating element is at 1200 watts, making it possible to keep the smoking chamber hot and produce enough smoke.
The whole smoker unit is covered with a one-year warranty from the manufacturer.
Conclusion
Everybody loves eating and sometimes longing to taste different kinds of food, hence the desire to cook and test new recipes.
This Smoke Hollow electric smoker review made us realize that adding different flavors to your smoked meat is possible.
In fact, creating juicy and fall-off-the-bone smoked food is made easy through this cooker.
If you need guidelines about the right smoking temperature for all types of meat, you can follow the instructions that we have listed.
You will never go wrong with this affordable electric smoker from Smoke Hollow, even if you are new to the world of smoking food.
The smoker is well-built, promising durability that will last for many years to come.