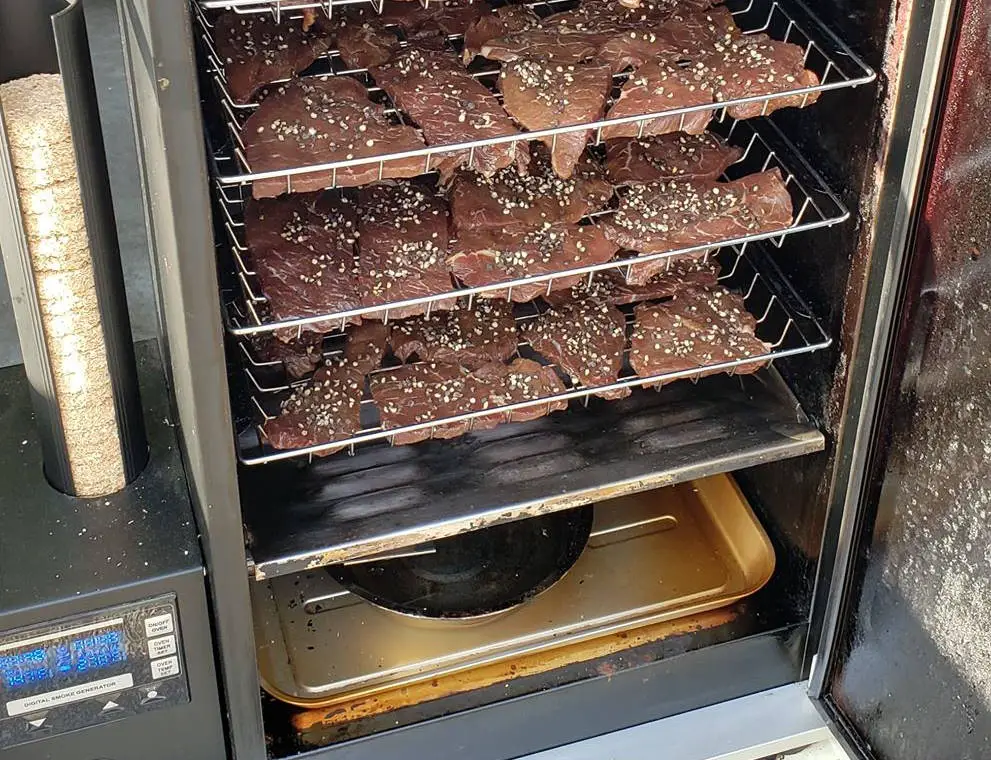 One of our favorite treats is a batch of fresh jerky, but do you know how to smoke jerky in a Bradley smoker? Not to worry because we can help you to get great jerky with ease.
Smoking jerky in a Bradley smoker is a multi-step process. First, your need to mix and chill your marinade. Once your marinade is below 40°, add your sliced meat and refrigerate for 8 to 12 hours. Preheat your smoker, then load your jerky and smoke it at 170° for 5 to 6 hours.
In today's article, we will show you step by step how to smoke jerky in a Bradley smoker.
Note: most links in this article are Amazon.com Affiliate links, see Affiliate Disclosure, thank you.
About Bradley Smokers
Bradley smokers are one of the easiest smokers to use. The Bradley unit is an electric vertical cabinet smoker with a unique bisquette feed system. The model that we will be using in this article is a four-shelf unit with a total capacity of 572 cubic inches.
Bradley smokers are not known for high cooking temperatures. The cooking element is 500 watts, but you can modify your smoker with a slightly higher watt element in an hour or two. Because of these features and more, the Bradley electric smoker is very beginner friendly.
Using the Bradley Smoker
To operate the Bradley smoker, first, turn on the unit and set your temperature. Allow the smoker to preheat for about 30 minutes. Load your fuel, then load your food. When your smoker stops smoking and you have reached your cooking time, turn your smoker off and let it cool for 30 minutes before unloading.
Make sure you calibrate your smoker with a wired or wireless thermometer. We place a cup of water on the middle shelf and heat the smoker for an hour. Place the thermometer in the cup and match the reading with the digital readout on your smoker.
If your smoker is analog, keep the difference in mind when adjusting your cooking temperature. You can also use a Sharpe to note the difference in your controls.
Click here for our Review of The Bradley Smoker
Bradley Smoker Bisquettes
Bradley produces its trademark bisquettes in various wood types, including apple, Alder, mesquite, hickory, and maple. The bisquettes are just that; wood chips pressed into the shape of a biscuit. This shape allows for an easy-to-use system.
Load your wood fuel bisquettes and two metal rings into the feeding tube. Each bisquette takes roughly twenty minutes to burn. If you plan on cooking for 6 hours, you should load three hours of bisquettes or nine bisquettes and the two metal rings.
The metal rings will work as pushers for the last two bisquettes, and if you do not use them, the last two will not load into the burner.
How to Make Jerky
Making jerky has very few steps. The main concern with making jerky is patience. So, let's take it step-by-step and make some great jerky.
How to Choose Your Meat
Everything starts with picking an excellent cut of meat, and for jerky, we like a bottom round roast or top round roast. We always look for well-defined grain and lots of marbling.
Size is unimportant, so a large chuck steak will work well if you wish to do a small batch of jerky.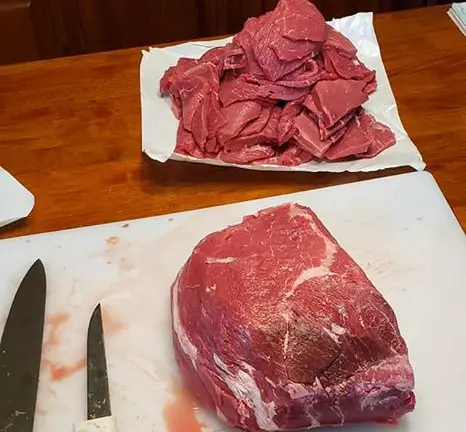 How To Cut Your Meat
Everyone likes to cut their jerky meat in their way, but our way is better, and here is why, lol. Start by putting the roast on its side and cutting it into two large steaks.
Then cut at a 45degree angle slightly thicker than ¼ inch thick. Cutting in this manner will make the jerky easy to chew but still hold together.
Ingredients
Meat
Marinade
1 cup Soy sauce
½ cup Red wine
½ cup Brown sugar
2 tbsp Onion powder
2 tbsp Garlic powder
1 tbsp Worcestershire
Directions
Mix your wet ingredients, including the brown sugar, in a microwave-safe bowl or a pan. Heat your mix and frequently stir until the brown sugar is completely dissolved.
Then add the garlic and onion powder to the mixture. Place the mixture in the refrigerator until 40° or less. Cut your meat and add the cooled marinade.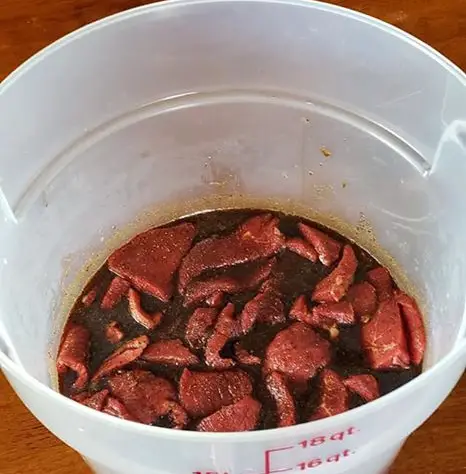 Allow the meat to soak in the marinade for 8 hours. Lightly rinse the meat with a large bucket of cold water and pat dry. Arrange jerky flat on the trays while spacing it out as much as possible.
This is the point where you might want to add extra flavor in the form of a topping. You can lightly sprinkle with your favorite spice like brown sugar on half and pepper on half, or consider smoked paprika.
Smoke your jerky for five to six hours at 170°. Only add enough fuel to smoke for the first two hours, that would be six bisquettes. The remainder of the smoking time will be focusing on drying your jerky to your desired doneness.
Let your jerky dry in a cool area then put in zipper bags for short-term storage. For longer storage consider vacuum sealing your jerky and placing it in the back of your refrigerator. If you want to make your jerky shelf stable you will need to cure it with salt or a small amount of Prague powder.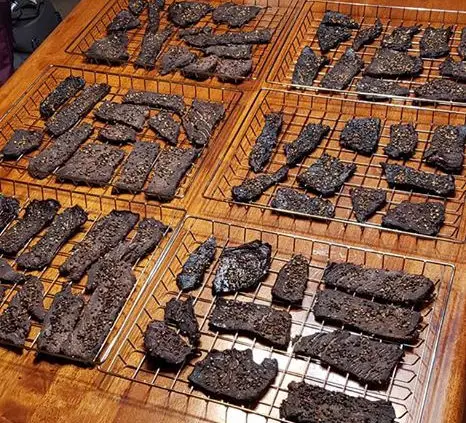 Alternate Smokers
What if you don't have a Bradley smoker or have a small budget? No problem! You can always use a different smoker to make anything. You might need to make a few adjustments to your process.
We recommend a Big Chief top load electric smoker or a Smoke hollow electric analog smoker if you buy a smoker. Both are great budget-friendly options, and each smoker has different pluses to consider. Check out our review articles below, and we have youtube videos in the articles.
Smokehouse Products Big Chief Top Load Smoker Review
Smoke Hollow 26142E Electric Smoker Review
Tips
Thickness makes a difference in cooking time and how dry you would like your finished product. The thinner the jerky quicker it will smoke and cook.
Suppose you want to dry your jerky try placing a box fan flat on a narrow open box blowing straight up. Stack your jerky racks on the fan and set the fan on high. Over time the jerky will dry completely and be perfect for vacuum sealing.
(pic – grill)
If you can't wait for your smoker through a few on your grill, they are great with fried eggs and potatoes.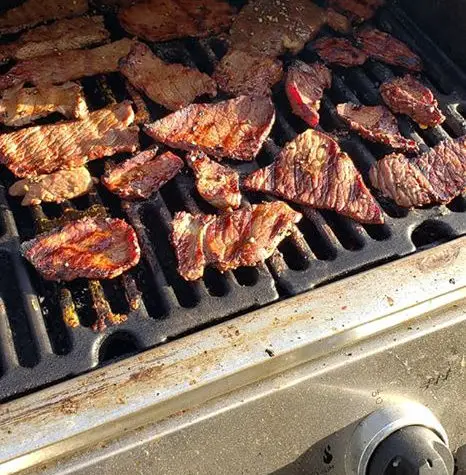 Conclusion
We hope this step-by-step lesson in how to smoke jerky in a Bradley smoker helped you on your smoking journey. Keep in mind that as long as you follow food safety, there are no limits to how you choose to prepare or flavor your food.