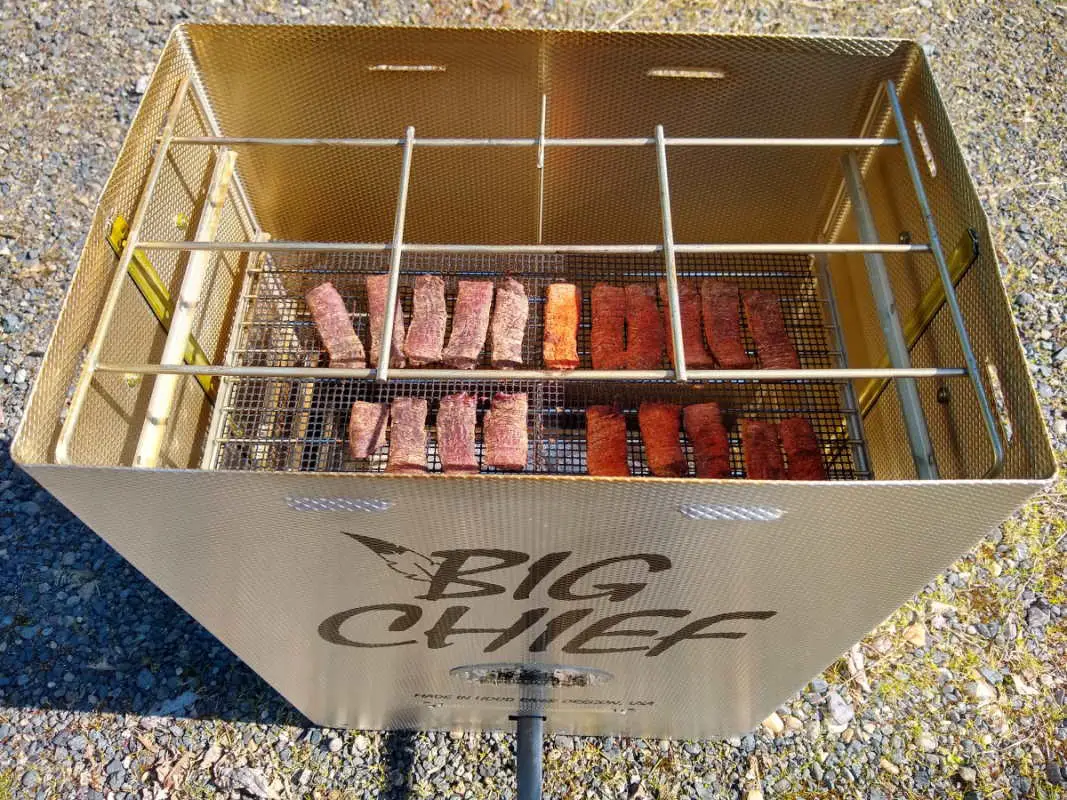 Looking for a good smoker but confused about which one to choose?
Don't worry because you're not the only one.
Finding the right type of smoker can be a hard task, especially if you're a beginner.
To make your life easier, you need to learn how to decide which type of smoker fits your needs the best.
Of course, we just can't leave you hanging, so we reviewed one of the best sellers on the market today, the Big Chief Smoker.
Now, let's talk about the specifications of this product and the reasons why it stands out among its counterparts.
Note: most links in this article are Amazon.com Affiliate links, see Affiliate Disclosure, thank you.
Smokehouse Products Big Chief Top Load Smoker
Coming at an affordable price, the Big Chief Top Load Smoker is one of the best of its kind.
Unlike other companies that attract customers through false advertising, this brand stands true to its advertisement and does exactly as promised.
With this smoker, you don't have to worry about the instructions being too complicated or hard to follow.
This easy-to-operate equipment is excellent for both professionals and beginners.
Simply plug in the smoker in a standard household outlet and watch your food turn more flavorful and delicious.
If you're wondering what kind of food can be smoked using this smoker, let us tell you that the possibilities are endless.
The smoker can be used to smoke any type of meat from jerky, sausage, bacon, pork ribs, chicken, meatloaf but in our opinion fish is what this smoke excels in.
Just reading this list makes you hungry, doesn't it? That's not all! You can even use this product to smoke nuts, fruits, and cheese.
The most astonishing part is that this appliance was also used to smoke beer on national television.
It doesn't get any better than that.
Who Is This Product For?
This part is crucial for most people.
Before making a purchase, you must decide on the use of the product.
In comparison to its previous counterparts, this smoker is best suited for hardcore outdoor men, the reason being that this model is can be heavy loading and unloading at maximum capacity.
However, while it is a bit hard to load and unload the rack holder, it gives you the convenience of moving all the racks at the same time.
If that's what you're looking for, it is best if you buy this smoker.
Even if you're a family who occasionally likes to host dinners, this device will work great for you.
Thanks to its five racks, you can smoke large quantities of food at the same time.
This is a low-temperature smoker, which means that in case you're planning to smoke a large chunk of meat, you will have to finish cooking it in the oven.
Hence, if you want a smoker that does both the jobs of an oven and a smoker, this might not be what you're looking for.
What's Included?
Are you excited to find out what's in the box?
This smoker comes with five easy-to-slide chrome plated racks.
It also arrives with a heating element, an electric cord, a fuel pan, and even a drip pan.
Of course, you will also get an instruction manual and a recipe book to get you cooking straight away.
The cherry on top, however, is that you will also be given a 1.75-pound bag of hickory-flavored wood fuel.
Indeed, you will have everything you need to start cooking and smoking!
Overview of the Features
Coming to the most important part of our review, we will discuss all the specifications of the product.
This will give a proper insight into the smoker and help you decide if this is the right choice for you or not.
Pros:
Unlike its older counterparts, this smoker is made of formed sheets of aluminum with perfect vent placement for good smoking airflow.
There is little or almost no heat loss during the smoking process.
Since consistency is an essential quality of a good smoker, the Big Chief smoker ensures that the temperature is maintained.
Because of this, you can be assured that there will be no sudden drop in temperature while cooking.
This is one of the most significant selling points of this smoker.
All in all, this device can hold up to 50 pounds of meat at a time.
The included five racks are easy to fill and load on the rack holder. 
Because the racks are not fixed, you can load as many as you need.
Then when you are done, the racks are dishwasher safe for easy clean-up.
The drip pan of the smoker is a big plus point, as well.
The juices of the meat that end up in this pan can be used to make a stock.
Not to forget, this pan is dishwasher-safe.
While this may not be a huge advantage, it is always preferable to have the option.
Cons:
One of the primary drawbacks of the product that most customers are concerned about is that the smoker does not have any glass doors.
This makes it hard to keep a check on the food you are smoking.
So, in case you plan to open and check your food, the temperature of the smoker is likely to drop, disrupting the cooking process.
The non-adjustable temperature of the smoker can be a problem for people who plan to smoke a large piece of meat.
There are chances that the meat will be undercooked, so you'll have to finish cooking it in the oven.
Check out our article Big Chief Smoker vs. Little Chief Smoker
Optional design:
Thanks to this system, loading food into the smoker is now much easier and hassle-free.
We prefer the top load because the smoker keep a better seal during use.
Click here to see the Front load model on Amazon.com
How to Use This Smoker
There's no rocket science involved in using the product.
To start, begin by loading the food you wish to smoke on the grill.
Next, attach the electric cord into the power outlet for the smoking process to start.
Since it works on a standard temperature, you do not have to worry about the temperature settings either.
Safety note:
Do not use the smoker on flammable surfaces as the bottom can get very hot under the heating element.
For further information on how to operate the smoker, you can check out this interesting and informative video.
Alternative
Looking for a good alternative to the Big Chief smoker? We've got you covered.
Upon careful checking, we found that the Masterbuilt Bluetooth Smart Digital Smoker is an excellent alternative.
This electric smoker is undoubtedly one of the best of its kind.
Masterbuilt elecrtic smokers are easy to use and have a large smoking area of 721 square inches.
The best part about this appliance is that it comes with a transparent viewing window.
This means you won't have to open the door every time you want to check up on your food.
Moreover, this electric smoker comes with Bluetooth technology that allows you to control the smoker on your smartphone.
All in all, it is a top alternative to the Big Chief Smoker.
If you want the performance of the Masterbuilt Bluetooth  Digital Electric 30-Inch Smoker at a budget friendly price consider going with the non-Bluetooth model.
Check out our Review of the Masterbuilt 140B
Conclusion
The Big Chief Top Load Smoker is no doubt outstanding.
However, we recommend that you study the specifications of the product thoroughly before making a purchase to make sure they match your needs.
Similarly, keep in mind the fact that this appliance is best suited for outdoor use only.