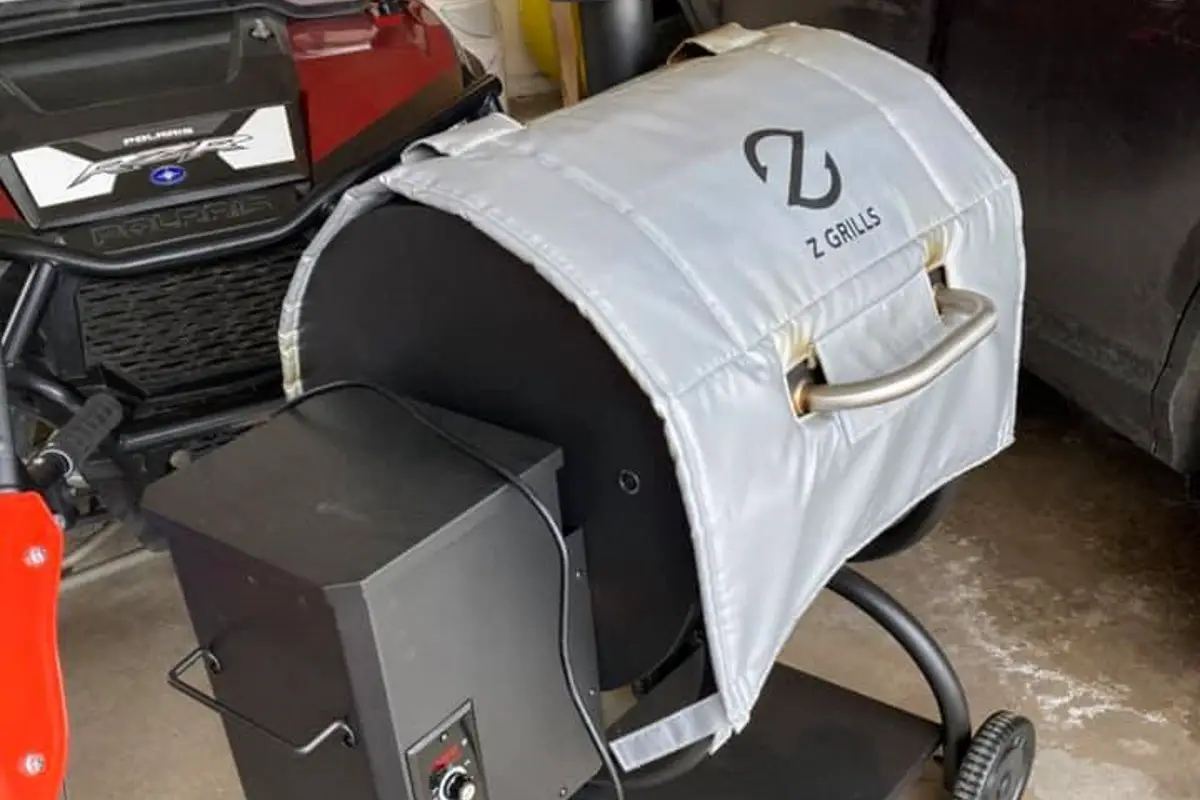 If you are anything like me, then you probably like to eat and smoke meat year-round. But it does pose a problem in the winter when the temperature drops below freezing.
A smoker blanket can insulate your smoker safely as long as it is fire retardant, and you make sure not to cover any vents. Using the smoker blanket will help with maintaining a consistent temperature and use less fuel. It's like a winter coat for your smokers while it cooks your food.   
There are other options that we will cover in this article, so let's get started.
Note: most links in this article are Amazon.com Affiliate links, see Affiliate Disclosure, thank you.
Why Should you Insulate Your Smoker?
During the winter months, depending on where you live, temperatures can drop below 0 degrees. Cold temperatures can make it very difficult to keep a low and slow temperature on your smoker, especially if you use a valve or analog controlled smoker.
To keep the temperature at the perfect 225 degrees, you will be using much more fuel than if it were 80 degrees outside. So, the logical thing to do would be to try and insulate the smoker.
Another option would be to create a home for your smoker. A small shed or lean-to with a simple door might work well for an electric or propane smoker. Do take care to vent the shed and do not enter without clearing the smoke first.
For charcoal, wood, or large smokers, blankets or insulation might be the only option, so let's look at those options.
Insulation Blankets
One of the safest and easiest ways to insulate your smoker is using a smoker blanket, also known as a thermal blanket. It is a literal blanket constructed of fire-resistant fabric with a layer of aluminum foil to reflect heat to the grill.
The blanket is custom fit to be wrapped around the smoker's cooking chamber and kept away from the firebox. These custom-fit smoker blankets also have holes carefully cut to match up with all the vents to maintain good airflow.
Because the thermal blankets only cover the smoking chamber where you cook, the temperature in this part of the smoker is more consistent and requires less fuel to maintain. This can make an enormous difference for a pellet smoker with a small hopper, as it can extend the cooking time of a full load of pellets.
OEM blankets tend to be the best fit. However, they are not always the best insulating or the best price. Some blankets will have a weight listed, and that can help determine the thickness of the blanket.
We have linked a few typical blankets on Amazon.com below for you to check price and availability.
Keep in mind that most of these insulation blankets are only recommended to be used in temperatures under 32 degrees.
Insulation Jackets for Smokers
An insulation jacket is also another great way to keep the heat in the smoker. The insulation jacket is made similar to an insulation blanket, but they are fit for a product other than smokers, like water heaters.
Also, insulation jackets and insulation blankets can be confusing because different manufacturers call them by either name. However, they are similar to smoker blankets but with a couple of differences.
Insulation jackets are made of lighter material; thinner materials may do the job they are intended for an indoor environment.
Most insulation jackets have foil on both sides; on an insulation blanket, there is commonly a fabric layer on the outside surface.
They don't have matching vent holes; you will need to cut the vent hole.
Fire and heat resistance may vary; verify that it is safe well above your smoker's maximum temperature.
Because of the lighter materials used to make an insulation jacket, they might not be as effective at holding heat as you would like. However, you should measure your fuel consumption, and even if your temperature control doesn't appear to be better, you might be using far less pellet, wood, or charcoal.
The foil layer on the outside layer of an insulation jacket will have little effect on the overall performance, but every layer helps when added together. Additionally, the foil is easy to clean and typically flame resistant.
Fitting the insulation jacket can be one of the more challenging parts of the project. Make sure to buy a jacket that is much larger than your smoker. The jacket can be secured in many ways, like straps, bungee cords, industrial magnets, or metal woodworking clamps.
When fitting your jacket, make sure to cut vent holes larger than the vents and never cover your firebox or pellet hopper. Another tip is to add an aftermarket chimney to direct the exhaust safely away from the jacket and the smoker.
Finally, fire safety is the top concern. A wide range of insulation jackets is available for products other than smokers, like water heaters, that are perfectly safe to use.  Ensure the insulation jacket is fireproof or at least fire safe to temperature 200 degrees above your smokers' maximum temperature.
We have linked a few insulation jackets on Amazon.com below for you to check the price and availability.
Welding Blankets
A welding blanket is also a great option to try and insulate your smoker and trap the heat inside the smoking chamber. Plus, they are fire retardant, so there is less risk of the blanket catching fire, but they still need to be used around the smoking chamber and not the firebox.
Welders use a welding blanket to protect what they are working on from sparks created as they work. As long as you secure the welding blanket around the smoker tightly, it should do the job just fine.
They do not need to be custom-created, but you may need to cut a couple of holes in the blanket if you have vents, smokestack, or flue.
Check out the welding blanket we use to cover our Traeger 20 at Amazon.com
Check out price and availability of the 4×6 2pk on Amazon.com.
Cardboard Box
We don't recommend using a cardboard box to insulate your smoker, but there is one that might work out because of a relatively low smoking temperature. The Big chief smoker claims you can cover the entire smoker with the product's cardboard box to trap the smoker's smoke and heat. They say you can do this in cold weather, with the Big chief smoker, to gain optimal results.
However, the Big chief smoker is unique because it has a limited heat output making it one of the few smokers that is safe to operate in this manner. We have done this many times with good results. Make sure you cut two vents in the box and keep your Big chief away from anything flammable to be safe.
Click here to read our Smokehouse Products Big Chief Top Load Smoker Review
Other Types of Insulators
Aside from these types of insulators for your smoker, there is not much else you can do to trap the heat inside your smoker that is safe enough to recommend. Providing a protected environment, as a ventilated shed, is an option, or building a custom smokehouse from a material like brick could help in cold climates.
Conclusion
No matter what option you decide to go with when trying to insulate your smoker, make sure you do it correctly and safely. The last thing you want to do is burn the house down from a small mistake. Smoker blankets are great for insulating your smoker, and they are safe to use as long as you use them correctly and do not stray from the obvious.
FAQ
At what temperature does meat stop absorbing smoke?
There is no set amount of time or a specific temperature when the meat stops absorbing. However, the smoke ring will stop growing when the meat's internal temperature reaches about 170 degrees. Most meats will gain the most amount of smoke and flavor within the first couple hours of the smoking process.
Should I insulate a smokehouse?
You should insulate your smokehouse if you plan on using it in low temperatures during the winter. You will want to spring for the best insulation materials possible and ensure the interior walls are food safe, like oak tongue and groove boards.
Can I use my smoker at low temperatures without insulation?
You can try to use your smoker at low temperatures without insulation, but you will end up using a lot more pellets, wood, charcoal, or propane to keep the temperature up in the smoking chamber. You will also have to keep a closer eye on the smoker to maintain a consistent temperature and smoke like it should be.