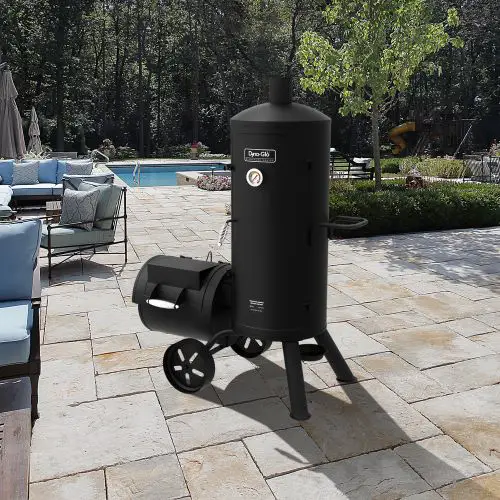 It is always a search to find a smoker that can meet all your needs no matter what your budget. Here at Pioneer Smoke Houses, we are always looking for a smoker that will do it all. The Review of Dyna-Glo Signature Series Vertical Offset Smoker is going to break down what this smoker can do for you.
Another point that will be covered in this article is the price. The Dyna-Glo smoker is in the starter budget range but will require some modifications to increase consistency. So, let's get started breaking it down for you.
Note: most links in this article are Amazon.com Affiliate links, see Affiliate Disclosure, thank you.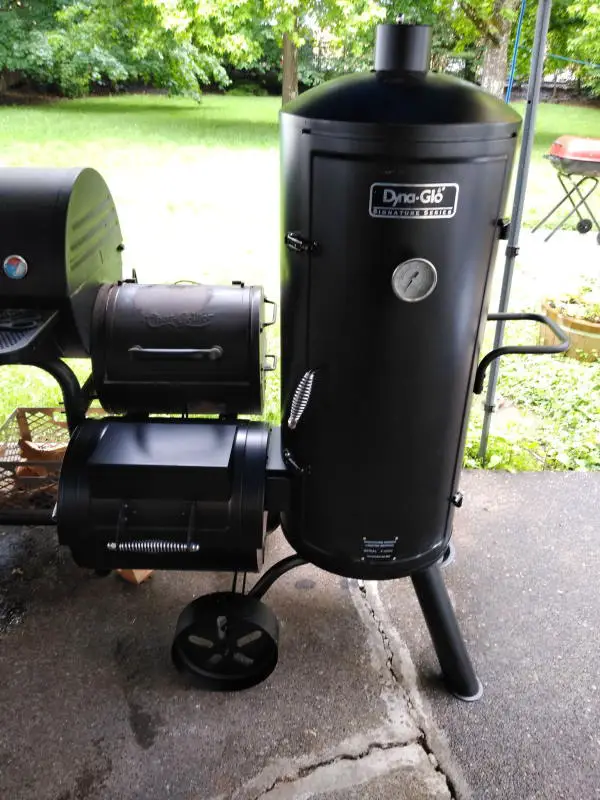 Click here to see the Dyna-Glo Signature Series DGSS1382VCS-D Heavy-Duty Vertical Offset on Amazon.com.
PROS: The Dyna-Glo smoker is an efficient smoker. The design is a hybrid of an offset firebox with a vertical smoke chamber. A design such as this makes it easier to generate good heat and smoke flow. As a result of the flow, you will be able to impart more smoke flavors without having bitter tastes.
Buying a smoker like the Dyna-Glo Signature Series DGSS1382VCS-D Heavy-Duty Vertical Offset can be a great step toward getting great quality smoked meats with a faster learning curve than a traditional offset smoker.
One of our favorite features is the slide-out charcoal tray. Loading charcoal or wood is always an issue because you release your heat while tending your fire. We still recommend using a firebox basket for long cooks because it helps get the cleanest smoke and the most temperature control.
Weight can be a huge issue for weekend smokers, and this smoker will be one of the lighter smokers for the total cooking surface area. When you are done with this smoker you can wheel it into a corner, or your storage area.
CONS: Our biggest issue with the Dyna-Glo Vertical Smoker is the construction in general. While the design is great, the gauge of metal is on the lighter side. Additionally, there are many gaps or seam leaks in the smoker, but they are easy to seal.
The door has clamps, which is great, but the door does leak, so you will need gasket tape but keep it on the thin side.
Click here for our article What is the Best Charcoal for Smoking?
What are the important aspects of the Dyna-Glo Signature Series DGSS1382VCS-D Heavy-Duty Vertical Offset?
Type: The Dyna-Glo vertical offset smoker runs using charcoal or wood as fuel. By using wood or adding woodchucks to your charcoal, you will get the best wood flavors. For the best hot smoked items, we prefer wood fire smoking foods compared to electric chip or pellet burners. But keep in mind tending a fire throughout the day requires constant attention, unlike loading a few pans of wood chips of filling your automatic pellet hopper.
Vertical cabinets are great to maximize surface area for smoking low-profile items like ribs, steaks, pork chops, and fish. The items can be spread evenly on the shelves, and then in the middle of your cook, time can be moved around to get even smoke flavors.
Portability: This smoker has a small footprint and is relatively lightweight at 125 pounds. The wheels are large and positioned toward the middle of the smoker, making it easier to balance the weight while moving. There is a metal handle on the side of the smoke chamber that will get warm, but because it is opposite the firebox it remains useable.
Capacity: Vertical cabinet smokers shine when it comes to total capacity, and this smoker has 1382 square inches of total cooking space. The smoke cabinet shelves have a total of 1098 sq. Inches for all five racks, and the firebox has 284 sq. inches of grilling space.
When you are cooking high-profile items like whole chicken, pork butt, or roast, we recommend removing two of the racks, and you will have all the space you need. When you remove those racks, you will still have 659 sq. inches of cooking area in the smoke chamber.
Insulation: There is no insulation in this smoker, and the metal is a light gauge. But insulation should not be a big problem if you seal the smoker well and tend the fire regularly. In cold weather, you might want to wrap the smoke chamber with a small welding blanket or skip it until springtime.
Accessories: The normal items are included with this smoker, like a thermometer and all the racks. This smoker is one we don't recommend adding a thermometer too, but you should check it for accuracy and replace it if necessary.
One bonus item is the hanging hooks, which are great for sausage or jerky. The hanger only has six hooks, but you can load a wire or kabobs full of jerky and hang them from the hooks.
Warranty: Dyna-Glo products have a one-year limited warranty standard on all their smokers.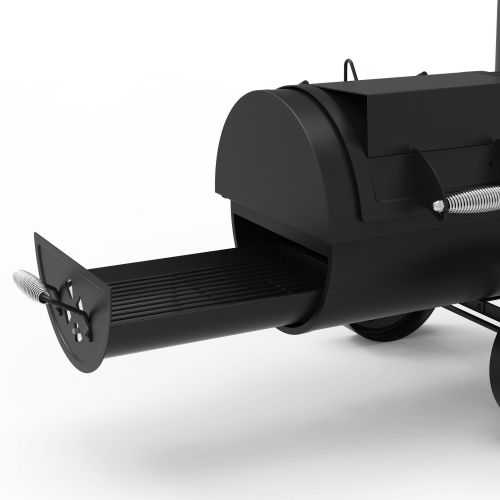 Other highlights that we like are the slide-out charcoal rack and ashtray. We don't recommend doing your cook by sliding out the tray, but this makes ash removal a dream, even during use.
By placing an additional grate inside the firebox above the ashtray, you can put it in a fire basket, and if it fills with ashes just tap the side and empty your ashtray to a fire pit or coal disposal container.
Click here for our article The best type of smoker for beginners.
Click here to see the Dyna-Glo Signature Series DGSS1382VCS-D Heavy-Duty Vertical Offset on Amazon.com.
What other things should you know about the Dyna-Glo Signature Series DGSS1382VCS-D Heavy-Duty Vertical Offset
Assembly is very easy for this smoker and should be completed in one hour. Order a tube of sealant in advance, so when you assemble your smoker you can add it to all connection points. After your smoker is assembled and the sealant is dry you should plan on seasoning your smoker for 4 to 6 hours.
You will want to fill the water pan on the bottom shelf of your smoker. Doing so will result in juicy meat, and the food drippings will fall into the pan for easy cleanup.
The Dyna-Glo smoker is a little low to the ground. We recommend placing it on cinder blocks or building a platform. Doing so will make it difficult to move so that a cover will be a must-have. Click here to see the combo smoker and cover included on Amazon.com.
The biggest complaint about this product was shipping damage. A combination of size, weight, handlers, and lightweight packaging all contribute to product damage. We that it can be hard to get a product to your house without damage, so we always recommend opening anything you buy right away to inspect it, even if it is a gift.
The only other consistent complaint is the leaks. We dismiss most of these complaints. In our experience, all production smokers need to be sealed before use. Because of the material, production methods, and packaging to ship there is no reasonable way to avoid this.
Note: in the picture below we added a smoker gasket for a better seal.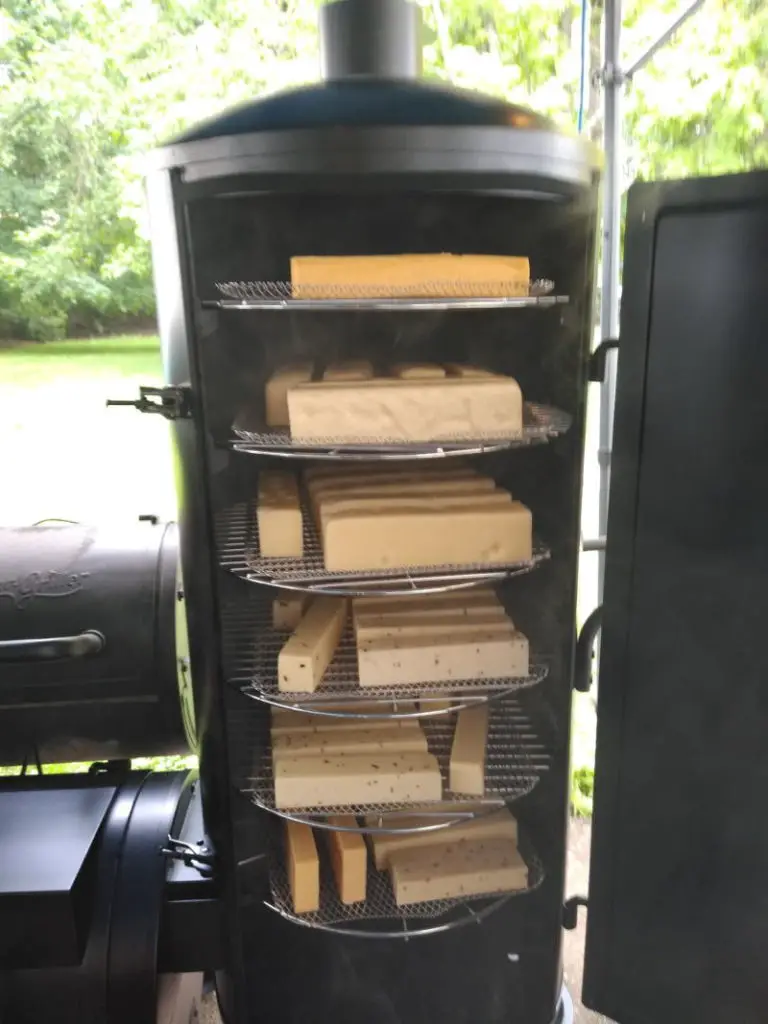 The Verdict
The Dyna-Glo Signature Series Heavy-Duty Vertical Offset is a great value for the price. We approve of this design and consider this a beginner-friendly smoker.
On your journey to pitmaster, the Dyna-Glo smoker is a budget-friendly option. It is a must to seal your smoker, which should give you great results.
Click here to see the Dyna-Glo Signature Series DGSS1382VCS-D Heavy-Duty Vertical Offset on Amazon.com.