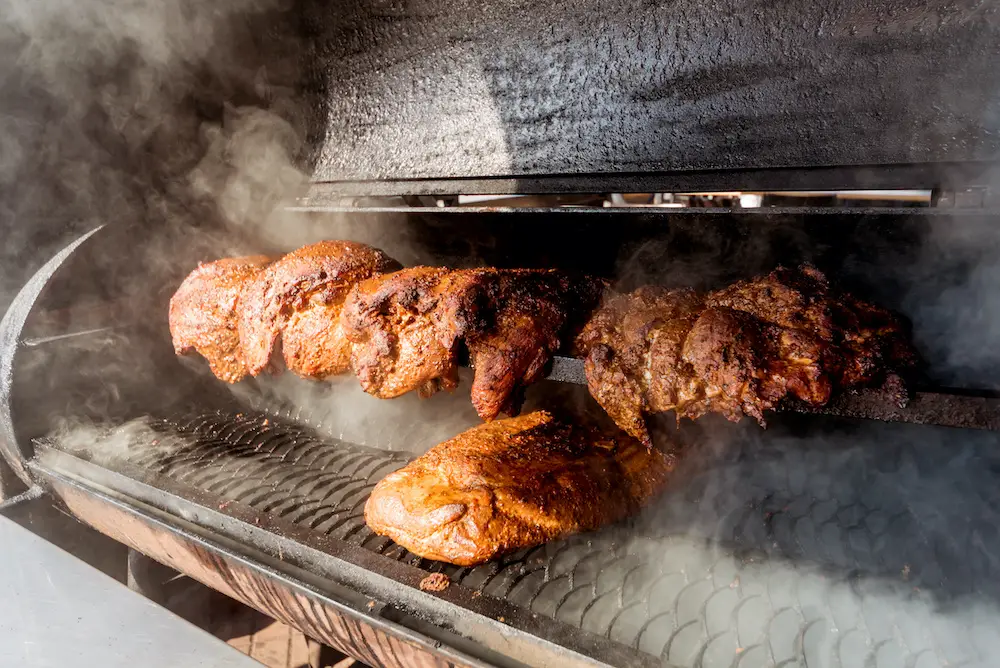 Finding the best smoker that will give you everything you need is not easy.
Thankfully, there are numerous brands to choose from that offer various models with remarkable features.
To help with your search for a suitable smoker, we prepared some Masterbuilt smoker reviews below.
These give you details about the brand's best smokers and how they can work for you.
We will be checking out various types so that you have different fuel source options, from electric to pellet and charcoal smokers.
Note: most links in this article are Amazon.com Affiliate links, see Affiliate Disclosure, thank you.
About Masterbuilt
You may be wondering why we singled-out Masterbuilt from all the other brands.
Masterbuilt is a company built from hard work and faith.
It began its journey at the founder's backyard back in 1973, with Dawson McLemore at the helm as he creates a fish cooker.
The company has more than 45 years of experience when it comes to creating quality and innovative cooking products for both indoor and outdoor needs.
From then on, Masterbuilt started its mission of producing excellent products, along with building long-lasting relationships with its workers as well as its consumers.
The company is committed to continuing the manufacture of premium-quality products with intelligence and innovation while serving the community with faith and integrity.
Comparison Chart
Masterbuilt MB20072718 Digital Electric Smoker
Masterbuilt MB20051316 Mps 340g XL Propane Smoker
Masterbuilt 20060416 Charcoal Bullet Smoker
Masterbuilt MB20250618 MWS 330B Pellet Smoker
Masterbuilt Smoker Reviews
1. Masterbuilt MB20072718 Digital Smoker 140S
This digital smoker series from Masterbuilt is created for all outdoor aficionados who love perfectly cooked smoked meat.
It can easily fit large amounts of food that you can smoke all at the same time and serve the whole family.
This user-friendly smoker is your answer to mastering the craft of smoking different kinds of food.
Review
This outdoor smoker is made of cold-rolled stainless steel for durability.
You can conveniently move it around, thanks to the two wheels attached at the bottom.
This digital smoker is more than three feet high with over 900 square inches of cooking capacity, which you can still increase by adjusting the smoking racks.
It has a big cooking area fitted with four chrome-coated full-size layers of smoking racks.
With these, you can readily accommodate an ample amount of beef, poultry, pork ribs, and more.
This smoker has a digital control panel that is electronically powered so that you can accurately set the cooking time and adjust the temperature of the smoker.
There's also a built-in monitor that you can use to check the meat temperature inside the smoker, ensuring that it cooks evenly at a consistent heat.
This model features a detachable grease tray for ease of cleaning.
It also has a wood chip loader conveniently placed on the side of the smoker for easy access so as not to disrupt the consistency of the temperature inside.
You can monitor the food inside the smoker as it cooks through the full viewing window.
Because of this viewing window, the door stays securely locked to seal in the heat.
Apart from the smoker, you will also receive the integrated meat probe, remote control, and the owner's manual.
The manufacturer is also offering a one-year limited warranty for this digital smoker, so you can be sure of the support from Masterbuilt.
2. Masterbuilt MB20051316 MPS XL Propane Smoker
This Masterbuilt residential smoker is propane-fueled, making it easy to use even by newbies.
You can trust that it can yield excellent results.
What's more, the vertical design of this gas smoker will not take too much space in your backyard, leaving you with sufficient space for entertaining friends and family.
Review
This Masterbuilt Thermotemp Smoker is set up with a thermostat conveniently placed inside the smoker.
This controls the flow of gas going to the burner, so your set cooking temperature is adequately maintained throughout the cooking time.
The temperature control knob allows you to program the amount of heat from between 175 degrees to 350 degrees Fahrenheit, similar to a conventional oven.
There is also a safety valve that will stop any gas from flowing to the burner in case the flame inside the smoker accidentally goes out.
You will find that this vertical smoker has two separate doors for different purposes.
With these, you can refill the wood on the lower part without opening the upper opening that covers the smoking food.
There are four layers of chrome-plated smoking racks inside the smoker box.
These racks allow you to smoke different kinds of food per frame at six inches of distance between each shelf.
You can slide the air damper close, found at the back of the upper portion of the smoker, to contain the moisture and the smoke inside.
Alternatively, you can slide it open to release them.
There's an aluminum water pan conveniently propped in a frame found at the bottom of the smokebox, which you can also use to catch the drippings for making gravy sauce.
The wood chip tray is made of stainless steel and is connected to the lower door for an easier wood chip refilling.
3. Masterbuilt 20060416 Charcoal Bullet Smoker
The charcoal bullet smoker from Masterbuilt has a simple and compact design.
This makes it a perfect smoking partner for newbies for backyard BBQ parties or even camping.
It is an affordable bullet smoker that is packed with a lot of features that you will also find in some expensive smokers.
Review
The first thing that you will notice in this smoker is the budget-friendly price, which is a crucial consideration for most homemakers.
Its small size allows you to quickly move it from one place to another or bring it along with you on camping trips and other outdoor activities.
Don't be fooled by the small size of this smoker; it can accommodate plentiful amounts of meat through the two porcelain-coated racks.
Also, this bullet smoker comes with an external thermometer.
Thanks to this, you can easily monitor the cooking temperature.
4. Masterbuilt MB20250618 MWS 330B Pellet Smoker
This durable pellet smoker has a roomy interior that can fit four layers of chrome-coated smoking racks and cook a sufficient amount of food for several people.
The smoker box can smoke three pork butts, 12 chickens, two turkeys, or four racks of ribs in one cooking session.
The incorporated meat probe thermometer can help you in monitoring the doneness of the food to ensure that it is entirely smoked.
There's also a digital control panel with pre-programmed time and smoke settings, making it easier to serve tasty meals at all times.
The pellet container can hold more than eight pounds of wood pellet to support several hours of smoking without the need to refill.
There's also a tool that pushes the pellet into the container to manage the temperature you have set to cook the food anywhere between 180 degrees to 350 degrees Fahrenheit.
The pellet smoker has an air damper so that you can control the moisture and smoke.
This also acts as a heat diffuser as it helps in evenly distributing the heat.
The grease tray and the pellet ashtray are accessibly located on the side of the smoker, so you can easily clean them up after smoking.
Final Thoughts
The Masterbuilt MB20072718 Digital Smoker 140S is our top choice among the four Masterbuilt smoker reviews we have made.
The four layers of smoking racks can adequately smoke turkeys, pork, chicken, ribs, and other foods that you can imagine.
It is electronically powered; simply plug it into an electrical outlet, turn on the ignition, set the cooking time and temperature, and let the smoker do its job.
However, if you need a smaller and more economical version of a Masterbuilt smoker, you can always choose the Masterbuilt 20060416 Charcoal Bullet Smoker.
The compact bullet smoker has a budget-friendly price that appeals to the consumers.
It is highly beneficial for newbies in smoking food, for travelers and outdoor enthusiasts, for small households, and for those who have a limited budget.
Whichever model you choose, you can be sure of a quality product that will meet your needs.