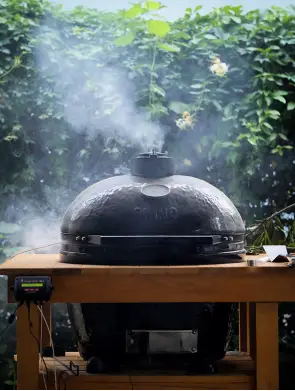 Nothing beats a sizzling, smoked brisket, dripping in tangy sauces waiting to be devoured by a meat-lover. Anyone who is a fan of barbecue can never refuse piping hot meat and veggies right out of a smoker. Meat is best cooked in a smoker— it gets that deliciously charred, caramelized, and ashy flavor.
If you've used this handy cooking tool, you would know that smoking requires far more patience and time than simply grilling food. The modern method of smoking has actually evolved from trying to "preserve foods". The idea is to cook food slowly and on low flame to enhance its juicy flavors, tenderize it all the way, and ultimately to create a wonderful, decadent meal.
However, contrary to popular belief, there are many things in your kitchen that can be tenderized in a smoker. From fruits and veggies to nuts and ice-cream, let's have a look at some quick things to smoke in a smoker!
1. Smoked Chicken
Although frying and grilling chicken are two popular methods, smoking a piece of chicken breast or even a whole chicken is one of the most delicious ways to enjoy poultry. You can use a charcoal smoker to slowly cook your chicken all the way through.
Prepare your favorite marinade or keep it simple with smoked paprika, salt, pepper, garlic, and spritz of lemon. The taste of chicken right out of a smoker is simply divine. Lusciously tender and succulent, you can use the chicken for sandwich fillings, on top of salads, and in casseroles.
2. Smoked Eggs
If you have a bit of patience in you, it's time to ditch the same-old deviled eggs and introduce gorgeously smoked eggs. You can use an electric smoker to produce that lovely, smoky color over the egg whites. If you prefer hard-boiled eggs, then this is a great way to enjoy a tasty breakfast.
After boiling your eggs, peel them up, and pop them in the smoker for about 10-15 minutes on 200 Degrees F. This will add a smoky kick to it, and you can rustle up a delicious egg-salad sandwich with mustard!
3. Smoked Meatloaf
Smoked meatloaf may be an obvious food option, but it certainly deserves a special mention here.  Put a unique spin on the classic meatloaf – mix pork, turkey, and beef with all your favorite spices.
Mind you, smoked meatloaf is nothing like its classic version. The fact that it cooks for an hour and a half in a smoker ensures that all the spices and juices seep into the meat. You can try smoking roast beef in an electric smoker. Enjoy as-is or with roasted peppers on the side.
To read our article on Smoked Meatloaf click here.
4. Smoked Salmon
Salmon is one of the healthiest lean protein cuts to enjoy for dinner. Light, nutritious, and filled with all the good fats, fish is a great food choice. Considered an absolute delicacy, the method you will need for this is hot smoking.
Anywhere around 160-170 Degrees F will be good enough to cook the fish tenderly. After an hour in the smoker, use maple syrup or honey to baste the fish to brush away any unwanted albumin. Return the fish to the smoker for an additional two hours.
This will also ensure your fish is tender and succulent. Enjoy with cream cheese sauce, sautéed veggies, or make salmon rillets. The taste is just unforgettable!
To read our article on smoking salmon click here.
5. Smoked Sausages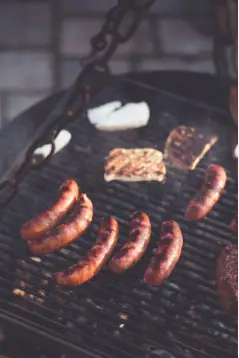 Another delicious addition to your breakfast delicacies is smoked sausage. In fact, in most homes, sausages are eaten for lunch, dinner, and as a snack too. There is no better way to enjoy this meaty mince than on a smoker!
You can use Italian sausages and set the smoker at 250 Degrees F. Get the smoker smoking with some wood pucks and baste them with some garlic and chili oil. Let them cook for at least 3 hours for a nice to achieve a slightly charred crispy skin and soft and tender meat. Enjoy as-is or with just about any dish.
6. Smoked Olives
Nothing can add a tangy kick to your dishes than a bunch of sour olives. A hit-snack at parties and a taste-enhancer for drinks, there's no doubt that olives are already tasty on their own. However, after a few minutes in the smoker, they turn unbelievably delicious.
The best thing about them is that they hold up the heat well. Set up your smoker temperature between 200-215 Degrees F. Set them up nicely on the perforated pan and wait for 30 minutes. To step things up a bit, sprinkle them with paprika or stuff them with feta cheese. You will thank us for the heavenly snack!
7. Smoked Cheese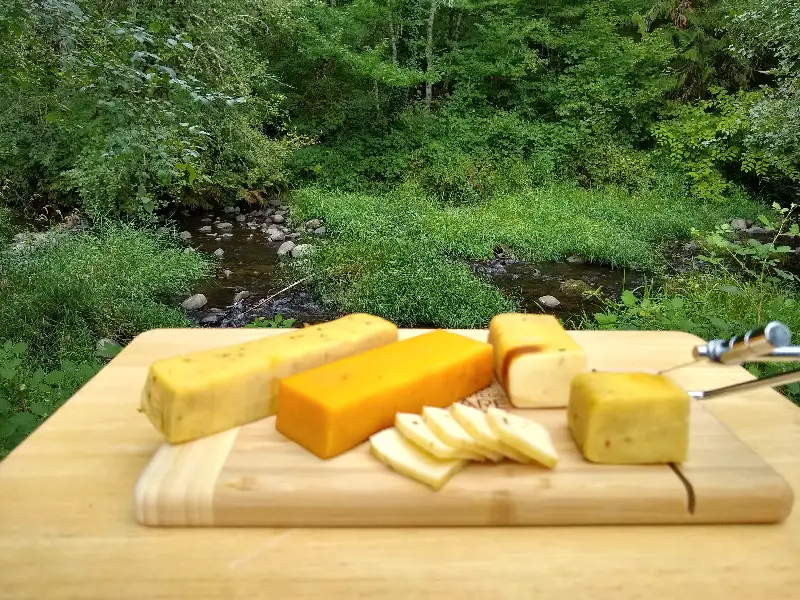 You've probably already tasted smoked cheese at fancy restaurants. However, don't think that smoked cheese is only reserved for fine dining. You can make some on your own using a smoker. Semi-hard or hard cheeses like Swiss and Cheddar are wonderful options for a creamy melt. However, you will have to cold smoke the cheese!
To read our article on cold-smoked cheese click here
8. Smoked Butter
Who would've thought butter could qualify for this list too? If you like snacking on crackers, biscuits, and toasts, then you will absolutely love smoked butter. Full of flavor, salty juices, and zest, smoky butter is what your breakfast has been missing all this time.
However, this too will require you to keep things cold on the smoker, so somewhere around 90 Degrees F is a good choice. Both your electric and charcoal smoker would work perfectly fine for smoking regular butter! If you find it hard to melt, you can try smoking it over grilled vegetables.
9. Smoked Salt
Oh boy! Smoked salt will truly add a lip-smacking kick to your food. The best thing? You can use any type of salt – be it sea salt, Himalayan, or even iodized! As a staple food, all your dishes are simply incomplete without salt. It's time to seize this opportunity and smoke up some salt to add to your favorite dishes. Both hot and cold smoking work well for salt, although cold may take up to 6 hours.
To read our article on Smoked Salt click here
10. Smoked nuts
Whether it's pecans, cashew, almonds, or walnuts – everyone loves a fistful of nuts for a wholesome snack. Soaking them up in a smoke bath is one of the best ways to enjoy them as teatime snacks. Set up your smoker between 210 and 225 Degrees F and mix all the nuts up nicely. Spread them on a metal pie plate, and allow the smoke to engulf them for up to 2 hours. Once ready, sprinkle some spices and salt for a nice kick of flavor!
To read our article on Smoked nuts click here
11. Smoked Ice-Cream
You must've heard of fried ice cream; now, it's time to prepare your taste buds for smoked ice cream! In fact, ice cream is truly savored when it has been inside a smoker. It's best to make your own ice cream as you will be smoking the milk.
The best equipment for this is a handheld smoker, which will create a nice, creamy custard base. However, if you're using store-bought ice cream, then it's best to use the ice bowl to smoke the ice cream! Scoop it in ice-creams and all your favorite desserts and enjoy!
12. Smoked Mustard
Yet another surprising addition to the list – mustard tastes best when smoked. If you're a fan of saucy burgers and sandwiches, then take some time out during the weekends to create smoked mustard. If you want to spice things up, add a bit of chili powder and paprika. To avoid scorching and a burnt taste, cold-smoke the sauce at a low temperature. Once ready, enjoy over pasta, ham slices, and juicy burgers.
13. Smoked Mac n'Cheese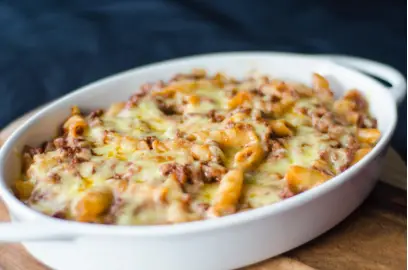 The list simply keeps getting better and better. By now, you've probably tried oven-baking and broiling a good bowl of mac'n'cheese. As a great party dish and comfort food, it's time to add a whole depth of flavor to your pasta by smoking it up.
Simply prepare the dish like you usually do and put it in the smoker for 45-50 minutes for the flavors to nicely sink in. You can use cheddar or gouda; however, mild cheese like mozzarella would work best for the smoky kick!
14. Smoked Baked Beans
If you think canned beans are tasty, wait till your taste the smoked version. You can even add your favorite meat and veggies to the dish. Simply, preheat your smoker to 250 Degrees F using mild wood. Use a skillet for your beans where you can add some brown sugar, mustard, and molasses for a better flavor. Smoke the mixture, uncovered, for a total of 3 hours, and enjoy piping hot food!

CLICK HERE FOR MORE INFORMATION
15. Smoked Fruit
Fruits are oozing with sweet and sour juices and by smoking them, you can easily step things up a notch. If you enjoy grilled fruits alongside steaks and curries, then smoked fruits might be the tastiest treat you're yet to try. The best fruits to smoke are peaches, apples, grapes, and of course, tomatoes!
Make sure to pick your fruits before you set them up on the platter. Preheat the smoker to 200-225 Degrees F and allow the fruits to smoke nicely for 30-35 minutes. As they cook slowly, the juices will come out and taste heavenly with grilled fish, zesty cocktails, and lemonade drinks!
16. Smoked Vegetables
This is certainly not a new idea. Vegetables are absolutely loved as a side-dish with steaks and curries. If you thought the smoker is only made for meat-lovers, then you need to re-think. You can smoke your veggies, whether they're smoky baked potatoes, tender zucchini slices, crunchy asparagus or peppers.
You can cold smoke them to retain their crunch. However, hot smoking will allow more juice to flow and make for a ripe flavored meal. Cut up all your vegetables and drizzle olive oil, vinegar, and some salt. Lay them out on the platter and in the smoker! Preheat the pellet grill to somewhere between 300-350 Degrees F for a tender result and then allow it to smoke for 30-45 minutes.
Click here for our How To Guide for Smoking Vegetables
17. Smoked Oil
Smoked oils are commonly sold in grocery stores, and they're a chef's favorite. The longer the oil sits, the tastier it becomes. If you frequently use olive oil for stir-fry, pasta, and grilling your meat, then you can cold smoke to add a smoky kick. Olive oil can be safely smoked at any temperature under 300 degrees.
You may use a charcoal smoker for this. Use a heat-resistant bowl and pour at least a cup of extra virgin olive oil. Allow it to smoke for at least two hours and make sure to stir it every now and then. The constant stirring will ensure that the smoky flavor seeps into the oil evenly. You can even taste the oil at the end to make sure the smoked flavor isn't too harsh, keep in mind it will mellow in about one week.
Pour the oil over grilled fish, sizzling meat, or even freshly oven-baked pizza. The choice is yours!
In a Nutshell
Use these delicious smoked food ideas to spice things up in your kitchen. Once you get the hang of it, you'll realize using a smoker is incredibly easy. All of these foods can be made with electric and charcoal smokers. Always practice safety when using a smoker and remember air-flow is very important!
Using a smoker might just help you unveil a new-found love for cooking. It's time to set up your smoker, and rustle up a deliciously succulent meal!