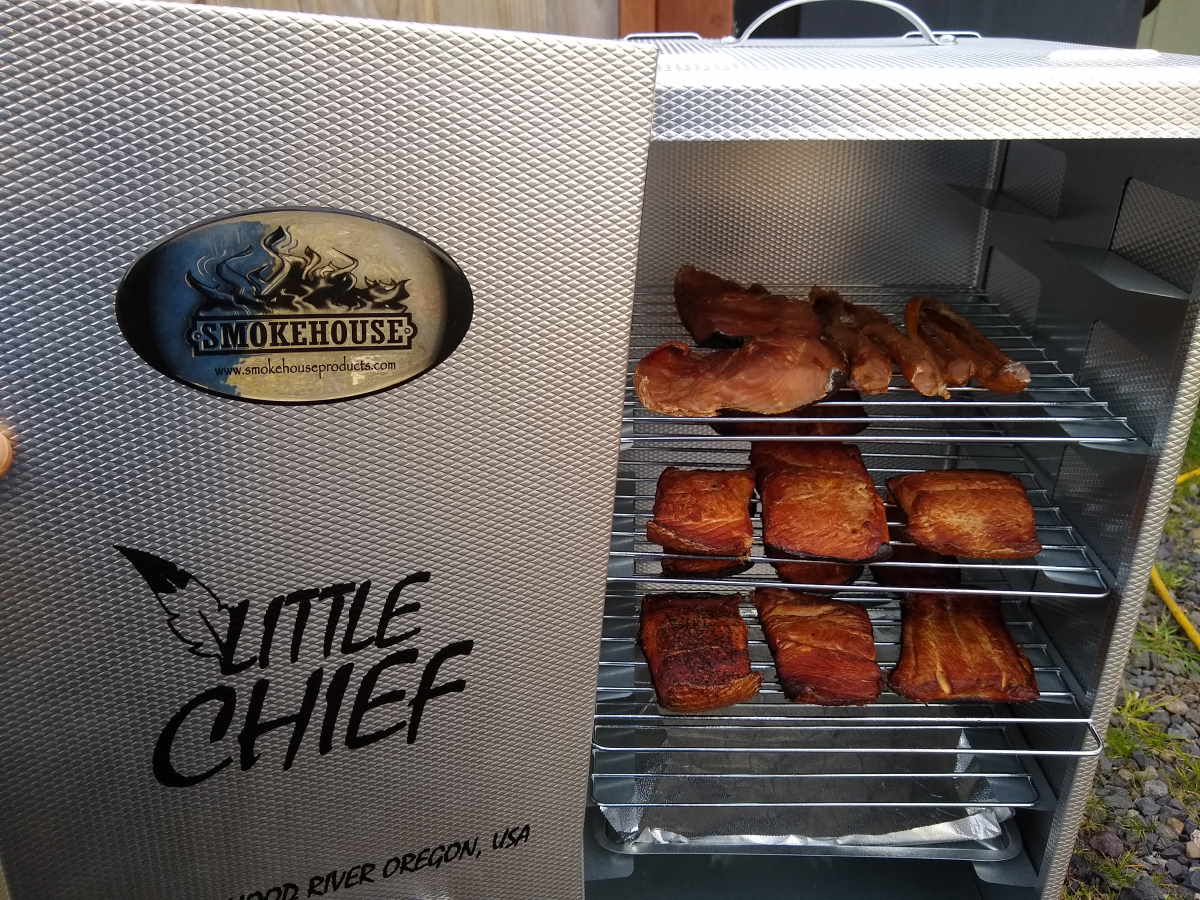 There is nothing quite like a perfectly smoked cut of meat.
However, smoking meat is not easy since you need a whole lot of wood and charcoal. 
Fortunately, nowadays, you can use a good electric smoker to get the job done more easily.
There is no shortage of electric smokers on the market, which means selecting one becomes more difficult.
That's where we come in. Our Lil Chief Smoker review is exactly what you need to buy one.
Note: most links in this article are Amazon.com Affiliate links, see Affiliate Disclosure, thank you.
Lil Chief Smoker Review
In 1968, the Lil Chief Smoker, in addition to a line of smoking chips were introduced in the Pacific Northwest to the sportfishing industry.
This made the Lil Chief get recognized almost instantly by the professional fishers as the best product to smoke their fresh catch of steelhead, salmon, and trout.
The popularity of this smoker led to the introduction of a larger sized Big Chief Smoker.
This ended up making the Smokehouse brand one of the most popular lines of fine smokers sold in North America.
At present, this smoker continues to remain the favorite among several anglers and chefs all over the country.
This smoker is built very well, and even though it takes time to smoke the food inside, you will be left with a perfectly smoked mouthwatering meal at the end of it.
Furthermore, you don't even have to break the bank to buy this product.
Who Is This Product For?
The Lil Chief Smoker is exactly what it sounds like; it is mainly for two to three people or a small family.
It is also ideal for people who like to barbecue a couple of times in the year and are looking for a smoker but on a tight budget.
The great thing about this smoker is that it is effortless to use since there is no assembly necessary and controls since the temperature is pre-set.
Since the temperature is pre-set, this smoker is ideal for slow cooking or smoking meat.
Slow cooking is perfect if you want the smoke to penetrate the meat, and even though this may take a while to get fully done, you are assured that the result is truly fantastic and delicious.
We would not recommend this smoker to those looking to smoke large cuts of meat.
The most you can cook in this smoker are foods like jerky, cheeses, sausages, and fish.
Due to its low temperature, it is great for preserving foods as it is primarily a smoker than a cooker
What's Included?
The great thing about the Lil Chief Smoker is that there is no assembly necessary. This makes things easier to use, and even what's included in the package is easier to handle.
Let us list the things that you will get with this smoker:
The main body of the electric smoker
A removable front door
A removable drip pan
Four easy-slide chrome-plated grills
Power cord
A wood chip pan
1.75-pound bag of Chips n' Chunks Hickory flavored wood
An instruction manual and a recipe booklet
Overview of the Features
There are some interesting features that the Lil Chief Smoker has to offer, so let us discuss it in detail below.
The Lil Chief Smoker is a fairly reasonable product, so it would be unrealistic to expect that its build is ultra-strong.
That said, the company has still put a lot of thought into the overall build of this electric smoker, and we must say that it is quite impressive.
The main body of this smoker is made using high-quality embossed aluminum.
It may feel a bit flimsy when you touch it, but it does a pretty decent job at holding in the heat.
It is important to note, though, that there will be a certain amount of limitation when it comes to the maximum temperature of this smoker when used in cold temperatures.
The grills are chrome plated and come with an easy slide functionality.
The drip pan and the wood pan could have had a better feel to it, even though they do a decent job.
Nonetheless, the drip pan can be removed and washed in a dishwasher easily.
The Lil Chief's heating element has a rating of 250W, which is typically lower than the average electric smoker.
This brings us to talk about an important point, and that is this smoker only reaches a maximum temperature of about 165 degrees Fahrenheit. 
That means you cannot consider this as a cooker, but just a smoker.
While it may be able to cook fish fillet and some sausages, it won't cook or smoke larger cuts of meat that require high heat.
For example, we wouldn't recommend using this smoker to smoke a pork butt, chicken, or brisket.
The lower temperature, though, is ideal for smoking sausages, cheese, nuts, vegetables, jerky, and fish.
If you are concerned about whether smoking fish will affect your electric smoker, you can know more about it here.
Lil Chief Smoker's design is fairly simple and standard. It is front-loaded, and you can access it using the removable door.
It also makes use of a bottom-mounted heating element, which will heat the wood in the wood pan, and this will produce the necessary smoke.
There is space for four racks inside the smoker, and it provides more than enough room to use it for up to 25 pounds of jerky or fish despite its small size. 
If you want to double that capacity you might consider the Big Chief Top Load Smoker.
The Lil Chief Smoker is an easy electric smoker to use since it comes completely assembled and only requires the user to fill the wood pan and turn it on.
We would have liked, though, if this smoker came with some kind of controls or a thermometer that would make using it easier.
Safety note:
Do not use the smoker on flammable surfaces as the bottom can get very hot under the heating element.
Check out our article Big Chief Smoker vs. Little Chief Smoker
How to Make the Most Out of It?
The Lil Chief Smoker is a straightforward smoking device and is fairly easy to use.
If you are curious to know more about it so that you can make the most out of it, you may check out this video.
Alternative
There are several limitations to the Lil Chief Smoker, which is why we would suggest checking out an alternative, and this one is the Pit Boss Vertical Electric Smoker.
This electric smoker comes with five porcelain-coated racks and a porcelain-coated water pan that is all packed inside 1008 square inch cooking space.
It has a double-walled construction and a large viewing window to check up on your meat.
However, the most important of all, its maximum temperature goes up to 400 degrees Fahrenheit, which means you can use it for all meats.
Conclusion
We are confident that this Lil Chief Smoker review has given you the information you need to buy this product.
While it does have certain disadvantages, the smoker comes at a low price point, which makes it ideal for smoking vegetables, fish, cheese, and some more.
It is also effortless to use, which is why we recommend buying the Lil Chief Smoker!