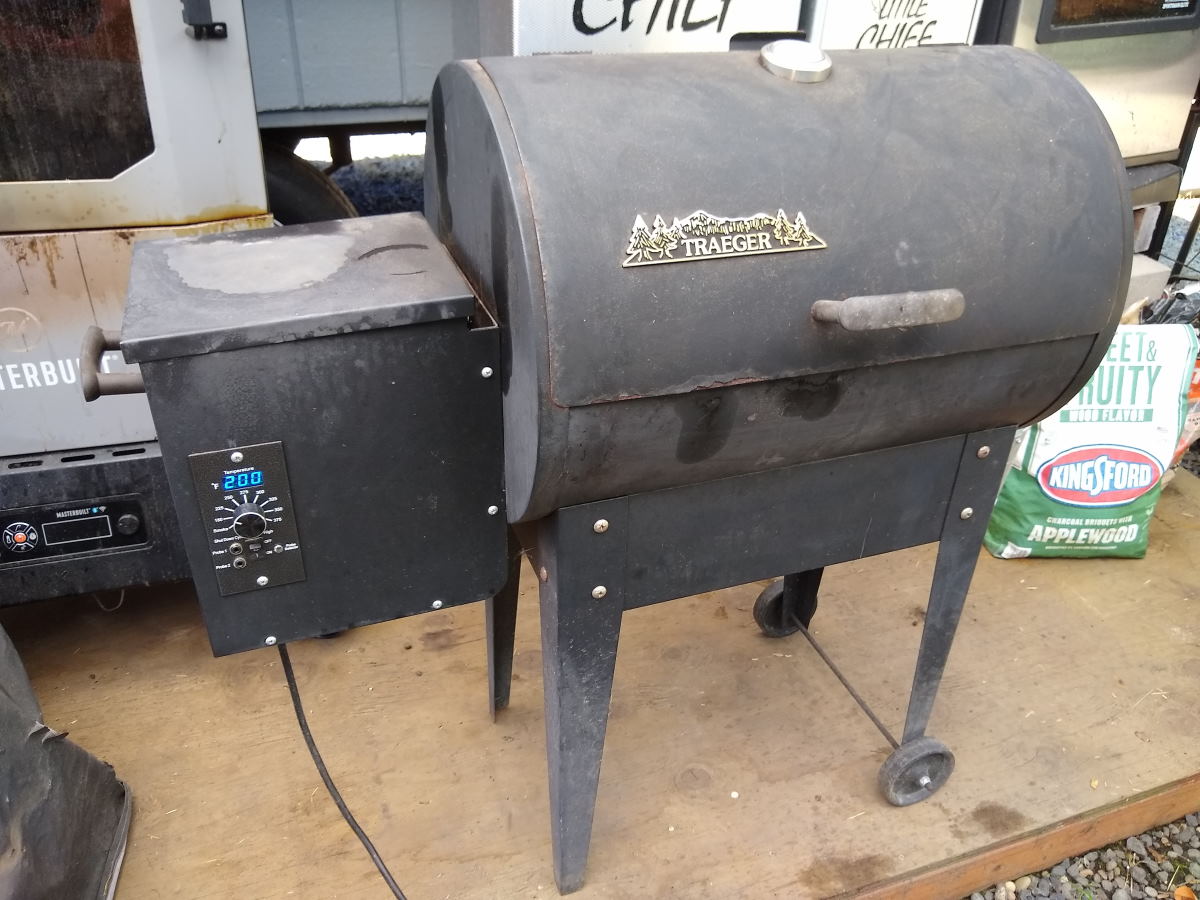 When it comes to outdoor cooking, there's nothing that beats that delicious taste of grilled foods with a perfect char. Traeger pellet grills are known for their versatility, but not everything is tasty with a super smoky flavor. With that in mind, you may be wondering if you can grill on your Traeger without smoke.
You can grill on a Traeger without smoke by setting it to a higher cook temperature. Higher heat causes less smoke when the fire is burning, and it will also cook your foods faster, meaning less time exposed to smoke. Keeping your Traeger clean will also reduce the "smoky" buildup inside the grill.
Of course, there is always some smoke where there's fire. But in this article, we'll explain how to keep the smoke flavor to a minimum while using your Traeger pellet grill.
Note: most links in this article are Amazon.com Affiliate links, see Affiliate Disclosure, thank you.
How Do Traeger Pellet Grills Work?
Pellet grills are some of the most versatile pieces of cooking equipment on the market today, and Traeger makes some of the highest quality wood-burning grills out there. In order to understand if you can use them without smoke, it's important to understand exactly how they work.
First, wood pellets are poured into the hopper, where they are moved to the fire pot by an auger. The pellets are burned in the firepot, which acts as the heat source for the grill.
Inside the fire pot, an electric rod heats the pellets to the desired temperature, causing them to smolder and smoke. Fans and blowers adjust the oxygen levels inside the unit and disperse the hot smoke throughout.
Excess smoke vents through the chimney and a digital display are where you control your temperature setting. It's essential to keep the chimney vent open if you want to reduce the smoky taste.
Read our article How Does a Pellet Smoker Work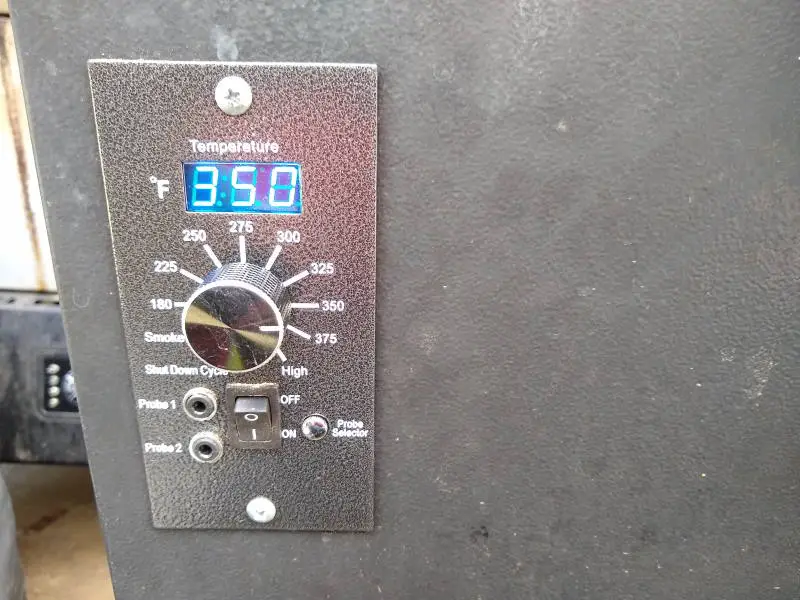 How To Cook On a Traeger Without Smoke
Let's face it, even though you're cooking on a grill or smoker, not every food item or taste preference calls for the flavor of smoke. Traeger grills are known for having a pretty clean and mild smoke profile, especially when cooking is at higher temperatures and if you're using high-quality pellets.
To cook on your Traeger without smoke, there are some easy tips you can use to ensure the best flavor for any type of food.
Cook on high heat. Lower temperatures will produce more smoke than when you set your Traeger at high heat. Setting the temperature to 350 ℉ (177 ℃) or higher will result in less smoke and cleaner smoke. Also, higher temps mean less time in the smoker, meaning your meat won't absorb as much as it would on a low and slow cook.
Clean your grill. This is key to reducing the smoky taste of your foods. Creosote is the greasy buildup that results from grilling or smoking foods. Too much of this inside your grill can cause a stale smoke flavor. Try this Traeger All Natural Cleaner for easy cleanup after each use, available on Amazon.
Use high-quality pellets. Obviously, better quality materials will produce better quality, cleaner smoke. I recommend these Traeger Signature Blend Pellets for the most versatile use. They're available on Amazon and can be ordered in other flavors for grilling and smoking.
Read our Traeger Grills Reviews
What Can You Grill on a Traeger?
Because the terms "pellet grill" and "pellet smoker" are often used interchangeably, it's pretty clear that these are the two main functions of a Traeger pellet grill.
However, what's unique about a Traeger is how versatile it is. In addition to grilling and smoking, it can also cook anything you'd typically do in your oven.
Since Traeger is designed for a cleaner smoke, you'll find that when you're not slow-cooking meats, such as ribs or brisket (which need to be cooked for many hours to become tender and fall-off-the-bone), the grill will work almost entirely without smoke. This is due to the higher heat, as mentioned above.
In addition to your standard burgers, steaks, and smoked meats, check out these easy ideas you can cook on your Traeger, with or without smoke.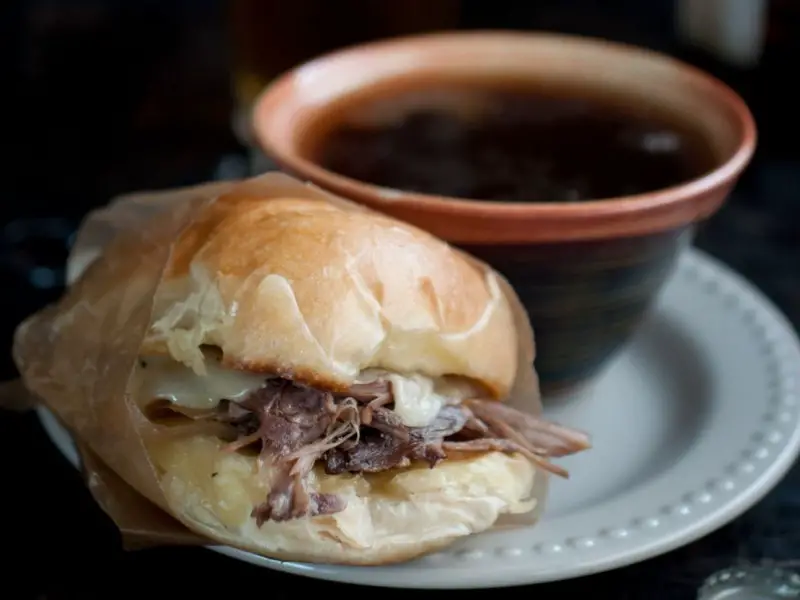 French-Dip Sandwich
There's nothing like a sandwich fresh off the grill, and this one is especially delicious because it gets nice and crisp on the outside but is still soft and moist on the inside. Pair it with your meat of choice for some drippy goodness.
For the Au Jus, you will need:
1 qt. beef stock
1 sprig or tsp. thyme
1 sprig or tsp. rosemary
2 cloves garlic
4 peppercorns (or ½ tsp. black pepper)
Directions:
Preheat Treagar to 500 ℉ (260 ℃).
Season 2 lbs (907 grams) beef roast of your choice.
Slice 1 large sweet onion very thin and set aside.
Cook meat directly on a grill grate for about 30 minutes or until the exterior starts to turn brown and caramelize.
Reduce heat to 325 ℉ (160 ℃) and cook for another 30-40 minutes, or until the internal temperature reaches 125 ℉ (51.7 ℃).
Remove from heat and allow the meat to rest for 15 minutes before slicing thin and setting it aside.
Melt 1 tbsp. butter (on your stove) over medium heat.
Add onions, season with salt, and cook while frequently stirring until onions are brown and caramelized, and soft.
Place the ingredients for your Au Jus in a saucepan and bring to a simmer for 30-45 minutes, then strain before serving.
Slice hoagie rolls and place them face down on your grill for just a few minutes; watch closely until they're toasty.
Remove from heat, turn grill back up to 500 ℉ (260 ℃).
Place buns on a baking sheet face-up, add mayo, your sliced meat, then your onions, then your sliced cheese of choice (I like provolone for these, but any mild cheese will be delish).
Place your pan on the grill for just a few minutes until the cheese is melted and bubbly (watch it closely, so you don't over-brown the hoagies).
Serve with your warm au-jus on the side. Enjoy!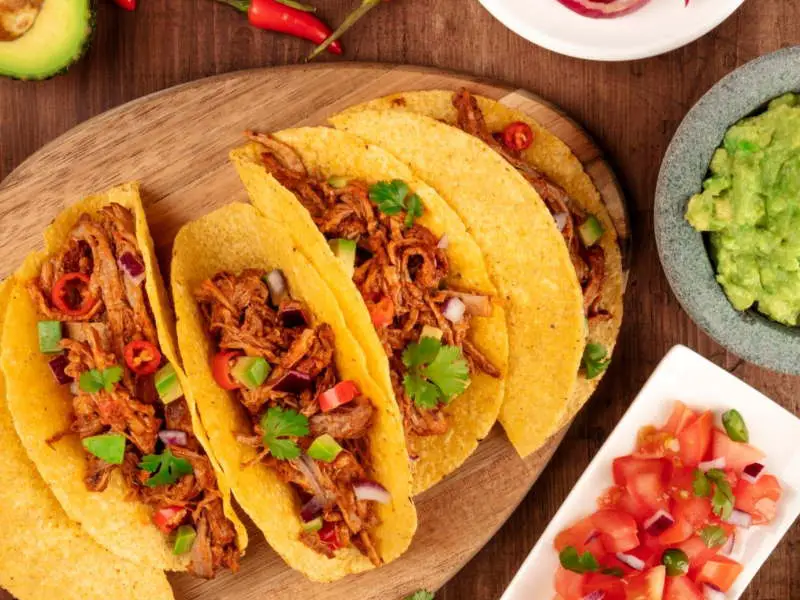 Chicken Tacos
For Taco Tuesday or any night of the week, try out this crowd-pleaser, loaded with toppings (pico de gallo, guacamole, and zesty sour cream) and ready in about 45 minutes.
For the chicken, you will need:
2 pounds (907 g) boneless, skinless chicken breast
2 Tbsp. olive oil
2 tsp. chili powder
1 tsp. smoked paprika
½ tsp. ground cumin
¼ tsp. ground red pepper
1 ½ tsp. coarse salt
1 tsp. black pepper (fresh ground, if possible)
1 small lime
Directions:
Mix the olive oil, spices, lime zest (to taste – about 1-2 tsp), salt and pepper, chicken, and leave to marinate for several hours (or overnight).
Preheat your Traeger to 450 ℉ (230 ℃).
Place chicken directly on the grill, cook until outside becomes golden brown and crispy, and internal temperature reaches 165 ℉ (74 ℃).
Begin preparing your toppings while the chicken cooks.
Remove chicken from grill, set aside for at least 5 minutes before slicing.
Serve on soft flour tortillas with toppings and fresh cilantro. Enjoy!
For the pico de gallo, you will need:
1 ½ lbs. (680 g) plum tomatoes, diced
1 small or medium red onion, diced
½ c. chopped cilantro
1 lime (juiced)
Kosher or coarse salt
Directions:
Mix all ingredients in a bowl.
Keep refrigerated until ready to use.
For the guacamole, you will need:
2 avocados
1 Tbsp. lime juice
¼ c. red onion, finely diced
2 Tbsp. cilantro, finely chopped
kosher or coarse salt
Directions:
Peel avocados and remove pits.
Add avocado and lime juice to the mixing bowl, combine until smooth with some chunks.
Add remaining ingredients and mix well; season to taste.
Cover and refrigerate until ready to use.
Final Thoughts
Cooking outdoors is a summer essential, and today's grills and smokers offer significantly more cooking options than the traditional charcoal and gas grills of the past.
With your new Traeger, you can cook with or without smoke to grill, roast, or even bake. All you need is a bit of preparation and maintenance; your Traeger will be a staple in your backyard for years to come.