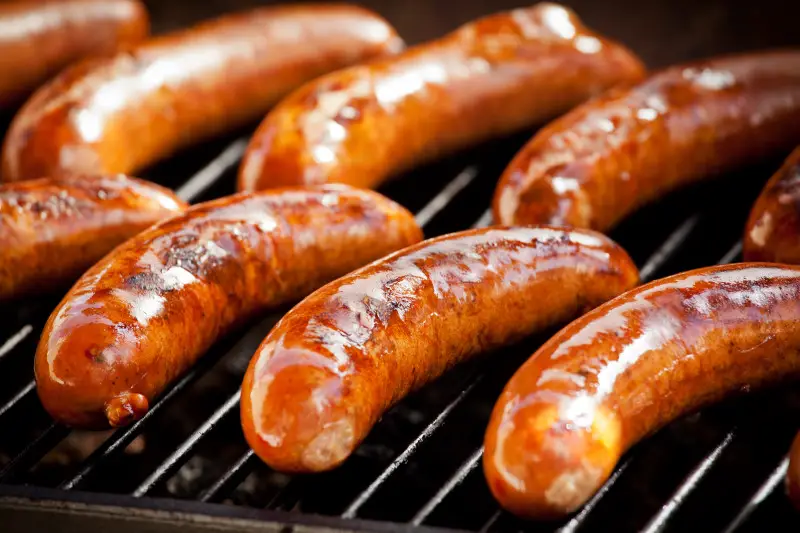 Smoking sausages in a pellet smoker is no big deal. In fact, it is probably the easiest type of smoking you can do. However, that is if you are smoking sausages the second time around or pre-made sausages that are raw. The real test is when you decide to make the sausages at home, which is what we recommend you do.
The difference between the two is night and day. After stuffing and smoking your own sausages, you will never go back to the store-bought kind ever again. In order to stuff sausages and smoke them, it will take a little more money for the equipment and a lot more prep time. But if you are up for it, we will teach you how to smoke sausage in a pellet smoker, so read on!
Note: most links in this article are Amazon.com Affiliate links, see Affiliate Disclosure, thank you.
Supplies you will need
You are going to want to make sure you have everything you need before you start smoking your sausages in your pellet smoker. The last thing you want is to run out of something or not have it during the cooking process.
Sausages- you can smoke any type of sausages in a smoker, whether they have been pre-smoked or not, never smoke raw sausages at temperatures lower than 200 degrees to be free from any foodborne illness and bacteria.
Pellet Smoker- make sure you have a smoker that you are comfortable using to start. You will be able to smoke sausages in any smoker as long as you are applying indirect heat and a pellet smoker is perfect for this task. Also, a pellet smoker is easy to hold at a consistent temperature over a long time which also makes them perfect for smoking ribs.
Click here to see our list of Top Pellet Smokers
Smoker Rack- this is optional for you, and you don't need it. But if you prefer to hang your sausages in the smoker while they cook, you will need one of these. Otherwise, you may lay them directly on the grill rack.
Fuel Source- make sure you have plenty of fuel before starting the smoking process. You don't want to run out of wood, pellets, charcoal, or propane during the smoking process. We recommend you use a mix of hickory and applewood to get that perfect barbeque blend of rich flavors and fruitiness.
Thermometer- the best type of thermometer to use when smoking sausages is going to be an instant-read thermometer.
Click here to see our favorite Dual Probe Wired Thermometer
Sausage Stuffer- this is an attachment for either a stand mixer or a meat grinder. The attachments usually come with the machines or are sold separately. Otherwise, you can use the manual sausage stuffing tubes. You can purchase a small starter kit on Amazon.com made by Smokehouse Products that includes a sausage stuffer, casings, seasoning, and recipes.
Meat Grinder- this is going to be necessary to get the absolute freshest final product. If you do not own a meat grinder or have access to one, then store-bought ground pork will be just fine.
Chef Knife and Cutting Board- you will need these to cut up the meat. If you are using already ground pork, then these won't be needed.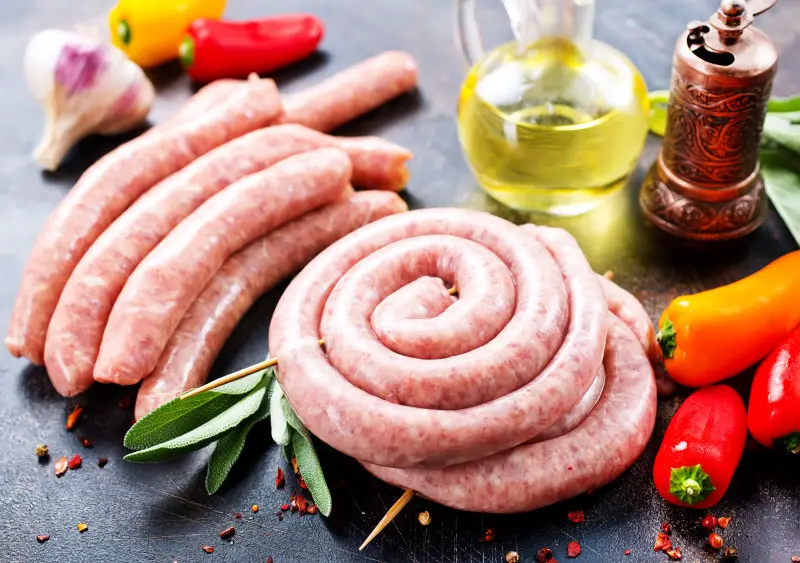 Preparing the Sausages for the Pellet Smoker
 As we said earlier, you can use store-bought sausages or presmoked sausages. Because most store-bought sausages have been smoked or cured already, they can be smoked immediately. If you have a sausage recipe, then you should be fine if you follow the directions.
There is not much preparation for sausages other than making or acquiring them. Here is a really good starter recipe for homemade sausages. You can play around with the seasonings if you want. Just make sure you keep all other ingredients accordingly. Some ingredients like salt are part of the curing process.
Sausage Recipe
This recipe is fairly simple but easily recognizable. Some seasonings can be replaced or left out, but all the salts and main ingredients need to stay in the recipe. The following recipe is a perfect sausage to smoke on the patio in the summertime!
Ingredients
4 lbs. Pork shoulder or pork butt
1 ½ tbsp. Garlic powder
1 ½ tbsp. Ground mustard
½ tbsp fennel seeds
1 tsp. coriander
1 tbsp. Onion powder
2 tbsp. Minced fresh chives
1 tbsp. Course ground black pepper
1 tbsp. Kosher salt
1 tsp. Tender quick curing salt
¼ cup sherry
1 tbsp. Worcestershire sauce
¼ cup dark beer (optional or use water)
Sausage casings, rinsed
Directions
Start by cutting up the pork shoulder into 1- or 2-inch cube pieces. You want them to be small enough to feed into the meat grinder. Then stick the pork on a sheet pan and stick it in the freezer for about 1 or 2 hours. If the meat is slightly frozen, it will pass through the meat grinder easily.
If you want, you can stick your grinding equipment and attachments in the freezer as well. Once the meat is partially frozen, grind it using the meat grinder, then remove the grinding attachment and replace the sausage stuffing attachment. In a large bowl, mix all the dry ingredients with the ground pork. Then add all the wet ingredients and mix until everything is fully incorporated.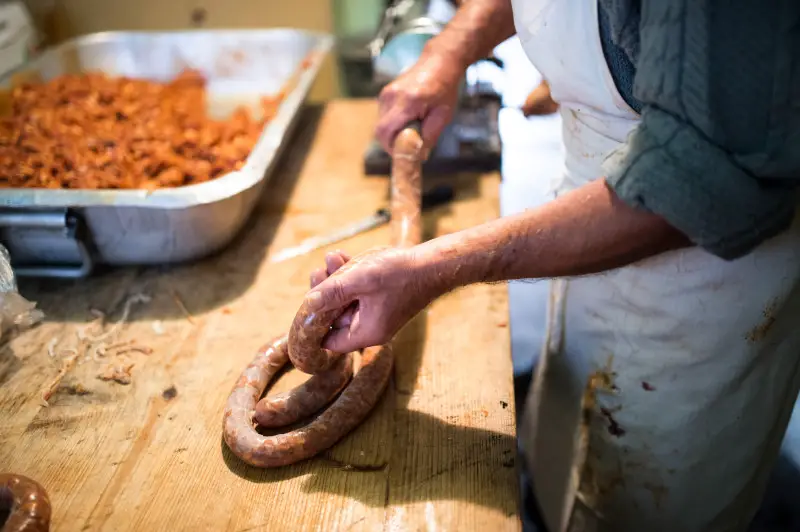 Place the sausage casings on the sausage stuff and begin feeding the sausage mixture to fill the sausage casings one by one or twisting them off every 8 inches. Once the sausages are stuffed, allow them to rest in the fridge for about 2 hours before smoking or grilling. Stuffed sausage will need to be cooked within 24 hours of stuffing.
Type Wood Pellets to Choose for Sausage
There are many different types of wood to choose from, and each type will add a different flavor profile to your sausages. Most pellets will be offered in a wide range of different wood flavors or at least the main ones which you can never go wrong with. We have heard the best mix of wood to use when smoking sausages are hickory and apple. But you never know, play around with the combinations to find your favorite flavor.
Hickory- many people like to think that hickory is the best wood to choose from when smoking sausages because of its rich flavor and subtle barbeque notes. This wood will not be too overpowering or underwhelming as well.
Fruit (cherry, apple, peach)- these types of wood will, of course, add fruity flavors to your sausages. They will also be very subtle and at times underwhelming, which works very well with poultry and fish.
Mesquite- This wood will be the strongest of them all in terms of smoke density and flavor. It can be very easy to overpower your sausages with smoke flavor when using mesquite. In other words, a little bit goes a long way.
Maple- this wood will add a lot of sweetness to the sausages without a lot of the smoky flavor.
Oak- this type of wood is one of the more common woods to use when smoking meats, but it doesn't work too well with poultry as it can be a very thick and dense smoke like mesquite.
Click here to see Smokehouse Products Wood Pellets Assortment on Amazon.com.
The Smoking Process in a Pellet Smoker for Sausage
Load the pellet smoker up with pellets completely. Then turn it on and preheat the smoker to 225 degrees. Once the smoker has come up to temperature, lay or hang the sausages in the smoker directly on the rack.
Close the smoker and vents up and smoke for about 1 hour. After an hour, check the temperature of a sausage. Make sure the thermometer is in the middle and away from any residual heat to gain an adequate temperature reading. If the internal temperature has reached 157 degrees, then the sausages can be removed.
The sausage will continue to cook while resting and rise to an internal temperature of 165 degrees. If the sausages are not 157 degrees, continue to smoke and check them every five minutes or so until they have reached the proper temperature.
Allow the sausages to rest for about 20 minutes after being removed from the smoker before slicing or serving any of them. Once the sausages have been smoked, they can be vacuum sealed and refrigerated for up to two weeks if you wanted or frozen for storage. Most people chow down right away though.
Check out our article How To Get More Smoke Flavor From Pellet Grills: Tips and Hacks
Conclusion
So, when it comes down to it, how to smoking sausages in a pellet smoker is pretty easy. But when smoking sausages, even though it is easy, there are a lot of options. You can create your perfect sausage with so many different flavors and combinations to try out. So, get out there and start smokin'!