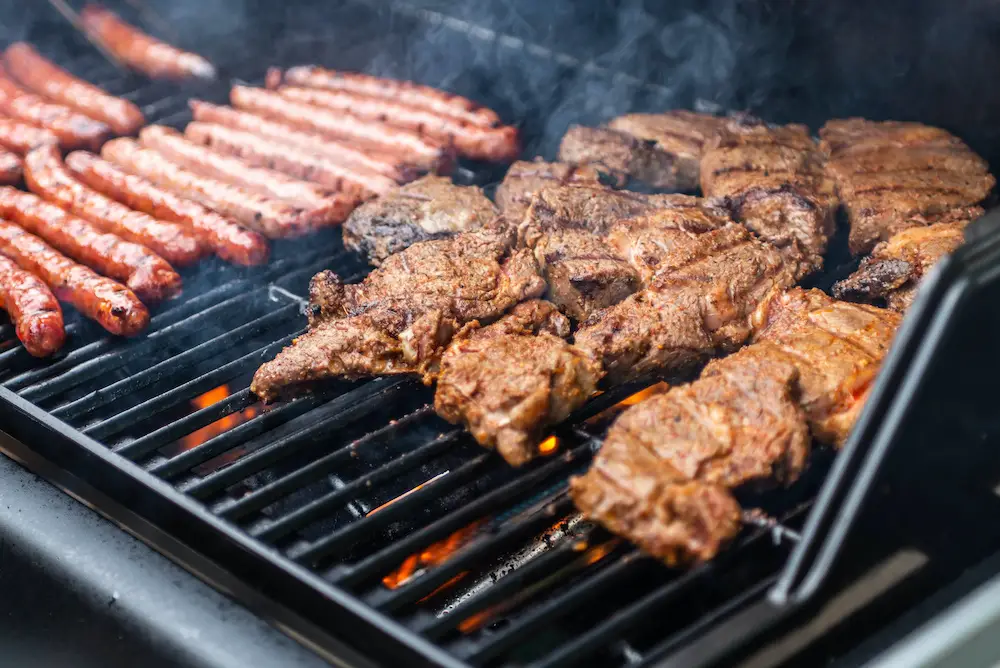 Any home chef knows that Traeger Grills' products are a serious investment, especially since they cost a lot.
These products are massive, built well, and carry a hefty price tag for a home product.
If you are in the market for a solid and long-lasting grill, then we'll tell you in this Traeger Pro Series 34 review why it's the best choice.
This is a highly versatile wood pellet-fired grill that will excel at low and slow cooking.
It maintains the temperatures well and will cook delicious mouth-watering meals every time.
Note: most links in this article are Amazon.com Affiliate links, see Affiliate Disclosure, thank you.
Traeger Pro Series 34 Review
Traeger Grills is a company originally based out of Oregon, United States, but is now headquartered in Utah.
It is known for making use of all-natural flavored wood pellets.
It was Joe Traeger who built the company.
The story is that he was going to cook a meal for his family and happened to discover that his gas grill was up in flames.
The next day, Traeger decided that he would build a grill that makes use of wood pellets to have a fire-free and flare-up-free summer barbeque.
It was in 1988 when he created the very first Traeger grill and patented it.
Ever since, the company has expanded to six models of barbeque grills, along with spices, smokers, rubs, sauces, and even apparel.
One of the best things about Traeger Grills is that it comes with temperature control.
All you need to do is set it up, and the grill will continue to maintain a consistent temperature even if the weather is not in your favor.
This makes cooking much easier; you won't have to worry about any flare-ups or burning due to the fluctuations in the temperature that would typically occur on a gas grill.
A great thing about the Traeger Pro Series 34 is its rugged body, which has a sawhorse chassis for stability.
It has a great weight distribution on solid all-terrain wheels, too.
Who Is The Traeger Pro Series 34 For?
The Traeger Pro Series 34 is made for folks who are absolutely serious about grilling and looking for ways to get those amazing flavors of wood-smoked meat.
This grill is perfect for those who will be using it at least once every week.
If you are a beginner and are comfortable with spending a lot of money for a grill, you will certainly not mind the Traeger Pro Series 34.
This grill is indeed an investment, but it is an investment that will pay off very well and also last for a long time if taken care of correctly.
As a beginner, you may take some time learning how to use this grill properly, which will require practice, but if you are a serious meat-eater, the Traeger Pro Series 34 is a brilliant tool designed for you.
What's Included?
The Traeger Pro Series 34 comes shipped to you brilliantly in a neat packaging that is clearly marked and packed.
All the parts come separately and neatly packed in plastic, which you will have to take out one by one to assemble the grill.
There's a "Start Here" box from where you begin the entire assembly process, and this contains the manual that gives you detailed instructions on how to assemble the Traeger Pro Series 34 grill.
Make sure that you follow every step to the T and in the correct order for a smooth assembly process.
You may need another helping hand to get through this whole process, but we believe the entire grill will take no more than an hour to assemble fully.
If you are uncertain about assembling this grill yourself, you can always opt for a professional to do it for you; all you have to do is pay an additional fee.
On the other hand, you can take a look at this detailed video from Traeger Grills themselves, which gives you clear instructions on how you can assemble the grill.
Overview of the Features
The Traeger Grills' Pro series comes with ample features that put this line further ahead of its competition.
This grill is highly durable and comes with precise cooking abilities that do not leave you doing any guesswork while cooking.
In addition to its amazing features, this grill also comes with a ton of benefits.
Let us discuss both the features and benefits of using this grill in detail below.
Versatile Cooking Methods
While having a preference for charcoal, propane, or wood grills is subjective, we truly believe that pellet grills top the list because they are superior to charcoal and natural gas.
Since the Traeger Pro Series 34 is a pellet grill, it offers you brilliant versatility that you will not find easily elsewhere.
With it, you will be able to grill whatever you like and smoke meats whenever you want.
If that's not enough, this grill also gives you the option to bake.
With the Traeger grill, you can easily braise short ribs, roast an entire turkey for Thanksgiving, or even bake a cake.
Trying to time different meats on a grill can be truly frustrating; more often than not, you end up with something getting burned.
Even if your meat comes out perfectly cooked, it's only because you hovered over the barbeque every 10 minutes.
This won't happen with the Pro 34, as it will give you the opportunity to cook two different cuts of meat at the same time.
All you need to do is use the grill's dual probe temperature thermometer, allowing you to get creative with your meal.
With most pellet-grills, changing out the pellets in the hopper is quite frustrating, but that's not the case with the Traeger Grill.
This Pro 34 comes with a hopper clean-out feature.
This helps in improving your ability to clean out the ashes and also gives you the chance to take out any pellets left behind and use them for the future.
As such, it makes the whole cleaning process not just convenient but also smart.
In addition, this also means that you will be able to switch out flavors whenever you want.
Precise Temperature Control
A fantastic feature of the Traeger Pro Series 34 is that it comes with a Digital Pro controller.
This bright blue LED panel is located conveniently on the hopper.
Moreover, setting the temperature on this grill is fairly simple, too.
With the help of the RTD (resistance temperature detector) probe, the grill works hard to maintain the temperature you have set the grill at within +/- 15 degrees F.
The RTD probe also captures 60 temperature readings every single minute to make sure that you have a steady control over the temperature.
This feature is fantastic for a beginner, especially as it will allow them to cook the meat at any temperature between 180 degrees F and 450 degrees F confidently.
With 884 square inches of grilling space, you can comfortably cook an entire meal using this griller.
This massive space on this grill means that you will be able to grill any cut of meat, regardless of how large it is.
This is particularly great if you have many guests coming over to your home; you will not have to wait for the steaks to get done before throwing on some more sausages.
There is also an additional rack that is ideal for indirect heat cooking; this sits higher above the firepot.
One of the best things about the Traeger Pro Series 34 is how efficient it is.
Not only is the grill cost-effective, but it is also quite eco-friendly since it burns away the pellets quite slowly.
In the long run, this will save you money because you aren't burning through the pellets unnecessarily, regardless of whether you are grilling at high temperatures or smoking at a low temperature.
When using it on high heat, the grill will only go through about two pounds of pellet every hour.
At medium heat, it takes about a pound of pellets an hour, and at low heat, it will barely burn half a pound of the pellets in an hour.
If you want to slow-smoke all night, that is no problem either, as you will not have to fill up the hopper constantly.
There are many grill masters that tend to shy away from bulky, large grills because they are quite a pain to move around.
After all, portability is a matter of ease.
Thankfully, moving around the Traeger Pro Series 34 from one place to another is not a mammoth task, even with its big size.
The way this grill is designed is that it adds more to its stability and also encourages an even distribution of the entire weight.
This becomes particularly important during those times when you need to move it out from the patio and into the shed for storage.
The grill also comes with very thick legs that add to its maneuverability.
The wheels are quite massive in size and are also all-terrain, which means that it will not just roll with ease through your backyard or the patio but will also do so quite silently.
Experience Using the Grill
The overall experience using the Traeger Pro Series 34 is simply great.
We found that filling the hopper, flipping on the grill, and even setting the temperature is all a piece of cake.
Lastly, this grill makes use of an auto-start system that will begin the grill the second you switch it on.
How to Make the Most out of the Traeger Pro Series 34
Buying the Traeger Pro Series 34 will instantly make it a go-to cooking appliance for all your meat-cooking needs.
If you are looking to know how you can make the most out of this grill, then we recommend checking out this detailed video.
Alternative
While there are very few drawbacks to the Traeger Pro Series 34, you do have to spend some time trying to learn to manage the grill's temperatures.
If this is something you don't want to do, then you can consider trying out the Memphis Advantage Pellet Grill for that precise temperature that requires no guesswork.
This is a well-built and solid grill with stainless steel rods and a one-touch digital intelligent control that makes cooking with it truly a breeze.
However, be ready to shell out more than two times the price you would pay for the Traeger Grills.
Conclusion
We hope that this Traeger Pro Series 34 review has helped you understand the grill better and decide whether this is something that you need or not.
We can say with certainty that this grill is highly dependable, sturdy, and durable.
Right from its thick wide-set legs to its massive wheels, this grill is made to last.
Furthermore, it has the ability to braise, bake, roast, smoke, and grill different proteins at the same time; that makes this grill truly fantastic.