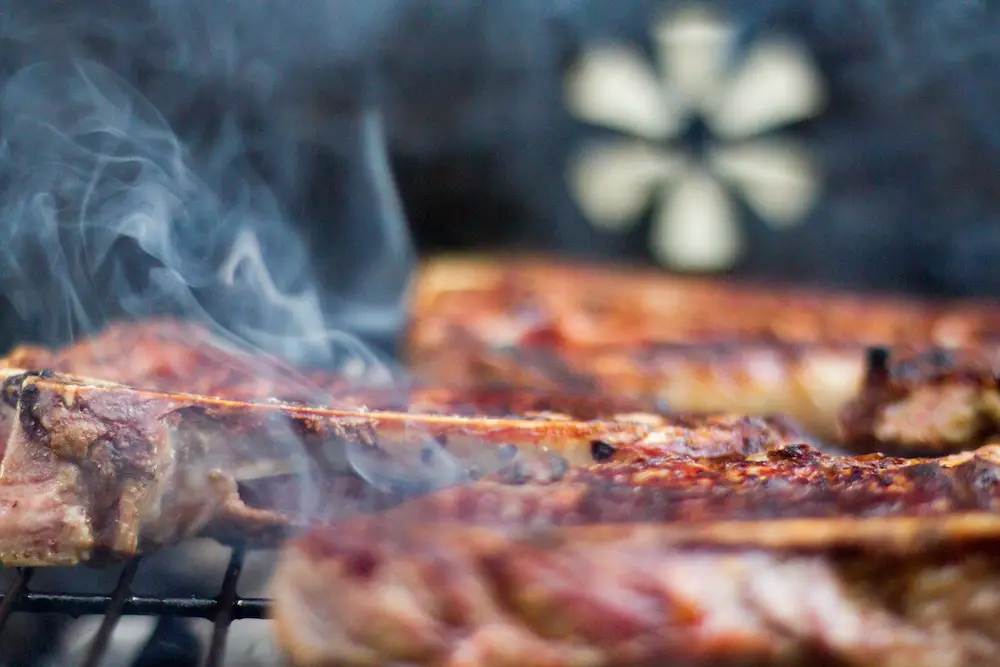 Traeger products are well-known to be efficient and long-lasting since they are all built from premium materials. 
While they do come with a hefty price tag, you know that you will make a wise investment.
If you are in the market for a good smoker and griller and are particularly interested in this brand, then we recommend you check out our Traeger Texas Pro review.
We will give you the important information you need to know whether this smoker is the right one for you, which we are confident it is.
Note: most links in this article are Amazon.com Affiliate links, see Affiliate Disclosure, thank you.
Traeger Texas Pro Review
Headquartered in Utah, the Traeger Grills is a company founded by Joe Traeger and was originally based in Oregon.
Traeger formed this company when he was trying to cook his family a meal and discovered that his gas grill had gone up in flames.
Looking for an effective solution, he decided to create a grill that uses wood pellets, which helped reduce any accidental flare-ups during those summer barbecues.
That's how the first Traeger grill was made in 1988 and after that patented.
Today, the company has expanded with multiple models of their famous barbecue grills and also offer different sauces, spices, rubs, and more.
You can be assured that investing in a Traeger grill is a wise investment and something that will last you for years, if not decades.
Who Is This Product For?
The Traeger Texas Elite 34 is often confused with the Traeger Pro Series 34.
However, this model is best suited for absolutely everybody.
Even those who are brand new to the world of smoking and grilling or have never owned a barbecue grill before can enjoy using this product.
This grill comes with an auto-start feature and needs absolutely no propane or even charcoal to function.
This makes using the grill far more convenient and needs no special skill either.
The Traeger Texas Elite 34 is extremely versatile since it is quite easy and quick to clean and does not need constant monitoring when you cook.
You can simply walk away with the machine left on to enjoy with your companions, and you will return to perfectly cooked meat.
The Traeger Texas Elite 34 is also ideal for those who are constantly entertaining a ton of people together since it comes with a massive grilling space to accommodate a lot of meat at the same time.
That said, we would not recommend this product for people who will only use it two to three times a year.
For them, there are smaller and more affordable alternatives on the market.
What's Included?
The Traeger Texas Elite 34 is a serious grill with amazing features that will offer you perfectly cooked meats.
There is a lot that comes in the package when you buy it, including:
The main grill
A grease bucket
Hopper
Porcelain-enameled grill grates
Digital temperature controls
Four legs with wheels
Exhaust
Overview of the Features
There is a lot that the Traeger Texas Elite 34 has to offer, such as:
The Traeger Texas Elite 34 comes in durable steel construction along with porcelain-coated cooking grates that are easy to clean.
The smoker measures at around 22 x 54 x 49 inches and weighs approximately 150 pounds and comes with a massive 18-pound capacity hopper.
It also features 36,000 BTUs of power along with a 646-square inch cooking area.
Lastly, there are two heavy-duty wheels along with two locking casters.
This smoker is highly versatile since it comes with 6-in-1 cooking features.
With this smoker, you not only can barbecue but also experiment with smoking, braising, grilling, roasting, and even baking.
This means that you are not just limited to food like burgers, steaks, or hot dogs when it comes to using this grill.
Auto-Start and Shut Down Cycle
By simply pressing a button, you will be able to light up the grill, which makes using it safer, easier, and convenient, especially for grillers who lack experience.
Switching it off is equally easy. After using it, the grill goes through a safety shut down cycle over the next five minutes to burn any leftover pellets in the firepot before it completely turns off.
The grill comes with an E-Z drain grease management system that makes cleaning it up easier.
With this feature, any excess liquid gets drained into the grease bucket that hangs off the side.
All you need to do is correctly dispose of this grease.
A great thing about the Traeger Texas Elite 34 is that it holds the temperature quite well, even if you are using it in the winter.
This makes it the perfect choice for those who are looking to use this grill all year round.
The temperature increments only fluctuate about +/- 15 degrees Fahrenheit during cold weather.
The grill also holds up very well during rains, and this is all thanks to the durable materials used in constructing the product.
The great thing about the Traeger Texas Elite 34 is that it offers true convection cooking in addition to the conductive grilling.
This means you will be able to cook pizzas, pies, veggies, garlic bread, and more without the need to flip them and affect their composition.
This makes the Traeger grill your go-to cooking equipment for all your needs.
If you are someone who likes to grill for a large family or a party with several people, having an outdoor grill with maximum space is a must.
The Traeger Texas Elite 34 offers you a massive cooking space.
With this much space, you can expect the grill to easily hold up six chickens, 30 hot dogs, 25 burgers, or nine racks of ribs all at the same time.
The Traeger Texas Elite 34 comes with an impressive three-year warranty when you purchase it.
How to Make the Most Out of It
The Traeger Texas Elite 34 is a fantastic grill that can do much more than grilling.
However, if you are looking to know how to make the most out of it, then we recommend you check out this video.
Alternative
The Traeger Texas Elite 34 is a reliable, durable, and well-made grill that delivers perfectly cooked meat every time. 
That said, it is heavy and could make it tough for some people to move around.
For those who require a portable grill, we recommend trying out the Davy Crockett Grill.
This grill is significantly lighter and more affordable than its counterpart.
It comes with equally decent features too, and this makes it the ideal alternative.
Conclusion
We hope that this Traeger Texas Pro review helped you understand this grill better.
We can assure you that this grill is built well and works quite efficiently, too.
It is the perfect grill for weekend barbecue parties with friends and families.
Take care of it well, and we are sure that this will last you for decades.