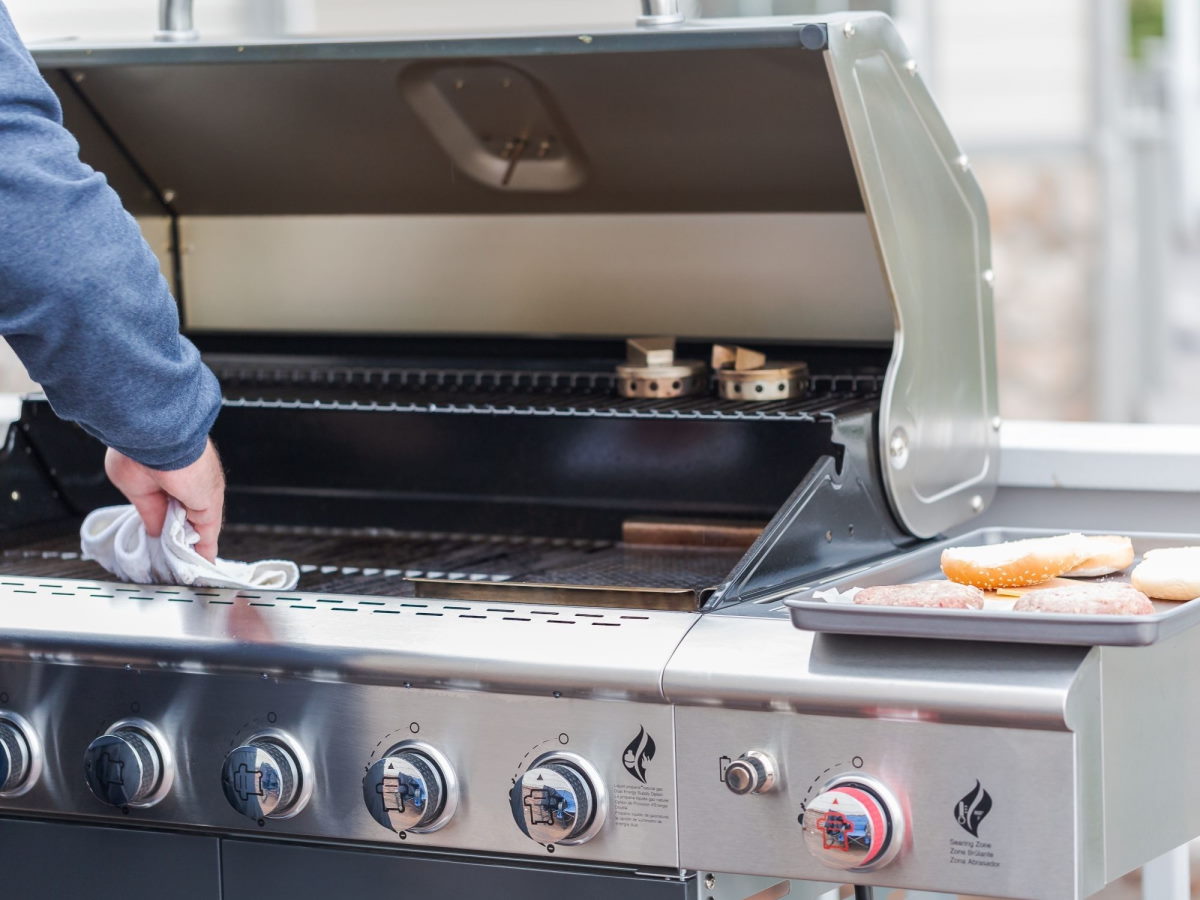 A grill isn't a pretty decoration you'll place in a corner and not touch for years. This product will become a permanent part of your outdoor activities. You'll pull it out for family dinners and casual get-togethers. With any luck, this isn't a buy you'll regret.
However, like with any other financial investment, you will need to put in the appropriate time and effort for maintenance and cleaning your grill. Leaving your grill messy after each usage will not only make it harder on you when you finally do tidy the grill, but it will likewise considerably reduce the life expectancy of your grill.
Additionally, you increase the danger of rust if your barbecue sits unclean. Not to mention, a lack of cleanliness during the cooking process will make the entire process beyond unhygienic.
While some maintenance and cleaning are specific to the kind of barbeque grill you own (gas, electrical, charcoal, or smoke barbecue grill), the majority of upkeep does not alter from grill to grill. Follow these simple steps, and you're good to go.
Note: most links in this article are Amazon.com Affiliate links, see Affiliate Disclosure, thank you.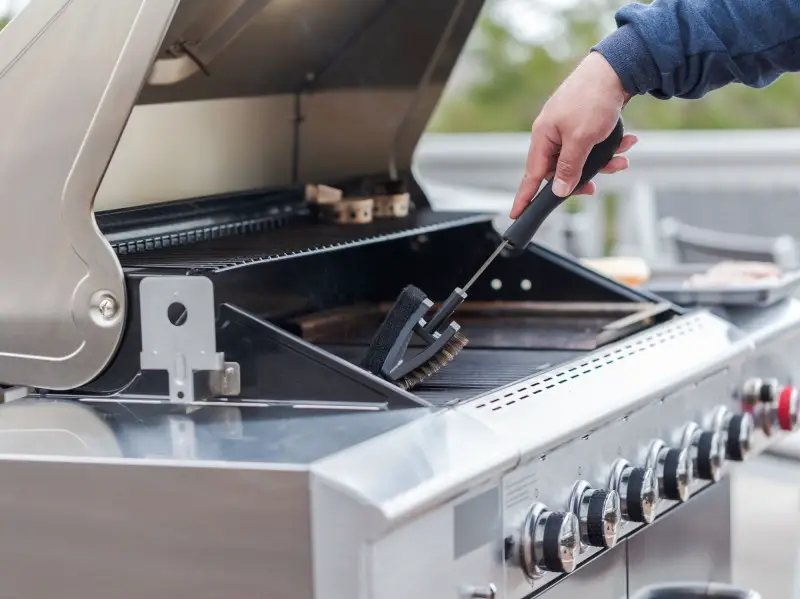 Step 1- Collecting The Needed Items
The first step is getting your tool kit together. These are some standard home products you will require every time you want to clean your grill. So it's best to have them on hand at all times. Ideally, it would help if you cleaned your grill every time you use it.
Brass wire grill brush
Steel wool pads, preferably, which ones containing soap
Moderate meal soap
Sponge or dishcloth
Spray cooking oil
Dry baking soda
Aluminum foil
Step 2- Brushing Your Grill Off
Once you have everything you need, you can begin the cleaning process. The first thing that needs to be done to your grill continuously is a routine brushing. Utilizing your brass wire grill brush (or any other brush suited to your type of grill), you can swipe over all the flat surfaces. This shouldn't take a lot of time or effort.
By routinely brushing your barbeque grill, you will avoid any build-up. If accumulation from food is left too long, it can be significantly challenging to eliminate and wind up triggering problems such as rust. If you want to save time, it's more efficient to take a few minutes out every few days than wait months and waste hours trying to get all the grime off.
As a side note, most people are moving away from wire brushes because the bristles can fall out. If a bristle finds its way into your food, it can be painful or even dangerous. We are still using wire bushes but lean toward wrapped wire brushes.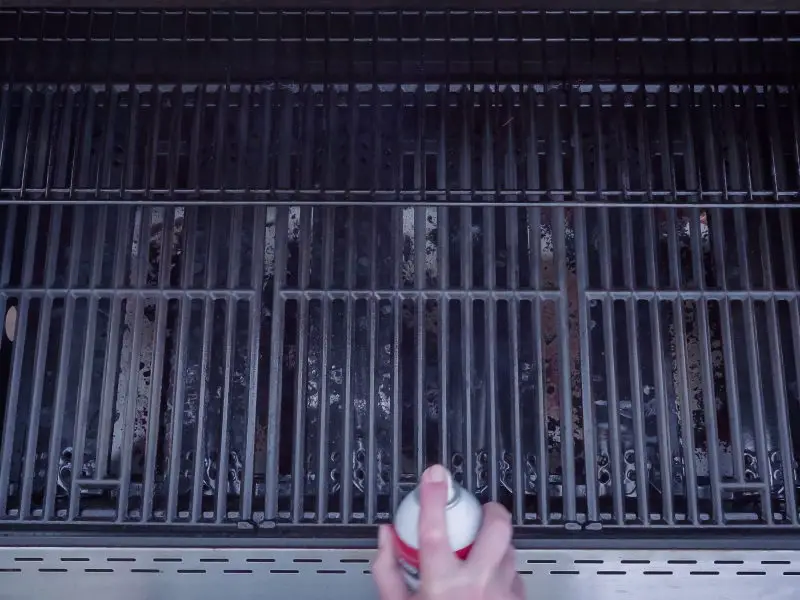 Step 3- Spray Cooking Oil
Once you get rid of any accumulated dirt and are sure that your grill is free of all debris, you can move on to the next step. This involves spraying your grill with a light layer of cooking oil.
It would help if you always waited for the equipment to cool down before attempting to do this. Never try to clean a hot grill. Wait at least an hour or so after turning it off.
Spraying it down with cooking oil will prevent your barbeque grill from rusting. There are multiple reasons to wait until your grill is cold. The first, of course, is safety. You don't want to burn your skin; a clean grill isn't worth injuring yourself.
Always remember safety first. But that isn't the only reason. When you start spraying cooking oil on a hot surface, the oil begins to warm up and spark. This is unsafe for both you and your barbeque grill.
Step 4- Use Baking soda and Aluminum Foil on Your Grill
Baking soda (Sodium Bicarbonate) is the go-to product when it comes to cleaning and polishing. After you have gotten rid of any build-up and surface particles, you can gently scrub your barbeque grill with baking soda soft towel to give it an extra shine.
This trick is popular among people who regularly grill their food. Trust us; you won't be disappointed. Your grill will shine brighter than the day you brought it home.
This technique isn't just limited to grill surface usage. You can also use it on handles and knobs to remove any additional build-up that cannot be removed with a wire brush.
Aluminum foil can likewise be used to keep your grill looking great. Carefully rub the aluminum foil on your grill, and you will notice that it gets rid of grime and accumulation. This is a low-cost and inexpensive method to clean your grill.
Step 5- Tidy Your Racks
Cleaning the rack is an essential part of barbecue grill upkeep. This is the part where you place your food. So not only do you need it to be spotless for hygiene purposes, but it is also the area that gets soaked in juices and other oils. But don't worry, the process is relatively painless.
To clean your rack, you need to use the wire brush to eliminate as much build-up as possible. Gentle and thorough cleaning is the best approach. Begin washing the racks with meal soap as soon as you remove the maximum amount of build-up.
If the racks are extraordinarily unclean and you think this won't be enough, you can also use the steel wool pads. Once the cleaning process is complete, make sure you rinse the entire apparatus with water. You don't want there to be soap on your grill the next time you take it out to cook your meat.
Conclusion
In summary, there can be no question as to the importance of cleaning your grill. After all, it is a cooking appliance. It isn't merely a matter of damage to the grill. You need to maintain a standard of health and cleanliness. Upkeep for the grill doesn't cost a lot of money.
You will need to purchase a few items, but you can use most of them multiple times. The process is relatively simple. The key is to clean regularly and not allow food debris and grease to build up.