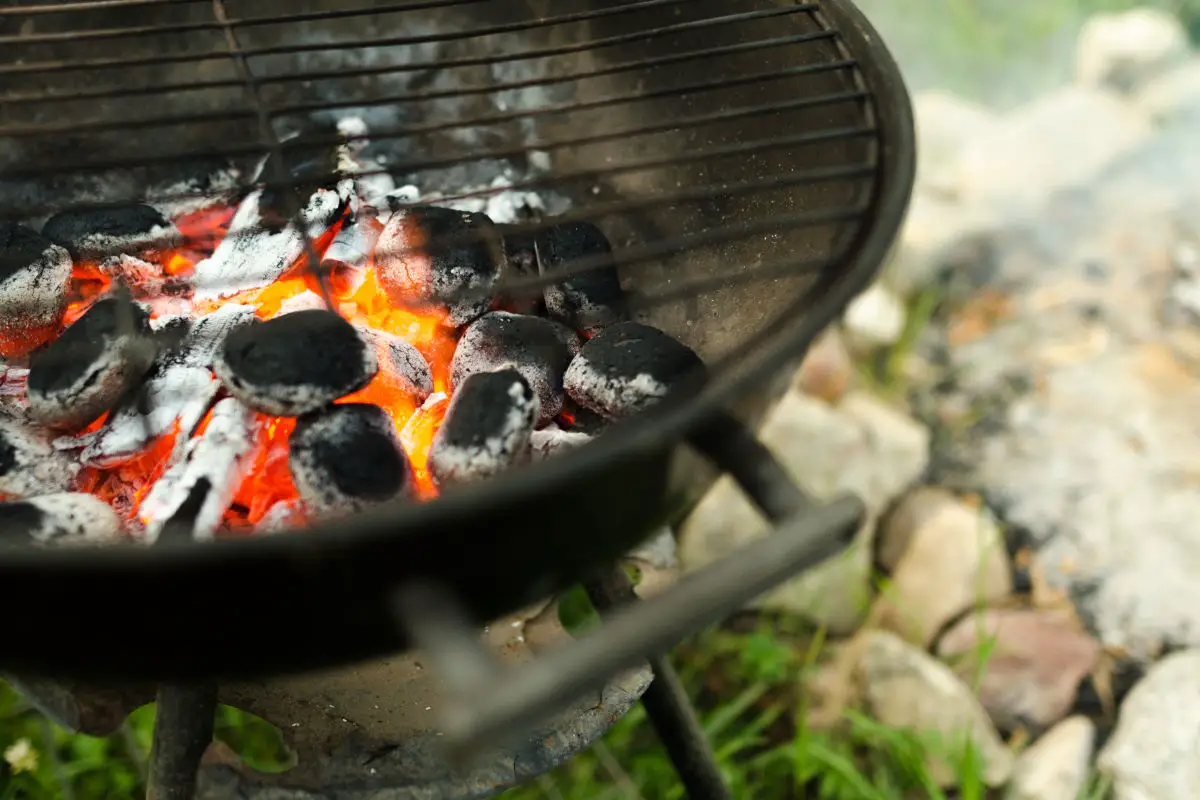 Do you ever wonder what the best charcoal is for your grill? Do you light a match and start burning your food? " Oh, look, I burned my food but the inside is still raw."
A detailed charcoal review will help you grill better, resulting in better tasting food. Everyone wants to get that charcoal grilled taste. In this article, we give a charcoal review of some mainstream products from our first-hand perspective.
Note: most links in this article are Amazon.com Affiliate links, see Affiliate Disclosure, thank you.
What is Charcoal?
Well technically, charcoal is made by heating wood to high temperatures without oxygen. It might sound complicated, but really anyone can make charcoal.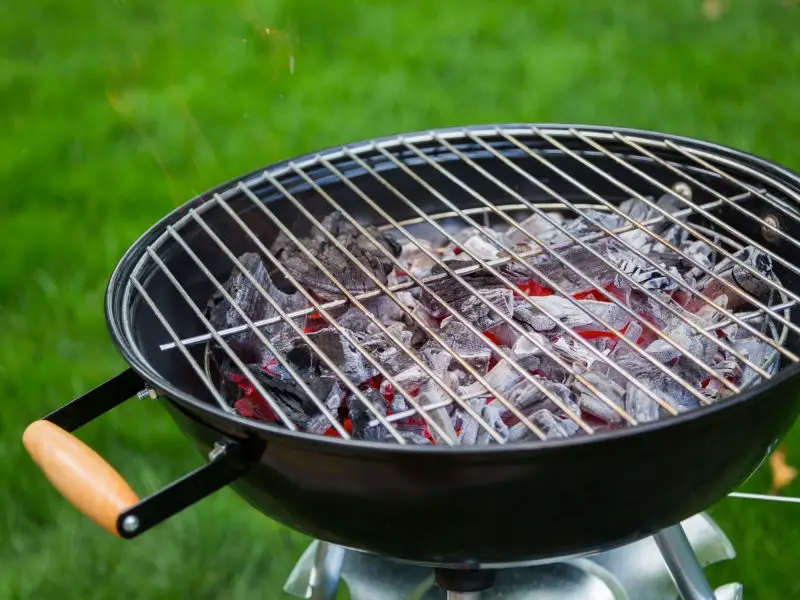 Here is how you make your own lump charcoal.
Build a fire in a dugout pit.
Add large chunks of wood or small logs.
Once the wood gets burning.
Cover the pit in mud.
When the fire goes out. Wait 24 hours and then dig out the charcoal.
Store the charcoal for later use.
The process of burning the wood will remove impurities, moisture, and oxygen. When you go to relight the lump charcoal, it will light fast and burn clean. 
What Are Charcoal Briquettes?
Briquettes are made of pressed charcoal bits, well, kind of. A mixture of coal bits, charcoal bits, sawdust, starch, and sodium nitrate are combined. This mixture runs through a machine to be hydraulicly pressed into the familiar pillow-shaped briquette.
Different companies add different ingredients, but this basic mix includes everything a briquette needs to hold together and burn well.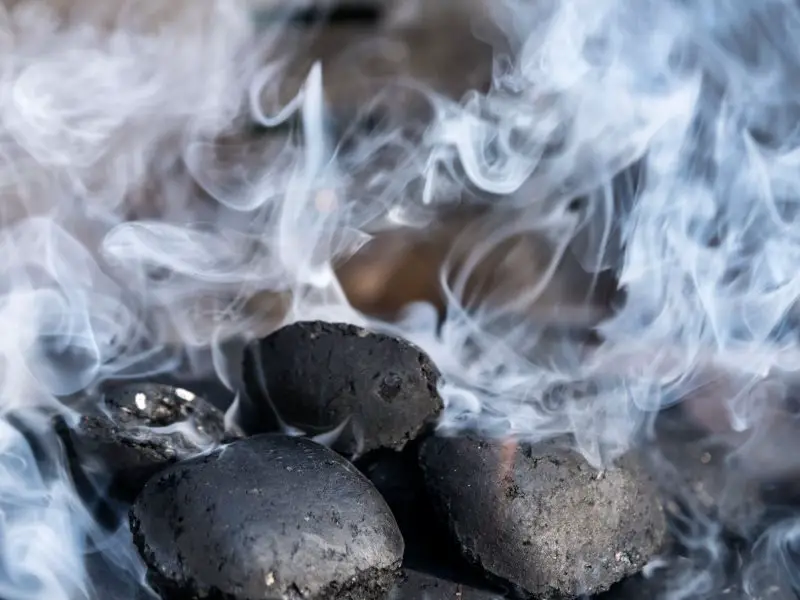 What to Look for in a Great Charcoal Briquette
Easy to light – If your charcoal is hard to light or will not light evenly, it is a challenge to cook with. Some manufactures make charcoal that have additives included to make it easy to light with a match.
Clean burning – When your charcoal is burning along in your grill or smoker, the last thing you want is uncontrollable smoke. Most brand name charcoals will burn with little smoke and also leave little ash.
Temperature – An essential aspect of good grilling and smoking is controlling the temperature. An excellent solid pressed charcoal of uniform shape will burn evenly and be easier to control the burning temperature.
Bonus – Flavor – Most charcoal briquettes have little to no flavor, which is excellent. High-quality brands that do not have strange additives should leave no peculiar tastes. However, some charcoals have wood chips pressed into the mixture when made, which increases your smoke flavor with no additional effort.
Charcoal Briquettes Details
Being able to source consistent charcoal might be more critical than the charcoal itself. In this charcoal review, we will be covering the brand-name charcoals that you can order online and from major retailers.
1. Kingsford Briquettes Pecan
Pecan wood is one of the kings of flavor and it is our all-around favorite wood. So, it is a big win when you get charcoal with wood chips pressed in.
First, the bag's briquettes are uniform and not broken into small pieces, which results in a more even burn. The better the charcoal burns, the cleaner the smoke is, resulting in better-tasting foods.
Kingsford briquettes are easy to light with any method. We prefer to light charcoal in a chimney lighter with two or three matchlight briquettes placed in the bottom of the container.
They make many varieties, such as hickory, cherry, apple, mesquite, and pecan. Because of all the options, you can choose any flavor to match your chosen meat.
Finally, having a brand-name product is a big deal because of consistency and availability. Any Kingsford product is going to meet those requirements. 
Click here to see the price on Amazon.com.
2. Weber Briquettes 20 pound 
The average size of the Weber briquettes runs larger than any other mainstream charcoal. In most applications, this can be a benefit because the charcoal can burn longer without falling through the charcoal grate.
Weber Briquettes burn clean and consistently, resulting in only the natural charcoal flavor. We like to add wood chunks to our cook to impart our favorite pecan flavors into our foods.
As a company, Weber has various items: charcoal, wood, charcoal grills, gas grills, pellet grills, smokers, and accessories. We can expect to see good availability and a consistent product to support their large lines.
Click here to see the price on Amazon.com.
3. B&B Oak Charcoal Briquettes 17.6 lb.
A lot of competition barbeque experts talk about how great the B&B briquettes perform, so we had to give it a try. I took a good look at the briquettes. The briquettes were uniform and solid.
When lighting the charcoal, it took a few more minutes than the Kingsford charcoal. Once the briquettes were burning, there was little smoke, and it was very consistent.
Our favorite test food is pork ribs because they are fast and easy. The ribs came out perfect, with that great charcoal flavor.  Another aspect to note is that the charcoal burned completely, leaving very little ash behind.
On our second cook, we added wood chunks to increase the smoky flavor. Our most significant downside is that B&B charcoal is not readily available, but it is a great option when you can find it.
Click here to see B&B Oak Lump Charcoal on Amazon.com.
4. Kingsford Briquettes Orig 16 lb.
It is hard to overlook original Kingsford charcoal briquettes because they are the most widely available briquettes from our research. Another critical aspect of Kingsford is the affordable price.
We regularly use this product for day-to-day grilling, especially for old fashion open grilling. The briquettes are uniform and relatively firm.
Consistency is king! Because Kingsford is a major brand, the product is very consistent. We like to add wood chunks for a smoky flavor. Some random broken pieces need to be sorted out for some uses.
Click here to see the price on Amazon.com.
The Kingsford charcoal briquettes work well for charcoal smoking techniques, like the charcoal snake.
Honorable Mention Charcoal
Cowboy Lump Charcoal 20 Lb.
We have found Cowboy Lump Charcoal available in many retailers and online. This lump charcoal is clean burning and works exceptionally well in offset smokers. The biggest downside to any lump charcoal is the inconsistent pieces. These pieces can fall through larger and even average-size charcoal grates.
Click here to see the price on Amazon.com.
Testing Information
For our charcoal review testing, we used our favorite grill/smoker, the Masterbuilt Gravity Series 1050, and a generic mini kettle-style grill. Because we have used many grills in the past, we felt the combination of these two grills gave us all the information we needed to do a current review of charcoal briquettes. If you want to check out our favorite Grill/Smoker, click here for our Review Masterbuilt Gravity Series Grill/Smoker 1050
Conclusion
All of the charcoal reviewed in this article were good products, and if you choose from any of these, you will be happy if you learn to work with that brand. We would avoid a store brand, not because these products are bad, but because they are inconsistent.
That said, our top pick is Kingsford Briquettes with Pecan. If you use the same charcoal and same process, you will get consistent results that will allow you the ability to perfect your grilling and smoking game.
Check out our article Charcoal Smoked Chicken, Tips and Recipes