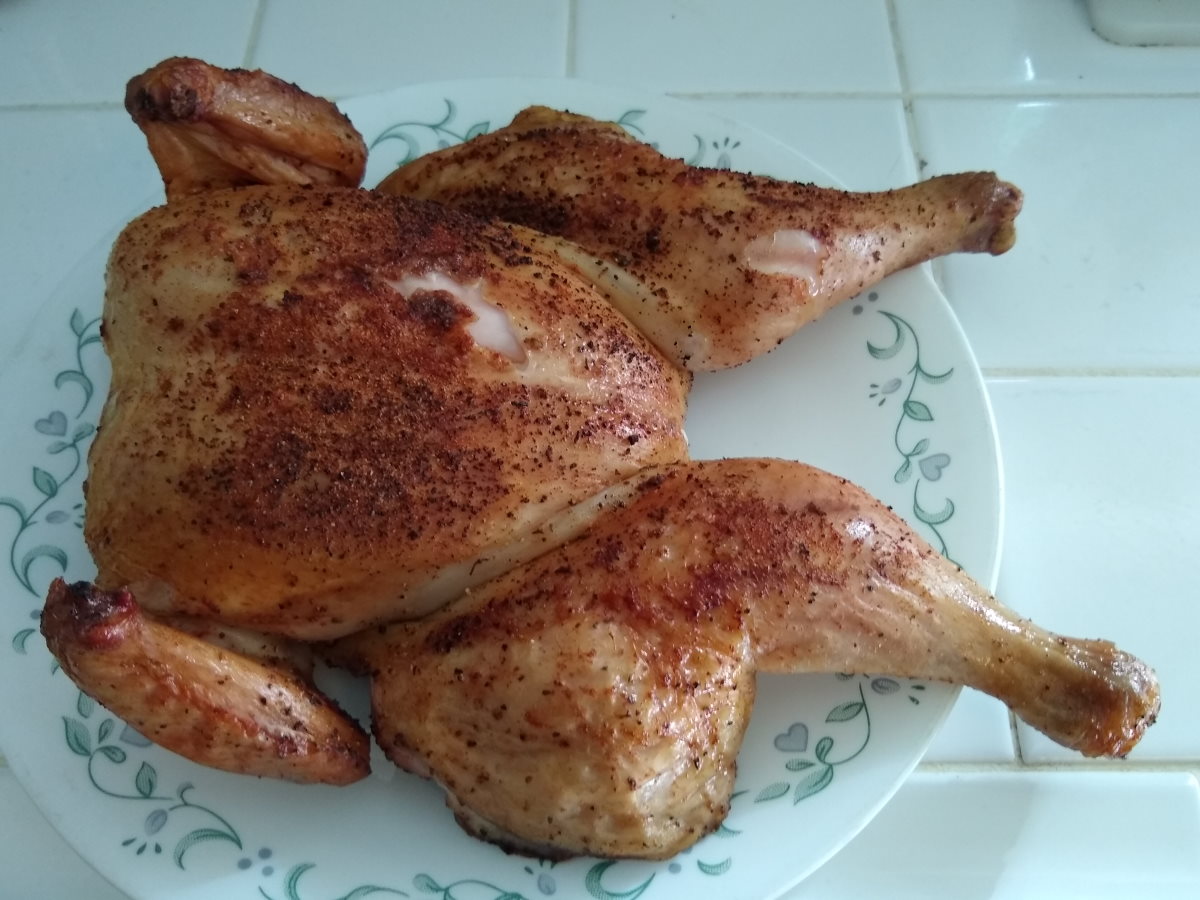 There are many different ways to cook chicken, but one of the best ways is charcoal smoked chicken. The key to keeping your chicken moist and delicious is cooking "slow and low."
It's very simple to do, and just about anyone can do it with a charcoal grill or smoker. Keep reading, and we will give you several ideas for your next smoked chicken meal.
Note: most links in this article are Amazon.com Affiliate links, see Affiliate Disclosure, thank you.
Startup and Prep Basics
To get started, make sure to have all your tools, supplies, and equipment ready. The last thing you want to happen is needing something and not having it during the cooking process. Make sure to have some extra charcoal on hand if you need more fuel as well. Wood chips or chunks will also add different smoke flavor profiles to your chicken. Mesquite and hickory are very common to use when smoking chicken. Also, make sure you have a bucket of water for emergencies and accidents and have a sanitation bucket with a towel to keep your cooking area clean while you work. It is essential to make sure you have a clean area to cook to keep away any foodborne illnesses and airborne bacteria that could infect your food.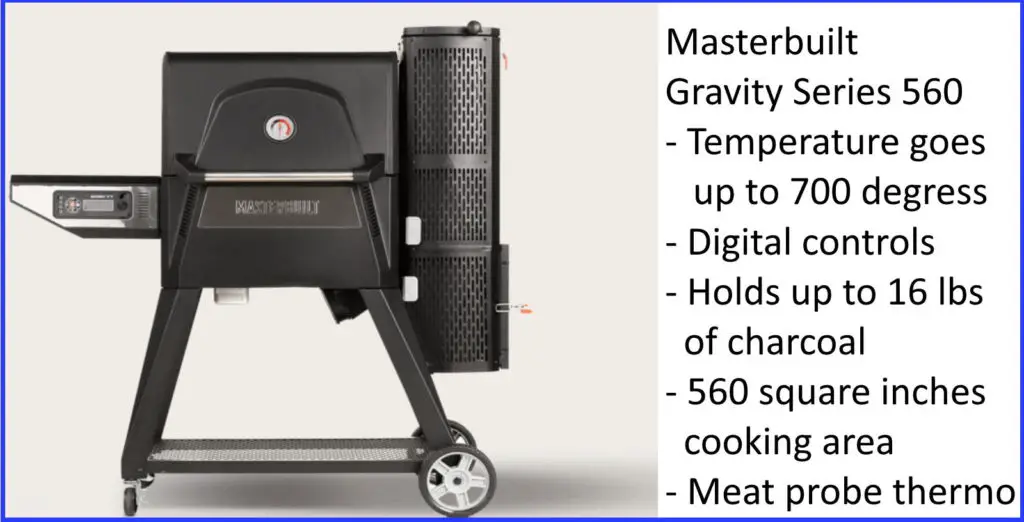 See customer reviews on Amazon.com
Click here to read our full review of the Masterbuilt Gravity Series 560 Grill/Smoker
For the following recipes, the smoking process is going to be the same. You will want to preheat the smoker to 225 to 250 degrees. Chicken generally will not take as long as pork or beef. Usually, around 40 minutes per pound give or take. It will all depend on the smoker, heat, and chicken. Just make sure the internal temperature of the chicken is 165 degrees before removing it from the smoker. Once you have removed it from the smoker, allow it to rest for 5-10 minutes before serving.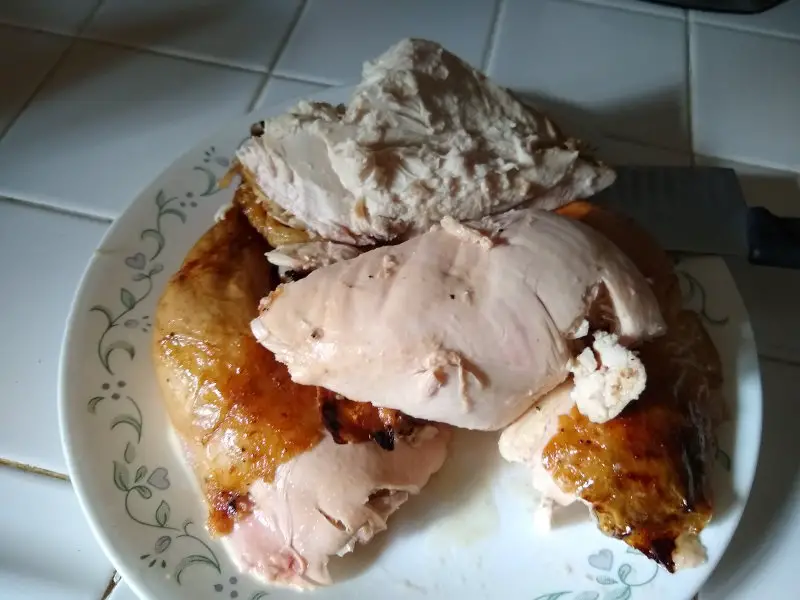 Simple Charcoal Smoked Chicken Marinade
When smoking chicken, dark meat will always be better than white meat. The thighs and drumsticks seem to hold moisture better till the end. But that doesn't mean you can use the breasts or wings. This recipe with a simple marinade will keep any chicken moist when smoking.
Ingredients
3 pounds of chicken breast
5 cloves garlic
½ yellow onion
1 lemon, juice and zest
2 tsp. Smoked paprika
1 bunch fresh parsley
1 tbsp. Kosher salt
2 tsp. Black pepper
¼ cup vegetable oil
Directions
Place all the ingredients except for the chicken in a food processor or blender and blend until smooth. Place the chicken in a large pan and pour the marinade over the chicken. Mix well to cover all the chicken.
You can also do this in a Ziplock bag if you wanted. Marinate the chicken overnight or for at least 5 hours before placing in the smoker.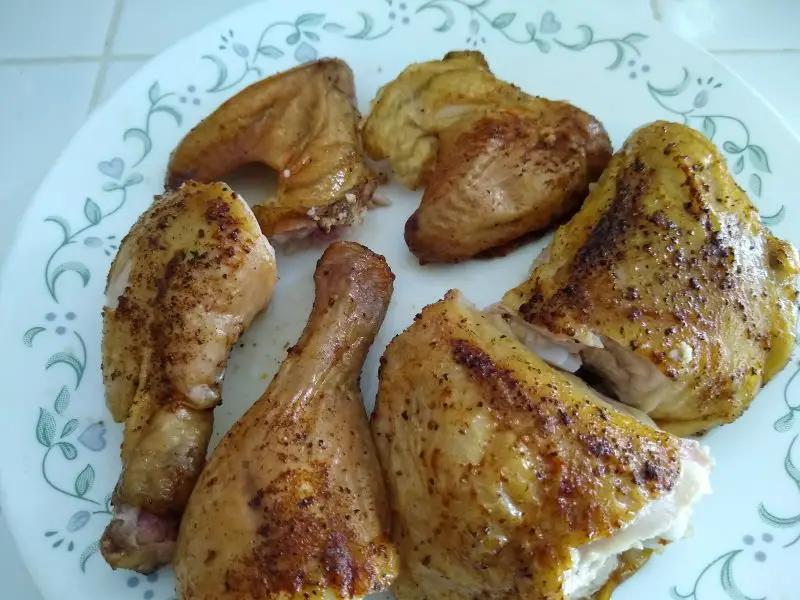 Charcoal Smoked Chicken Dry Rub
For this recipe, it will be beneficial to you and your guests if you stick to the thighs and legs. The meat will hold moisture better than white meat. Plus, thighs and legs are easy to eat without utensils.
Ingredients
4 pounds chicken thighs or drumsticks
½ cup brown sugar
2 tbsp. Smoked paprika
1 tbsp. Kosher salt
1 tbsp. Black pepper
1 tbsp. garlic powder
2 tsp. Onion powder
1 tsp. Dry English mustard
Directions
Mix all the ingredients in a bowl except for the chicken. Once the dry ingredients are mixed well, add the chicken and coat them thoroughly in the dry rub. You can rub the mixture into the chicken as much as you want.
The chicken can go directly in the smoker once it has been rubbed, or it can be held in the fridge overnight.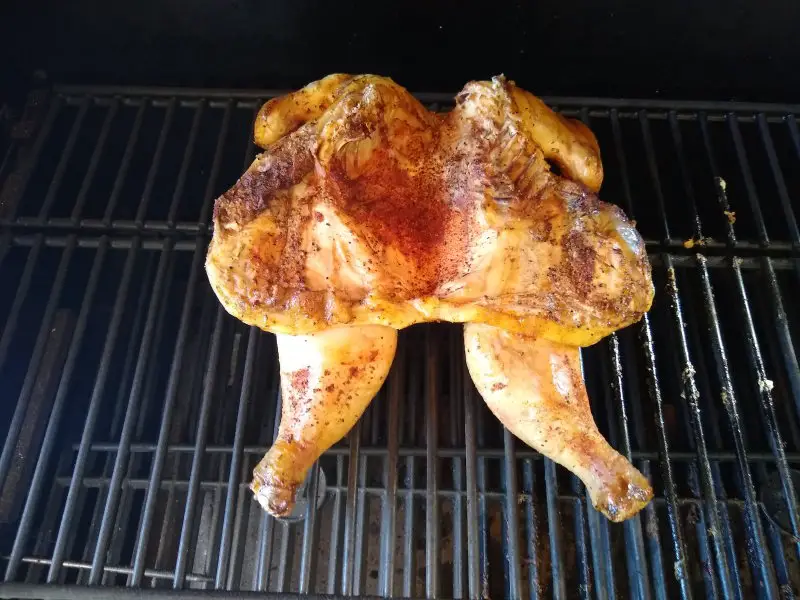 Spatchcocked Whole Chicken
Cooking a whole chicken can take some time. One of the quickest ways to cook an entire chicken is by using this cooking technique and method.
Ingredients
1 whole chicken
Dry rub to cover chicken or marinade to brush on chicken
1 or 2 bricks, wrapped in aluminum foil
Directions
To start, you will need to remove the spine or backbone of the chicken. The best way to do this is by using scissors and just cutting it out. Then you will be able to lay the whole chicken out flat.
Preparing a chicken in this way is called spatchcocked. Rub the chicken down with a dry rub or brush with a marinade and place it in the smoker. Place the bricks on top of the chicken while it smokes to keep pressure on the meat.
Once the chicken is finished, remove it from the smoker and cut it into serving size sections.
---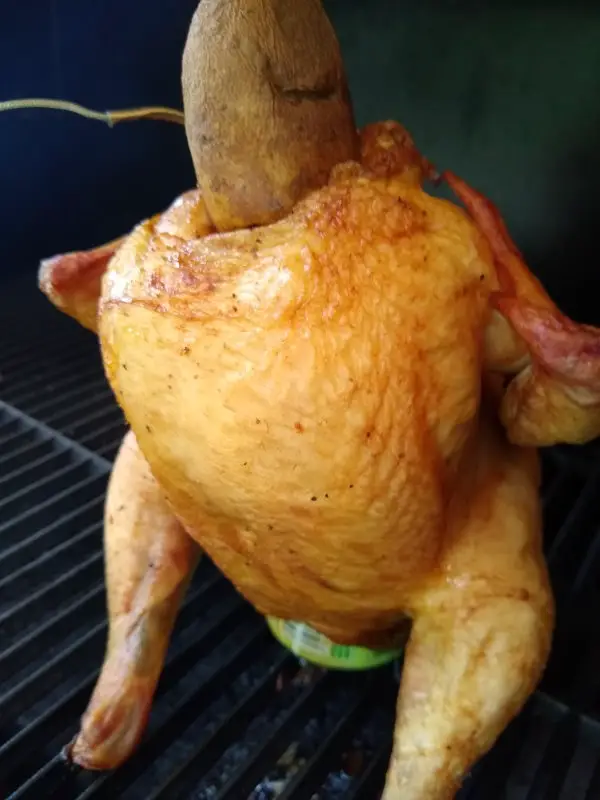 Beer Can Chicken
This method of cooking chicken has been used for a long time and is considered to be the redneck way of smoking chicken. But it may be very common to see this type of chicken in a restaurant as well. It is super easy to get a moist, flavorful chicken. Another plus is you can drink the rest of the beer while you wait. We recommend You use our dry rub recipe on your beer can chicken.
Ingredients
1-4 whole chickens
1-4 12 oz. Beers of your choice
Dry rub to cover the chickens
1-4 small potatoes
Directions
Cover the chickens entirely in the dry rub. Try to rub some on the inside cavity of the bird as well. Open the cans of beer and either pour out or drink 1/2 of the beer. For best results, you want 7oz of beer to remain in the can.
Stand the chicken upright and stuff the open can of beer in the cavity of the chicken. The object is to get it in the chicken far enough so that the chicken will stand up freely in the smoker.
Once the chicken is standing up, place a potato in the top cavity. By sealing the hole, you will lock all the moisture inside while it cooks. Feel free to cut the potato in the shape if a wedge for a tight fit, or you can use a 1oz shot glass to seal the cavity.
The chickens need to reach an internal temperature of 165 degrees at the thickest part of the bird next to the breast bone.
Leftover Ideas for Charcoal Smoked Chicken
Shred leftover chicken and mix with barbeque sauce of dry rub to create a delicious filling for a sandwich at lunchtime.
Chop up some of the chicken and use it in casseroles or pasta dishes that would typically call for chicken.
Shred up chicken and mix with rice and beans. Fill enchilada doused tortillas with the filling and place them in a pan to bake.
Smoked chicken also works great as a topping on baked potatoes, salads, and nachos.
Leftover smoked chicken makes excellent tacos and quesadillas
Sprinkle or cover a pizza with leftover smoked chicken, red onions, cheese, and barbeque sauce.
If you like jambalaya or other rice dishes, replace the meat with smoked chicken as well.
Conclusion:
No matter the dish you want to create, a charcoal smoked chicken will work great as a replacement for any protein. Charcoal smoked chicken is so versatile and so easy to create that anyone should have no problem making a delicious meal on the charcoal smoker tonight!
Click here for more of our great ideas on How to Smoke a Whole Chicken!