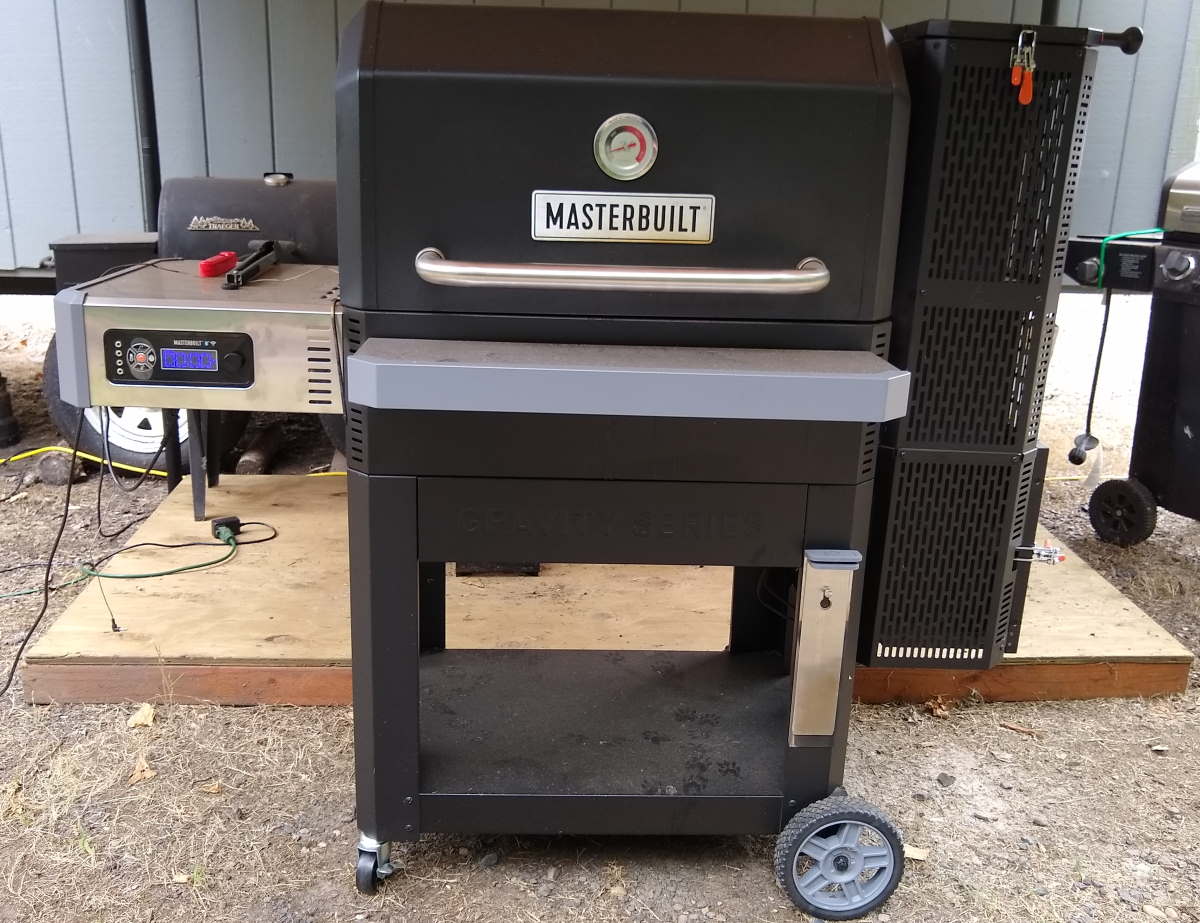 What do you look for in a grill? Is it the flavor and texture of the meat? Or are you only concerned about the cost? Does the size of the grill matter to you? And what about ease of use?
What do you want? That is the big question. If you know, you're golden. If you do not know, we can help. Here we have the Masterbuilt Gravity Series 1050's review. 
This grill is both charcoal and digital. If you've spent time looking it up, you know this makes it a winner. So, what are the pros and cons of this model?
Note: most links in this article are Amazon.com Affiliate links, see Affiliate Disclosure, thank you.
Pros
The user reviews are excellent.
Designed for ease of use
Multi-function digital control panel.
Wi-Fi and Bluetooth connection
Great value for money
Heats up quickly, reaching 225F in ten minutes
And 700F in fifteen minutes
Offers a lot of cooking space, at 1050 square inches
Cons
The cost is slightly high.
With charcoal grills, you have to buy coal regularly.
The online app is often glitchy, and we prefer to skip it.
Click here to read reviews on Amazon.com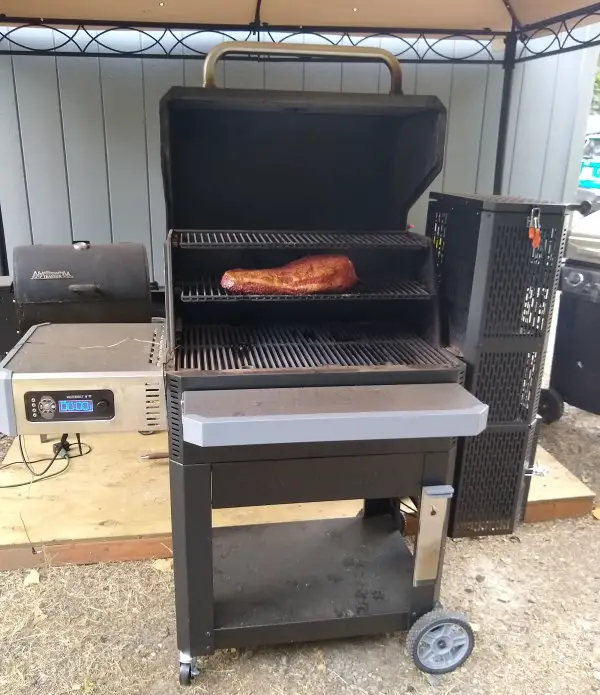 What are the important aspects of the Masterbuilt Gravity Series 1050 Digital Charcoal Grill and Smoker?
Masterbuilt is known for its high-quality smokers and grills. So, you might wonder what sets this model apart from the rest? Put each feature of the Masterbuilt 1050 together, and what do you get? Complex flavor combined with a simple design. Now, any beginner can get that professional flavor.
With this multi-feature design, you can smoke, grill, sear, bake, and roast any cut of meat to the highest quality. Achieve the perfect smokey flavor no matter the occasion.
1. Type
When looking for grills/smokers, there are multiple on the market. The three primary heat sources are electric, gas, and charcoal. The Masterbuilt Gravity Series 1050 is a charcoal fuel model that runs on electricity. This means you need to fill it up with charcoal and plug it into an electrical source.
Barbecuers prefer charcoal grills/smokers. Usually, they are cheaper than other grill types. But that is not the only reason. With charcoal, the meat gets a charred, smokey flavor and aroma. You cannot replicate the taste with other grills.
Electric and gas smokers grill and smoke almost automatically by just adding woodchips. So you don't have to maintain the fire. Charcoal grills require a more hands-on approach. But the Masterbuilt Gravity Series 1050 takes care of this problem for you.
The digitally controlled fan manages the temperature for you. There is also a built-in meat probe thermometer. So you can get that perfect smokey taste. And you don't have to tend to it all day. Convenient, isn't it? The best of both worlds.
As mentioned earlier, you need to provide power for the digital controls and fan to run. You can add a battery or plug the included power adaptor into a wall outlet, or in my case, an extension cord to my patio.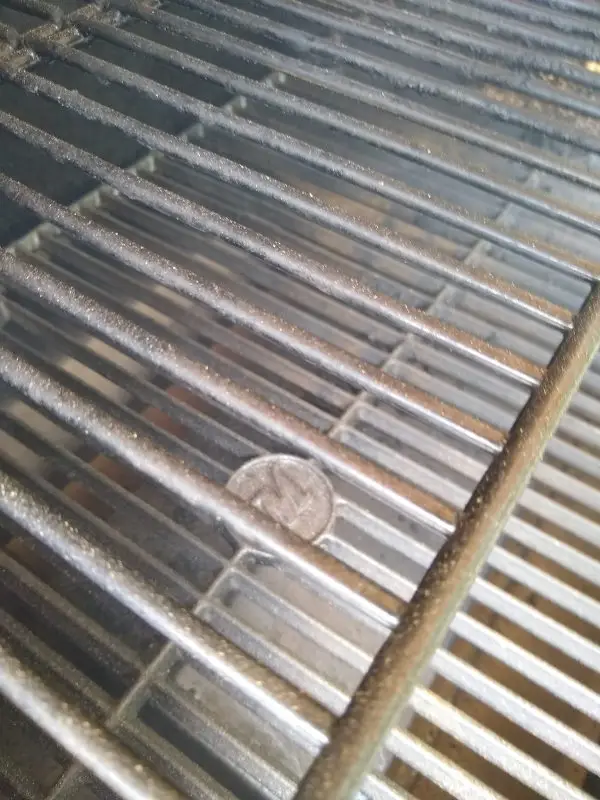 2. Food Capacity
The Masterbuilt Gravity Series 1050 contains two porcelain-coated smoking shelves and one searing cast-iron shelf. When putting together, these add up to a total of 1050 square inches of grilling space.
The middle shelf and searing bottom shelf are two separate grates that lock together to complete the shelf. Having the shelves in multiple pieces makes them more manageable when you need to remove them for cleaning or maintenance.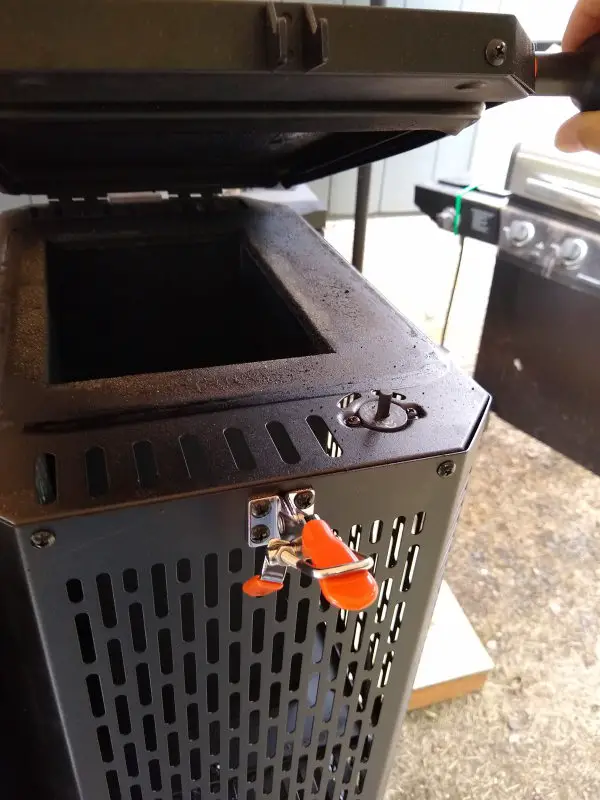 3. Fuel Capacity
Masterbuilt's GravityFed hopper holds up to 10 pounds of lump charcoal or 16 pounds of briquettes. So, you can use it for around eight hours at a low temperature without any trouble.
That is an ideal amount of time when it comes to smokers.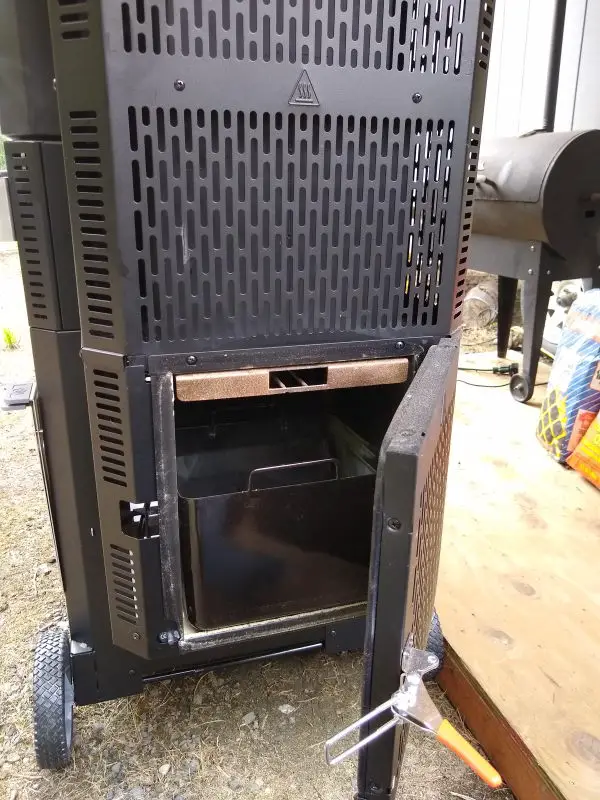 Because of the gravity feed, you will not need to tend the fire while the grill/smoker runs. The digital control runs a multi-speed fan to adjust the cooking temperature automatically.
For long cooks, this makes the Masterbuilt unit amazing; you can run errands or stop by the store for that forgotten item without worry.
4. Accessories
When picking out a grill/smoker, you want to make sure you're getting the most value for your money. Some lesser grills/smokers come with additional accessories like spatulas, tongs, kabobs, or a company apron, but not this one.
The only accessory included is one wired temperature probe. No worries, because that is the only essential item you will need to get started. Yes, fancy utensils would be nice, but we recommend buying the ones that suit you the best.
Masterbuilt has a full offering of accessories and, more importantly, parts should you need.
Recommended Accessories include(in order of importance):
            Tongs – 2 pair of extra-long (one for use with charcoal)
            Grilling mats – for small food, including vegetables, and easy cleanup
            Spatula – to use for a burger and other soft foods
           Brulee torch – for lighting your grill and quick searing in small items
            Oven mitt – to remove hot pans, kabobs, or shelves if needed
Grill Brush – metal brushes are losing popularity, but I still use them (with care)
Metal Kabobs – a set of 4 or more
            Rib Rack – to increase your capacity for a party or possibly a catering business
All of the items above can be bought on a budget in packages or one piece at a time. There is one show stopper that might turn your roast or whole chicken into a convenient and yummy item to cook, a rotisserie.
When buying something like a rotisserie, we recommend that you use the manufacturer's rotisserie kit. The reason is that it should be the perfect fit and include all the hardware and instructions you need for installation.  
Click here to check rotisserie availability on Amazon.com
Of course, this grill smoker includes a drip tray and removable drip pan for easy cleanup, but these days, we consider this a central part of your unit. You can consider a metal bucket if you grill/smoke daily. Place the bucket on the bottom shelf directly under the drip pan and remove it so the drippings will land in the bucket for easy disposal.
5. Portability
How important is the portability of your grill? This depends on a number of factors. 
Do you have a permanent place to keep your grill? Is it a dry and sheltered place? Or will you have to move your grill every time you want to use it? 
Remember, when it isn't in use, you need to keep your grill safe from moisture and dust. Preferably in a covered shed or garage. However, when it is in use, you need good circulation. The charcoal will give off a lot of smoke, so an open area is best.
The Masterbuilt Gravity Series 1050 Grill and Smoker weighs around 230 pounds. So, it's quite heavy. You won't be able to lift it without help. Keep this in mind if you're considering an area with any steps. However, it does come with wheels, so you can move it around. Also, the wheels lock, so stability is not an issue.
You'll also need to keep the measurements of the grill in mind. Use a measuring tape to map out spaces you can fit it in. The worst decision you can make is buying a grill/smoker that's too big, mainly if you don't have a lot of space in your house to place it. This model measures around 52.2 by 61.0 by 33.1 inches.
6. Warranty
The Masterbuilt Gravity Series 1050 Grill and Smoker comes with a one year warranty. It does not have a professional warranty. This design is suited for home use, not commercial use. That said, the grill and appliances last a long time. Once you have everything set up, it won't need a lot of upkeep and maintenance. 
We recommend that you register your product right away because of the electronics and moving parts. You can do this by visiting the Masterbuilt registration page. You can also send in an application through UPS mail.
Click here to read reviews on Amazon.com
Other highlights of the Masterbuilt Gravity Series 1050 Digital Charcoal Grill and Smoker
If you've made it through the important aspects of The Masterbuilt Gravity Series 1050 Grill and Smoker and found that it meets your requirements, you'll want to know of its additional benefits.
1. Foldout shelves
The best part about this model is how it caters to the user's ease. One of the many ways it does this is through the foldout shelves. This includes a main folding shelf as well as an additional side shelf. Both of these are made out of stainless steel. 
You can use these surfaces to prepare the meat before grilling or as a resting surface afterward. The surface is easy to wipe and clean, so you won't leave any marks. These retractable surfaces in the design show how every part of the model is optimized to cater to the user's needs.
2. Meat-probe thermometer
Gone are the days when you'd have to stick a thermometer in the meat every 30 minutes. This modern design comes complete with a built-in temperature gauge and a meat probe thermometer. This way, you don't risk upsetting the grill's temperature settings by opening it before the food is cooked. 
Keeping the grill at a constant temperature helps you get better results. And you get an accurate temperature reading each time. Not to mention, you won't have to go through the hassle of multiple manual checks.
We would suggest replacing the standard temperature gauge with a gauge that has temperatures marked on it. However, it is not necessary because of the built-in digital thermometer.
3. Foldout cord
There are many ways you can damage your grill. These include not cleaning it regularly, leaving it uncovered, and damaging the power supply. Treating wires and cords with care is the number one rule of handling any electrical device. But, this can become tricky with a grill because you have to move it so often.
That is why the Masterbuilt 1050 has a foldout cord storage container on the back of the side shelf. You can put it in or take it out once you have the grill in place. Storing the cord reduces the risk of damaging the power supply. After all, this isn't a cheap grill. Once you buy it, you'll want to keep using it for years. The only way to do that is to treat it with care.
4. Aesthetic value
When you're buying a grill/smoker, you look at a lot of things. First, you look at the features, then the price, and the overall benefits. But, if all else meets your needs, don't forget to take in the visual appeal of your grill.
After all, you plan on using this for years. You don't want to end up stuck with a hunk of ugly metal. You want a design you can proudly show off to your friends and family. The Masterbuilt Gravity Series 1050 Grill and Smoker is made of smooth black steel. This sleek, elegant design will look right at home, no matter where you place it. 
Finally, all these features make the 1050 very versatile. If you would like to see some of the grill's capabilities, check out our article "5 Cooking Methods To Try With The Masterbuilt Gravity Series".
Click here to buy on Amazon.com
What other things should you know about the Masterbuilt Gravity Series 1050 Digital Charcoal Grill and Smoker?
The Masterbuilt Gravity Series 1050 Grill and Smoker is a high-quality residential use model. It comes with all the features you could want so you can get high-quality results. In addition to all of this, the design is also PFOA and PTFE free. 
PFOA stands for Perfluorooctanoic acid, while PTFE stands for Polytetrafluoroethylene. So, what does this mean? The absence of both these chemicals means that this is a safe and healthy cookware option. 
You should always check to make sure your cookware is PFOA free. PFOA has been known to cause health risks when used often. Luckily, this design is free of both PFOA and PTFE, making it extremely safe to use. 
Another thing to note is that this grill will require complete assembly. While you can hire help to put it together for you, the company does not ship assembled products. You can assemble it yourself, but we recommend an assistant because there is one point where you will need to flip the unit. The instructions are relatively simple and shouldn't take you longer than a few hours. It took me about three hours without an assistant.
Verdict:
We recommend the Masterbuilt Gravity Series 1050 Grill and Smoker to any customers looking for a medium to a large quality grill, and here is why.
Masterbuilt has a reputation for high-quality products. With over three decades in the business, they're one of the top companies when it comes to smokers. And the Masterbuilt Gravity Series 1050 Grill and Smoker is, without a doubt, one of the best products they have on the market.
The design is sleek and modern. It comes complete with digital temperature controls and a built-in thermometer. These controls link to their app, which you can download for free. So, you can set the temperature and control it from anywhere. Additionally, loading up the hopper with charcoal gives you a good eight hours of cook time. 
There are some negatives. The 1050 is one of Masterbuilt's bigger models. So, you'll need to make sure you have enough space to keep it. Additionally, it's heavy, so you'll have trouble lifting it upstairs and steps. It does come with wheels, making it easy to move around. 
The price is also on the higher end. That corresponds to how much space it has and how much meat you can cook at a time. So, it's an excellent value for the money if you need that much cooking space.
Click here to buy on Amazon.com
If not, consider the Masterbuilt Gravity Series 560 with all the same great features. The trade-off is 560 inches of cooking and a lower price.
Click here to read our review of the Masterbuilt Gravity Series 560.
If you are looking for a great performing electric smoker that can smoke just about anything, look no further than a Masterbuilt electric smoker. We have a How to use for beginners article and many reviews, including our current favorite Masterbuilt model 140B. Use the links to read them.