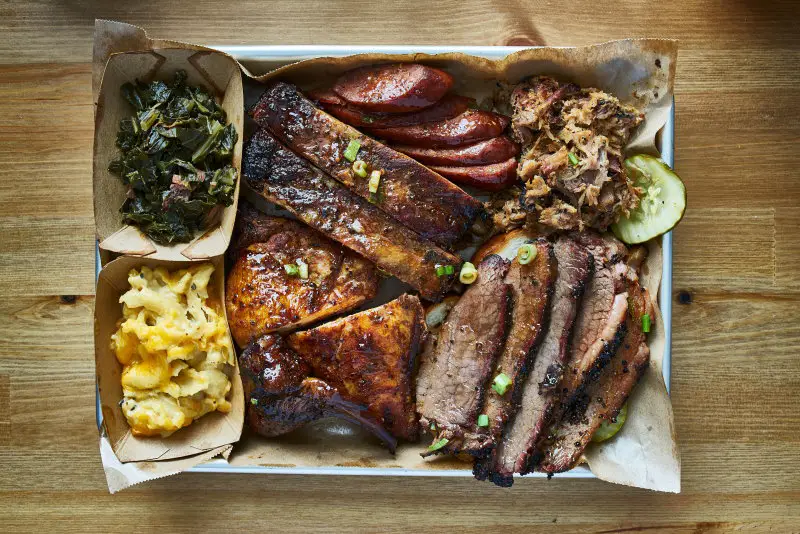 Barbeque is known for cooking the cheaper cuts of meat exclusively. Smoking meats was basically invented to cook the cheaper and less desirable cuts of meat that no one really wanted. There are plenty of these types of cuts out there, but there are a few that are better than others. Of source, you could smoke a London broil or hamburgers, but in all honesty, hamburgers are better from the grill, and a London broil does better as a slow roast or crockpot dish.
The next few cuts of meat we go over are the best of the best when it comes to smoking meats and are still some of the cheapest meat to purchase these days. These types of meat tend to be tougher than most of the other cuts on the animal, and by smoking them low and slow, the connective tissue and muscle can break down over time, creating an incredible end product.
Note: most links in this article are Amazon.com Affiliate links, see Affiliate Disclosure, thank you.
1. Pork Shoulder
Pork is usually the cheaper category of the two when compared to beef. There are so many cuts of the pig that you can smoke and would turn out great, and you will tend to find that there are more pork smoked items than beef in the first place.
But probably the cheapest cut on the pig is going to be the shoulder, also known as the "butt." Generally, you will be able to purchase pork shoulder for no more than $2.50 a pound, but in most cases is usually around $1.00 a pound, depending on where you live. Buying them in bulk can be even cheaper as well.
They are one of the easiest cuts of meat to smoke and don't need much. Just cover them in a wet or dry rub and smoke them for about 8 hours @ 250 degrees. There is no need to check the temperature on them or move them around in the smoker. Just maintain temperatures throughout the cooking process. Once you can pull out the shoulder bone, clean it, then it's done.
No matter what barbeque joint you have, there is going to be pulled pork. So, there is no question as to why it is so popular.
Click here for our article How to Smoke Pulled Pork in a Pellet Smoker.
2. Beef Brisket
Brisket is classic for barbeque and smoked foods. Always has been and will never change. The brisket or plate of the cow is the belly and lower chest area, which is one of the toughest cuts of meat on the animal. At the very end of the plate will be the flank, which is used for flank steak. This type of meat looks a lot like the brisket but does better from a grilling.
The flank is usually used for food items like fajitas. But the brisket and plate work wonderfully in a smoker. You will tend to lose almost half the original weight during the cooking process, but it is more than worth it in the long run.
It is one of the cheapest cuts of meat on the cow but is still relatively more expensive when compared to pork or chicken. The brisket will be the less desirable cut and usually cost anywhere from $3.50 a pound to $5.00 a pound. The plate can be a little more expensive sometimes, especially if trimmed but still not that much more.
When smoking brisket, it is wise to make sure the fat cap on the brisket has been trimmed down before smoking. You will also want a larger piece. Don't buy a 1- or 2-pound piece of brisket. A larger full brisket will cook more evenly and properly when the weight or size is larger. A brisket will benefit best from a dry, peppery rub and long slow roast at 200-250 degrees.
Any wood works well with the brisket, but most prefer mesquite or hickory. Make sure when the meat has finished smoking, allow it to rest for about 30 minutes before slicing into it. This allows the cooking process to finish up and allows the meat to retain all its juices. Make sure to cut against the grain of the meat; otherwise, it will be very tough and stringy.
Purists say that the only thing to put on a smoked brisket is salt and pepper, but we say always include smoked paprika. If you want our full list of beef rub recipes, click here to see our article Ten top dry rubs for smoking beef.
Click here for our article How to Smoke a Brisket in a Masterbuilt Smoker.
3. Pork Spare Ribs
Another great pork item to smoke would be the ribs. Of course, beef ribs are also excellent to smoke, but when it comes to pork ribs, they are way cheaper than beef ribs. Plus, pork ribs will have a higher fat content than beef ribs. People claim that the extra fat makes pork ribs the best around, but others will beg to differ.
There are two different types of pork ribs, baby back ribs, or "St. Louis Style ribs" and spare ribs. The baby back ribs are going to be trimmed, uniform in size, and have a lesser fat content. These ribs tend to be a little more expensive to purchase about $3.00 a pound to $5.00 a pound. That's not too bad, but when compared to the spare rib, there is a huge difference.
The spare rib will be the entire side and usually not pre-trimmed. This makes the rack of ribs quite large, and the ribs are generally going to be longer than the baby back ribs. This type of rib is very cheap for about $2.00 a pound on average give or take a little bit.
This is the more common type of pork ribs in barbeque joints and a universal favorite. Ribs are just as easy to smoke as any other pork product and generally can be treated the same way throughout the smoking process. You can choose between a sweet or dry rub with a low and slow-smoking method.
You can cook ribs in any type of smoker or grill and get great results with a little practice. However, we prefer charcoal smokers to add that great fire-smoked flavor. Our favorite form factor of a smoker is a vertical charcoal smoker that you can fill with 8 racks of ribs should you have a large party.
Click here for our article How to Smoke Ribs in a Pellet Smoker.
4. Whole Chicken
Of all the different types of meat to smoke, chicken is going to be the cheapest cut by far no matter what. It is a vastly different protein and very diverse, which is why it works well in the smoker. Chickens can even be modified or prepared in a multitude of different ways when smoked. This option is not available to other types of protein.
Some of these methods are very simple but still a modification. When you buy a chicken whole, it is usually going to be significantly cheaper than almost any other cut of the chicken. You should be able to get away with $1.00 to $2.00 per pound.
Once the chicken has been broken down into pieces, usually the price gets higher and even more so when it is skinless and boneless. Chicken breast of the most expensive of the cuts and is the most popular, but when it comes to chicken thighs, they are much cheaper and work just as well.
Chickens are very easy to cook in the smoker and so many different ways of doing it. You can marinate, rub, roll, pound, and prepare them in so many ways. You can also prepare the chicken spatchcocked where the whole is chicken is butterflied and cook whole, this works great over an open flame but also is pretty easy when smoking them.
 If you want to make things easy, then you can do drunk chicken where you smoke the chicken standing up with a dry rub and an open beer placed in its cavity to stand it up and add moisture to the meat. No matter the method, chicken is very cheap to buy and easy to cook or smoke in so many different ways. 
Click here for our article How to Smoke a Whole Chicken In A Charcoal Smoker.
Conclusion
With so many different types of meats to smoke out there, it's usually the cheap cuts that have a better chance to shine when smoked properly, and these 4 will. That doesn't mean you should limit yourself to only those cuts, keep your options open, and explore every option you have. There may be other cuts in your area where you can get a better deal if so, go with your gut!