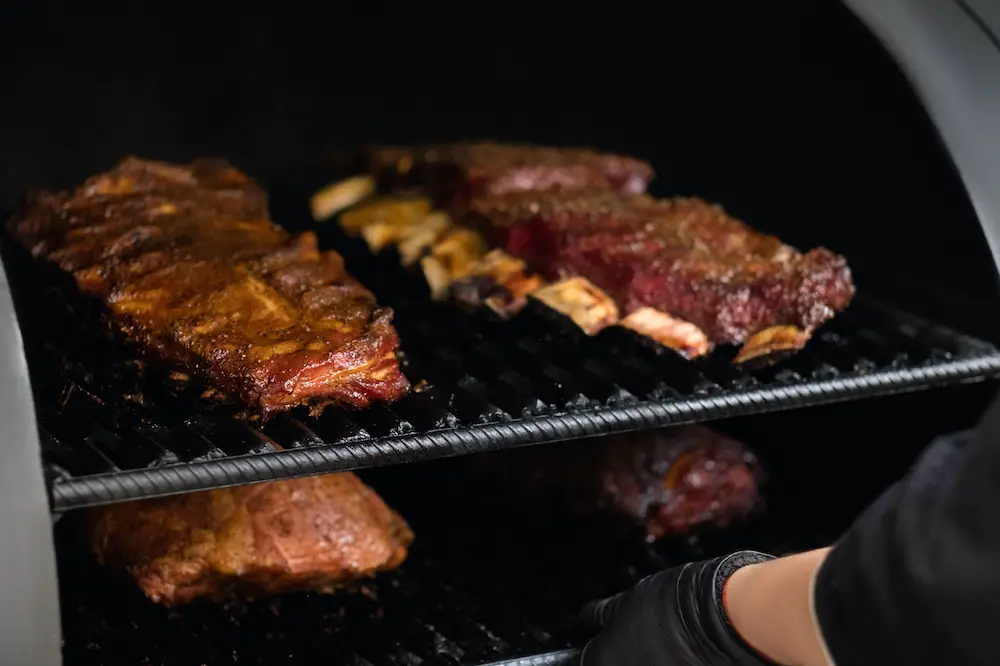 Are you struggling with your rusty old barbeque grill that has seen better days? We get it.
A pleasant summer barbeque day can quickly get sweaty and tiring if you don't have the right grill.
So, if you're looking for a new one, check out the Smokehollow TC3718SB Combo Grill/Smoker.
We're sure that by the end of this review, you'll have your heart set on getting this multi-grill smoker that, by the way, also has a side burner.
All ready to start that barbeque party you've waited months for? Read on then!
Note: most links in this article are Amazon.com Affiliate links, see Affiliate Disclosure, thank you.
Smokehollow TC3718SB Combo Grill/Smoker Review
This grill/smoker gives you that smoky flavor we all crave for on your favorite cuts by allowing you to cook with charcoal.
In contrast, the gas grill lets you grill the meat and veggies while preserving their natural taste.
With three stainless steel tube burners and porcelain-coated wire grids, you get 596 square inches of primary cooking area.
Also, the addition of a side burner to this grill will help you cook any side dish or sauce on the spot.
With this grill/smoker, you can throw the ultimate barbeque party with its multiple grills, side burner, spacious bottom shelf, and side firebox.
Who Is This For?
Having a hard time deciding between a gas and charcoal grill?
The Smokehollow TC3718SB Combo Grill/Smoker will solve your dilemma.
Get a bit of both the smoky barbeque flavor and the authentic flavor of the cuts with this grill/smoker combo.
The addition of the side burner is for those of you who hate having to rush in and out of the kitchen while barbecuing.
Now, you can cook it all in one place—meats and sides both!
With this side burner, you can quickly cook any sauce or side dish that you would otherwise cook on your stovetop.
Also, a wire mesh bottom shelf will let you bring out all the ingredients from inside your kitchen to your backyard.
Along with this, you get a temperature gauge on both sides, so for those of you who aren't barbeque champions, you'll have this to help keep track of things.
Since this grill is a combination of smokers, side burner, and a lot of different elements, it is not for rookies who want a simple and easy-to-set-up barbeque grill.
So, for all of you who are beginners in the world of BBQ, you may not want something as big as this grill from Smokehollow.
On the other hand, all the barbeque dads out there will surely love this!
What's Included?
The whole package comes with many different elements.
There are two grills: a gas and a charcoal one.
They both come with a porcelain-coated wire grid.
There are also two chrome-plated warming racks included, along with two temperature gauges for both the grills.
And, of course, you can't forget the side burner and the smoke/firebox.
Furthermore, you also get a front box to keep ingredients or utensils in for easy access.
A wire mesh bottom shelf also comes with the package to store other ingredients while barbequing.
Four legs help keep the whole thing upright, and two of these legs come with wheels, so you can easily move your barbeque station wherever you want.
However, this does not include a cover for the grill to protect it from all sorts of weather.
We also wish that all four legs had wheels on them with locks, instead of just two.
This way, it would have made it even easier to move the whole thing.
Lastly, all screws, along with the assembly instructions, are included in the box.
Overview of the Features 
Let's get to the real deal. What are the unique features of this grill/smoker combo?
Is it good enough for your needs?
The charcoal grill and liquid propane gas grill combo helps you barbecue both ways.
Secondly, you get a total of 32,000 BTUs.
The three burners are 7,000 BTU each, and the side burner is 11,000 BTU.
This side burner is a big plus since it allows you to cook additional dishes at the same place.
Also, the stainless steel burners and porcelain-coated wire grids help retain heat better and prevent rusting.
So, you get a total of 858 square inches of cooking area, which is enough for a good number of people.
You also get chrome-plated warming racks, along with porcelain-coated flare guards to help you barbecue safely.
An electronic ignition and temperature gauges on both the grills are included, which helps you cook your food to perfection.
Also, you would love the wheels on two of the legs, which make this barbecue grill portable.
Along with this, you also get a charcoal basket and an ash pan.
This grill/smoker combo has a spacious front basket that helps you store utensils and ingredients for efficient cooking.
There is also a bottom shelf to let you store even more stuff.
How to Use This Grill/Smoker Combo
First off, you need to assemble the whole thing, which won't be an easy job. Here are some instructions to help you get started.
When you're ready to use it, marinate your meat and veggies a few hours before barbequing.
For the charcoal grill, add charcoal to the firebox and light it up. Heat the grill to a good 400-degree Fahrenheit and then reduce to around 200 degrees.
Now, place your meat on the grill and watch it sizzle away for some time, turning it occasionally.
Close the lid for the perfect smoky flavor, the time depending on the size of your cut.
The side and top chimneys can be used to control the temperature, and the temperature gauge can be used to keep it in check.
You can also check the temperature of the meat at set intervals using a meat thermometer.
After you're done barbequing, clean the grids with a steel brush to maintain the quality of your grills.
Lastly, cover the barbeque grill with a grill cover to prevent rusting. The same method goes for the gas grill, minus the addition of charcoal, of course.
Alternative
If you're not a fan of this big and widespread barbeque grill/smoker combo that is difficult to assemble, then don't worry.
We got a much more straightforward barbeque grill for you, which is easy to set up.
The Charcoal Barbeque Grill 1121 from Callow Retail might just be your best bet if all you want is a straightforward barbeque grill that is super easy to assemble and work with.
You don't even need screws to assemble this little guy; it's that quick and easy.
Even though it's pretty small, you still get a side and bottom shelf for storing ingredients.
Wheels on two of the legs help with mobility, making this a perfect charcoal grill for beginners out there.
Conclusion
Are you craving some juicy barbecued hamburgers already? How about a side of creamy mashed potatoes with barbequed steak, perhaps?
Go ahead and try the Smokehollow TC3718SB Combo Grill/Smoker.
With its spacious storage options and plenty of cooking area, you'll be sure to light that party right up with some mouth-watering barbeque.