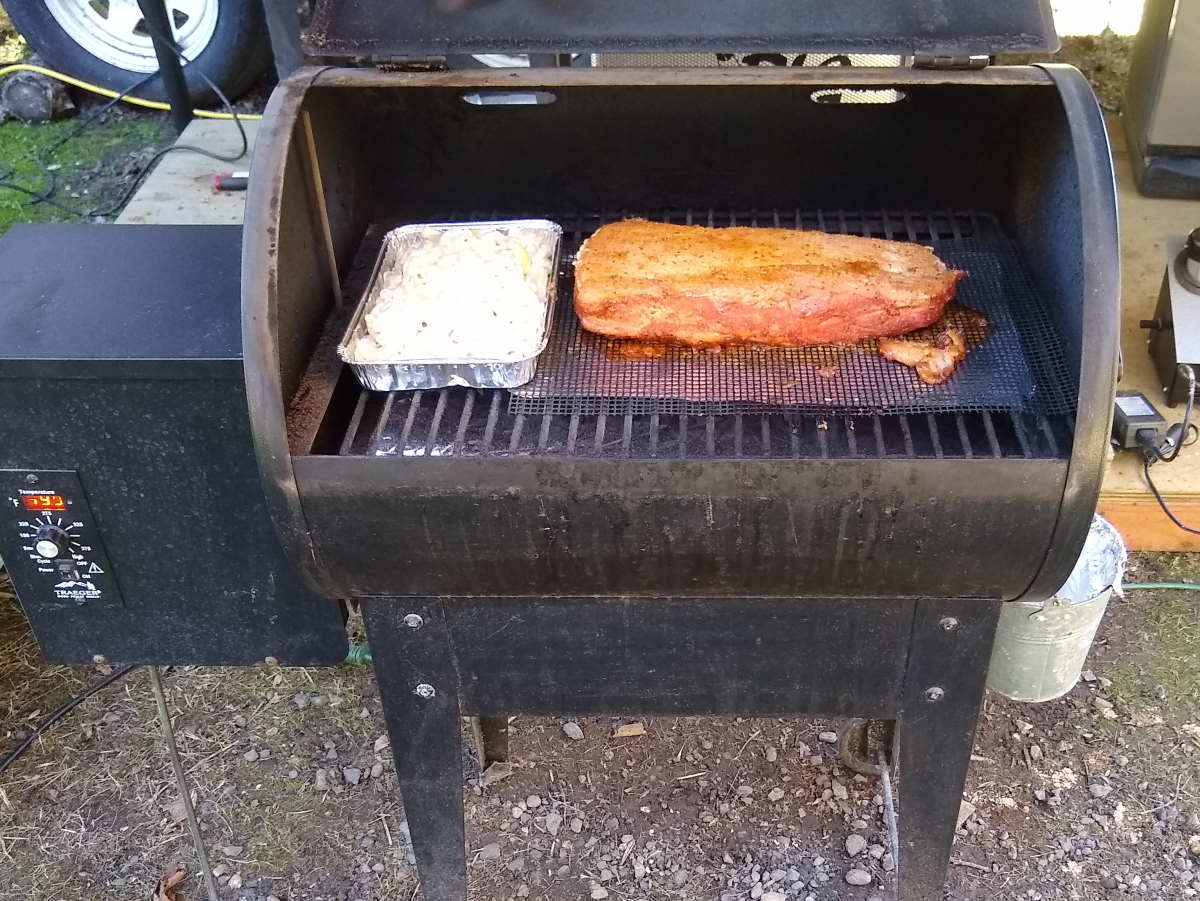 When it comes to a great cut of meat, pork loin takes flavors better than most. Also, it is hard to beat a Traeger pellet grill for mild smoke and ease of use. Learning how to make a pork loin on a Traeger pellet grill is a great way to add the smoke flavors to your favorite piece of pork.
First, marinate your pork loin for 4 to 8 hours for maximum flavor. Next, preheat your pellet grill to 250 degrees for 15 minutes. Place the pork loin fat side down in your pellet grill and cook for an hour, frequently basting with leftover marinade during the first hour.
Flip the pork loin over and then cook until it reaches an internal temperature of 138 degrees Fahrenheit. Finally, let your delicious grilled pork loin rest in a warm place for at least 15 minutes before carving and serving.
These directions cover the basics, but you need to be aware of some critical aspects to avoid ruining your pork loin. This article will cover all the details of what you need to know to make a delicious pork loin roast.
 Note: most links in this article are Amazon.com Affiliate links, see Affiliate Disclosure, thank you.
How to use a Pellet Grill
A pellet grill is one of the simplest grills to use, and a Traeger Pro 22 design is the criterion from which all other pellet grills are established. As a result, we will describe the Traeger pellet grill process yet not fret since most grills work similarly.
The first thing you will certainly wish to do is ensure your oil bucket is empty, and if you use foil for simple cleanup, now is the time to see to it is prepared to make use of. If you do not use foil, you might want to consider placing it down on the oil tray because the glaze we will be applying to the pork loin can make a gigantic mess.
Next off, fill the pellet hopper with pellets of your choice. I attempt to put about 3/4 of the variety of pellets I will need for the cook in my hopper. As I check my food, I check my pellet level and arrange my pellets over the auger input. My objective is to run the pellets out each time I use my pellet grill.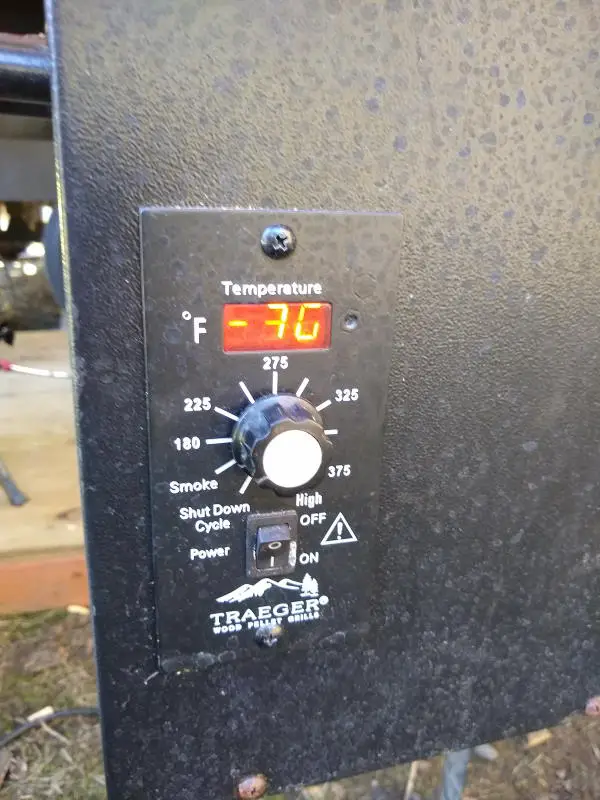 Switch on your smoker and change your smoker to the smoke setting, which is also the startup setting, leaving the lid open. Your grill should start to smoke and have a unique sound referred to as a growl. As soon as the smoke clears, you are ready to carry on.
Set your pellet grill to the temperature level required for your recipe. Wait for your grill to preheat to that temperature. You need to wait five more minutes after reaching your target temperature so your whole grill will be at that temperature level, which will certainly stop a large decrease in temperature when you add your food.
Check out our article How To Get More Smoke Flavor From Pellet Grills: Tips and Hacks
What is the best Pellet Flavor for Pork Loin?
Choosing the right variety of wood pellets can make or break your pork loin. A strong wood variety could overpower your pork loin and even impart a bitter taste. But, choosing a wood pellet variety that is mild might not give the smoked flavor you seek.
On the stronger end of the scale, you have woods like mesquite and hickory. Both kinds of wood have great classic earthy flavors suited to large beef cuts, like brisket. If used sparingly in a blend or as a starting flavor, they can add to your pork loin but will easily overpower a pork loin's light flavor.
Pecan and maple are both kinds of wood with great depth and sweetness. We can recommend either wood pellets as an everyday choice to keep on hand for any meat you will put in your pellet smoker. However, we lean towards pecan because it is our favorite for pork ribs and works great for beef and chicken.
Our top choice is straight fruitwood pellets like cherry or apple. Cherry is a great choice and will certainly do a great job on pork, vegetables, or cold smoking cheese.
Without a doubt, applewood pellets are a top pick for any pork product, especially pork loin. Applewood brings a mellow smoke flavor that will not overpower pork and rarely gets bitter. Apple pellets are also versatile for smoking rare items, like salt, cheese, eggs, and vegetables.
Finally, applewood pellets are a great combination with apricot that is featured in the below recipe.
What is Pork Loin?
A pork loin is a large cut of meat from the back of a pig. A single pork loin's weight starts at six pounds and is commonly divided into three sections, blade end, sirloin end, and center, our favorite section.
While the loin is regarded as lean, it includes a fat cap between the meat and the pig's skin. If you buy a whole pork loin from a butcher shop, it will commonly have the skin unless you ask your butcher to remove it. Keep the skin because it makes tasty deep-fried treats.
The center portion is our favorite loin cut because of its uniform shape and the fat cap. The cap, layer of fat, is trimmed to about ¼ inch, which results in a perfect amount of fat to baste the meat when cooked low and slow. However, the center loin is the leanest portion and can dry out very easily if overcooked.
Finally, when cooking pork, the FDA has food safety guidelines recommending that you fully cook pork to prevent trichinosis. In our opinion, we don't feed our pigs garbage or slop, and this was the most significant cause of trichinosis.
FDA guidelines say 145 degrees for a resting minimum of three minutes. Be safe and use your best judgment. Click here to see the page on the FDA website.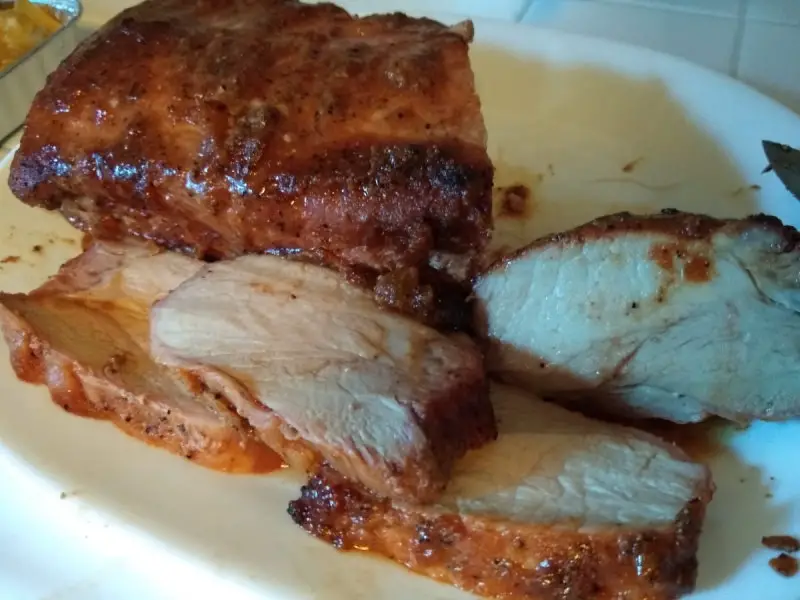 Apricot Glaze Grilled Pork Loin
One of our favorite pairings for pork loin is apricot, and what better way to incorporate it than a marinade and a glaze. This is our favorite recipe for a marinade and a glaze. But feel free to omit or swap an ingredient to fine-tune this recipe to your liking.
Ingredients
Marinade
1 cup Apricot Jam
3 tbsp Soy Sauce – Low Sodium
3 tbsp Dark Brown Sugar
1 tbsp Worcestershire
1 tbsp Black Pepper
1 tbsp Smoke Paprika
1 tbsp Onion powder
2 tbsp Garlic powder
1 tsp Salt – omit if you use regular Soy Sauce
Finishing Glaze
1 cup Apricot Jam
¼ cup Dark Brown Sugar
1 tbsp Garlic powder
1 tsp Smoked Paprika
Directions
Mix All the marinade ingredients and put half in a large heavy-duty freezer bag. Place a clean, dry pork loin in the bag, then add the remaining marinade. Turn the bag a few times, then place it on the bottom shelf of your refrigerator for four to eight hours.
Preheat your Traeger pellet grill to 250 degrees at least 15 minutes before you are ready to use it. Consider placing a store-bought or homemade foil tray in the grill to reduce the mess created by this recipe.
Remove the pork loin from the freezer bag and place it on the pellet grill fat side up. Save the extra marinade in your refrigerator to add during cooking. Close the lid, and do not look for one hour.
Now is an excellent time to check the pellets. Make sure you have enough pellets for the next hour, and they are feeding into the auger correctly. In many cases, you will want to have no pellets remaining in your pellet grill when you are finished.
After the first hour, flip your pork loin to the fat side down and lightly cover it with marinade. Close the pellet grill and continue to cook at 250 for another hour.
Open your pellet grill and check the temperature in the center of your pork loin. You should see about 130 degrees if your grilling temperature is correct and your pork loin is of average size and shape. Flip your pork loin and lightly cover it with marinade. Discard the remaining marinade.
If you have a wired temperature probe, this would be the time to insert it into the center of the pork loin. Continue to grill the pork loin until the internal temperature is 138 degrees, then rest for 15 minutes.
Caramelize the outside of the pork loin with a torch, searzall, or oven broiler, then slice in ¾ inch thick pieces.
Suppose you want to serve with a glaze, mix the ingredients above, and heat to incorporate it completely. Mix in hot water to get the consistency you prefer, and serve as gravy.
Other ways to prepare Pork Loin
There are many notes on how to smoke a pork loin on a pellet grill, and below we have listed three suggestions. In the future, we will cover each recipe in detail, but here is a summary of each.
Roasted pork loin on a Traeger pellet grill is a great way to prepare a pork loin roast. You can lightly season your pork loin with pepper, garlic, smoked paprika, and then place it in your pellet grill. Cook in your grill at 325 degrees for 20 minutes per pound or until the internal temperature is 140 degrees, then rested for 10 minutes.
Thick sliced pork loin steaks in gravy are a yummy way to enjoy pork loin or chops. Slice your loin into thick steaks slightly over one inch thick. Place the pork steaks in a smoker-safe pan without touching them together. Put them in the Traeger pellet grill at 250 degrees for a total of 90 minutes. Make a thin gravy from beef stock or a package. Add the gravy when you are halfway through the cooking process. After resting, the finished temperature should be 145 degrees, as always.
Stuffed pork loin roast is another classic way to prepare your pork loin. Fillet your pork loin so you can lay it out flat and cover it with a layer of stuffing. Roll your pork like a cinnamon roll and tie it with cooking-friendly string. Cook your pork loin roast in the Traeger pellet grill at 325 degrees for 20 minutes per pound, including the stuffing weight. Because of the stuffing, you want to have a finished temperature of 150 degrees but don't go over, or it will dry out.
Tips for smoking pork loin in a pellet smoker
Since pork loin is a much leaner meat cut than pork tenderloin, you need to prepare it differently to not dry out during the cooking process. If you place the pork loin in a marinade for a couple of hours before cooking it, it will keep the meat from drying out. You can also use an injector to add flavor and moisture to the pork loin.
Some people like to finish the pork loin on the grill; this will dry it out. Instead, wrap the pork loin in aluminum foil for the last 20 minutes of cooking and allow it to rest in the foil for 10 minutes after cooking, before slicing and serving.
When smoking the pork loin, do not turn the smoker up over 250 degrees during the smoking process. You will run the risk of drying the meat out. Slow and low is the key to a perfect pork loin.
Halfway through the cooking process, rotate the pork loin to ensure even cooking through the loin and good color over the entire loin.
If you get a pork loin with a fat cap, make sure to score it in a cross-hatch pattern about 1-inch squares apart. This will help the loin cook evenly, keep the loin moist, and give the pork loin's top an excellent color.
Pellet Grill we used for our Pork Loin
For this article, we used the Traeger Pro Series 22 because it is an industry standard. We have a Traeger 20 for small tests, videos, and last-minute photos as a shop model.
The Traeger 22 is a perfect size for a beginner and a professional. Another factor is the ease of use, making them ideal for a beginner or entertaining.  These models don't lend themselves to modifications and cannot sear food.
To see a full breakdown of the Traeger items, check out our two-article links below.
Masterbuilt Gravity Series 560 Digital Charcoal Grill Smoker Review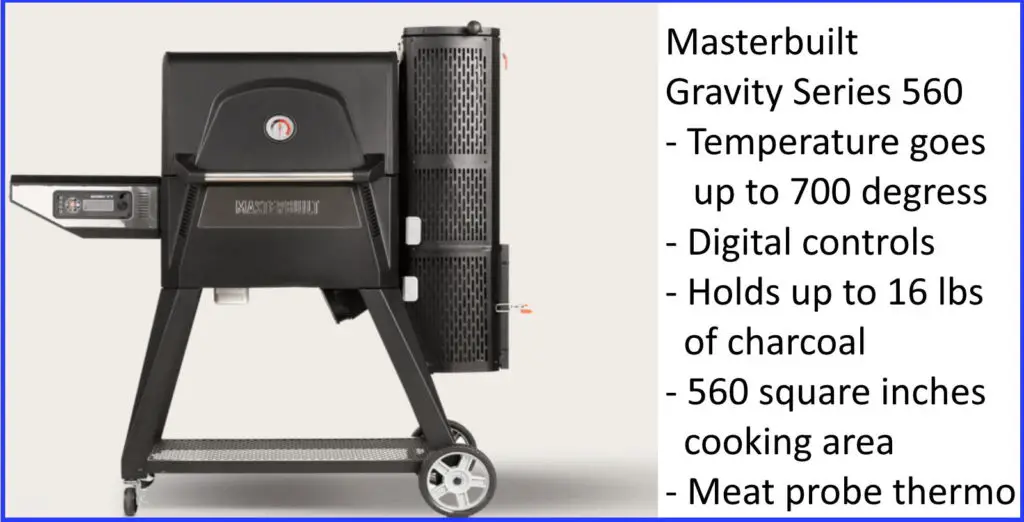 Click here to see the price on Amazon.com
Conclusion
We have covered our favorite recipe for apricot glazed pork loin roast. Also, we cover the details of how to make a pork loin on a Traeger pellet grill.
We hope all the information in this article will help guide you to the perfect pork loin roast in your Traeger pellet grill.
Frequently Asked Questions
How long does it take to smoke a pork loin at 225 degrees?
The best rule of thumb is to cook the pork loin for at least 40 minutes for each pound of pork. This will also depend on the size of the loin and how big the fat cap is. Be sure, to check the pork loin's internal temperature with a meat probe thermometer. The internal temperature should be no less than 138 degrees to remove from the smoker and 145 degrees after resting.
Should I cook pork loin fat side up or down in the pellet smoker?
No matter how you cook the pork loin, you will want to cook it fat side up. This will allow the fat to drip down onto the meat as it cooks, keeping it moist during the cooking process. It will also limit the number of flare-ups. After your pork loin is more than halfway done cooking, flipping it will allow extra fat to burn off or drop into the grill pan.
Should I wrap pork tenderloin in foil when grilling?
We don't recommend it because the cooking time is short with how lean pork loin is. However, if you double wrap it tightly, then your results will likely be moister. Also, wrapping your Pork loin roast in foil to rest is a great idea.
Check out our article for more information on Wrapping Pork Loin in Foil
How to smoke a pork tenderloin on the grill?
You can use your grill to smoke anything by adding an accessory like a Pellet Smoker Tube or an A-MAZE-N Pellet Smoke Tray. If you remove a grill rack, then place one of these pellet smokers on an unused burner. Place your pork loin on the upper rack of your grill and turn it on low. The low heat will slow-cook your pork loin and help the smoke to flow smoothly.
How do you keep pork moist when smoking?
There are several tricks you can use to keep your pork moist when smoking. These include cooking your meat over indirect heat, adding a pan of water to your smoking grill, wrapping your meat in aluminum foil, or marinating your meat before you smoke it.
One of the simplest methods is to add a pan of water to your smoker. This will be placed above the hot coals but below your meat.
Some Traeger grills will come with a water pan for you to use, but you can also use a disposable aluminum pan if your grill doesn't have one of these in place. This water will evaporate over the course of the smoking process, and keep your meat moist.
You can also cover your meat using aluminum foil for part of the cooking process. Some chefs like to baste their meat to keep it moist, but the repeated opening and closing of the lid of your Traeger grill will alter the temperature of your smoker. Marinating your meat before you place it in the grill is another way to lock in that much-needed moisture.
Why was my smoked pork loin tough?
There could be several reasons that your smoked pork loin was too tough. Your meat will taste best and have the best texture if it reaches around 160 degrees Fahrenheit in terms of internal heat.
Anything more than this, and your meat will run the risk of becoming tough. This is because it could also lose moisture during the cooking process. 
As we've mentioned above, it's recommended to try and keep your meat as moist as possible in the grill to prevent it from losing that much-needed moisture. This should prevent you from eating tough, chewy meat.
Your pork loin may have also been left to cook for too long. Even just a couple of extra minutes could make all the difference and leave you with tough, chewy meat.
The best way to cook your pork loin will be on a lower heat and over a slower period of time. Make sure to keep an eye on your timings so that you can remove the pork loin just before it runs the risk of becoming overcooked.
The general rule of thumb for smoking your pork loin to perfection is cooking it for around half an hour for every pound of meat. So a 5 pound cut of pork will take around 2.5 hours to cook properly.
Make sure that you know the weight of your pork loin before you smoke it, and you should be able to cook it for the correct amount of time without it becoming too tough.
Do you trim a pork loin before smoking?
Pork loin does not require major trimming, so avoid trimming as much as possible. You may notice one or two pieces that you want to remove from the meat before you add it to your smoker, but the vast majority of pork loins won't need to be trimmed before you smoke them.
It will be important to remember not to remove the fat cap from the meat, as this will help to give the meat some added flavor.
In fact, you can use the fat on your pork loin to keep the meat moist. If you smoke your pork loin with the fat at the top of the smoker, this can help to consistently baste the meat throughout the cooking process. So you won't have to worry about opening the grill to do this.
The only exception to this rule will be if there's a lot of excess fat surrounding the meat to the point where the smoke won't be able to permeate it.
You should then trim just enough of this fat and connective tissue so that the smoke can properly flavor your meat. But remember to leave enough of a fat cap on the meat itself so that you can get the full smoked pork loin experience, as we've mentioned above.
Should you score a pork loin before smoking?
It's generally a good idea to score your pork loin before you smoke it, yes. This will be particularly the case if your pork loin has a larger fat cap.
Scoring the fat cap will allow the juices to fully baste the meat as it cooks. Scoring your fact cap can also allow you to get more seasoning and flavoring into your meat, as well as allow the smokey flavor to properly permeate the meat.
If you plan on marinating your meat before you smoke it, it will also be a good idea to score the meat before you do this.
This is because scoring the meat around a quarter-inch deep will allow the marinade to properly permeate the meat, and therefore better achieve the flavor that you're after.
The longer you leave your meat to marinate, the more likely you are to taste those delicious flavors. The optimal time for marinating your scored meat is around 3 hours.
Scoring your pork loin before you smoke also helps you to achieve a better sear on the exterior of your meat, too.
When it comes to scoring your pork loin, you should do this in a criss-cross pattern across the whole of the meat. This will give you a better chance of tasty pork that is properly smoked.