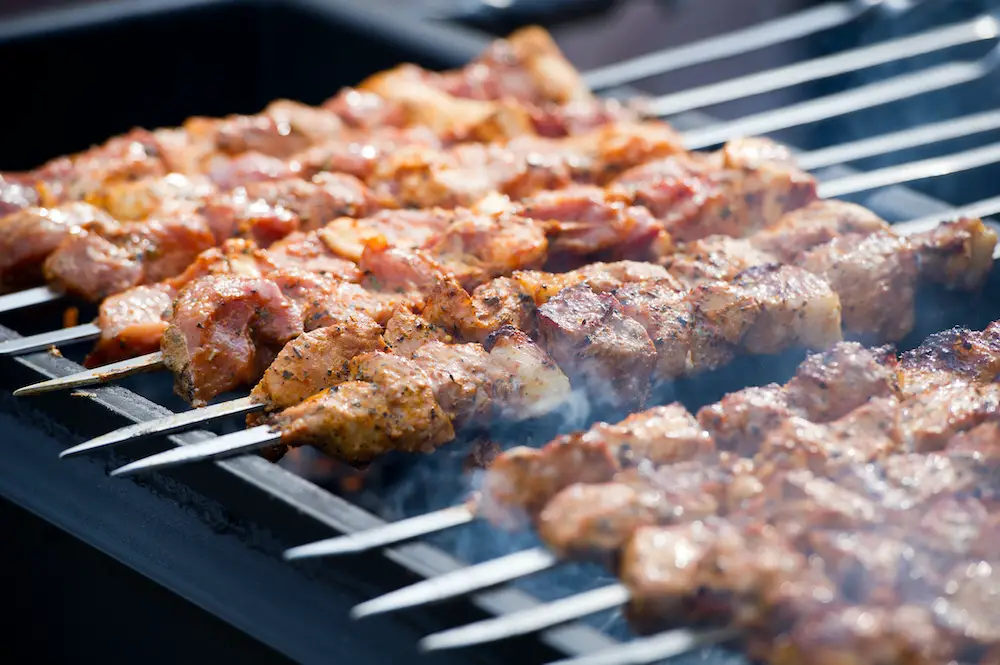 Wood pellet grills have become quite famous among home chefs who are looking to grill their food and infuse them with those amazing woody flavors.
There's no shortage of wood pellet grills on the market, but there are some brands that top the list, and one of them is the Traeger Grills.
After all, the brand is the one that invented wood pellet grills.
If you are interested in getting a wood pellet grill for yourself, we recommend checking out our detailed Traeger Pro Series 22 Review.
Note: most links in this article are Amazon.com Affiliate links, see Affiliate Disclosure, thank you.
Traeger Pro Series 22 Review
Traeger was created a little over three decades ago in Oregon, United States.
While their website does not talk much about the brand, upon a little digging, we found that the company was founded by Joe Traeger.
He patented his first grill in 1986, and until 2005 when the patent expired, it was the only wood pellet grill that was sold on the market.
It was in 2014 when the former CEO of Skullcandy took over Traeger and started an aggressive new marketing campaign.
Its new and massive presence on social media, trade shows, and fairs across North America put the brand back on top and at the forefront of pellet grill makers.
At present, the company is headquartered in Utah.
The Traeger Pro Series 22 makes use of an electric heating element to burn through manufactured smoking wood pellets properly.
The grill also comes with a digital thermostat that makes sure the pellets are added automatically when needed in order to maintain the set temperature.
With its wide temperature range, you can easily smoke, grill, bake, and roast with the Traeger Pro Series 22.
Who Is The Traeger Pro Series 22 For?
The possibilities that the Traeger Pro Series 22 offers seem pretty much endless, thanks to how versatile it is; this what's so great about this grill.
This Traeger grill is perfect for anyone who wishes to indulge in their desire to feel like a professional chef.
This grill comes with some amazing and high-end features and functionality but at an entry-level price compared to other Traeger grills and even in the Pro Series.
What's Included?
What we like about Traeger Grills is how well they pack and ship their products.
The Traeger Pro Series 22 will come to you in a neat box, and once you open it, every single part is individually wrapped in plastic to protect it.
The box will contain an owner's manual that will provide you with a detailed guide to the assembly process.
There is a cook box that includes the grease drain pan and heat baffle.
Along with that, there is a cooking grate and a warming rack with two meat probes, a chimney, a stand with pre-installed wheels, a drip bucket, and a hopper and auger system.
Overview of the Features
Traeger Grills is known for its amazing range of cooking appliances, so it is no surprise that the Traeger Pro Series 22 lives up to the same high standard as the rest of the products from this brand.
There are fantastic features that this grill has to offer; let's discuss each of them in detail below.
Our first impression of the Traeger Pro Series 22 was that this is a great looking wood pellet grill.
While it does have a simple black design with the classic chimney, it has that perfect barrel-shaped profile with a brass-finish lid that looks truly amazing.
This makes the entire grill look expensive and will surely look amazing in your patio or backyard.
It also has a sawhorse-style undercarriage, which gives the grill a solid appearance and makes it look very stable.
If that's not enough, there are also the sturdy all-terrain wheels, which make it easy to roll around this heavy grill with ease.
Since the entire unit is made from high-quality steel, it will hold in the heat well and also last a long time.
The grill has been powder-coated instead of painted, which guarantees that it will look the same for a long time.
There are porcelain-coated steel grates under the lid, too, which not only offer even distribution but can also be cleaned quite easily.
In terms of its dimensions, the grill measures at 49" H x 41" W x 27" D; this includes the height with the chimney and the width with the chimney and hopper.
All in all, the grill weighs 103 pounds and is semi-portable; the hopper has a capacity of 18 pounds.
Its fuel type is wood pellets with an electric feeder, and the cooking area is 572 square inches (418 square inches primary and 154 square inches in the upper rack).
The grill does require at least 10 minutes of pre-heating or after the smoke first appears.
This grill takes a ton of guesswork out of low and slow grilling, making this a great choice even for beginners.
You can easily load the pellets and set the dial to the desired temperature, regardless of whether you are grilling, roasting, baking, or more.
In addition, there is a digital controller on the grill that makes using it even easier.
Cleaning and Overall Maintenance
The overall cleaning process is not complicated, as well; in fact, it is just like every other grill.
Wood smoke, along with moisture, tends to create creosote, which is a tar-like substance that will collect over time inside the smoker, especially in the chimney.
The company recommends that you inspect this at least two to three times a year, or depending on how often you use it to remove any build-up to prevent fires.
Since grease can also cause fire, you need to ensure that you are cleaning the funnel, drip tray, and bucket regularly.
Make sure that you are scraping the cooking grates clean every time you use it.
To clean ash, simply use a vacuum after every use, but only after everything has cooled down.
Cleaning the exterior surface is easy; just use warm soapy water with a soft cloth to clean it.
If you are facing any issues with the grill, you can get in touch with the company through the live support that they offer 24x7, 365 days a year.
They also claim to help not just with the grill but also with set-up tips.
Their website also features a massive collection of FAQs on every possible topic you can imagine.
In addition, there are blogs, helpful videos, and e-copies of every Traeger Grills' manual online.
Other than calling them, you can also connect with the company through social media platforms like Twitter, Facebook, Instagram, Pinterest, and YouTube.
For more smoking and grilling recipes, you can sign up on their website to receive email regularly.
While this doesn't speak about the product itself, we have to admit that we were impressed with the wide range of wood pellet flavors this brand offers.
You can take a look at the entire range on the website and use a combination of them to infuse different flavors into your meats.
As mentioned earlier, the company has fantastic live support in case you are facing any issues with the product.
With that said, they do offer an impressive three-year warranty against material defects and workmanship.
What We Liked
One of the great things about this grill is that you can set your desired temperature and leave it right there, thanks to the thermostat.
It comes with a highly durable and long-lasting frame that ensures that this grill will last for a very long time.
You can also easily switch between different wood pellet flavors.
What We Did Not Like
Since it uses electric heating, this grill will not work whatsoever if there is no electricity.
We also did not like that its maximum temperature is only 450 degrees F, which is much lower than most of its competitors.
The grill also only comes with two wheels instead of four.
How to Make the Most out of the Traeger Pro Series 22
The Traeger Pro Series 22 is a wonderful wood pellet grill that will do an amazing job infusing those wood flavors into your meat.
If you are curious to know more about this grill, we suggest that you take a look at this video, which shows the grill in action and how well it works.
Alternative
The gripe we have with the Traeger Pro Series 22 is that even though it is one of the cheaper Pro Series models in its range, it is still a tad bit too expensive for some folks.
As such, we found the Z Grills Wood Pellet Grill and Smoker to be a great alternative.
It is almost half the price of its counterpart but comes with similar features.
Furthermore, it also has a similar design and takes up a similar amount of space.
The only downside is that the quality is a little inferior in comparison.
Conclusion
This Traeger Pro Series 22 review has definitely given you the information you need to decide whether this grill is what you need or not.
This smoker comes with some amazing features that will not only make your food delicious but will also make smoking food fun.
Indeed, this is a grill that we highly recommend.