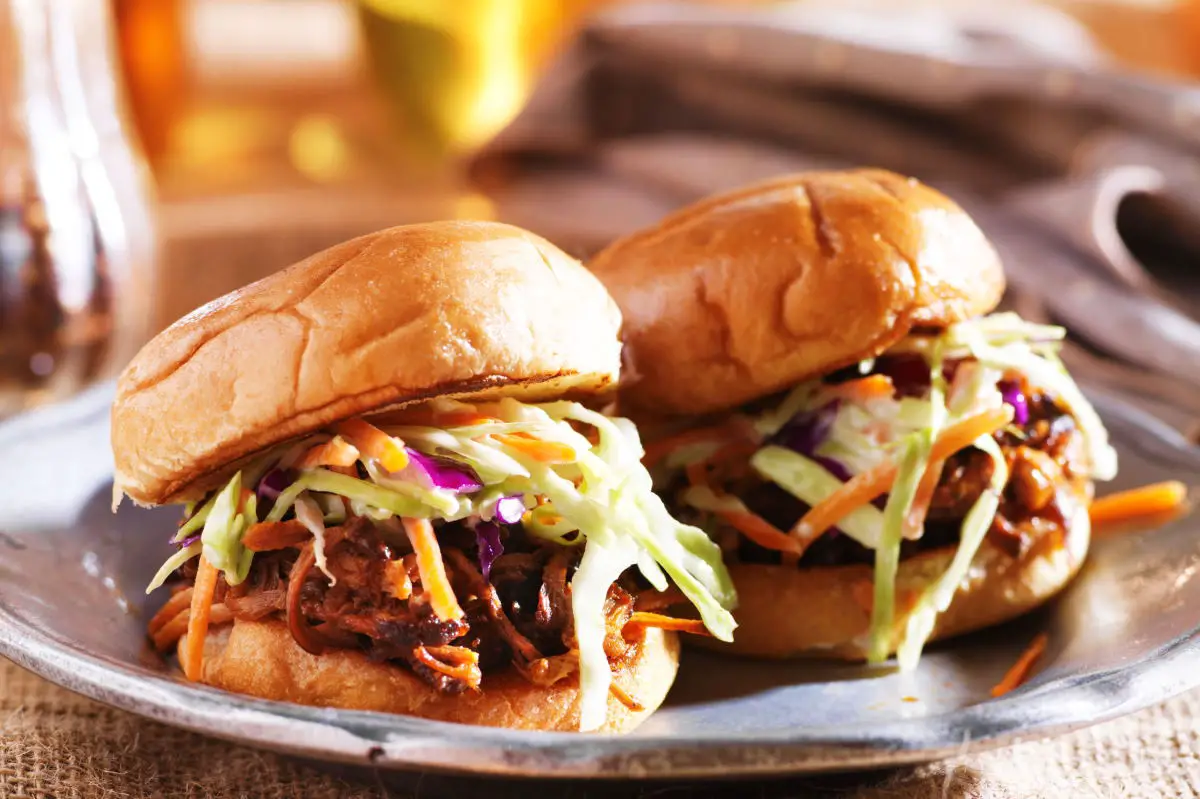 Pork shoulder is one of my favorite cuts of meat, and Hawaiian Pulled Pork Shoulder is by far my favorite way to prepare it. To me, pork shoulder is the easiest cut to smoke, and it is almost foolproof.
Some say the pork shoulder is too basic, and the flavors are always going to be the same basic barbeque flavors, but that is not all true. There are plenty of methods and variations you can use to spruce up your pork shoulder before and during the smoking process.
In this article, we will cover how to smoke a whole pork shoulder with sweet and fruity flavors that give your pulled pork shoulder a Hawaiian flair. Follow these few steps, and your pork is sure to be a winner for dinner!
Note: most links in this article are Amazon.com Affiliate links, see Affiliate Disclosure, thank you.
Getting Started
When you go to buy the pork at the store, try to get one with the bone in. They do sell them boneless, which may be quicker to cook but will not be able to develop some of those smoky flavors we want during the smoking process. The weight doesn't matter as long as there is a bone.
Some butchers will call the cut of meat a pork shoulder while others will call it the pork butt. In reality, the two cuts are from different locations. Pork shoulder is the section of the upper front leg, and the butt is an adjacent piece that runs up to the back and can be used identically.
Some people joke that the two cuts should be call pork thigh and pork back, but as long as you know what the cuts are, you are golden.  Sometimes you might also see it call a picnic shoulder. Usually, this is the cut that has the bone removed.
For the smoker, you will want to use an indirect heat smoker. If you have no other choice and need to use a direct heat smoker or an upright smoker, that's is ok. Just keep the flames minimized and maybe try to protect the meat from being burned but not smoked.
One way to avoid burning your pork shoulder is to make a foil tray to set your shoulder in when smoking. A foil tray will allow the smoke to flavor the meat while reducing the ability of flare-ups to burn the meat, don't forget a light spray of veggie oil to prevent sticking.
For the wood selection, any type works well with pork. Hickory is a very common choice of wood when smoking pork. The earthiness and boldness of the smoke will elevate the pork's natural flavors.
However, my favorite wood for pork without a doubt is apple. The sweetness of apple added so much to the natural pork flavors and works well when added to charcoal cooks.
For today's cook, I used an old vertical smoker similar to a Weber Smokey Mountain cooker. This is a great unit that can use charcoal, wood, or, as we did today, a combination of the two. Feel free to check out our full review by clicking here or to read the reviews on Amazon.com click here.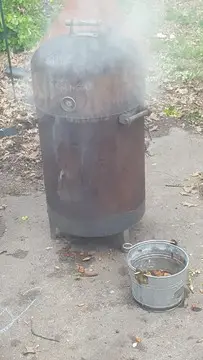 Preparation
Before smoking the pork shoulder, you want to make sure the smoker is up to temperature and producing clean smoke. Preheat the smoker to 225 degrees and be sure to maintain that temperature the entire time during the smoking process. A tip for creating clean smoke is to only ad small amounts of dry wood to your fire or smoke source consistently throughout the cooking process.
For this recipe, take the pork out of the fridge and let it rest at room temperature for 30 minutes before injecting liquid into the meat. The meat will take on the liquid easier when loosen and warmed slightly. If you do not have a flavor injector, then you may skip this part if you want.
In its place, you can use the pineapple juice flavoring as a marinade for the pork beforehand or as a mop sauce during the smoking process. Just know that if you use it as a mop sauce, you will lose quite a bit of the rub you placed on it. To avoid this problem, I reserve a small amount of the marinade and filter it into a spray bottle to spritz the meat a few times while cooking.
Hawaiian Style Pulled Pork Shoulder
This recipe may take a little longer than usual when smoking a pork shoulder, but we guarantee the wait is worth it.
Ingredients
1 (5-10 pound) bone-in pork shoulder or pork butt
Toothpicks
2 cans pineapple rings or fresh pineapple, sliced
½ jar Maraschino cherries
4 tbsp. Melted butter
2 cups Light brown sugar
2 tbsp. Kosher salt
1 tbsp. Course ground black pepper
1 tbsp. Smoked paprika
1 tsp. Ground ginger
2 tsp. Chili powder
1 tbsp. Garlic powder
2 tsp. Onion powder
1 tsp. Ground coriander
2 tsp. Dried thyme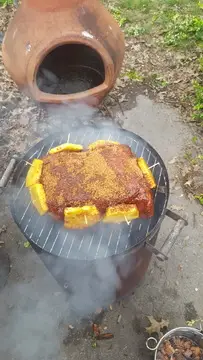 Directions
In a large bowl mix, all the dry ingredients together well. In a separate bowl, mix the pineapple juice from the pineapple rings and the melted butter, reserve 1/3 of the liquid in a separate bowl.
Apply the dry rub to all sides of the pork shoulder. Make sure to cover the entire surface of the meat with the rub, and don't be afraid to rub the seasonings into the meat's sides. Discard any excess dry rub when finished for food safety.
Next, place the pineapple rings all over the pork shoulder with a cherry in the middle of each ring. Use the toothpicks to fasten the fruit to the shoulder, so it stays while it cooks. Just make sure to remove the toothpicks after it has finished smoking.
Using a flavor injector, inject the pineapple juice mixture in all areas of the pork shoulder. Try to get all over the meat and some shallow while other injections are deep. Get as much injected as you can and discard the remainder for food safety.
Place the pork shoulder in the smoker. Smoke the pork shoulder for 9-12 hours depending on the weight of the cut. The best way to tell if pork shoulder has finished cooking using any cooking method is the bone test. Gently try to pull out the shoulder bone, and if it comes out very easily and the bone is clean, then it has finished smoking.
Remove the pork shoulder from the smoker and allow it to rest for 10 minutes before breaking it down. Using your hands, two forks or meat pullers, whichever you prefer, pull and chop the pork apart.
Heat the reserved liquid, I microwave it for a minute, then mix with the chopped-up meat. This will add some extra sweetness and Hawaiian flavors to your meat. Serve and enjoy!
This is our current Top Pick Smoker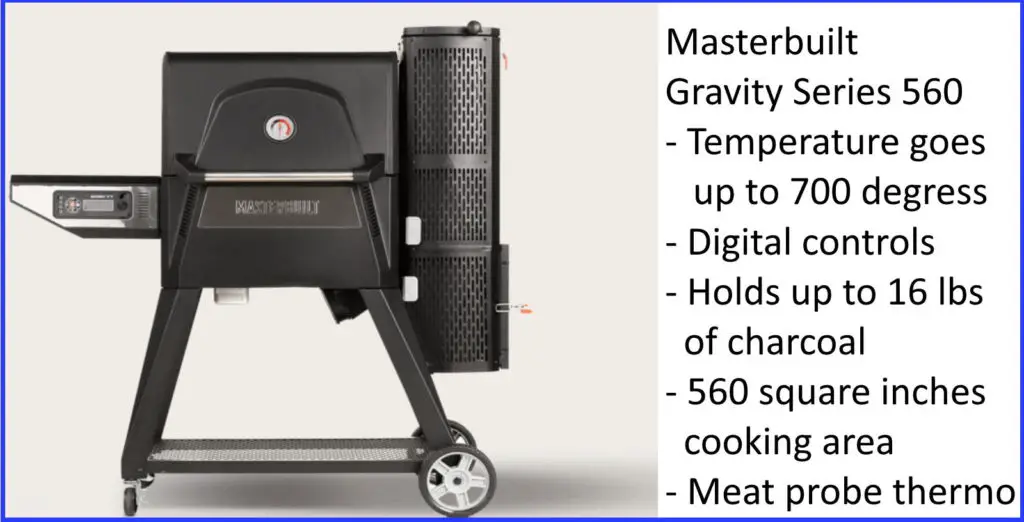 Click here to read reviews on Amazon.com.
Serving Suggestions
My favorite way to serve Hawaiian pulled pork shoulder is on large Hawaiian buns with a sweet slaw or sweet pickles. A store-bought pineapple or honey bbq sauce can add a nice touch to your sandwich and prevent it from being dry.
Another standard method for serving this meat is over a bed of rice. Place the pulled pork on top of the rice. Then add some of your smoked pineapple, diced, with a dash of teriyaki sauce.  I find this to be the best way to use leftovers.
Food Safety
As I mentioned food safety a few times, I think it is essential to cover a few basics, starting with temperature. FDA has a minimum food-safe temperature list and times; click here to see the chart.
Cross-contamination is another issue that I have brought up in this article. If you apply a rub from a bowl directly to a cut of meat, that bowl is contaminated. The same holds true for a marinade that is used on meat.  Cooking ASAP can create a tasty flavoring or reserving a small amount before rubbing or marinating.
Check out our article 15 Ways to Use Leftover Pulled Pork
Conclusion
No matter which way you prefer your smoked pork shoulder, there is no wrong way. Hawaiian pulled pork shoulder is just one of our favorite ways to prepare it.
Remember, the liquid is a crucial component in the flavor of the Hawaiian pulled pork shoulder. If you can't use the flavor injector, marinade, mopping or spritz is essential to get the sweet flavors that compliment the pork.