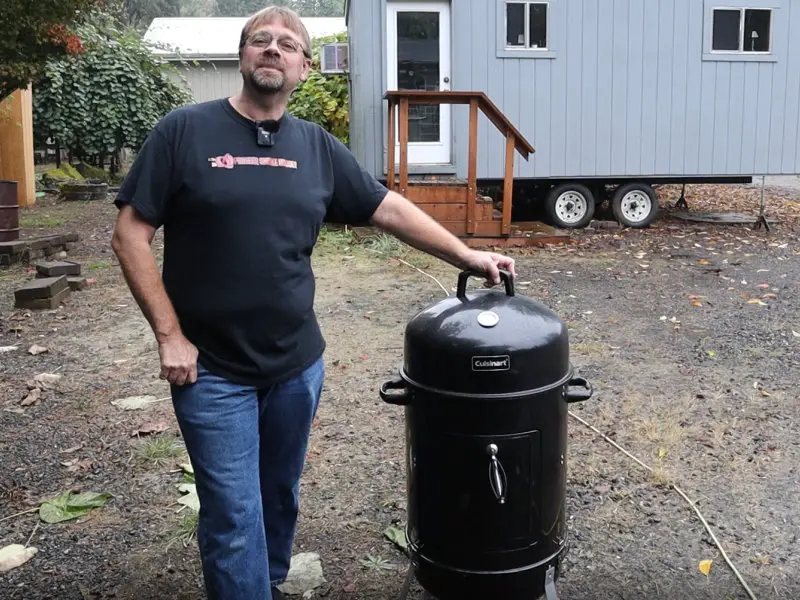 Whether you are entertaining friends and family for the weekend or want to treat yourself to some meaty treats, a backyard charcoal smoker comes in handy. However, because there are different models in the market from different manufacturers, it may be hard to settle on one smoker.
This is why you should always choose the best option that suits your needs and preferences. In this review, we will highlight one such charcoal smoker and assess its viability for you.
Note: most links in this article are Amazon.com Affiliate links, see Affiliate Disclosure, thank you.
Cuisinart COS-118 Vertical Charcoal Smoker Review
This smoker is inarguably Cuisinart's most brilliant innovation. With a pair of 18-inch stainless steel cooking grates, this charcoal smoker can smoke all food types. What else? Operating it is pretty straightforward. All you need to do is light the charcoal and fill up the water bowl, if you wish, before adjusting the air vents for temperature regulation.
Its vertical barrel design makes it easy to maintain a consistent temperature in the smoker without constantly monitoring the charcoal grate and water bowl. In no time, your food will be all smoked!
As a side note, this charcoal smoker is in the same class as the weber smokey mountain cooker.
If You Are Short on Time Our Rating: 8/10 – – We rate the Cuisinart 18-inch Vertical Charcoal Smoker as a great smoker overall. This smoke excels in low-n-slow cooking, portability, and the fact that it is budget-friendly. At this price range, the Cuisinart COS-118 is great for beginners, gifts, or a second smoker for the smoking enthusiast. Check out the price on Amazon.com.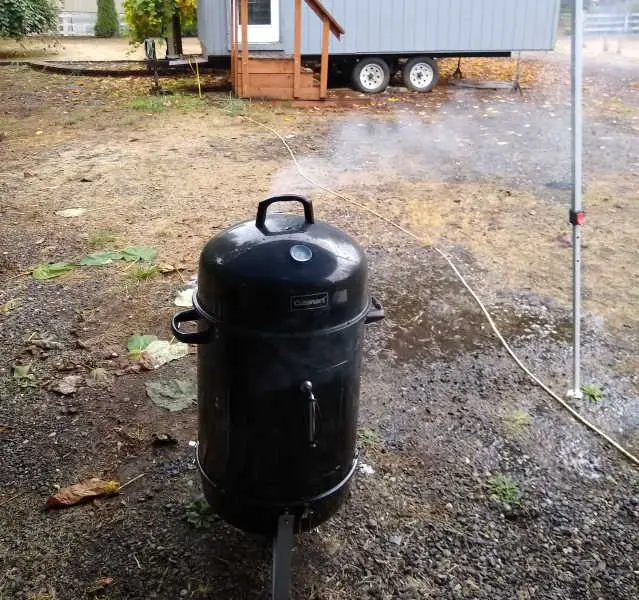 Who Is This Product For?
If you want to host a low-stress backyard barbecue, you should make this charcoal smoker your ever-present companion. This smoker is possibly one of the lowest-maintenance smokers on the market.
As previously mentioned, these types of charcoal smokers are the easiest class of manual charcoal smokers to get going and operate. Holding the temperature could not be easier. Simply set the vent, and once you have the desired temperature, it will hold until the charcoal is consumed.
The smoker is also excellent for people that are always on the move owing to its lightweight nature. The total weight of this empty smoker is about 32 pounds. It remains durable and sturdy even in transit making it perfect for camping or tailgate parties.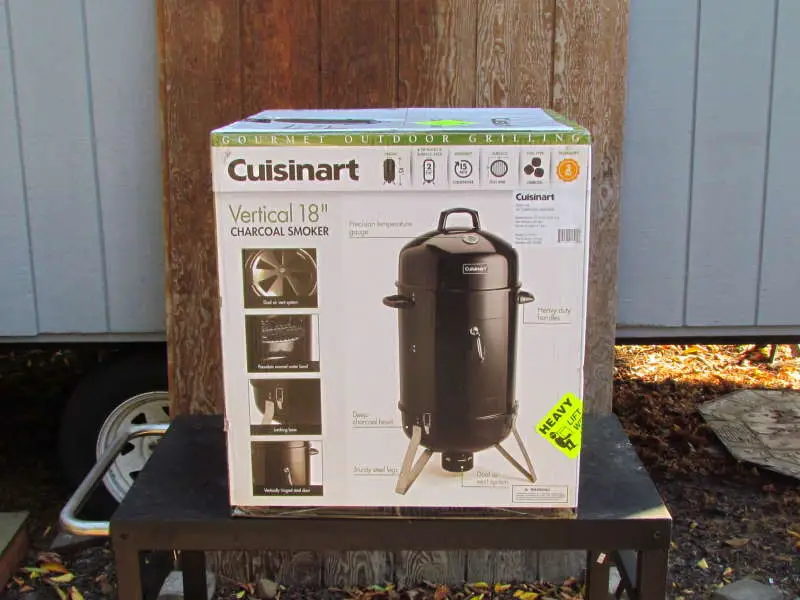 What's Included?
When you buy this charcoal smoker from Cuisinart, it includes everything you need to get started except the food and charcoal. The smoker includes a charcoal burning bowl, a charcoal grate, a charcoal ring, a water bowl, and two food stainless steel grates.
All of these parts and the smoker's body are of excellent quality. Of course, the charcoal smoker body has vents, a door, a thermometer, and handles with some assembly required.
Setup
Setting up this smoker is super easy. You will find all the necessary accessories and parts in the box. The only tools you will need are a standard-size Phillips tip screwdriver and an adjustable crescent wrench.
The two-page set of assembly instructions is easy to understand. With a few bolts here and there, you can enjoy your smoker in less than 30 minutes.
Finally, this is one of the few charcoal smokers where you don't need a second person to help with assembly.
Overview Of Features
The smoker comprises three major parts. The upper part is made up of the lid and a cool-touch handle. The lid has adjustable dampers and a built-in thermometer. The middle part has two side handles and a door that improves accessibility to the lower grate once the smoking has started.
The door is great for adding wood chips or, as we prefer, wood chunks to increase your smoke level during your cook. In addition, it lets you add more charcoal to the bottom chamber.
The grill's bottom chamber (charcoal chamber) has a medium capacity to hold roughly six hours of charcoal briquettes. It also has an adjustable damper to regulate temperature.
The charcoal burning bowl rests on three tabs in the charcoal chamber. The tab makes for an easy system of removal of ash pan that enables easy disposal and cleaning. A charcoal grate and a charcoal ring rest inside the bowl, allowing for good airflow and the ability to spread roughly three layers of charcoal briquettes.
Additionally, the adjustable damper (lower air control vent) will collect ashes and need to be emptied between each use.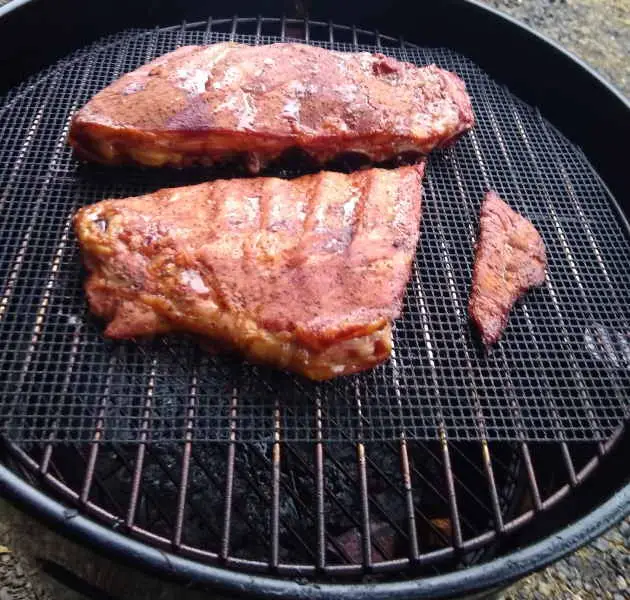 Each Cuisinart Charcoal Smoker offers about 255 square inches of cooking surface per rack. This space lets you stack up to four rib racks or four whole chickens.
Another notable feature of this smoker is its ease of cleaning. You can easily scrape down the grills and remove the smoker's body section when the fire has finally died down. As for the spent coals and ash, dump them inside a metal bucket before spraying them with some water.
Typically, if we are in a dry environment and don't need to pack the smoker away in a hurry, we will let it cool completely and then dump the ashes in a fire-safe container. Avoid over-cleaning your smoker, as this can remove the flavor-adding seasoning.
We also love this smoker's lovely design. Its body is made of porcelain-enameled steel, which contributes to the durability of the smoker. The vertical barrel design allows heat to be evenly distributed throughout the cooking chamber. You will only need to make minor adjustments to the air vents to keep tabs on the smoke amounts and temperature.
This smoker can also double up as a grill. It has two racks, so you can use the lower one to grill. Just ensure you use charcoal so that the meat retains its actual flavor.
Other accessories that improve the performance of this smoker are the fire ring that ensures the briquettes and charcoal remain within the area and a water bowl that helps promote better heat retention and circulation.
It is a large debate among the website contributors, but I NEVER put water in the bowl. After seasoning is complete, I fill the bowl with lava rocks, then double wrap the top with tin foil. The second sheet of foil is for easy disposal when it gets covered in grease.
Another way to use this smoker for low and slow is the charcoal snake method. Removing the charcoal ring will result in having the perfect amount of space to stack your charcoal and maintain the slow burn. However, you will need to leave your vent open more than usual to maintain good airflow for a consistent burn.
Downsides
We have covered the Cuisinart charcoal smoker details well in the overview. Overall we like this smoker, but there is a few negatives or improvement we would like to cover.
Online many people complained that the Cuisinart smoker could be a bit leaky, sighting the door and body seams. After using this smoker ten or more times, we thought it leaked less than average, but the door was the biggest trouble spot.
Overall we didn't care for the door and thought adding a hinge system, a gasket, and a retainer latch would be a great addition. The pivoting handle was a bit loose even after completely tightening the nut, making it a challenge to close the door after the smoker was hot.
Also, the door handle doubles as the door latch with a tab that secures the door. The more we used the smoker, the looser the became, and at one point, we adjusted it with a pair of pliers.
Some people complained about the stainless steel grill grate is a bit sticky, but we reduced this by pre-spraying the grate with vegetable oil. Also, any of my regular readers or Youtube viewers know grill mats are my favorite way to keep your grate cleaner and reduce sticking.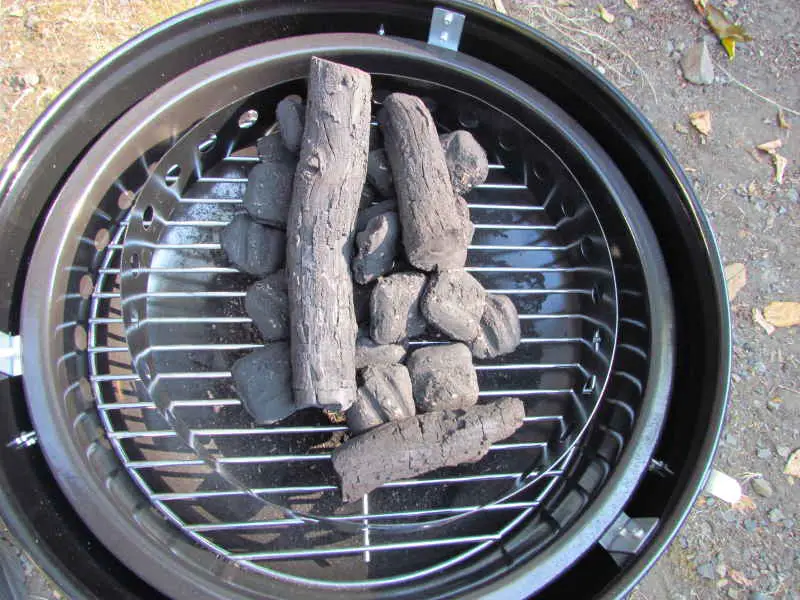 The charcoal fire ring was a bit small, which caused two issues. First, long smokes were not possible without reloading the charcoal chamber. Second, higher temperatures were hard to reach. We topped out at about 255 degrees F with the stock ring.
These temperatures were far too low for poultry and might leave a whole chicken in the danger zone for too long. We did a test with the larger ring from a different smoker and had a large improvement in time and temperature.
Finally, we felt a different venting system for the charcoal chamber might be an improvement. While we liked the location for function as in airflow, there was one major issue. During long cooks, the adjustable damper would fill with ashes, reducing airflow. Because this piece was hot, it made it difficult to empty, but our weber hot gloves still solved the problem.
This review is based on the stock smoker, and all of our issues could be resolved with budget-friendly modifications. With the cost of the Cuisinart vertical smoker, there is plenty of budget left for your favorite modification.
How To Use It
After assembling the smoker, you can follow these instructions. It is always essential to have the user manual with you.
Attach the middle barrel to the bottom bowl.
Put the water bowl on the latches located in the middle barrel.
Start filling the water bowl to reach your desired level.
Lay the lower cooking grate on top of the water bowl.
Use the lower cooking grate for larger foods and the upper one for smaller foods.
Secure the lid on the middle barrel.
Keep the temperatures at an average of 225° F.
If you would like a complete instructional video on using your Cuisinart 18" smoker, watch this YouTube video. Also, because this smoker functions on the same principles as the weber smokey mountain cooker, you can check out our guide for some great tips and how-tos.
Summary
We are going to do a quick recap of what we discussed throughout this article so you can quickly see the highlights and anything we may have missed.
Type: Vertical charcoal smoker
The heat and smoke flow vertically inside the smoker. The rate of flow is controlled by a vent at the bottom and top. Balancing these vents will control the temperature and intensity of your smoke.
Portability: 32 pounds
When the smoke is clean and empty, it only weighs 32 pounds, making it very portable. Even when the smoker is completely boxed, it can still be carried by most adults because it only weighs 37 pounds.
Capacity: 512 inches
There are two round 18-inch stainless steel cooking grates that total 512 square inches of cooking surface. However, this is a bit of a stretch because it is hard to fill the grates to the edges, and we rarely use the lower grate. We are calling this 200 square inches of typical cooking surface.
Insulation: None
These types of smokers normally don't have any insulation but can have it added if you like. The construction is a stand-thickness metal that holds and spreads heat well. If you do choose to add insulation, a Big Chief Electric Smoker blanket will work well, or a welding blanket. Just take care not to cover the vents.
Accessories: None
Everything you need for the smoker is included in the box, but if you don't already own a grilling kit, we recommend buying a budget-friendly set for Amazon.com and then adding to it as you learn what you need. We have a full article of items that we like to consider; check it out.
Warranty: 3 years
The user's manual says there is a 3-year warranty on defective parts and workmanship. However, since there are no electronic parts or motors, there is very little to go wrong. It also clearly states that you have 30 days from purchase to report damages.
Pros
Price, price, price
Allows you to smoke large food amounts
It has a side door for easy use
Easy charcoal top-up
Adjustable dampers
It comes with handles on the sides
lightweight and portable
Cons
Hard to get temperatures above 255 F.
It can be a bit leaky
Stainless steel grates can be a little sticky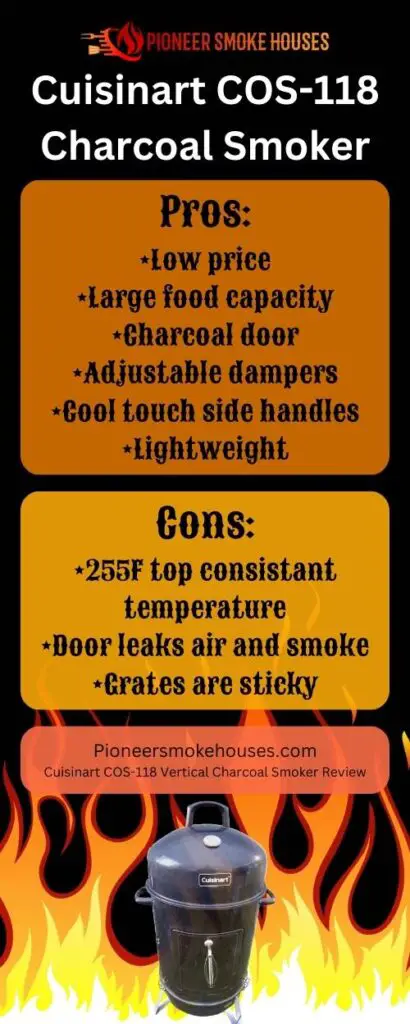 Alternative
The Weber 18″ Charcoal Smoker is an excellent alternative to this smoker. It is manufactured by the Weber company and closely resembles the Cuisinart COS-118 Vertical 18″ Charcoal Smoker. Both have three steel legs, two steel racks, water bowls, and a porcelain-enameled interior.
Also, the two have a sturdy build, with their bodies made of steel. The only significant differences are the Cuisinart has sharper curves, fewer air input vents, a lower list price, and a slightly smaller body overall.
If you want to know more about the Weber Smokey Mountain Cooker, we have a full review article and a whole set of videos.
Checkout our article comparing the two vertical smokers, Cuisinart Cos-118 Charcoal Smoker VS Weber Smokey Mountain Cooker 18-inch.
Conclusion
The Cuisinart COS-118 Vertical 18″ Charcoal Smoker is a great value smoker. With a low list price and many features of higher-priced smokers, it's perfect for the budget-conscious buyer who still wants a quality product. It's easy to use and can handle large cookouts with ease. Our only complaint is that it's hard to get the temperature up above 255° F, but with a few modifications, this is easily overcome.
So, if you are looking for an inexpensive way to get into smoking or want a perfect low-n-slow smoker for your camping trips, the Cuisinart COS-118 is a great option and well worth the price.
One final note, This smoker would make an excellent Christmas gift for the beginner or intermediate meat smoker in your family.
Cuisinart COS-118 Vertical Charcoal Smoker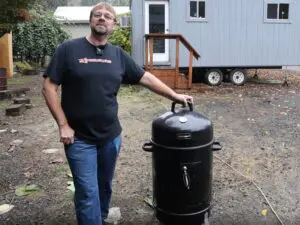 The Cuisinart 18 inch vertical charcoal smoker is a quality product, yet still budget friendly. We are going to cover the details of this great smoker.
Product SKU: COS-116
Product Brand: Cuisinart
Pros
Price, price, price
Allows you to smoke large food amounts
It has a side door for easy use
Easy charcoal top-up
Adjustable dampers
It comes with handles on the sides
lightweight and portable
Cons
Hard to get temperatures above 255 F.
It can be a bit leaky
Stainless steel grates can be a little sticky