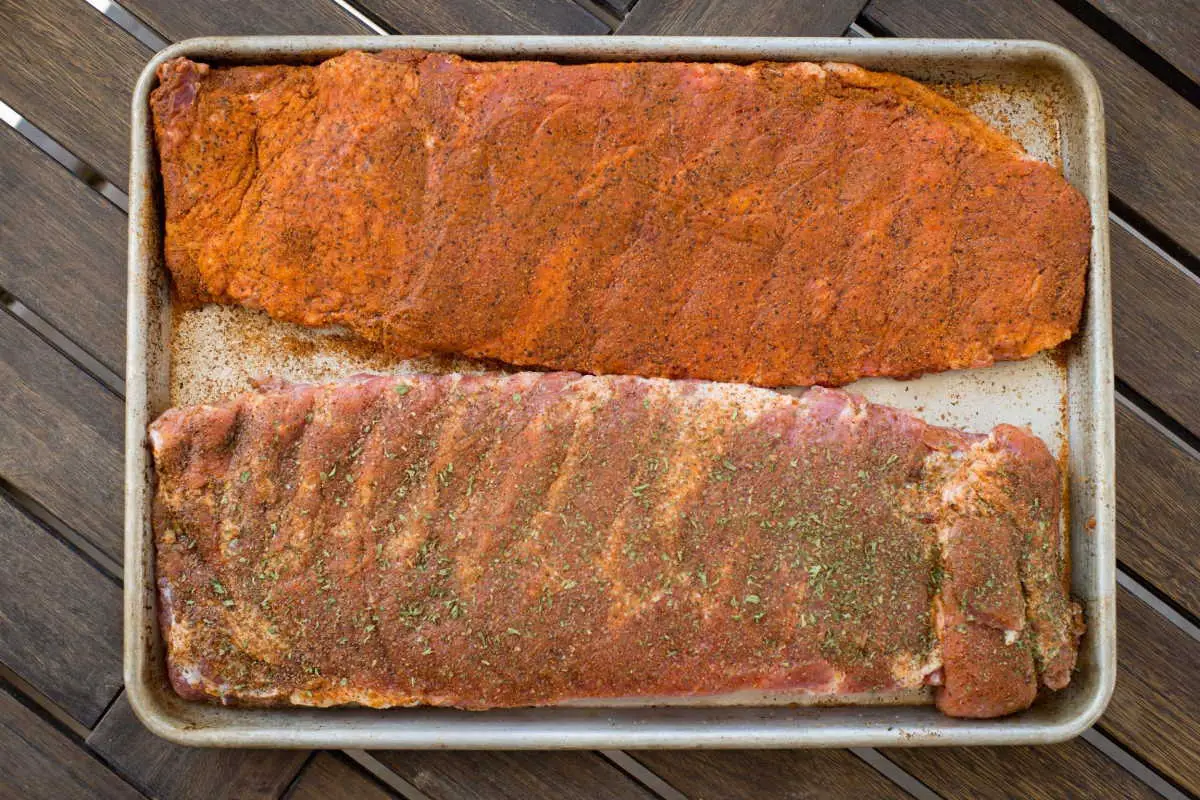 Pork roast and pork ribs are two of my favorite meats to smoke. They are my favorite because they stay moist because of their high-fat content.
With the high-fat content, it is essential to hit these yummy pork cuts with just the right seasoning so you can bring out their best without hiding their natural flavors.
Of course, the is pork's dry evil twin! Pork loin and loin chops can be dry if not prepared carefully. However, these cuts will still benefit from proper seasoning.
In this article, we will discuss dry rubs, pork, and how to make a great pork dry rub. These rub recipes have been thoroughly tested and used on our website. If you want detailed instructions, we will link to as many of the recipes as possible.
Note: most links in this article are Amazon.com Affiliate links, see Affiliate Disclosure, thank you.
What is a Dry Rub?
A dry rub is a mixture of dry spice applied to food to add flavor. Typically, dry rubs have a variety of 4 or more spices to form a flavor profile that complements your meat or food.
Keeping the salt content to less than 25% of the mixture is one of the fundamental rules when making a homemade dry rub. Anything higher salt levels will overwhelm your food and could be inedible.
Also, if your dry rub has salt in it, you want to apply it right before cooking. If you season your meat too far ahead of cooking, the salt will draw out the moisture and result in dry meat.
Of course, you can dry brine your meat, but that is an overnight or longer process.
Basic Rules for Pork Dry Rubs
The first rule for pork is to go easy on the salt. Pork is very salty, and adding more salt can make your meat dry and too salty to eat.
Second, pork goes great with garlic. As garlic cooks, it becomes slightly sweet and counters the fat content in most cuts of pork.
The third rule is adding some dark brown sugar. I know that brown sugar is a wet ingredient, but the sweet molasses flavor pairs great with pork, especially after caramelizing.
The fourth rule, when using a low-output smoker like a pellet grill don't be scared to use more of the strong seasonings. When smoke levels are low adding more spices to your dry rub like pepper or chili powder will help punch up the flavor.
Finally, don't be scared to modify a brand name spice mix or a regional profile. One of my favorite combinations for pork is garlic granules with Garam Masala, and it is such a unique flavor.
Remember, the only hard rules in cooking involve food safety, like staying out of the temperature danger zone.  
Pro Tip: mix your spices in an oversize spice container. Heavy spices will sink to the bottom of most containers; simply shaking it twice will remix it. I like to recycle a used 26oz. bulk garlic shaker.
What Spices are Good for Pork Dry Rub?
There are a lot of spices that you have in your cupboard right now that go great with pork. However, if you add a few spices, you can up your pork seasoning game.
We have compiled a list of our top spices we use on pork, but don't limit yourself to just these if you have a favorite flavor.
Allspice
Basil
Cayenne pepper
Chili powder
Clove
Cumin
Dark brown sugar
Garlic
Ginger
Marjoram
Mustard powder
Oregano
Parsley
Pepper
Rosemary
Salt
Thyme
Turbinado sugar
I want to talk about every spice on our list, but I will focus on a few, starting with garlic. As mentioned above, garlic is an excellent pairing with pork, especially pork roasts. My everyday pork seasoning is to mix our all-purpose 3211 rub and garlic granules.
I like to use 2 tbs of 3211 to 1 tbs of garlic to bring the garlic flavor through. Of course, if you are cooking a large pork roast, you might need more spice.
Cumin, chili powder, and cayenne pepper work well together. Try mixing these spices or adding them to your favorite spice mix to add a southwestern flavor to your pork.
When using spices like oregano, parsley, or thyme, you can easily add an Italian accent to your pork. However, we recommend a binder with herbs, such as olive oil or mustard. Also, these spices can burn, so they are not exactly grill friendly but work great in the oven.
Finally, use smoked spices to add to your pork's smoky flavor profile. Our favorite is smoked paprika, but you can buy or home smoke salt, garlic, or cumin.
Dry Rub Recipes
The list of dry rub recipes can go for hours. I have put our top mixes that we use in our recipes, kitchen, and on the website in this article. Adjust everything to fit your taste; cooking with seasoning is an art, not a science.
All-Purpose Dry Rub (AKA 3211)
It always helps to have a starting point or, as some would call it, a base mix. We call our base mix 3221, which is directly related to the ratio of spices in our mix.
This recipe is a great core spice mix or a jumping-off point to add food-specific flavor profiles. As mentioned above, adding a little coat of garlic to your pork then finishing with a coat of 3211 dry rub will yield great results.
3211 rub
Mix all the ingredients and put them in a container or shaker. Before each use, make sure the spices are well mixed. We prefer to apply spices from an oversize shaker container.
Another excellent method is to pour an estimated amount of the spice mix into a bowl. Then apply the dry rub from the bowl to your food. Discard any remaining dry rub in the bowl, as it could be cross-contaminated.
Pork Rib Dry Rubs
There are many different cuts of pork, but by far, one of the most smoked and grilled pieces is pork ribs. We have a variety of dry rub mixes that should match your taste.
First, ribs are a bit difficult to get dry rubs to stay put so that a binder can help. Our favorite binder is a light coat of traditional yellow mustard.
After you prepare your ribs by trimming the edges and removing the silver skin, you can cover your ribs with a binder. Using food-safe gloves can be a carefree way to slather your ribs with your chosen binder.
Besides traditional mustard, apple cider vinegar, honey, apple juice, olive oil, brown mustard, or honey mustard can be great flavor additions while adhering your dry rub to your ribs.
Once you have spread the binder, cover your rack of ribs with your dry rub of choice and get smoking. Finally, if you wrap your ribs during the cooking process, add a little beer inside the package for extra moisture.
Basic Pork Rib Dry Rub
½ cup brown sugar
¼ cup ground paprika
2 tbsp. kosher salt
2 tbsp. garlic powder
1 tbsp. onion powder
1 tsp. chili powder
1 tbsp. black pepper
This basic rib rub is great on any meat but works extra well on ribs if you plan to sauce them after smoking. Ribs are the one meat I like to finish on the grill. After the ribs have smoked, I will sauce them up with a barbecue sauce and caramelize them on both sides before serving.
Sweet rib rub
1 cup turbinado sugar
1 cup dark brown sugar
2 tbsp kosher salt
1 tbsp pepper
2 tbsp garlic
1 tsp cumin powder
1 tsp allspice
1 tsp sweet basil
¼ tsp clove powder
This mix is great for your friends and family that don't like spicy foods. They are sure to love this blend of spices and might even be confused by what is in the mixture.
Make a mop sauce with one cube of melted butter, ½ cup of honey, and ¼ cup of the spice mix. Make sure when using this mop sauce that you caramelize it by grilling. If you don't, it will be way too sweet.
Spicy rib rub
½ cup dark brown sugar
½ cup smoked kosher salt
½ cup black pepper
1 tsp cayenne pepper
1 tsp crushed red pepper flakes
1 tbsp chili powder
1 tsp mustard powder
2 tbsp garlic powder
2 tbsp onion powder
½ tsp ginger
½ tsp MSG
1 tsp horseradish powder *
*Cheap wasabi powder is typically just colored horseradish powder, so feel free to substitute it.
I love spicy hot stuff, and this spice rub has the perfect amount of heat for me. I have used this dry rub on wing, ribs, and steak.
Don't go too heavy on this mixture unless you like it hot. Also, avoid clumps or heavy spots because this can result in a hot spot unless you want half of your ribs extra spicy.
Finally, if you like it hot, make a mop sauce of One cube of butter, ¼ cup Frank's Red Hot and ¼ cup of spicy rib rub. That will turn this rib rub up to extra hot.
Classic barbecue rub
1 cup granulated sugar
1 cup salt
2 tbsp garlic powder
2 tbsp onion powder
1 tbsp smoked paprika
2 tbsp chili powder
2 tbsp pepper
1 tbsp lemon pepper
1 tsp sage
1 tsp mustard powder
1 tsp cayenne pepper
½ tsp thyme
The classic barbecue rub for brisket is also an excellent option for ribs, so don't pass this up as a great option. For best results, substitute as many of these spices for smoked spices.
Pork Roast Dry Rubs
Pork roast commonly goes by Boston butt or pork shoulder. Of course, both pork roasts can be cooked in the same way with similar spices. Because of the high-fat content, these don't need a binder unless you want to add a flavor like honey.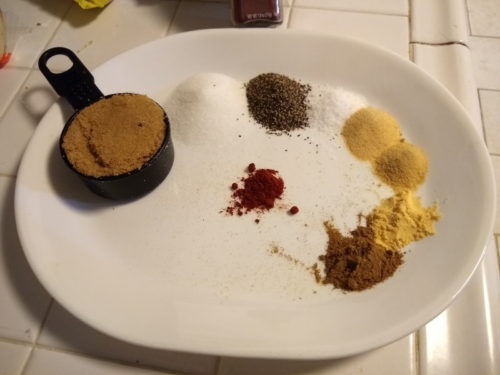 Boston Butt Dry Rub
butt or Pork Shoulder, bone-in
½ cup light brown sugar
2 tbsp. sugar
1 tbsp. black pepper
1 tbsp. kosher salt
½ tbsp. garlic granules
½ tbsp. onion powder
1 tsp. yellow mustard
1 tsp. ground cumin
A nice addition to a Boston butt is a light sprinkle of garlic granules before adding your dry rub mix. Remember, if you are slicing your roast for steaks, an internal temperature of 145 degrees after a 30-minute rest is great.
Classic Pulled Pork Dry Rub
½ cup brown sugar
¼ cup paprika
2 tbs. black pepper
2 tbsp. chili powder
2 tbsp. garlic powder
1 tbsp. onion powder
3 tsp. kosher salt
½ tsp. cayenne pepper
1 tsp. dry mustard
1 tsp. coriander
When you want a go-to mix for your low and slow pulled pork, this will be it! After I slow smoke my pork shoulder, I like to pull it and add a small amount of my favorite barbecue sauce
Of course, you could use a marinade for your pork shoulder, but it will work best with a good solid rubdown from a sweet blend of spices and sugars.
Check out our article for Hawaiian Style Pulled Pork Shoulder
Pork Loin Dry Rubs
Matching your dry rub to your cat can be tricky, and it only becomes more challenging when you have to worry about not overcooking your cut of pork. When cooking a loin, you want a seasoning mix that will add flavor to your meat without requiring excessive cooking.
Pork loin, loin chops, and poultry are the only cuts of meat the I will brine. However, make sure to allow 24 hours for the brine to completely work through the pork and rinse the salty liquids off thoroughly.
Also, you can use any of the rub recipes below as a dry brine by seasoning your meat, putting it in a container or food bag, and refrigerating it for 24 hours.
Pork Loin Basic Barbecue Rub
1/2 cup of sugar
1/2 cup of salt
1/4 cup of paprika
1/2 cup of ground black pepper
2 tbsp. of dry mustard
2 tbsp. of thyme
1 tbsp. of cumin
1 tbsp. of sage
1 tbsp. of cayenne pepper (optional if you don't like spicy food)
For that familiar barbecue flavor, this mix will hit the spot. Make sure to lightly cover your loin and consider wrapping your loin in foil for the second half of the smoking process.
After you rest your pork loin and slice it, serve with a side of barbecue sauce for dipping. You will find that it is a match made in heaven.
Pork Loin Curry Rub
2 tbsp. of salt
2 tbsp. of sugar
2 tbsp. of ground coriander
2 tbsp. of cumin
2 tbsp. of garlic powder
1 tbsp. of ginger powder
1tbsp. of cayenne pepper
2 tbsp. of turmeric
With this dry rub, you will truly find a unique flavor profile that will compliment a pork loin. Slow smoke your pork loin to an internal temperature of 125 degrees, then add a touch more of the spice mixture before grilling on high until the internal temperature reaches 140.
Finally, double wrap your loin in heavy-duty foil and rest for 30 to 45 minutes. You will be rewarded with the perfect texture and a great flavor.
Pork Loin Sweet and Spicy Smoke Dry Rub
1/4 cup of smoked salt
4 tbsp. of ground black pepper
1 cup smoked paprika
1 cup garlic powder
2 tbsp. of chili powder
2 tsp. of cumin
1 tbsp. of mustard powder
2 tsp. of dried oregano
1 cup of brown sugar
1 cup of white sugar
1 tbsp. red pepper flakes (optional for heat)
Pork loin is a meat that goes great with sweet or spicy, so why not have them both? Also, this dry rub mix is an excellent complement to pork loin chops.
All the usual rules apply to this recipe; however, you want to add as many smoked spices as possible. So, if you home smoke spices like garlic granules, then use them.
Check out our recipe for Smoked Apricot Pork Loin
Ham Dry Rubs
Traditionally, ham is not something you add a dry rub to because it is cured. High-end hams tend to be dry-cured while hung. The curing process results in great hams, like prosciutto. With this process, the whole ham cure is called a country ham and will be amazing with an 8-hour soak in a simple ice water bath.
Ham at your local grocery store can use a little added flavor infusion. These hams are typically called city hams and are commonly sold as Cook's ham shank. Removing some salt from these hams can be good because they generally are cured with an injected brine.
The best way we have found to remove salt from a ham is a low boil in seasoned water for about 20 minutes. Coincidentally, most smokers take about 20 to 30 minutes to preheat. After adding your dry rub, you can go straight into your smoker and jump-start your cooking process.
Spice-Rubbed Christmas Ham Dry Rub
Ingredients
2 cups brown sugar
1 tsp onion powder
2 tbsp. black powder
1 tsp. garlic powder
2 tsp. ground cinnamon
1 tsp. ground clove
1 tsp. nutmeg
2 tsp. kosher salt
Trim the hard rind, aka pork skin, from your ham and coat evenly with the dry rub mixture. Spices like clove and nutmeg bring a great holiday flavor to your ham but can overwhelm it if you add too much. So, if you can add a bit more of each, we say do it but don't overdo it.
Check out our article 4 Killer Smoker Ham Recipes
Conclusion
This article covers our favorite pork dry rub recipes. All these recipes have been taste-tested, and we love them, so we hope you will too.
Remember that cooking is an art, and you can add your own pop of color wherever it makes you happy. So, add an extra dash of red pepper flakes, rosemary, or ginger, If you must. LOL.
Check out our article 15 Ways to Use Leftover Pulled Pork