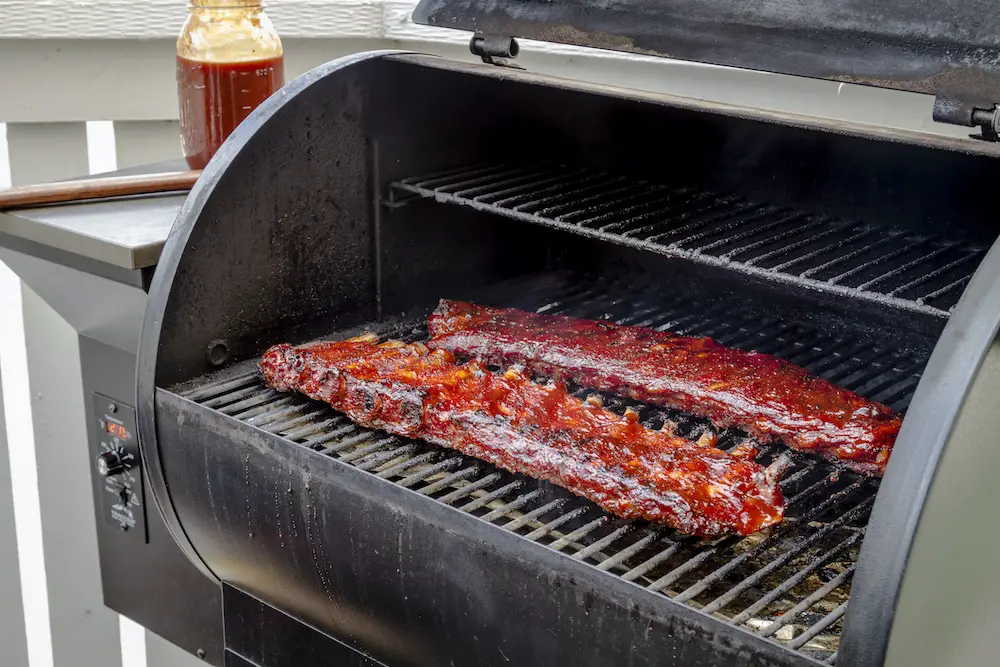 Getting a good smoker can be quite tough for certain folks because the market has countless brands to choose from.
Each of these smokers from different brands offers a wide range of features, as well, which leaves people scratching their heads during the process of finding a good one to buy.
If you want to avoid all of that, you have reached the right page. Our team of experts found an amazing smoker, and we will be doing an in-depth The Good One Smoker review for you.
Note: most links in this article are Amazon.com Affiliate links, see Affiliate Disclosure, thank you.
Quick Overview
The Good One Smoker Review
The Good One Smoker and Grill is an American company founded in 1988 in a small farm shop in Kansas.
Back then, the smokers lacked consistent control over the temperature and were pretty inefficient, which is why the founder decided to create a uniquely designed offset, firebox cooking chamber that could hold the heat for over an extended period.
This led to the beginning of a high-end smoker that took competitive barbecuing to a whole different level and was capable of producing some outstanding smoked meats.
All this required significantly lesser attention compared to other smokers.
This success made The Good One evolve from a regional line to a national brand.
At present, the company's products are not just sold to people across the USA but all over the world.
In addition to the wide range of smokers they offer, the company also markets their Pecan, Hickory lump, and oak charcoal and flavored hardwoods for the product line.
In 2013, the company was sold to Landmark Mfg. Corp. and they are the largest metal fabrication company in the Midwest.
The company is known to offer only high-quality products and continues to improve and innovate its products.
Who Is This Product For?
Smokers are known to grill food at a lower temperature to give it a nice and smoky flavor, and this is exactly what The Good One Smoker will offer you.
This smoker is ideal for anyone, whether you are a beginner or have been smoking meat for years.
All the food cooked in this smoker is done at a controlled temperature.
The smoker is also perfectly sized, so it will not occupy too much space in your backyard.
Also, the great thing about this smoker is that it comes with two giant inflatable wheels, which make it significantly easier to move it around.
Lastly, this product is ideal for those who need enough space inside the smoker to feed a party of over 10 people.
What's Included
There are a ton of things that obviously come along with this smoker to get things started, including:
One Grill and Smoker assembly
A reversible lid assembly
A charcoal grate assembly
A two-inch Good One lid-mounted thermometer
Two removable smoking chamber grates
A drop-in grill grate
A drop-in ash pan
A grease bucket 
Two heavy-duty pneumatic wheels 
Owner's manual
Overview of Features
The Good One Smoker is truly fantastic and must-have equipment for every meat lover.
This is the company's most popular product and is a brilliant upgrade from its previous model.
It comes with a plethora of features that will certainly leave you in awe and certainly improve your cooking experience.
The Good One Smoker comes with a total cooking space of 996 square inches, which includes the 664-square inch smoking area on two stacked racks and 332-square inch grilling space.
There is a separate grilling space, too, which will allow for simultaneous smoking and grilling.
The smoker also features a removable drip pan and ashtray along with precision-control spinner air vents.
It also comes with an 11-gauge steel body and 14-gauge steel lids.
There is an internal damper that separates the grilling chamber from the smoker box.
Lastly, the entire unit is manufactured in the USA.
Reversible Smoker Box Lid
An interesting feature of this smoker is the fact that it comes with a reversible smoker box lid.
The lid hinges on two bolts. These bolts can be removed with minimal effort. After that, you can simply reverse the lid and put them back in.
All of this gets accomplished in no time and with hardly any fuss.
To top it off, this smoker box lid also comes with a locking mechanism that ensures your smoker is closed properly and is in place.
The company has put a lot of thought into the smoker's overall build and durability.
The smoker has been given a high-temperature powder coat paint that provides it with ample protection, improves its durability, and offers it a clean finish.
This smoker is also highly versatile since you can use it even to roast or bake food items.
All of this makes it a perfect smoker for folks who are serious about barbecue.
The company has put a lot of thought into this smoker's design since it places wood and charcoal in a handy firebox along with its grill grate for direct grilling meats and other food items.
There is also a separate smoking chamber above the firebox, and this is ideal for cooking food indirectly.
You will notice that with several heavier steel smokers, there is a massive amount of smoke that leaks around the doors and other connections.
Thankfully, this is not an issue with The Good One Smoker.
It fits together with incredible accuracy. Thus, all the air flows through the vents and not through the door. 
In addition, the precision of the vents can shut the smoker down and put the fire out.
You can also save some of the leftover charcoal for another time.
How to Get the Most Out of The Good One Smoker
It's clear by now that this is a fantastic smoker which has a lot to offer.
However, since there is so much to offer, it can be a tad bit confusing for someone new to barbecuing.
For those folks, we recommend watching this video that talks about this smoker in great detail.
Alternative
We understand that The Good One Smoker is quite expensive and can be a deterrent to several people.
Hence, we decided to find a reasonable yet effective alternative and that this is the Dyna-Glo Signature Series Vertical Smoker.
This vertical smoker offers more space than its counterpart.
It features heavy-gauge steel construction and also comes with over-sized wheels for easy transportation.
Best of all, this smoker is significantly cheaper.
We have reviewed it in detail, which you can also check out.
Verdict
With our The Good One Smoker review. we can say that despite its high price, we can assure you that you are getting a smoker that will last you for years and will cook meat to perfection.
We absolutely recommend you buy this one!