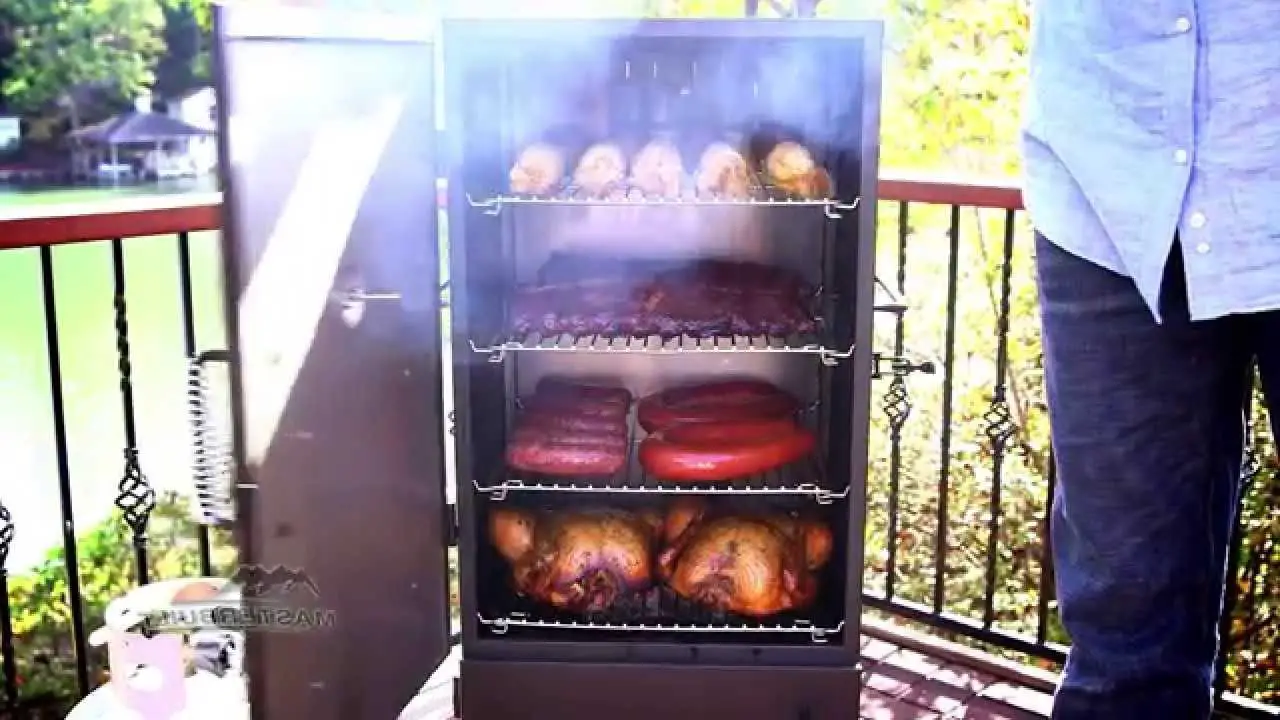 If you frequently hold backyard barbecue gatherings, then you must consider getting a smoker that will cater to the hungry stomach of your guests. Gas smokers are capable of producing good-quality smoked meat that is juicy, seared right, and has a delicate smokey flavor. You don't have to worry anymore on what to serve your guests because your smoker will take care of it.
Consider getting the Masterbuilt Propane Smoker, if you are looking for a propane smoker you can rely on.
PROS: Temperature control is easy using this propane is fairly easy and you can just keep the desired temperature and leave it to tend to your food. The capacity is quite big too; you'll be able to put a lot of food in the tiers, great for if you're holding parties and invite a couple of guests. To give you an idea, you can fit four whole turkeys in it. The grates are adjustable if you need adequate space for big pieces of meat.
CONS: There are a lot of instances when customers received incomplete packages and/or broken parts, the most common being the hinges broken or don't line up creating a gap between the door and the box. Sometimes the leg breaks easily, or don't assemble to the box, or don't come with the package at all. Many customers said they have called customer support for replacement but was told that the company will send parts for the customer to repair it.
What are the important aspects of the Masterbuilt Propane Smoker?
Type: This product is a propane-run smoker. You need to purchase your own propane tank for this because it doesn't come with it. Although the tank is fairly easy to assemble onto the smoker, you need to take precautionary measures when doing so because you don't want it to have leaks in the future.
Also inspect the hose that you will use to ensure that it's in tip-top shape. If you don't want to use the type 1 regulator and hose that comes with the package, you can opt to buy your own. Propane tanks can be a hassle to use too because you have to take it to your nearest utility station for replacement or refilling.
However, this option is cheaper especially if you live in an area where the electricity charges are high. Having a gas smoker also enables you to have at least a smokey flavor in your meat unlike electric smokers. But if you're really aiming for authentic smokey flavor, only charcoal or wood smokers can give that.
Portability: This smoker isn't considered very heavy at 58.4 pounds so you can move it anywhere you desire especially if you're aiming not to fix it in one place. If you're the type who keeps your smoker in the garage to take out only for use, you need to use some sort of cart to transport this, as it doesn't come with wheels. Also, for your own protection, don't try carrying it while it's hot even though it's well insulated.
Capacity: The Masterbuilt Propane Smoker has a good amount of room for cooking. It comes with four 14x14-inch pullout racks that allow you to put several butts or racks of ribs and many others. The smoker has about 700 Square Inch of total cooking space. All the food that you placed inside the smoker is easily accessible. One reviewer warned owners not to be surprised when your neighbor comes knocking to put their meat along with yours in the smoker.
Insulation: This product has insulated doors, which holds the heat better inside. The latches are small but accessible and are less likely to get bumped as you walk by. A reviewer said that he anticipated that there would be heat leaks in this kind of smoker so he prepared to install a gasket around the door to prevent heat and smoke loss. But when the product arrived, the Masterbuit Propane Smoker leaked so little that a gasket is not necessary.
Accessories: This smoker has a built-in temperature gauge that is dead on accurate. If you want to know if the unit you got has the same accuracy, take an oven thermometer to verify the heat inside. The door can be locked securely and has a cool touch wire handle to protect you from burns. It comes with a drip/water pan but many people considered it too small for the size of the unit. You can easily remedy this by purchasing a foil unit that won't cost you over $5.
What other things should you know about the Masterbuilt Propane Smoker?
Assembly of the MasterBuilt was very straightforward; the product comes with clear and concise English instructions and neatly packaged parts and hardware. It takes about 30 minutes to 1 hour to put it together.
This is a vertical cabinet-style smoker that has separate doors for the meat smoking and for tending to the wood chips and water pan. This way, you won't have to open the main cooking chamber and let the heat and smoke out whenever you need to add more chips or water. Owners recommend maintaining the wood chips for smoking every 30 minutes or so and to keep the liquid tray full.
One of the owners also responded to comments that the smoker's results were metallic tasting food, and told them that the machine should be cured with olive oil prior to use. Do this an hour before. He said that it removes the paint smell and the aftertaste.
Check out our article How to use a Masterbuilt Propane Smoker: A Beginners Guide
The Verdict
This is a great propane smoker because you'll be able to smoke a lot of food with its wide capacity and you're getting it for a really affordable price compared to other smokers in the market. For the price, it's really worth it because of the thick and durable materials used.
Customer service is also great; they're quick to assist you in your concerns and help you if you run into troubles. Except of course during times when they expect you to know how to replace some parts in your smoker, as many irate customers wrote.