Did you know that smoking meat dates back to prehistoric times?
If you love eating smoke meat, you know that it can get pricey. Making your own can be far most cost-effective and fun.
Smoking meat is a fun and delicious way to cook, but if you aren't smart, it too can get expensive.
So, what are some hacks to smoking meat and making the most out of your money? Read on to find out the top 10 budget-friendly hacks for smoking meat.
Note: most links in this article are Amazon.com Affiliate links, see Affiliate Disclosure, thank you.
1. DIY Smoker: A Budget-Friendly Option
Even an entry-level smoker can cost you a significant amount of money. One way to save money is by building a smoker yourself. If you don't think building a smoker is a challenging job, you can grab an oil barrel, a drill, and get cracking.
You can quickly drill holes into the barrel and then install a cooking rack to it, making it the perfect size to smoke all kinds of meat. There are numerous types of DIY smokers to be found on the internet. Checking out some do-it-yourself videos for simple and affordable smoking designs and steps is always a good idea.
If you prefer to buy a budget-friendly offset smoker, the Char-Griller is one of our favorites. We have a full review article, youtube playlist, or you can read the reviews on Amazon.com.
2. Charcoal Chimney Method: A Great Starter
Instead of piling up the coals, which risks wasted fuel plus uneven heat, simply load some charcoals in your charcoal chimney to economize on charcoal and its costs.
When you use lighter fluid, you may also tend to use too much, so this is where a charcoal chimney comes in handy. It heats the charcoal evenly and eliminates the need for dangerous and expensive lighter fluid.
If you do feel the need to use lighter fluid, line the bottom of your chimney with charcoals, cover those with fluid, and light them with a stick lighter. After they are burning well, about five minutes, add about twelve more charcoal briquettes, and in ten minutes, you will be ready to spread your charcoal with no lighter fluid taste.
Finally, ensure that you use good-quality charcoal, making sure they are all equally sized when put inside the chimney. It will save a great deal of your charcoal when done rightly, and you will save money along the road.
3. Custom Rubs and Sauces
Rubs and sauces add that spice element to your smoked meat. Rubs may contain as few or as many ingredients as you want and are used to flavor the meat before cooking. Sauces are meant to be added to the meat after cooking.
If you want to save money, buy your ingredients in bulk. Pick, weigh out, and mix spices in easy portions. If properly sealed in an airtight container, they will last for months before losing their flavor.
Invest in high-quality containers to store your custom rubs and sauces; with this, they won't be affected by excess moisture and airborne particles.
When lumped with other elements of cooking, rubs and sauces' total expense is often substantial.
4. Investing in Meat Thermometers
A good quality wireless thermometer is a cost-efficient way of taking meat smoking accuracy to the next level. One of the best strategies for keeping your meat smoking temperature consistent is investing in a good thermometer.
A thermometer also removes the guesswork from cooking and helps guarantee perfectly cooked meat. If you are on a tight budget but still want a good thermometer, the ThermoPro TP-17 dual probe wired digital thermometer is budget-friendly and works great.
5. Proper Wood Selection for the Flavor
Each wood variety imparts a distinct flavor profile, so choose the wood that fits the meat type you want to smoke. 
Use wood chunks instead of wood chips to soothe the pocket when you opt to smoke frequently. Purchase in larger quantities, and your expenditures will decrease for each smoke.
Buy small bags of each wood type until you settle on your favorite. Pecan wood chunks are our pick for the most versatile variety.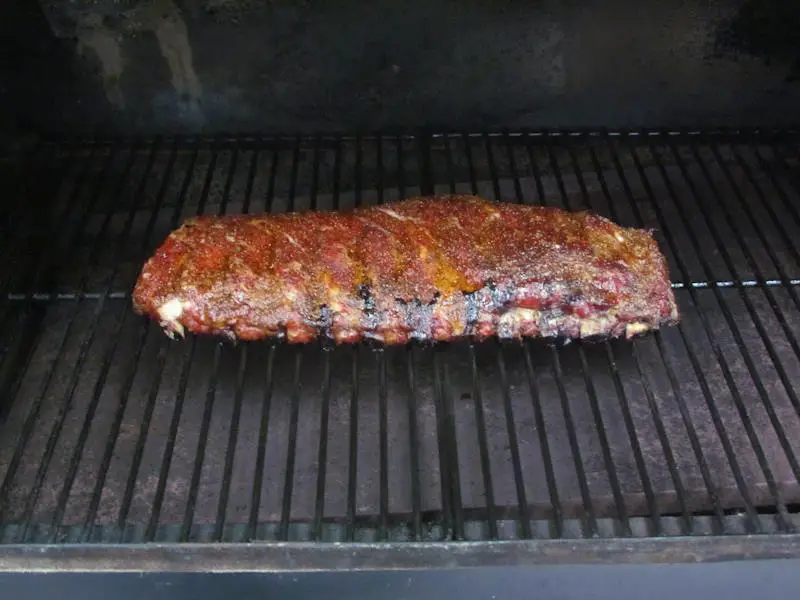 6. Post-Smoking Sear
This hack involves searing the meat after it has been smoked. This helps the meat caramelize and gives it a beautiful, crispy flavor.
Additionally, it locks in the smoke flavor that has been imparted into the meat during the smoking process.
You can use a cast iron skillet for this process, which is relatively inexpensive. Additionally, you can season the meat with whatever spices or rubs you desire. This will enhance the flavor even further.
7. Reusing Ash
The ash from your wood pellets can be used for things like fertilizer, soil mineralizing, and cleaning cast-iron pans to offer some bonus value.
Simply store it away in an enclosed, big sack/container to use whenever you need. Other useful ash applications include as a plumbing clearing agent or poisoning a pest's environment. Be sure to check online on the appropriate portions before using.
8. Practice and Experimentation
Experiment, test, and learn every time you smoke meat. Phasing out fear early on is critical for cost-effectively perfecting your craft, and learning to exercise your senses.
To have confidence and pinpoint your own signature flavor combination, you'll need to have an underlying amount of information and elevated creativity.
A great strategy to try is to make small rub changes initially and notice the difference in the flavor profile. Choose elements that complement the smoked meat at the beginning. Such as honey mixed with cranberries.
Experimenting will help you define your signature rub soon at lower costs.
9. Foil Trays and Pans for Quick Clean Up
Purchasing aluminum trays and pans can save an immense amount of time for all styles of cooking, especially smoking meat. It eliminates most of the mess of dealing with wayward or superfluous amounts of fat or juice.
Inserting these under your meat lessens the residue from building up inside the equipment, keeps cleaning consolidated, and can prolong the life of your grill or smoker.
Do not forget that you can create your trays or pans to any size using heavy-duty aluminum foil. Custom foil pans are budget-friendly, convenient, and will always fit your specific smoker model.
10. Quality Over Quantity
While this hack may appear counteractive to cost-effectiveness, quality over quantity becomes entirely relevant when grilling steaks or roasting beef or brisket.
If you are cutting costs with cheaper cuts, you will never achieve the perfect texture and flavor that premium meats can offer.
While still a fraction of the cost of double rib-eye, a better-caliber tri-tip or rib roast can make for a much more elevated dish.
Smoking Meat Doesn't Have to Break the Bank
Smoking meat is a time-honored tradition, and these budget-friendly smoking hacks will help you start smoking meat like a pro. With these tips and tricks, you'll be able to create mouthwatering dishes that will make your tastebuds sing with delight.
If you want to look after your money and make great smoked meat, check out our in-depth smoker-buying guides to make sure you only spend money on worthwhile smoking equipment.