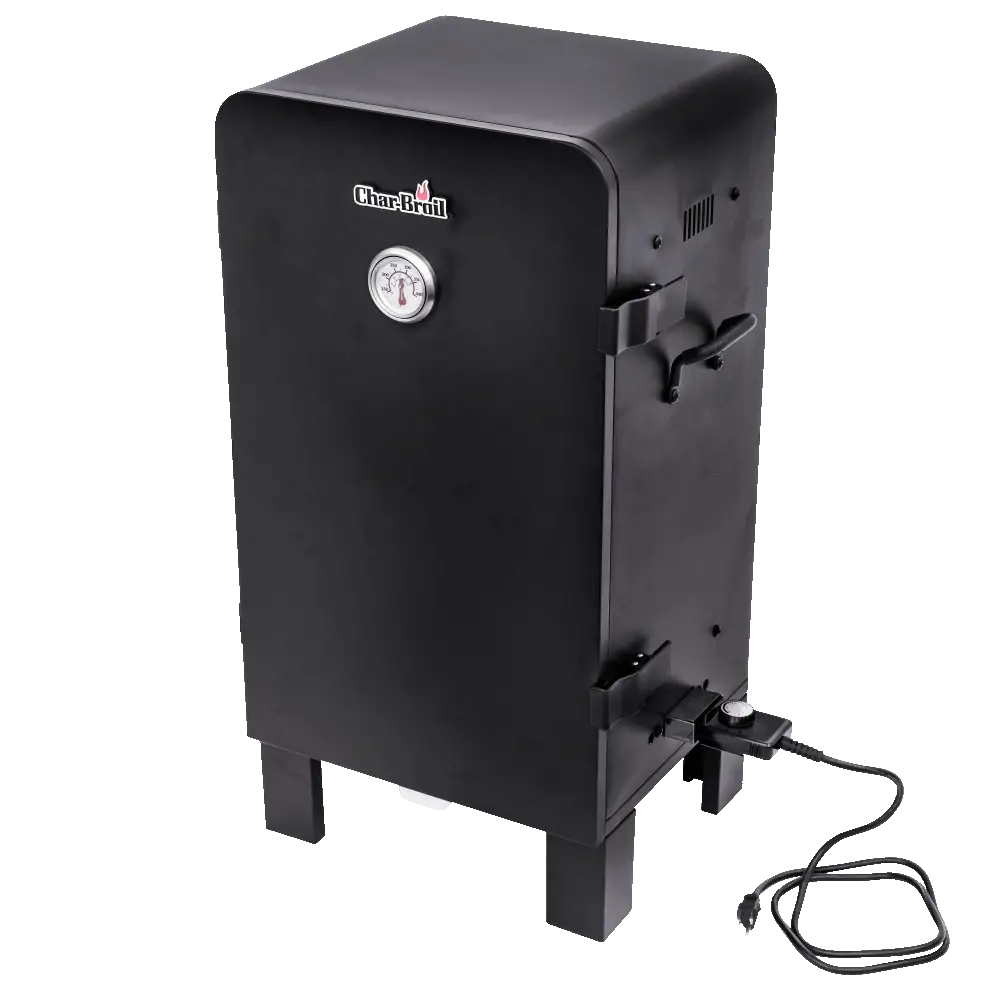 If you are a beginner at smoking foods, a low-fuss electric smoker is a great way to start your journey. The Char-broil Analog Electric Smoker could be a great place to start that journey and gain the knowledge you need to become an expert smoker.
Electric smokers remove a lot of the headache of maintaining a fire so you can focus on the flavors. Once your smoker is generating smoke, you can make slight adjustments and get the desired temperature. So, let's break down the Char-broil Electric Smoker and see if it is the right smoker for you.
Note: most links in this article are Amazon.com Affiliate links, see Affiliate Disclosure, thank you.
Click here to see the Charbroil Electric Smoker on Amazon.com
PROS: The Char-broil is a very straightforward smoker. The vertical smoker is a cabinet design that is easy to load and unload like your refrigerator. After your smoker is loaded, the door is easy to seal with the door latch.
Air enters the smoker through the damper on the side and flows smoothly out the upper vents on each side. The analog temperature control is part of the power plug, similar to an electric frying pan or portable griddle. The burner element is easy to access in the lower right of the cabinet.
Finally, the low price is a huge plus for the Char-broil Analog Electric Smoker.
Click here to check the price on Amazon.com
CONS: Adding wood chips is a problem because you have to open the cabinet door, which releases the heat and smoke. A side-loading tray or loading tube would be a huge improvement for this smoker.
There is no sealant or gasket material around the door, like more expensive electric smokers. Smoke and heat can leak around the edges of the door.
Additionally, the lack of a digital control or a digital thermometer is a huge issue when trying to get your food cooked to perfection. It can be hard to set and maintain an exact temperature with analog controls.
What are the important aspects of the Char-broil Electric Smoker?
Type: Char-broil Analog Electric Smoker is a vertical cabinet smoker. When the 1200-watt electric element comes to temperature, the smoker burns wood chips. The Char-broil generates heat during the smoke generating process. This smoker is not able to cold smoke as purchased because of the internal element.
Electric smokers are cleaner than wood-fired or charcoal smokers making for much easier cleaning. A disposable foil tray can save you a lot of hassle.
Click here to read our article How Does a Smoker Work to understand the different types of smokers
Portability: The thought of an electric smoker as truly portable is kind of funny, but anything is possible. At a fully assembled weight of 50 pounds, most people could carry this smoker from place to place with ease.
The two handles, one on each side, make it easy to lift the Char-broil. You could take this smoker with you and use it anywhere you can find electricity.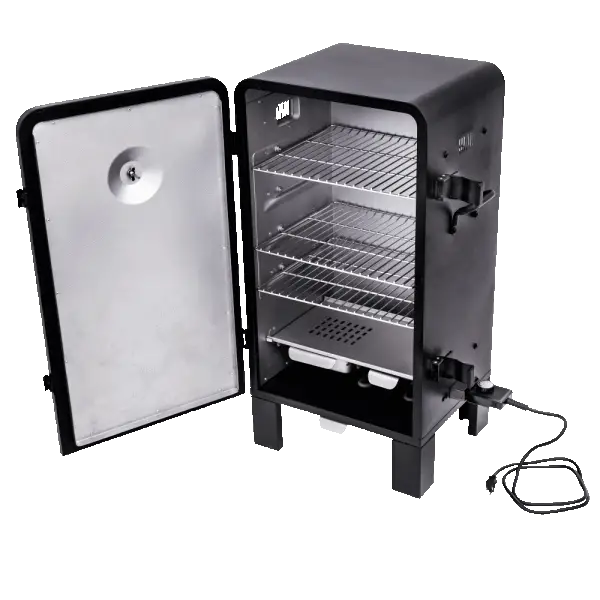 Capacity: The Char-broil Analog Electric Smoker comes with three chrome-plated steel cooking grills that total 544 square inches of cooking area. You can purchase an additional grill to add an extra 181 inches of area.
You will want to keep in mind that when you use all the grills in your smoker that tall items like whole chickens or roast will not fit in your smoker. We recommend that you leave the top rack space empty and place your larger items near the top.
Insulation: Considering the cost of this smoker, it holds temperature amazingly well due to double wall insulated construction. We think the door is also well insulated with a good seal despite the lack of a gasket.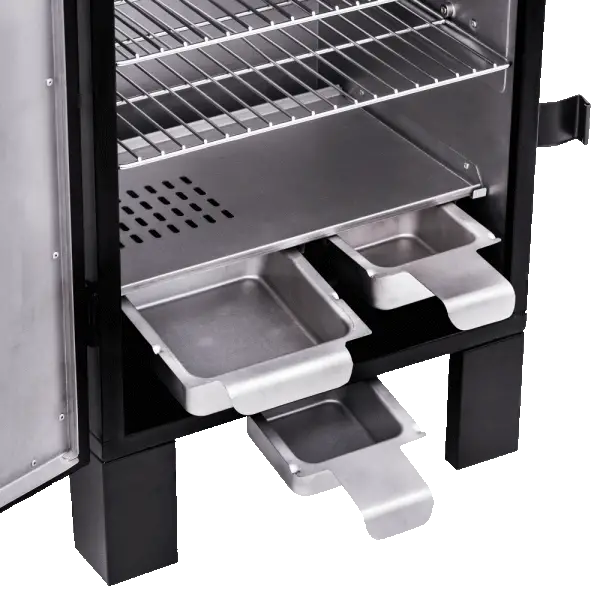 Accessories: All the usual items are included starting with a grease cup, a wood chip tray, and a water tray. The included drip tray has convenient vent slots for steam to pass through and attachments for both the wood chip tray and the water tray.
Warranty: Char-broil is a large industry player with a very standard one-year warranty. While on the budget end of the pricing spectrum, we have seen very few people complaining about needing a warranty return.
What is Analog Electric?
A microchip controls many modern-day devices including smokers with a digital readout. Analog control is a simple dial that you turn to set the temperature.
What other things should you know about the Char-broil Electric Smoker?
Assembly is very straightforward with written instructions, including illustrations. Total assembly time with electric tools should run about thirty minutes to an hour. Setup is easy for one person to complete.
When you go to use your smoker, consider preheating it for twenty to thirty minutes. Also, you should always season your smoker before your first cook.
We read many user reviews and weighed them through our extensive experience. We found a very positive user experience. Most people commented about the great value of the Char-broil Electric Smoker. Other comments were based on how easy the Char-broil Electric Smoker is to use and how great the food was.
A few of the negative comments were that after a few uses, the door leaked smoke, but that is an easy fix with an aftermarket gasket. Also, a few people commented on not being able to reach high temperatures, which can be common with electric smokers.
The Verdict
We love this smoker and would recommend it to friends and family. The Char-broil Analog Electric Smoker is easy to set up, easy to use, and easy to clean.
The main point to keep in mind is that it is a beginner-type smoker. So, if you are more experienced, this smoker probably is not going to do everything you want. Check out our review of the Oklahoma Joe for more advanced users.
Click here to see the Charbroil Electric Smoker on Amazon.com