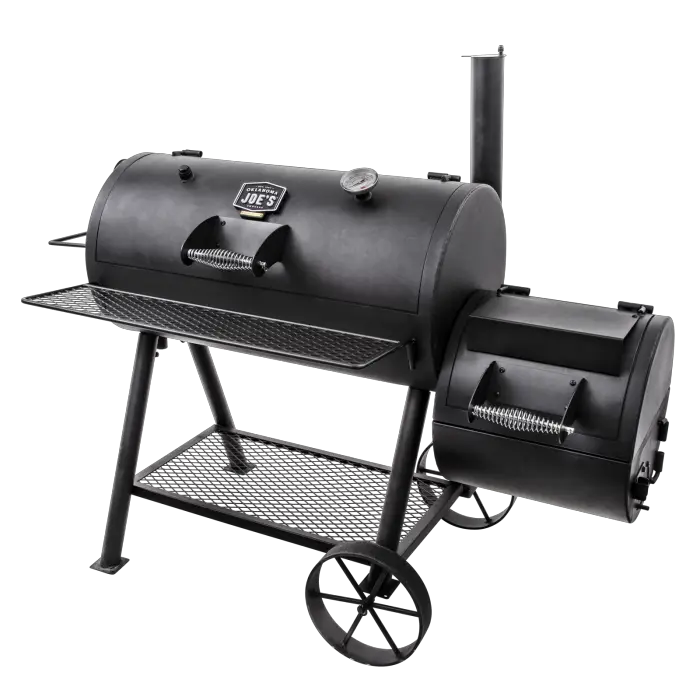 If you are a first-time smoker user or a veteran smoker, you might want to buy something that is going to work well enough to get great results. On the beginner side, you don't want to break the bank, but if you don't have a good smoker it will make it hard to learn. From the expert perspective, if your smoker is total garbage you won't be able to produce consistent high-quality foods.
You can't go wrong with the Oklahoma Joe's Highland Reverse Flow Smoker, it is reasonably priced and will give you quality results right out of the box. Also, the smoker is versatile with the ability to be used as a standard flow smoker, or you can use the firebox as a small grill. Finally, if you do a few modifications you can take this smoker to the top level.
Note: most links in this article are Amazon.com Affiliate links, see Affiliate Disclosure, thank you.
PROS: The Oklahoma Joe's smoker Is a classic offset reverse flow smoker. Classic offset smokers are easy to maintain the fire and create great smoke and heat. All the standard accessories you will need for a good cook are included in the standard package. The construction of the unit is medium-duty all-steel construction. Pricing is in the medium range, so it is budget-friendly. The overall weight of this smoker is under 181 pounds making it easy to roll into your garage when not in use.
CONS: This smoker is not a custom-produced unit, so it has a mass-produced feel that shows in things like a door that has small gaps. There are some leaks when used out of the box, but they can be sealed with high-temperature silicon. Finally, when you heat the firebox to high temperate the paint will bubble and peel off, so you will need to add a smoker cover to reduce rust.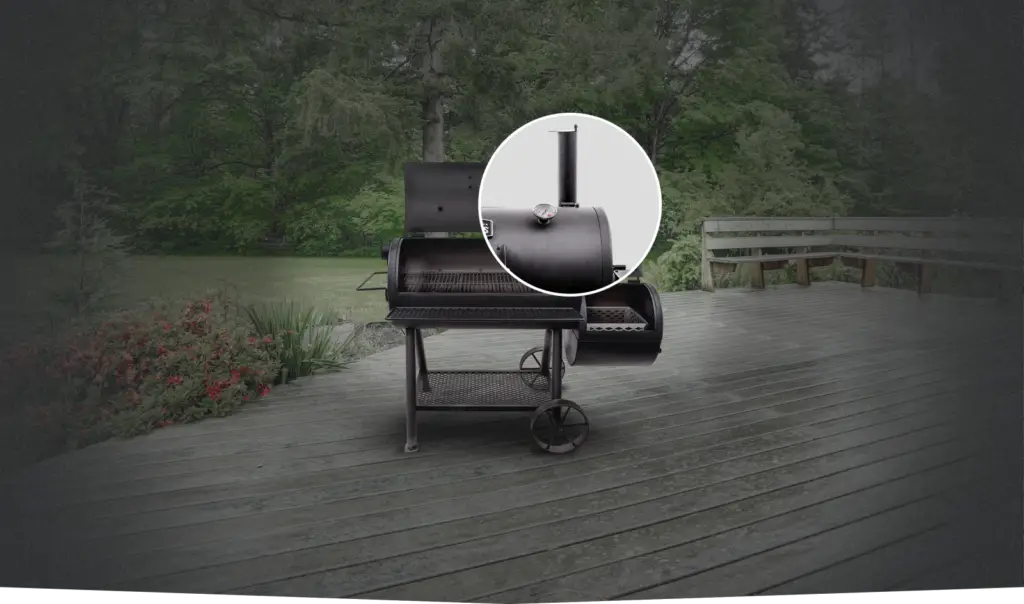 What are the important aspects of the Oklahoma Joe's Highland Reverse Flow Smoker?
Type: The Oklahoma Joe's Highland Reverse Flow Smoker runs using charcoal or wood as fuel. Charcoal is convenient to use in a smoker because it is easy to light and burn very stable. Overall wood is one of the most economical fuels to use, but there are other benefits to wood. By adding different wood to your smoker, you can add different flavors to your food.
The reverse flow is the best smoker design for even temperature and smoke flow. With the addition of a pan of water, a reverse flow smoker is also great at keeping the meat moist as it cooks. Placing a disposable foil pan on top of the baffles will produce steam, but don't overfill the pan for best results.
Cleaning a reverse flow smoker is as simple as wiping it down with disposable shop rags while it is warm. Running the smoker empty of food and water after wiping it down will help dry the surfaces and keep your smoker seasoned and ready to use on your next cook. The racks in the smoker would be cleaned like any other racks. We recommend hosing them off and wiping them down. Other than that all you will want to do is keep the firebox clear of ashes and any other debris.
Portability: This smoker comes in at 181 pounds before any added modifications, so it is not light. However, the included ten-inch wheels make it easy to move on level ground.
There is a smoker width handle attached to the end of the main chamber that makes it easy to lift. The handle is metal, so we recommend that you let your smoker cool completely before attempting to move.
Capacity: The main smoke chamber has a total of 619 square inches of cooking area. There is no upper rack in this model, but you can buy a raised rack or install a second rack for more smoking areas. Additionally, this smoker has a grilling rack for the firebox, but we recommend not grilling in your smoker because of a grease fire. Instead, consider using the grilling rack as an additional charcoal rack at the bottom of your firebox.
Insulation: There is no insulation to speak of in this smoker. However, because of the medium gauge metal, the smoker is constructed of it hold temperature well. Additionally, if you seal this smoker with silicon or gasket tape material, the smoker will hold temperature better, requiring less fuel and fire tending.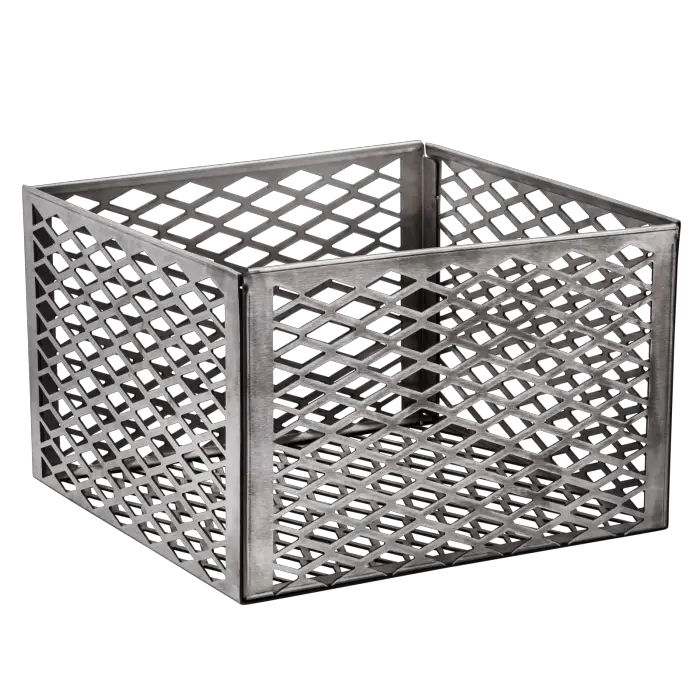 Accessories: The Oklahoma Joe's Highland Reverse Flow Smoker comes with all the smoke components you will need to get started. Most notable accessories include the baffles and firebox basket. On our top list of modifications, firebox baskets and baffles (or tuning plates) is top of the list.
You will still need to purchase items like foil trays for water, thermometers, fire glove, and standard utensils.
Warranty: The warranty is an industry-standard of two years listed on the manufacturer's website. Since there are very few moving parts on a smoker warranty is not a big factor. The biggest concerns are manufacturing issues and shipping damage, so we always recommend assembling your smoker as soon as you receive it.
Click here to check out our Top modifications for an offset smoker in this article.
What other things should you know about the Oklahoma Joe's Highland Reverse Flow Smoker?
The Oklahoma Joe's smoker is easy to assemble, but like many other large smokers, you will need a friend to help. The owner's manual has step-by-step instructions that are easy to follow and if you get stuck you can contact customer service.
We recommend that you seal the joint between the firebox and the main smoke chamber before your first use. It is a cleaner process to add sealant during assembly. Also, there are a lot of other joints in the smoker that can benefit from some silicone sealant.
Customer comment has ranged from "love it" to "garbage" but the ratings remain high. We have noted that since Char-broil has owned the item some things have changed. The gauge of steel used has gone down a bit, and pieces are not custom fit. However, this is not the end of the world; it is still a quality smoker at a fair price.
The Verdict
If you are looking for a great smoker with great value, it is hard to beat the Oklahoma Joe's Highland Reverse Flow Smoker. The overall performance of the reverse flow design is our top recommended design for hot smoking and a great platform for modification.
Click here to see the Oklahoma Joe's Highland Reverse Flow Smoker on Amazon.com.
Other Options
Take your smoker to the next level and check out the Oklahoma Joe's Longhorn Reverse Flow Smoker. This model is the same basic idea but deluxe and larger.
Check out our review of the Char-broil offset smoker if you are looking for a budget-friendly entry-level smoker.