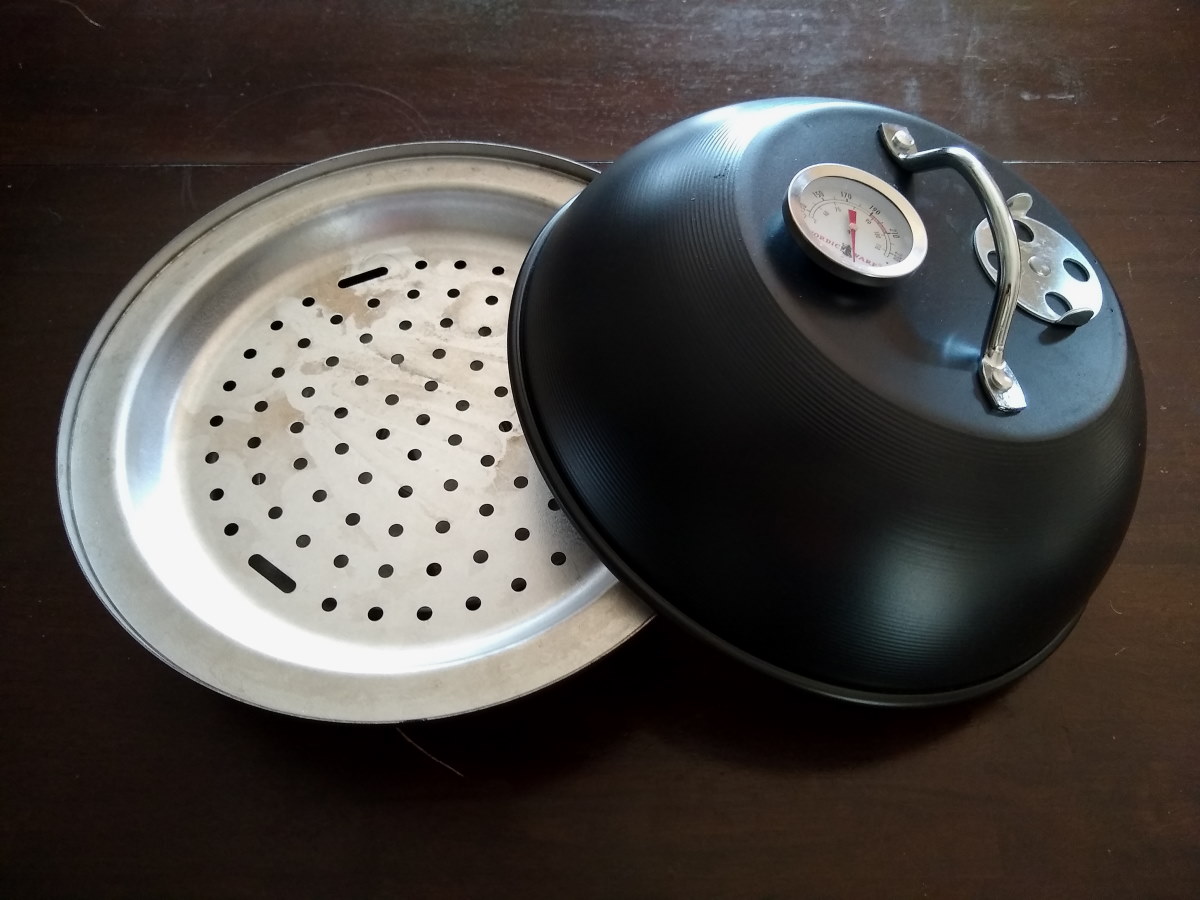 Pellet smokers cannot be used inside because burning wood pellets produces carbon dioxide and other chemicals, which is lethal. Additionally, pellet smokers are a fire risk and should always be used in a fire-safe area with a fire extinguisher nearby.
If you don't have any room outside for a smoker, don't let that get you down because there are other options available for you to smoke meats and other foods in your home safely.
In this article, we will go over why you can't use just any smoker indoors. We will also go over some of the smokers that are safe to use indoors to get perfectly smoked meats every time.
Note: most links in this article are Amazon.com Affiliate links, see Affiliate Disclosure, thank you.
Why Can't You Use a Smoker Indoors?
There are many different types and styles of smokers available to you, but not all of them are created equal. When it comes to smoking food indoors, there are only a few types that are safe to use. For the most part, any smoker that uses wood, charcoal, natural gas, or propane as a heat source needs to be used outside.
So that narrows the selection to electric types. The ever so popular pellet grill is sometimes electric, so it would seem to be ok inside. Well, pellet grills still need to be used outside because they burn the wood pellets for heat.
So always use a pellet grill outside where there is proper ventilation. If you use any of these types of smokers in your home or garage, you will run the risk of fires or carbon dioxide poisoning.
However, a few types will be safe to use inside and have been constructed for that reason. They are among the up-and-coming on the market and will put some long-time used smokers to shame if appropriately used. Some are better than others, so make sure to do your research before making a new purchase.
Also, even the safest indoor smoker requires proper ventilation. In most cases, a high-speed kitchen ventilation fan will keep you and your family safe.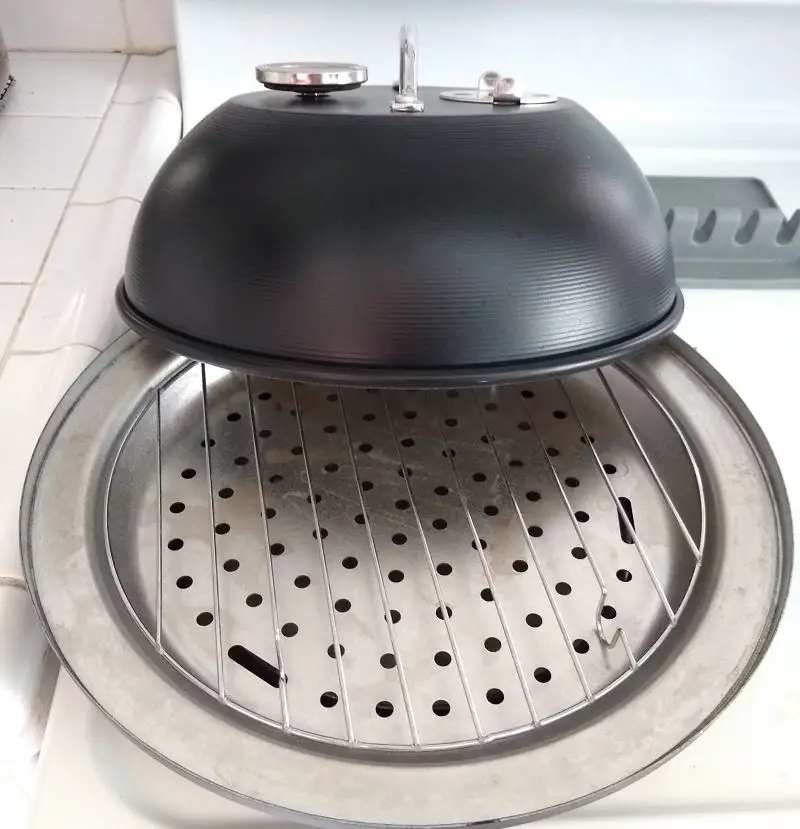 Stove Top Kettle Smoker
This type of smoker is one of the more basic types of smokers to use in your home and has been around a lot longer than you think. The kettle smoker has been designed to be used on your stovetop at home.
It produces little to no smoke outside of the pot and doesn't need extra fans or ventilation for safety purposes. It is basically a large Dutch oven with a dome cover that uses the stovetop's heat to get hot inside.
You can place a small amount of wood chips in the bottom pan, a little water or fluid in the drip pan, and then your meat right on top of everything. A thermometer is placed into the lid so you can keep track of the temperature within it.
If it gets too hot, you can regulate the heat inside by turning down the stovetop or opening the vent on the lid. It will be able to smoke smaller food items and some larger, like a whole chicken or a rack of ribs.
 It is safe and easy to use and is energy efficient. For a long time, this was the only method of smoking meats inside your home, but now there are others. The good thing is that these types of smokers will be the most affordable types to use indoors.
Tip: add a raised rack like a round cake rack to get better smoke circulation.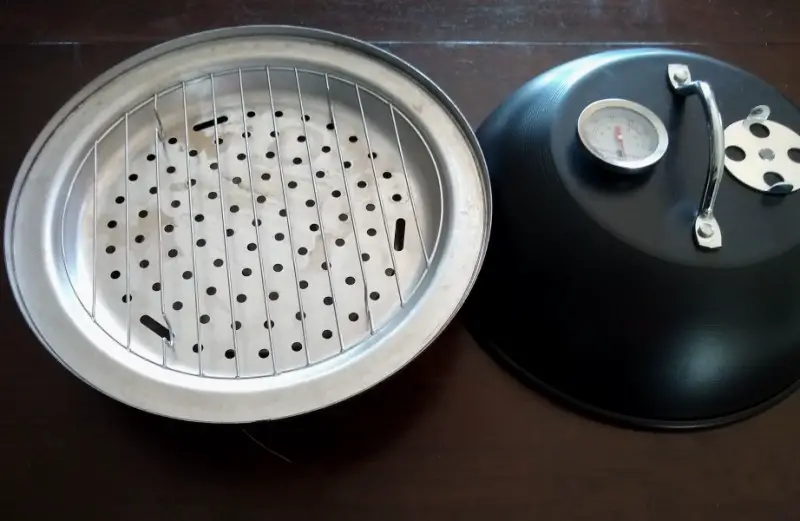 We used the NordicWare Kettle Smoker for our in-house testing and it performed very well and imparted great smoky flavors to our foods. Two issues that we had with the Nordicware kettle smoker started with the size being a bit small. Then the temperature was hard to control, but that might have been an issue with outdoor temperature as we don't have a vent hood in our kitchen, making it unsafe to use indoors.
Check out the Nordicware Kettle Smoker on Amazon.com
Pressure Cooker Smoker
This type of smoker is one of the up-and-comers that are relatively new to the market and can be hard to find. The pressure cooker smoker relies on the same functionality and construction as the instant pot.
They are very similar in many ways, and some of the models will be able to not only smoke food but also bake, fry, roast, sauté, pressure cook, slow cook, and make yogurt. A few different companies make pressure cooker smokers, and they look just like most air fryers or instant pots on the market.
They can be a little expensive, but you want to make sure it has been constructed with quality and care when it comes to a pressure cooker. If it is poorly built, the pot could explode from a bad pressure release or a poor configuration with the pressure system.
It works similar to the stovetop smoker in the sense of what the inside looks like and only uses one or two tablespoons of wood chips. The nice thing about the pressure cooker smoker is that it is a stand-alone plug-in appliance and works like any other instant pot, slow cooker, or pressure cooker.
The pressure cooker feature can cook meat much faster than any other smoker on the market while adding smoked flavor. It can also use the slow cooker function with the smoking function as well.
In about an hour, you will be able to smoke a whole rack of ribs in your kitchen with just the touch of a couple of buttons, set it and forget it.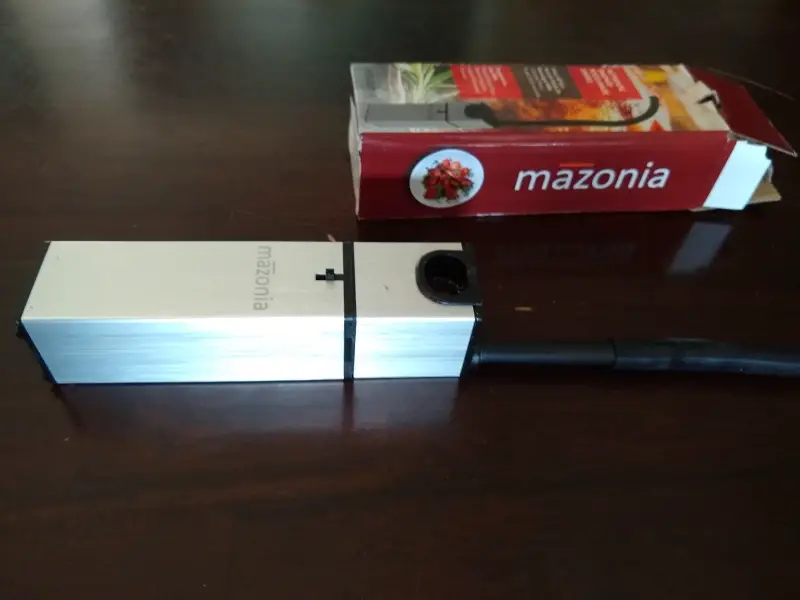 Infusion Smoke Gun
For that kiss of smoke flavor, a smoke gun is a convenient tool you can use indoors. Small and compact, you can fill a small container with smoke and let it absorb the flavors while you work on your next dish.
Some infusion smoke guns come in a kit that includes a clear dome with an input fitting. The clear dome and the input fitting make it easy to watch while your food container fills with flavorful smoke.
The smoke guns normally run on a few batteries to pump the smoke into the dome. One of the best attributes of the smoke gun is the low price for the unit or the entire kit.
Finally, If you are a Sous Vide fanatic like me, it is easy to place your steak in your bag then fill it with smoke. Place your steak on the counter for twenty minutes to come to room temperature while your Sous Vide is coming to temperature, don't forget to flip your steak every five minutes.
Indoor Electric Smoker
These types of smokers will be the priciest indoor smokers on the market and are made to be used in commercial kitchens but can still be used in large home kitchens. Even though these types of smokers are going to be expensive, they will be the best.
They are much larger than the other kinds of indoor smokers to fit more products inside the smoker. They are usually in a vertical or locker-style smoker with a door that opens from the front.
Multiple racks can hold plenty of food within the smoker, and some doors even have a clear window to see how the smoking process is coming along while in use. They also use very little wood chips to keep the smoke rolling and are powered by electricity.
They are just as efficient as the rest of the smokers, if not better as well. However, they are quite large and will take up quite a bit of space, so it is not recommended to be used in smaller kitchens like apartments or small homes.
How to get a smoky flavor without a smoker?
For smoked flavor without a smoker, try smoked ingredients like smoked salt, smoked paprika, smoked cheese, and liquid smoke, to name a few. Use your favorite recipe and replace non-smoke ingredients with smoked ingredients. Also, add a small amount of liquid smoke to your dish, but go easy because it can get bitter if you use too much, ¼ teaspoon for small dishes.
Our favorite dish to substitute items in is homemade macaroni and cheese. Replace the regular cheese and salt with smoked, then add a tsp. of smoked paprika and a ¼ tsp. of liquid smoke to complete the smoky transformation. If your recipe is baked, you might want to lower the temperature by 10 degrees and add a few minutes to let everything come together.
For our list of smoked ingredients and a recipe to try, click here.
Conclusion
So, no matter what type of smoker you are looking for to use inside, always make sure they can be used indoors and can do it safely. Make sure to read all the warning labels and precautions before setting up the smoker in your home and not stray from them. They are put in place for the safety of you and your home.
Keep in mind that proper ventilation is essential, even with an indoor smoker. And even if you have no room outside for a nice smoker, at least you have several other options to bring the barbeque inside your home.
FAQ
Are Electric Smokers Worth the Cost?
Yes, they are more than worth the cost. Electric smokers are very user-friendly and perfect for beginners trying to get into the meat smoking game. They are straightforward to use and are just as efficient as any other smoker available on the market. They are also very energy efficient, so you may be saving money buying an electric smoker in the long run.
Can you use an outdoor smoker inside under a hood fan?
It is not recommended to use any type of outdoor smoker indoors, even under a hood fan. An outdoor smoker can be used indoors in commercial kitchens and installed under proper conditions for them to be safe to use indoors. Only use equipment that is safe to be used indoors.
Are electric smokers healthier for you?
Electric smokers can be healthier for you and safer as well. Because an electric element generates the smoke and heat, fewer carcinogens are produced from burning the wood to produce smoke and heat that can be harmful to your lungs. They also can regulate the amount of smoke within the chamber at one time, which can also reduce any potential for carbon dioxide poisoning.