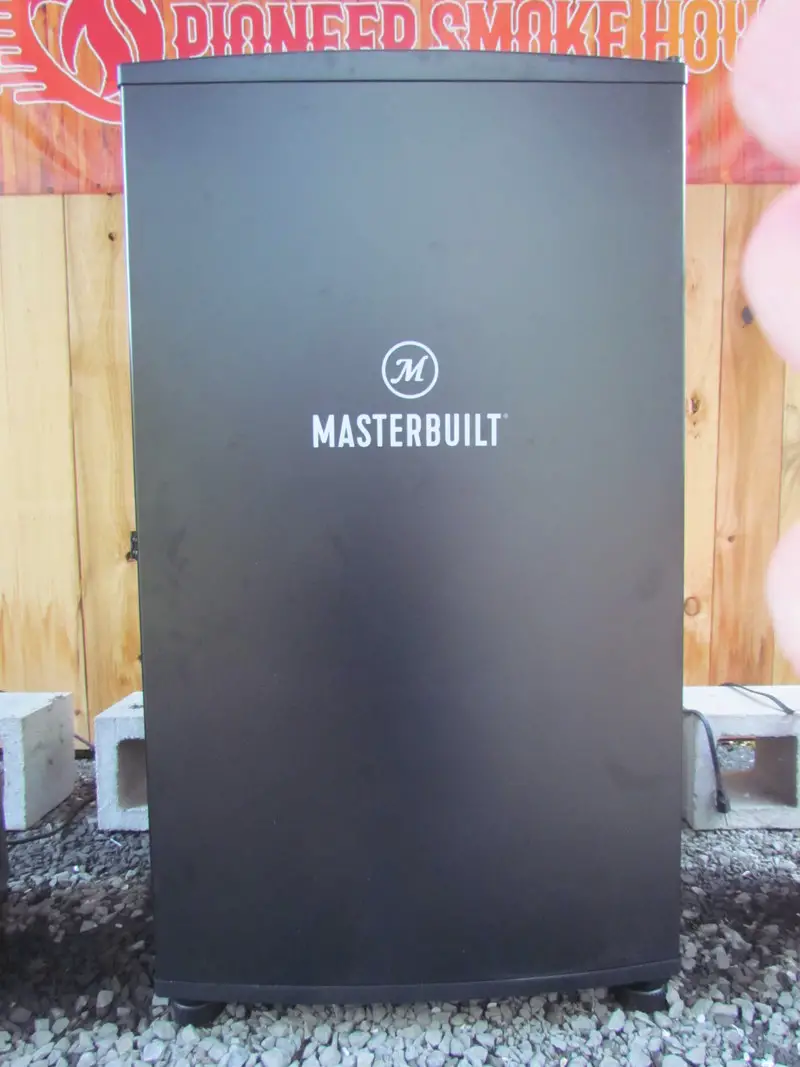 Smoked food is a treat that many people desire, but purchasing smoked food can be expensive. Worse than the cost of premade smoked food can be finding good-tasting food or food that matches your taste.
This only leaves you one option, smoking your own food. However, if you are on a budget, you might want to buy a used electric smoker, but should you?
In most cases, avoid buying used electric smokers because the electronic components could be faulty. It is hard to know precisely how well the electric smoker works until you have used it two or three times.
Of course, there are a few exceptions to this rule. First, buying an electric smoker from a friend or family member. Second, a trusted online seller like Amazon will stand by the sale.
Finally, if you find a used electric smoker for an excellent low price in case you need to replace all the electric components can make it worth buying used. 
This article will discuss used electric smokers in detail, what to look for, and where to find used electric smokers.
Note: most links in this article are Amazon.com Affiliate links, see Affiliate Disclosure, thank you.
Buyers Guide for Used Electric Smokers
If you choose to buy a used electric smoker, it helps to understand how they work. After that, you will want to know what to check and what to look out for.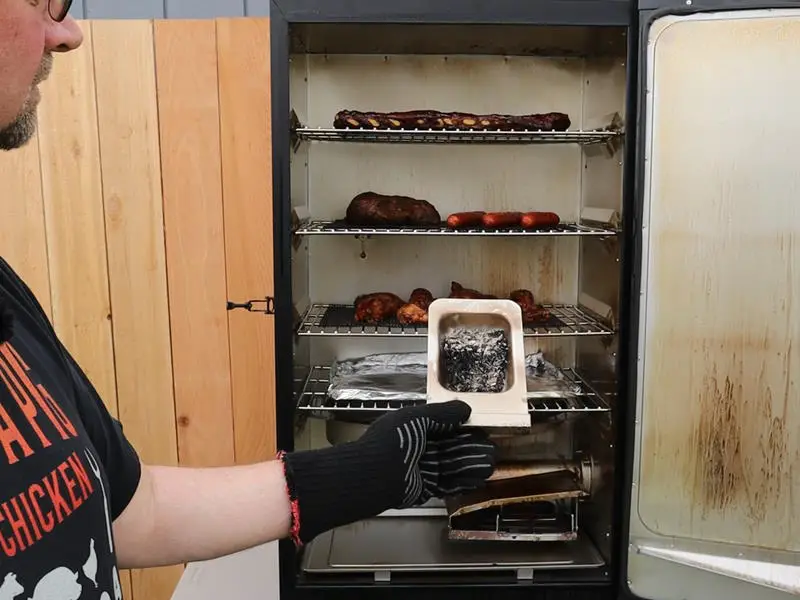 What are the Basics of Electric Smokers?
Electric smokers are very basic in function, like most other smokers. Most electric smokers are cabinet-style, also called vertical smokers.
At the bottom of the cabinet is an element for burning wood chips to provide smoke. From the top of the cabinet down is a series of shelves for placing your food to be smoked.
Some electric smokers will have drip pans and/or water trays between these sections. If there is no drip pan, I always add a sheet pan or a tinfoil tray to spread the heat and smoke evenly.
Most electric smokers have a temperature controller. Digital controls are typically on top of the smoker for easy access. Analog controls are typically part of the power cord but can be a dial control on the side, like a Bradley electric smoker.
An electric burner usually sits at the bottom of the smoker, where a wood chip pan rests. When the controller turns the element on, the wood chips smolder, providing yummy smoke for your food.
Most smokers have an adjustable damper near the top. Some smokers have preset vents that provide factory-tested airflow, like the Big Chief electric smoker.
What Should I Check When Buying a Used Electric Smoke?
When buying an electric smoker, I have a process that I like to follow. Each step will give you an idea of whether you should buy the smoker and what percentage of retail you should pay.
Price
Before you look at an electric smoker, you should research the retail price and a vendor-used price, like Amazon.com. My starting point for used electric smokers is half of the retail price. 
The thought behind that is it could break down anytime, and you have no warranty to fall back on. Of course, as you look at the smoker, the poorer the condition and performance, the more you should lower the price.  
Condition
I always start by evaluating the cleanliness of the smoker. A dirty smoker is a sign that it hasn't been well cared for. 
Next, I check the smoker for rust. Some smokers are rust-resistant because of the metal used in construction. If you are looking at an analog electric smoker like a Masterbuilt or Smoke Hollow these are sheet steel, so rust can be a big issue. 
Smoke buildup is normal for a well-used smoker, so you should not worry about that.
Operation
After checking the condition, plug the smoker in and see if it turns on. If the electric smoker is a basic unit like a Big Chief, you can put a ¼ cup of small wood chips in the pan and watch it work.
For an analog electric smoker, I do a two-temperature smoking test. First, I set it on low, then add a ¼ cup of small wood chips. I move to the next step if the wood chips smoke like normal.
Set the smoker to medium-high, then add a ¼ cup of wood chips to the pan. These wood chips should burn faster than the first pan.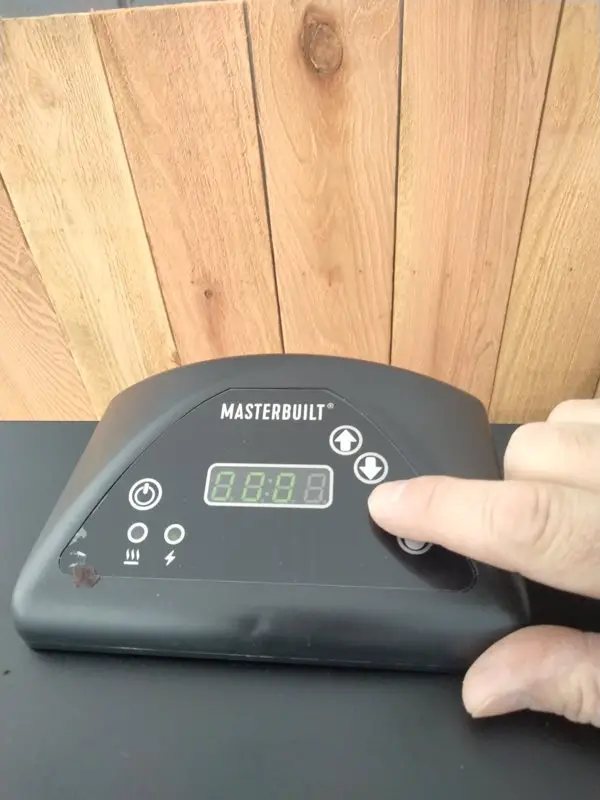 When testing a digital electric smoker, first, you must try all the control panel buttons. Panel buttons can wear out over time or be damaged by weather. A foggy appearance in the digital display can be a sign of water intrusion. 
Next, repeat the two-temperature smoke test above used for analog smokers.
Consider the Value
The value of a used electric smoker is subjective. You must decide what the smoker is worth to you. 
My system involves a 1 to 10 scoring system that I do in my head. I rate the condition and operation 5 points each. If I rate the smoker an 8 or above, I could pay up to 50% of retail. 
I pass on the purchase if the score is a 4 or below. Smokers scoring between 8 and 4 depend on price and how much rehab you are willing to perform.
Suppose the electric smoker does not pass the operation test; that is not the end. Look up the price for the replacement components and evaluate a fair purchase price. 
I only will buy a nonworking smoker if it is in excellent condition because it can be a lot of work if there is a bad wire inside a Masterbuilt digital electric smoker.
Finally, if your offer is too low, the worst thing they can say is no or "You are nuts," lol. My point is, do not overpay. Many people just want the smoker gone.
After completing a deal, a guy once gave me a $50 bag of performance lump charcoal. I was shocked.
Where to find used smokers for sale
friends and family are my favorite place to start looking for a used electric smoker. Many people buy a smoker with the intent to use it every weekend. Typically, they put their beautiful new smoker together, use it once, and put it in the back of their garage forever. 
This is an excellent source for a good smoker from someone who will be honest about the smoker's quality. On the downside, making a low offer to friends and family is uncomfortable, but keep in mind they might also want to make it disappear. Sometimes you can make payments or trade smoked food as part of the deal.
Online sellers like Amazon frequently have used item listings. These items are often open-box returns that have never been used. Occasionally there may be a missing part, but most items have been inspected before being resold. 
However, when you order these products, inspect them immediately and test the basic operation. The return window tends to be shorter than usual, and warranties are case by case. Check with the manufacturer.
Marketplace or Craigslist can be an excellent place to find a good deal. Start by checking that it is a local seller, individual or small business. Then look over all the pictures to see if it is what you are looking for. If you are not sure, request more photos. 
Then meet with the seller to do the inspection and test. Before you meet with the seller, you might ask them how they want to be paid. Cash apps have become a popular payment method for many sellers, but most still prefer cash.
Final Thoughts
Buying a used electric smoker is not my first choice because electric components can fail over time. Also, you might be buying someone else a headache.
However, you can get a great deal if you are willing to take a bit of risk and do the work of cleanup and repair. Sometimes you can find a friend that wants to clear out their garage, which is usually a win-win for both of you. 
If you plan on buying a used electric smoker, I hope this step-by-step guide helps you get the most for your money. However, if you would like more information on buying a new electric smoker, read our article and then check out the full review for our top picks.
Check out my videos of the used Masterbuilt electric smoker I bought from Amazon.com.